Drive Time – The 2019 Volvo S60 T6 AWD Inscription

Volvo's name was registered in 1911 as the derivative from the Latin term "volvere" meaning "I roll." Well, prior to 2017 Volvo owners rolled in universally admired ultra-safe rides with dowdy ultra-conservative square physiques. Lately, though those homely shapes have morphed into runway gorgeous figures. Talk about your eye-popping before and after shots.
Now, you can drive and arrive safely and in style. Win-win.
The latest model to turn eyeballs is the 2019 S60. A slightly shrunken version to its beautiful S90 sedan sibling, the S60 possesses nearly all the advantages of the much-awarded Volvo lineup – save for cargo space–in a sportier ensemble. And with a starting price of $35,800 for the base Momentum and $40,300 for the upgraded Inscription, it'll fit nicely into those budgets vying for an import.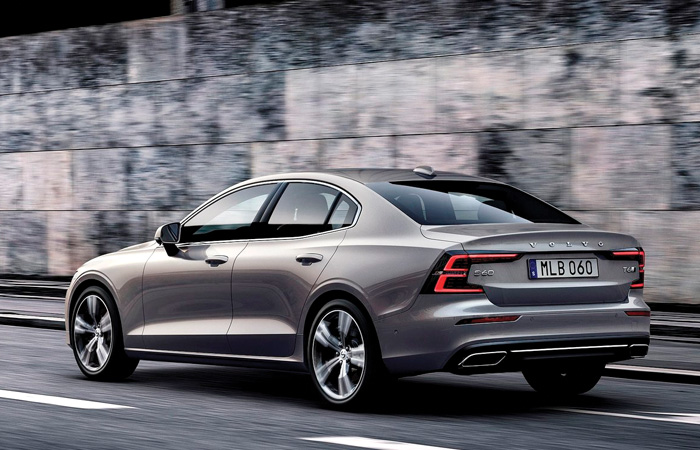 Skin 
The S60 T6 AWD Inscription tester was provided by Crest Volvo in Plano. Its beauty is admired by millennials and baby boomers alike due to the complete makeover from the outgoing model. Seriously, this is one striking sports sedan. It's more athletic and chiseled with accentuated lines and balanced proportions than the S90 (due to less rear seat legroom) and the overall package is downright lovely. 
The signature and outrageously sexy "Thor's Hammer" headlights illuminate the road nicely. Sightlines offer a fresh appearance from any angle and the front design allows Volvo to satisfy European pedestrian impact regulations. I'd say the rear's perfectly placed LED brake lights and dual chrome exhausts look even sharper than the S90's. 
An impeccable accessory is the beautiful 19" Inscription alloy wheels with glossy black accents add a sexy panache while nicely camouflaging the inevitable brake dust.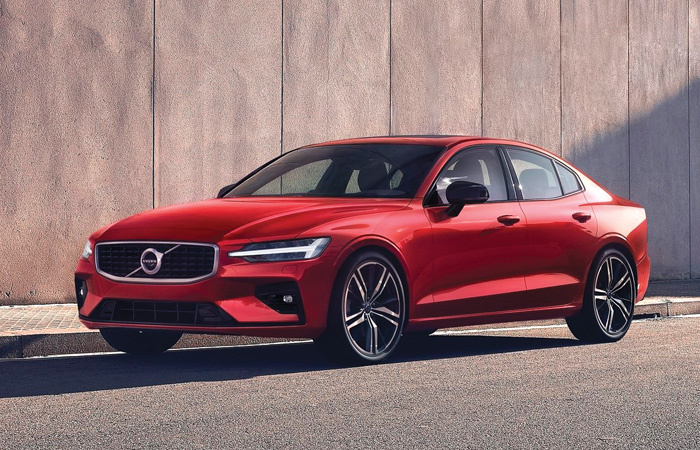 Performance
The powertrain is a delight as well. An eight-speed tranny coupled with an optional four-cylinder twin-charged (Super AND Turbo-charged) 2.0 liter 316 HP/295 lb.-ft. torque (the T5 standard is 250hp/258 lb-ft torque). Now, you may assume that 4-cylinder setup wouldn't provide enough oomph, but the dual charged power delivers admirable smoothness and pep for the target audience (although you do notice the engine working to get there). The Dynamic mode definitely scoots but there's a lack of sporty exhaust note. However, the optional AWD was excellent maneuvering around Dallas during heavy storms. The S60 cornered like on rails even while gunning it on wet pavement. The three modes including ECO and Comfort subtly alter the throttle, steering and suspension. I normally only embrace Dynamic modes, but the Comfort was just right even for me.
Handling and steering are responsive–especially with AWD—and the turning radius is refreshingly tight. The S60 cruises admirably and you'll feel rested even on long trips as it soaks up road imperfections well. The S60 doesn't offer the excellent Premium Air Suspension option as the other models but I didn't miss it in this ride. 
The normally annoying Auto Stop wasn't irritating at all and I loved the Auto Hold feature allowing the car to be still even with your foot off the brake. You'll quickly adore it I promise. 
Cabin
While the outside is attractive, the quiet interior is simply gorgeous. High-end materials in the dash, doors, seats and trim are top-notch forming a modern, clean and uncluttered IKEA motif. Blonde Nappa leather and driftwood trim is subtlety gorgeous. The only headscratcher is the plastic-feeling trim around the center console. It's not a deal breaker, but a curious contrast given the accompanied high-toned materials.
Volvo spent seven years redesigning the heated and vented seats with renowned chiropractors resulting in near perfection with zero pressure points to endure. You can seriously drive forever without feeling the need to stop. In fact, the S60 automatically braces the passengers if the car goes airborne or detects an imminent crash from behind. A worthy option are the massaging seats to refresh your weary body after a tough day at the office or on the course. 
The large vertical air vents are superb. They seriously warm or cool the cabin in record time and for my money are the best around. An optional panoramic roof with a cool mesh sunscreen illuminates the interior. Rear seat legroom is decent but of course isn't the limousine-esque generosity of the S90. 
I'd check the perfect heated steering wheel (with three warming levels!), Head Up Display and 360-degree camera to squeeze into tight spaces. The 12.3" TFT Instrumentation is clear and attractive including speed limit notices. Several ambient lighting choices will accentuate your every mood. The wiper fluid is dispensed through the wipers themselves, thus no more annoying over spray when cleaning the windshield.
11.6 cubic feet of cargo room will fit two golf bags and the rear seats fold down for extra space, but I'd expect a power trunk lid in this class.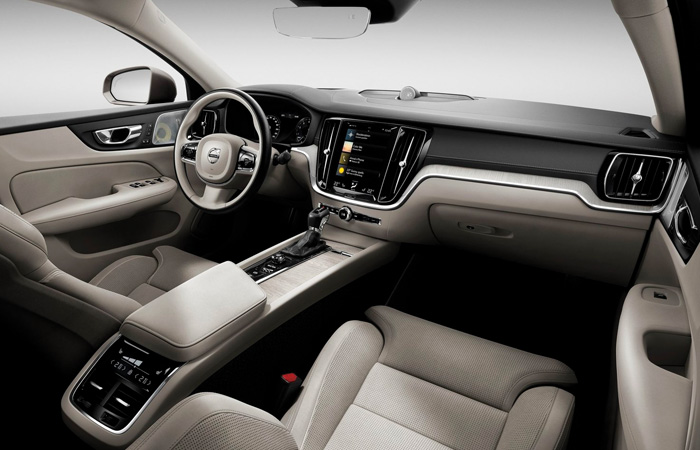 Tech check
The S60 utilizes the Volvo-wide tablet-themed Sensus Technology that's even snappier responding due to software upgrades. The 12.3" vertical touchscreen is sublime and so intuitively easy to swipe and scroll. It does take a learning curve to use while driving since you take your eyes off the road–unless you Voice Command requests. With the excellent (optional) Apple Car Play, most of your iPhone apps are displayed so there's little to learn. I already miss it. 
Given it's a Volvo, there is a plethora (nearly an entire column itself) of worthy safety features. The Lane Departure firmly brings you back when weaving when ignoring the lane signal. For grins, I drove over three miles hands free on the Tollway with nary a concern but plenty of admiration. Adaptive Cruise Control expertly keeps you safely away from vehicles you're following. 
Plus, there's the handy Volvo On Call app that remotely controls your car including remote start, locking doors, sending for roadside assistance, emergency SOS and heats/cools your cocoon before entering. 
Audio availability is either a very capable standard Harmon Kardon 14-speaker surround sound system or the optional blowtorch 1,440-watt 19-speaker Bowers & Wilkins for $3,200. Audiophiles will appreciate the incredible sound options of Studio, Individual Stage (my favorite) or Concert Hall, while I enjoyed the current songs displayed on the various satellite stations for quick perusing.  
The 2019 Volvo S60 T6 AWD Inscription is a worthy ensemble of attractive luxury, sportiness, cutting-edge tech and safety features. It will make a potential owner happy when desiring to arrive safely while coddled inside a striking figure. Thus, it's worth the time to investigate when researching your next eye-catching sports sedan. 
Test-drive the 2019 Volvo S60 Inscription T6 AWD at Crest Volvo in Plano and Park Place Volvo in Dallas.