Cover Story – Scottie Scheffler

Scottie Scheffler is yet another player on the long list of young PGA Tour phenoms that are from or live in the Dallas area. Of course, the success of Jordan Spieth has been well documented, and over the last few months, we have seen Will Zalatoris and Harry Higgs both grace our cover. 
Scheffler has been on the DFW golf radar for years. As a member of the Highland Park golf team, his talent was recognized by hordes of collegiate coaches. His instructor Randy Smith has watched Scottie develop over the years out at Royal Oaks as he learned to compete against the best junior players in the world. Scheffler won three consecutive individual state titles, joining Spieth as the only players to ever accomplish that feat at the time. In 2013, he took home the U.S. Junior Amateur, a championship won by his Dallas peers Spieth in 2009 and 2011 and Zalatoris, who took home the title the following year in 2014. 
After his time at Highland Park and after capturing the U.S. Junior Amateur, Scheffler went on to play for the University of Texas, where he won Phil Mickelson Freshman of the Year honors in 2015. As a senior at UT, Scheffler posted eight top-25 finishes in 11 events and was at or under par in 22 of his 34 rounds.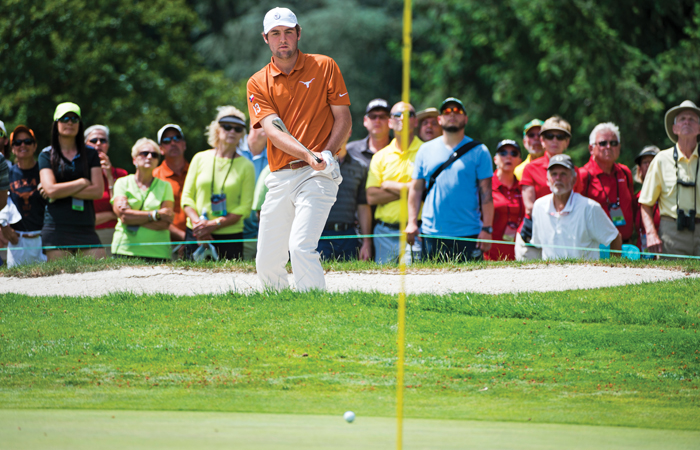 As his game continued to evolve, Scheffler found a pair of wins on the Korn Ferry Tour at the Evans Scholars Invitational and the Nationwide Children's Hospital Championship. The pair of wins led him to the PGA Tour, as he finished the Korn Ferry season with the points lead on both the Finals points list and the overall points list. He was eventually named Korn Ferry Tour Player of the Year for the 2019 season.
In his short time on the PGA, Scheffler has made a name for himself nationally. He was named PGA Tour Rookie of the Year for 2020, which included a T4 at the PGA Championship. In 2021, he had a T18 at the Masters, a T7 at the U.S. Open, and a T8 at both the PGA and the Open Championship, meaning in six majors since the start of 2020, he hasn't finished outside the top-20. 
As of the time of this interview, Scheffler has a total of 61 events on tour, in which he has made 46 cuts, 29 of those being top-25 finishes. All of this has earned the 25-year-old almost $7.5 million in prize money. Scheffler is also just one of 12 players to shoot a sub-60 round on Tour, firing a 12-under 59 during the second round of the Northern Trust at TPC Boston last year.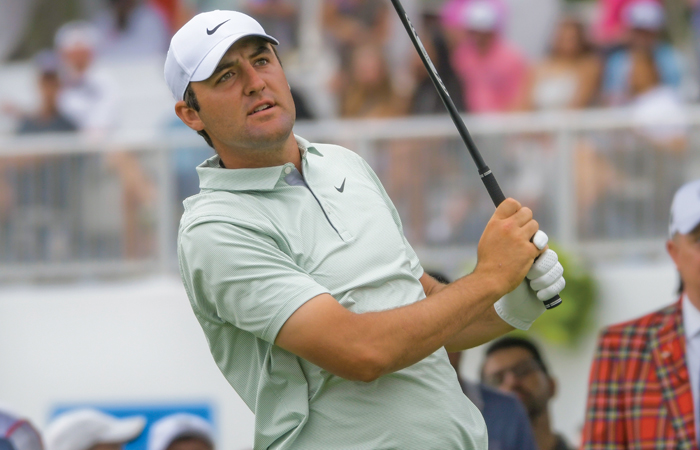 Although he doesn't yet have that breakthrough win, it seems it's only a matter of time before Scheffler handles some hardware. AG sat down with the Dallas resident and talked about his career and where he wants to go in the future. 
AVIDGOLFER: How did you get started playing?
Scottie Scheffler: I started playing pretty young. My dad got me a plastic club and balls and I loved it. After that I was pretty much obsessed. He would take me to the driving range and once we moved to Texas my parents would drop me off at the course and then pick me up in the evenings. It was a way for them to get rid of me for a few hours and it was great for me to burn off some energy and enjoy being outside. 
AG: Where were you born? 
SS: I was born in New Jersey. But I moved here when I was six. 
AG: What age were you when you realized that competitive golf was something you wanted to really pursue?
SS: I never really put too much thought to it. I know I really enjoyed competing and playing. When it came to golf season, I really looked forward to it. And when we moved to Texas, golf is basically all year, so any time I could, I was always playing and competing. And I love competing at anything, whatever it was that I could compete at, that's what I was doing. Whether it be basketball, football, lacrosse, or golf, it was always about having fun and competing. 
AG: You're a Highland Park guy. What was your high school experience like?
SS: It was great. I played basketball all four years and golf. I always liked playing other sports, so being able to play both was a lot of fun.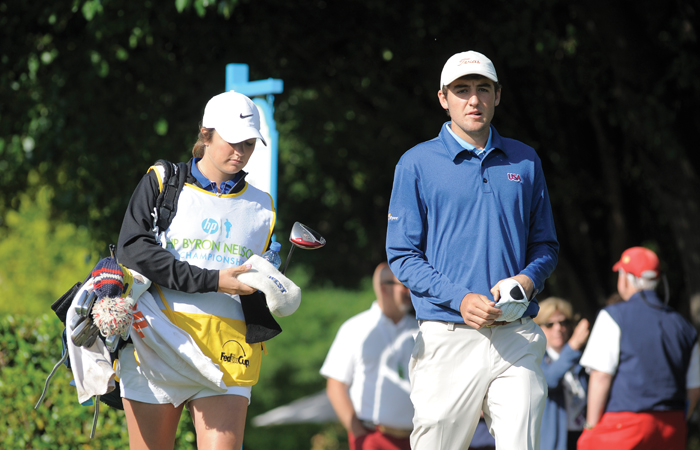 AG: You chose the University of Texas. Were there any other considerations? 
SS: I really didn't know where I wanted to go. I looked at a lot of other schools. I looked a Georgia, Georgia Tech, Texas A&M, Oklahoma… I looked at Stanford really hard, and even took a look at Duke. In the end, it came down to UT and Stanford, and I thought Texas was the best fit for me. 
AG: Who would you say was your main golf influence growing up?
SS: I would say the guys that were always out at Royal Oaks. Justin Leonard, Harrison Frazar, Martin Flores and Colt Knost. Those guys were always around, practicing and playing with Randy [Smith]. I looked up to those guys a lot. If they were out practicing, they would let me watch and soak up some knowledge. So, I really idolized those guys growing up because I was around them all the time. 
AG: You grew up playing with guys like Jordan Spieth and Will Zalatoris. How did competing against those top-notch guys growing up help mold your game?
SS: It was great. Will and I played a practice round a few weeks ago and we were talking about how great it was playing at that level as kids. Will and I have been playing against each other for years. We had such a great group of guys in Dallas that when we were growing up, we were always playing against each other, and once we got to the national level, we were still the guys that were competing to win the tournament. It was great to grow up competing against those guys starting at like 10-years-old, and we're still doing it at 25. So, that's super cool. 
AG: You still play with some of those guys often. What are those matches like? Are they competitive? Or are they more casual?
SS: We play casual rounds, but of course nobody likes to lose. They're not overly serious and we have fun, but they're pretty common when we're in town. 
AG: Once you made it out on tour, what was the first thing you noticed about the top pros versus your game?
SS: I noticed how refined their games are. Their weaknesses aren't as glaring. When you're in college, people's weaknesses are pretty obvious. When you turn pro, guys have time to address those weaknesses. When you're doing this for a living, you have time to really work on things that you need to and improve on them. 
AG: The guys on tour have a way of turning bad rounds into good ones, don't they?
SS: For sure. Especially the guys that are like top-10 in the world. You look over and they look frustrated, and you feel like they look angry, then you look at it and they shot 5-under. It's impressive. 
AG: After you won rookie of the year, do you feel like that increased expectations?
SS: I don't think so. Getting that award was great and any sort of accolades are fantastic, but I am still going out there to compete and do my own thing. Of course, I wanted to receive that award, but it really didn't change me or my expectations. 
AG: You have a top-10 in three of the four majors, but you haven't broken through for a PGA Tour win yet. What are some of the things you feel like you need to work on to get that first win and take the next step?
SS: I think just getting more consistent. The things I'm working on are really helping me improve, so for me that's exciting. It's trending in the right direction, and if I just keep giving myself chances, I think it's only a matter of time. 
AG: We heard a rumor that you went sub-60 at Texas Rangers Golf Club last year. Care to comment?
SS: It was a 59. 
AG: Was that your first sub-60 round?
SS: It was. I have been close before, but that was the first one. We were gambling a little bit, so I wasn't really keeping a close eye on the score. Then I was counting it up on the drive home and I thought I had shot 60. I wasn't thinking I was having a crazy round. I think I shot like 5-under on the front, but I made a bogey on nine, and then made a few pars after that, but I eagled 18. When I started looking at it, I thought it was maybe a 59, and I added it up like 8 times… and sure enough, it was. 
AG: You had another 59 on Tour at the Northern Trust. How cool was it to do it out on tour, and do it as a rookie?
SS: You don't ever really get too many opportunities to shoot a 59, so it was great. And to prove I could do it my first year out there was awesome. 
AG: Were you nervous? 
SS:  To be able to finish the job is cool, and I definitely was nervous, very nervous over both those shots and coming down the stretch, but I think it helped me focus a little bit more.
AG: What are some of your favorite courses to play here in DFW?
SS: Royal Oaks is my home. I love spending time out there with Randy, and the members are great. So, that's my favorite. 
AG: What about some other courses you have seen? What about Augusta, Pine Valley or Cypress Point?
SS: Obviously Augusta is incredible, but I have always been a huge fan of Southern Hills in Tulsa. I haven't had a chance to play it since the renovation yet, but I really liked it before. 
AG: What are some of your short- and long-term goals?
SS: I tend to try to stay in the moment. I try not to set too many future goals, or I tend to lose focus on the present. Randy keeps a lot of those longer-term goals for me, but in general, for me it's just about going out and playing golf. 
AG: We just got done with the Olympics. Is that something you would like to do?
SS: Of course. I would love to represent my country. Whether it be the Olympics, the Ryder Cup or the Presidents Cup. I feel like we all have that same set of long-term goals. We want to win golf tournaments, we want to win majors, you want to play in the Ryder Cup. So, I think most of us have the same set of goals, sometimes it's just different how we all get there.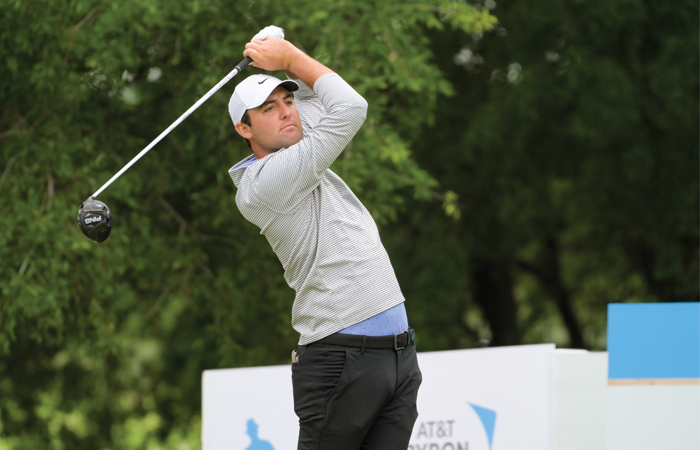 AG: We talked about your junior career. What advice would you give to a junior player that has followed your career?
SS: I would just tell them to have fun. I always played other sports growing up, and my parents did a great job not putting too much emphasis on just golf. At the end of the day, it's not about who is the best golfer at 10-years-old, or even 15 or 20. It's not even all about that at 25 or 30, it's more about having a well-rounded life. 
AG: What does Scottie Scheffler do when he's not on the golf course? 
SS: I do all kinds of things. I love other sports. Basketball, pickleball or spike ball. I like all those things. My wife and I will play cards or board games. I will try almost anything. 
AG: Are you a big sports fan?
SS: I am almost exclusively Cowboys, Mavericks and anything burnt orange. 
AG: Any cool interactions with anyone famous?
SS: Other than playing with Tiger, I can't think of any. That was super cool though. 
AG: Thanks for taking the time to chat with us, and best of luck moving forward in your career.
SS: Thanks.