Cross Country Beast – The 2017 Mercedes-Benz G500

There are those occasions when curious thoughts infiltrate our minds. Like the notion of throwing down on a six-figure, four-wheel-drive tank that is old school, loud, heavy, tall, ominous and seemingly impermeable. Truth is, there's indeed a worthy ride that's also so deliciously eccentric, and I dare you not to quickly fall in love. A thoroughly unique road warrior that turns heads and elicits smiles from young and old alike. That is the 2017 Mercedes-Benz G550.
The Gelände­wagen ("cross country vehicle") was hatched for the military 38 years ago (hitting U.S. shores in 2002). Over time, Mercedes-Benz "civilized" it by adding the brand's customary luxury appointments. But make no mistake, this is a bona fide beast-mode off-road brute that is surely immune to anything ol' Mother Nature throws its way.
It's also a big hit with the young crowd. My daughter screamed, "Whoa, Dad! A G-Wagon?" I was accosted at parking lots and gas stations by teens galore vaulting this 60-something to "Baller" status! One can see why countless celebs house one in their expansive garages.
Yes, the G550 isn't cheap, slurps the fossil fuels ­– and is proud to do so. The G is simply an iconic ride that elicits grins while swallowing up terrain, mountains or possibly buildings all while surrounding passengers in delightful luxury. Like a Rolex, the G550 is really a timeless piece – either new or vintage works well. A perfect loyal companion at the ranch or lake home as a go anywhere sure-footed lavish beast of burden. The G exists simply because its fans adore it.
SKIN
The exterior is an attention grabbing tall boxy silhouette full of right angles. It proudly warns to "get out of my way." Metal bumpers frame and protect the formidable front grille and headlights. The doors are heavy and close with a loud reassuring thunk! Opening doors require you to push a button instead of pulling a handle – a fun touch.
The tester's unique Paprika Metallic paint ($6,500 option) attracted differing reactions (I liked it) and all G-Wagons offer a terrific trunk door that swings open rather than up and down. A Spare Wheel Ring affixed to the rear adds a nice touch and you can match the exterior paint to give it a seamless appearance.
Another nice bonus is you can actually see the front of the hood while driving. That's hugely reassuring when navigating a large ride in tight parking spaces. And due to the high sitting position, you can easily find open spots.
Twenty-inch AMG Twin 5-Spoke Black Wheels fit nicely in the large wheel wells and are surprisingly smooth when cruising on the highway. Two dual exhausts are pointed down under the chassis while delivering a superb rumble from its stacks.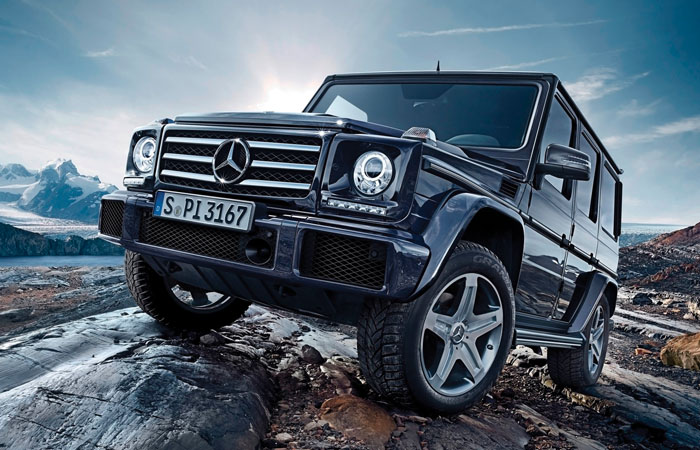 PERFORMANCE
One might think this is a ponderous heavy machine. Yes, it is nearly three tons but surprisingly nimble on its feet. Even the base engine (416hp, Biturbo V8, 450lb-ft torque) moves the G's 0-60 in 5.8 seconds. You can also bump up to the AMG G63's 563 or G65's 621 horses! That's a lot of hooves pounding pavement folks. Full-time four-wheel-drive matches well with the 7-speed transmission that literally can maneuver around anything. Four-wheel Electronic Traction (4-ETS) paired with 2-speed Transfer Case for low range climbing and Triple Locking Differentials give the G550 a confident ride on the highway or tracking in mud, snow, water or heck, maybe even quicksand.
For most drivers, the paved surfaces are much smoother than you'd expect, as I hardly detected much road noise. You can happily rest your elbow on the low windowsill without dislocating your shoulder (old school again!). Given its high profile, you wouldn't want to barrel into turns but honestly; it's not built to.
The steering is decent for what you want and large brake calipers stop the substantial ride in short order. Of course, all this power and heft does affect gas mileage of 13-city/14-highway on premium juice. Yet the 25-gallon tank does allow for a decent 350-mile range.
CABIN
The cocoon surrounds you in contrasting splendor against the tank-like exterior. High-end materials are abundant throughout; the layout is superb and similar to the other terrific Mercedes-Benz interiors. The supple leather seats are excellent and the lofty driver's seat offers a feeling of riding above the fray.
The heated front and rear seats warm the buns in quick fashion. An abundance of glass provides excellent visibility (once you remove the middle headrest in the back seat).
The infotainment screen a tad small but simple to read. The COMAND knob on the console is easy to manipulate your entertainment desires (up to 100 preset radio stations across all formats). My tester had the superbly clear harman/kardon LOGIC7 surround sound system which meshed nicely with the cabin acoustics.
The thick leather heated steering wheel fits perfectly with the masculine motif. You still need to insert the key fob into the ignition (old school again). A "cup holder" is an odd mesh pouch on the front passenger side—the others are behind the middle console. Hey, when you're rich it's called an "eccentric" benefit.
Cargo space is an abundant 79.5 cu.-ft. with the rear seats folded (swallowing golf bags). And, those back seats are theatre-esque as passengers sit higher than the front inhabitants. All my peeps loved the increased height for visibility.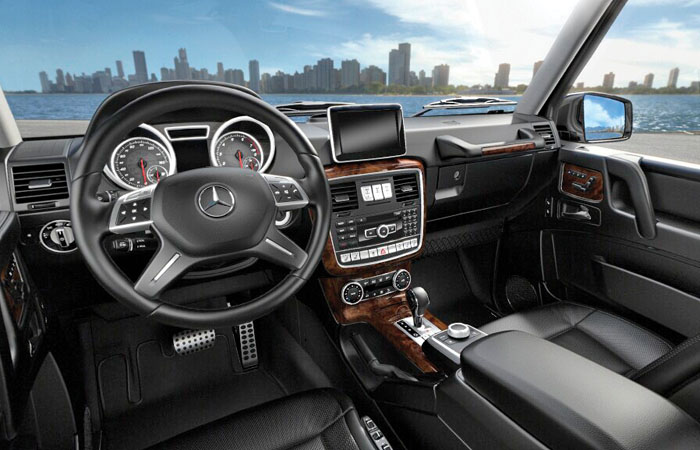 TECH TOYS
Mind-boggling technology and safety measures are at your disposal. A plethora of presets across satellite and terrestrial radio formats toggle seamlessly. Bluetooth voice transmission is impressive as well.
You'll appreciate the latest reassuring safety features. The G550 will gently remind you to stay in your lane, constantly scans traffic up to 1,600 feet sensing traffic patterns to help prevent front collisions, Distance Pilot DISTRONIC adaptive cruise keeps you safely behind cars ahead.
The 2017 Mercedes-Benz G550 is a terrific blend of impervious protector, luxury appointments and a reassured feeling you could survive Armageddon. It's the perfect vehicle to cruise along a riverbed, climb rocky trails or making a large statement rolling up to the country club valet.
Test drive the 2017 G550 at Mercedes-Benz of Plano, Park Place Motorcars in Dallas, Grapevine, Fort Worth, and Arlington and Mercedes-Benz of McKinney.