Scene and Be Seen – Prohibition Chicken

Visiting Prohibition Chicken is like going to the best neighborhood get together, but better. This place has incredible food, a "secret" speakeasy and, despite its name, a vast list of boozy beverages.
This corner space in the heart of Lewisville can hold quite a crowd at roughly 2200 sq. ft., and is divided between the main dining room and two side patios. You can't miss it—there's a miniature water tower bearing the logo situated out front.
The vibe fits a rustic fried chicken joint: the mixed-wood paneled walls with glimmers of metal accents throughout the space, it reads somewhere between the nicest barn you've eaten in and a casual BBQ eatery. I came straight from the golf course one evening and didn't feel out of place or underdressed, and that's one of the aspects that makes this place great.
The expansive cocktail list – and even longer list of draft beers—has libations for every palate, including non-drinkers. A personal recommendation is the On the Level: white rum with raspberry puree, lemon juice and club soda. I think the last time I had rum was on spring break, but this drink is super light, refreshing and has a kiss of sweetness that is not overly saccharine.
There's also a half dozen "mocktails" that combine all the elements of a great cocktail minus the hard stuff. It's The Berries, a table fave, had fresh lemon juice, raspberries, ginger ale and a dash of honey. The bar also has 30 beers on tap that range from local brews to big brand favorites. One evening, a guest asked what was on tap. Our server said, "We have 30. Throw out your favorite and we probably have it." Sure enough, her Blood and Honey came out of the tap minutes later. Moving from the liquid menu into the food, the family-style menu is priced per person per meat and includes four unlimited sides (you pick from both hot and cold selections) and four sauces. It's kind of fun because you get a lot of food for a set price, and everyone can get a bite of what they want. Plus, the portions per guest are large enough to take some home as well.
With the beef option, you get 12 oz. of smoked Beeman Ranch Akaushi tri-tip that is aged, cured, smoked and then sliced. The deep smoky flavor reminds me of rustic adventures in mountainous states and sitting around the sweet-smelling campfire in the evening. One bite of the beef and I was back in Colorado. The restaurant's featured dish, fried chicken, comes in four styles: classic fried, spicy fried, pecan-smoked and smoked fried. While the smoked fried was a clever attempt of getting the best of both worlds, I'd stick with the classic fried. The outside texture is a thin layer of crispiness that's neither clunky nor too thin, and then reveals a delectably juicy bird underneath. Each person receives five pieces (a half bird) of their choice of style, making this a good choice for most ravenous of guests or for those who love leftovers the next day. The fish dish – two Hickory-grilled trout fillets – is smoky and simple, but full of flavor. Topped with some microgreens and accompanied by a grilled lemon half, the fish is a great option for people who want to take advantage of some heavier sides.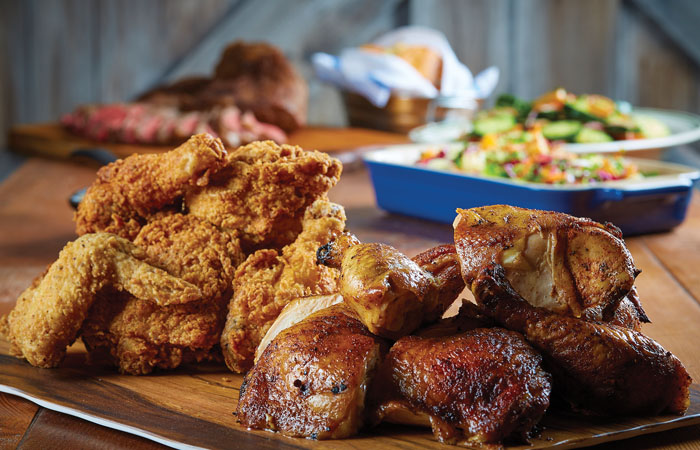 Between two visits, I got to sample all eight side options. Some standouts in the bunch were the cheddar grits and the aged cheddar ale mac and cheese. The grits were perfect: creamy and cheesy, just like my grandmother makes them. The mac and cheese was a delight with the kitchen opting for twisted strands of pasta (like a strozzapreti or gemelli style) instead of shells or elbow noodles. It also used a cheese sauce instead of a baked format for welcomed gooiness, and was covered in a blanket of herbed bread crumbs. If carbs are your weakness, I'd spring the extra $3.50 for a basket of four homemade cornmeal biscuits. They're blonder than traditional cornbread, and aren't quite as crumbly either. Arriving at the table warmed up is also a nice touch.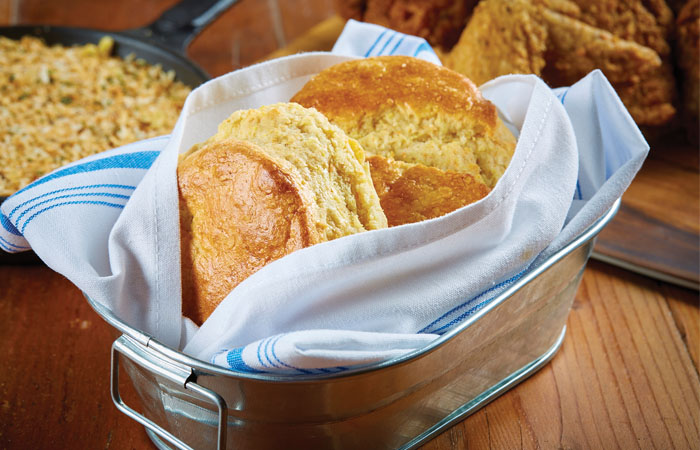 At any point in your meal, you might see a stream of visitors filing into the telephone booth at the back of the dining room. True to its name, Prohibition Chicken features a not-so-secret speakeasy called the Volstead Room, named for the congressional act that carried out the 18th amendment's prohibition of alcohol. Ask a staff member for the password, dial 0 on the vintage telephone inside, and get ready to be transported back to the 1920s. However, the bar menu and libations offered inside are fully 2017 in execution. A good tip for the speakeasy: while the restaurant does not take reservations for the dining room, the Volstead Room fills up quickly and accepts reservations. Feel free to call ahead before you arrive for dinner to ensure you get a peek behind the hidden door in the phone booth.
It's always great to see a place in the suburbs buzzing with energy from neighborhood guests and commuters alike. I will definitely be back to enjoy more chicken, but if you don't see me in the dining room or patios, I might be found behind the telephone booth.
Prohibition Chicken
A family-style meat-gasm
201 W. Church St.
Lewisville, TX 75057
214-222-3302
www.prohibitionchicken.com
Pricing: $$