Drive Time – 2019 BMW X3 M40i

I saw a recent poll stating that the #1 reason for the spike in SUV/Crossover sales is ease of entering and exiting the vehicles. And with aging boomers still buying nice rides, the trend will no doubt continue until gas prices crest over $4.00 per gallon. That said, many prospective consumers still want some good 'ol fashioned fun along with cargo carrying practicality.
Thankfully, the M division of the Ultimate Driving Machine is ready to deliver the desired miles of smiles for driving enthusiasts. Thus, let us introduce you to the giddy X3 M40i. It's got horsepower, thrust, sporty handling, a delicious warbling exhaust, luxurious appointments and cargo capabilities. What's not to love?
The base X3, renovated in 2018, is a popular ride itself. Of course, leave it to BMW to inject fun into a crowded segment. Slap on the sporty M accouterments and WOW, it's a raging beast! I already miss it. The 2019 BMW X3 M40i satisfies our wish list checklist for the enthusiastic experience while schlepping kids and cargo on the countless errands during busy schedules.
 SKIN
 The M40i tester showcased the beautiful Carbon Black metallic paint (specific for M-designated vehicles only) that changes from a lovely deep blue to black depending on the light. The front is bolder than the base model with large air intakes, a blackened twin-kidney grille (with moveable slats to automatically cool the engine or increase aerodynamics) and dynamic creases on the hood. Cerium Gray accent finishers (air flow gills, mirror caps, kidney grille, front air intakes) add just enough contrasting eye candy.
An attractive caboose includes large dual black exhausts. Gloss black low profile rails are nicely melded into the roof rather than awkwardly jutting up like your Dad's old station wagon. Which is good 'cause no one straps mattresses, trees or luggage atop a luxury ride these days.
The optional 20" 699M design rims look fantastic—along with the notable blue painted M-Sport brake calipers—and wide rubber nicely fill the wheel wells. The 21" 718M rims are even more eye-catching but I didn't get a chance to test if the accompanied thinner rubber caused a rougher ride. Vents behind the front wheels direct airflow to assist in aerodynamics and drag coefficient.
Cool puddle lights illuminate the pavement with curved lines that mirror the interior map lights and climate vents. It's a distinctive touch and nice conversation starter.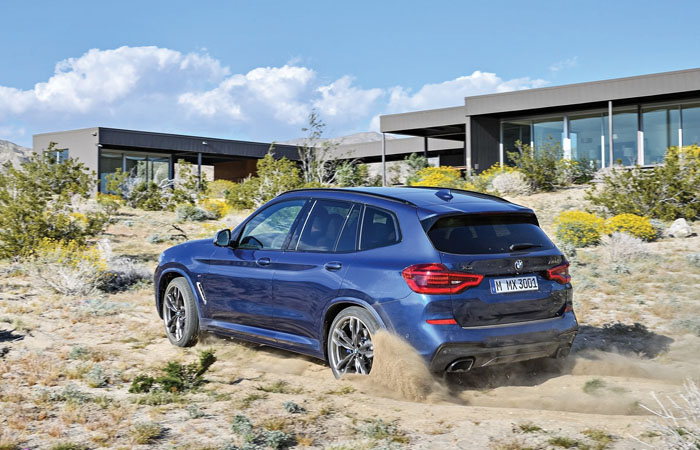 PERFORMANCE
The M40i offers a treasure of sublime driving dynamics. The robust 3.0 Twin Turbo inline-6 provides a giddy 355hp and 369lb-ft. torque. A seamless 8-speed tranny shifter zips you to zero to 60 in merely 4.4 seconds. That's some serious spunk for a SUV.
A rocker switch on the center console allows you to choose Adaptive, ECO-Pro, Comfort, Sport and Sport + modes to deliver noticeable changes in steering feel and throttle response (the Sport modes were my go-to choices). Opt for the Adaptive Suspension ($700) to smooth out or increase the tautness of the drive depending on your mood or passenger comfort.  Throw it into a turn and there's very little lean for the higher ride rig.
The standard xDrive's all-wheel traction performed admirably during our recent rain deluge. I felt supremely confident with its capabilities—even when punching it on moist asphalt. The Icon Adaptive LED headlights (including Auto-high beams) are some of the best in the biz. The star to me is the exquisite exhaust note that roars, barks and pops when flooring the petal or downshifting. My addicted ears were immediately smitten.
Fuel efficiency is good at 20/27. I squeezed 24 mpg overall and nearly 28 mpg on the highway. Those are admirable fuel-efficient numbers for a non-diesel sport-minded engine.
 CABIN
 The redesigned M40i luxury appointments are noticeable and plentiful. The elegant cabin feels wider with the sight lines driver oriented. Several subtle ambient light color choices are available during nighttime driving.  The upgraded Black Vernasca leather feels buttery smooth and all materials are top-notch with excellent fit and finish. Double stitching is a nice touch as is the thicker M Sport leather steering wheel. It feels perfect in your paws. The sharp Aluminum Rhombicle trim sets off the leather nicely as well.
The heated and ventilated seats are excellent and it doesn't take much to find your sweet spot with the 14-way power settings. A double pane panoramic roof brightens the interior. Back seat room is exceptional for this category.
A large 10.2" screen is exceptionally clear and easy to read. I love their crisp fonts. The ever-improving iDrive control now has a scratch pad to "write" commands when searching phone numbers or NAV settings. The RearView camera is HD quality and the Head-Up display shows speed and NAV direction through the windshield. Every car should offer them. An optional Dynamic Digital Cluster is cool but the Gesture Control to control audio volume, changing channels or ending phone calls is more gimmick than useful tool.
Sight lines are abundant with few blind spots. Combining lane departure, blind spot warnings, 360-degree camera views and collision preventing auto-braking gives you ample support for safe driving. Cargo room is category leading at 28.7 cubic feet with the 2nd row up and 62.7 cubes folded down. The power trunk lid is height adjustable.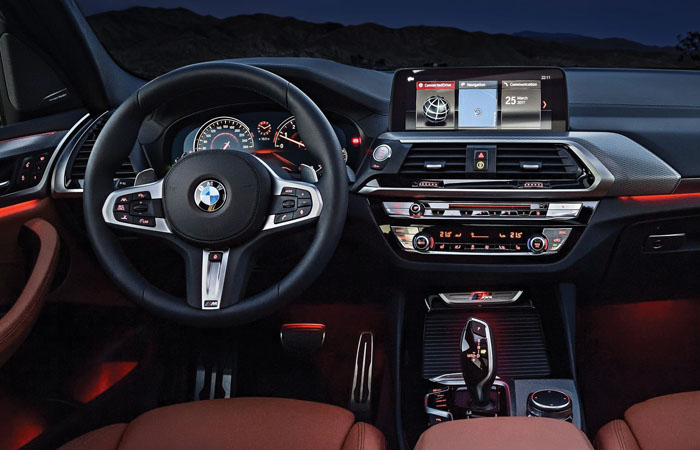 TECH TOYS
A BMW offers just about anything your techie heart desires and the X3 M40i satisfies the most ardent techies. A wonderful 16-speaker Harman Kardon surround sound system is exceptional and its Bluetooth is the best in the biz. BMW Remote Services allows you to tap apps like Find My Car, Google search, Spotify, Weather reports and Remote Locking via your smartphone. It's extremely handy to remotely ventilate the interior or see where your ride is parked (think Valet adventures). The Apple CarPlay interface works well as does the convenient wireless charger tray ($500).
The 2019 BMW X3 M40i is a euphoric bundle of driving chops, luxury appointments and practical cargo capabilities for anyone who still has a pulse. It truly supports BMW's claim as the Ultimate Driving Experience. Add in their zero maintenance costs for oil, air filters, spark plugs and brake fluid makes it a must drive when contemplating your next incredibly enjoyable sporty SUV. And don't forget the bonus of entering and exiting with ease.
SCORECARD
Golf bags: 4
Curbside appeal: Sounds like it arrived quickly
0-60: 4.4 seconds
Ponies: 359hp, 369 lb-ft. torque        
Gas mileage: 20/27. Observed 24 overall with highly spirited driving
Must-haves: M Sport, Premium & Executive packages
Warranty: 4-year/50,000 miles, 4-Yr unlimited roadside assistance, and 3/36 free maintenance
Base price: $54,650
Price as tested: $67,370
Who buys it? Those desiring the Ultimate Drive Experience when toting folks and cargo
Finish line: A sinfully fun ride in a crowded field
Test-drive the 2019 BMW X3 M40i at Classic BMW in Plano.