Cover Story – Best of Public

Here we are. Another November, and another chance to run down AVIDGOLFER's top courses in Dallas/Fort Worth. Overall, this has been a pretty solid year for courses condition-wise. Over 11 inches of rain in February kept courses plush through the summer months, and a soaker of a September and October meant courses stayed green (although many of them were closed at times because of the rain or flooding), so in the case of 2018, this was one of our most competitive lists ever. Most courses saw phenomenal conditions throughout the year, and for that reason, we were forced to use the microscope to separate courses that were in the main peloton. Conditions, convenience, price, amenities, hospitality were all factors as we analyzed each course throughout the metroplex.
At the end of the day, we all like lists. We love to see others opine on the top-10 comedies of all time, the best 25 albums of all time, or the most attractive models in history. Whatever it may be, the resulting debates are usually more entertaining than the list that spawned them. How many times have you been bellied up a bar watching Monday Night Football and heard "Barry Sanders is the greatest running back of all time", only to hear a response from someone nearby who immediately casts their vote for Jim Brown, Earl Campbell, Walter Payton, or Emmitt Smith? Now, sometimes things can spiral out of control and people can get angry, but that's not the original intention when the statement is made. The fact of the matter is, people can be hard-headed when it comes to having their minds changed and some people just LOVE to argue.
In our closed-door meeting to rank the courses, it rarely becomes heated as we tend to respect one another's opinions, but we have to understand to begin with that's all they are, is opinion based. From there, we must dig deeper until we find common ground. The most common argument used to decode these conundrums often becomes "change my mind". If two courses are too close to call, change my mind as to why it should be ranked ahead or behind the one that is similar. And once you use all the information, the task actually becomes relatively simple, even in a year where most courses thrived condition-wise.
So, once again we present our public course rankings. And whether you agree or disagree, remember, there's usually not a right or wrong answer here. Beauty is in the eye of the beholder, and whether you prefer Emmitt, Barry, Sweetness, Brown, or Campbell carrying the ball, you may not be definitively right, but you're probably not definitively wrong either.
Best Overall Golf Club
Cowboys Golf Club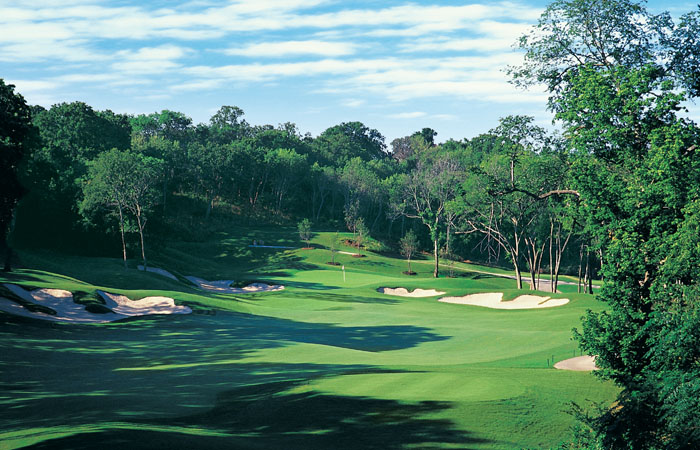 Well, here we go again. The dynasty continues. It's no shocker that once again Cowboys Golf Club is our top course for 2018. The early season rains meant the course was in spectacular shape all year. The greens were perfect and the fairways lush and playable.
You match the outstanding course conditions with the elevation changes, the likes of which aren't easy to find in DFW short of Dallas National (and good luck getting on there), make this track a must play for anyone looking to treat themselves to a day of wonderful golf. Yes, the rate can be a little overwhelming for the daily fee golfer, but it's worth every nickel.
As if the course at Cowboys wasn't reason enough to make the drive to Grapevine, the clubhouse and restaurant are second to none. A renovation of the clubhouse and Ring of Honor Kitchen and Bar in late 2016 only further separated this experience from the rest of the pack. And the all-inclusive food and non-alcoholic beverage option means you can take full advantage of the spectacular menu. Even the half-way house between no. 7 and no. 8 is glorious. The jalapeno cheddar sausages alone are worth the price of admission. They will even serve them on a bun OR a tortilla. Now that's service.
At the end of the day, yes, the course is spectacular and yes, the Ring of Honor K&B is glorious, but Cowboys also does the little things well. From the names of former and current players on each golf cart, to the rotation of local micro brews, the attendant waiting to clean your clubs and hand you cold towels as you leave the 18th green and the attention to detail when hosting private events, Cowboys Golf Club is once again hoisting our trophy for best of public.
Now, if only the team on the field could return to this kind of dominance.
Top Elite Courses
($80 and Above)
Old American Golf Club (East)
The Tribute Golf Club (East)
Heritage Ranch Golf & Country Club (East)
Sky Creek Ranch Golf Club (West)
Tour 18 Golf Course (West)
After recovering from flooding several years back, Old American Golf Club has become one of the best tracks in DFW. Tripp Davis and Justin Leonard combine a thoughtful layout with some tough tabletop greens and lengthy par 3s to make a course that will truly text every club in the bag. Hosting an LPGA event earlier this year also helped give Old American some additional notoriety and street-cred.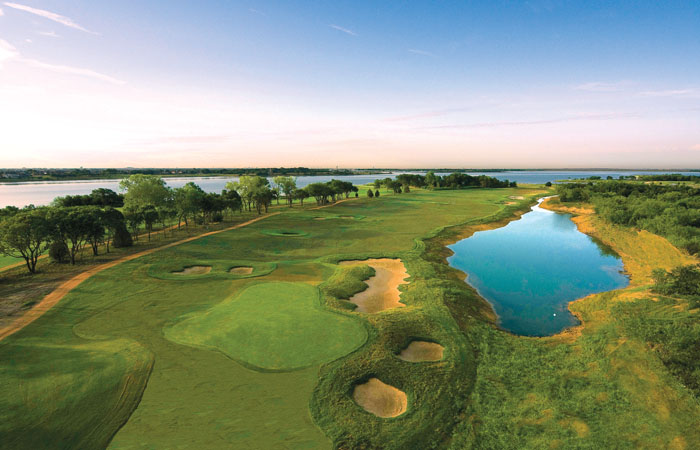 The Tribute Golf Club and their new greens have had some time to mature and all the rain we've gotten this year has helped that process. The Tribute is as fun a course as you will play, and now their greens are toward the top of the food chain as well. Not to mention the fact you get to test yourself on some of the most famous holes from across the pond.
Heritage Ranch Golf and Country Club is such a good golf course, it is downright criminal if you've never made the trip to east McKinney to play it. The two 9s are a beautiful juxtaposition, with the front winding through the trees, and the back being more open and length. The service is also top-notch, starting with the greeters that meet you at your car, all the way to the starter on the first tee, and the clubhouse is large and stately, but also comfortable.
After missing out on our 2017 rankings, as they completed a renovation, Sky Creek Ranch returns to our top elite courses category. The greens are softening up after being replaced, and course is in great shape due to the favorable weather this year. Although it's a tough test, it's still one of the top-flight courses in the area.
We've always maintained that Tour 18 Golf Course in Flower Mound has the bones and layout to be the best course in DFW. With replica holes from Augusta National, Southern Hills, Oakmont, Medina, TPC Sawgrass, Pine Valley, Doral and more, you really feel like royalty as you navigate the layout. Over the last several years, inconsistent course conditions have been a bit of an Achilles Heel for Tour 18. However, course management has made it a point to try to return this gem to the top of the heap over the last 18 or so months. Some much needed TLC to the bunkers was a nice upgrade in 2018 and we look for Tour 18 to continue to improve, but a little more attention to detail would go a long way.
Top Luxury Courses
($70-$79)
Coyote Ridge Golf Club (East)
Frisco Lakes Golf Club (East)
Texas Star Golf Club (West)
Southern Oaks Golf Club (West)
Bridlewood Golf Club (West)
Tierra Verde (West)
The Golf Club Fossil Creek (West)
On the East side of town, there isn't a golf course that personifies the word "luxury" more than Coyote Ridge Golf Club. Everything is gold-star, from the greeters in the parking lot to the food. The course has some fantastic routing and some imaginative design aspects. What's not to like?
Frisco Lakes Golf Club is once again on this list as it boasts a fun layout, nice clubhouse and a manageable rate for those wanting luxury without busting a hole in your wallet. The course has two distinct nines that make it challenging for any player. Heads up for the 7th and 8th holes, both of which feature water. Sure, these holes are great to look at, but on a windy day, they can certainly give you a handful.
Texas Star Golf Course in Euless once again joins the ranks of best luxury courses. Though it's a city owned course, the conditions are always fantastic. Every hole at Texas Star is unique. There are also plenty of risk vs. reward shots that will keep you on your toes. The restaurant on property is also very solid, even if you're not playing golf.
Appearing for the second straight year in the luxury category is Southern Oaks Golf Club in Burleson. After changing ownership in 2016, the attention to detail and course maintenance really began to shine. Not only is the course fantastic, but the clubhouse and patio are a great place to enjoy some post round cocktails with friends. Southern Oaks has truly returned to form.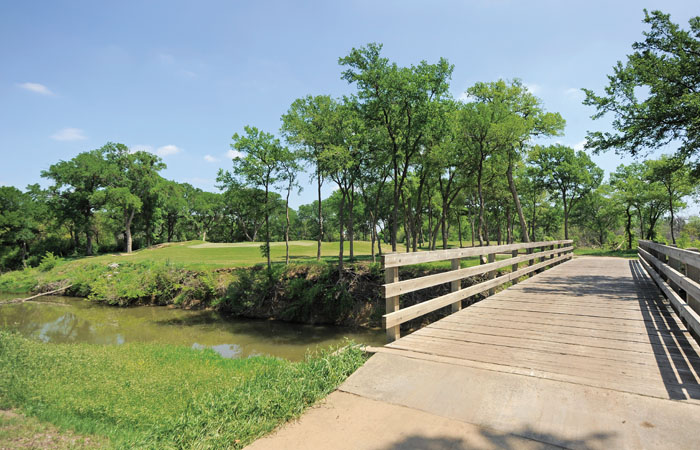 Flower Mound's Bridlewood Golf Club is consistently one of the most popular courses on this list among DFW avid golfers, Bridlewood underwent an ownership change in the summer of 2017 and conditions flourished. The momentum from 2017 carried right into 2018 as Bridlewood continues to be a local favorite.
As Arlington prepares to open their new Texas Rangers Golf Club in 2019, Tierra Verde Golf Club has taken a bit of a backseat when it comes to the talk around town. However, this south Arlington staple has been and should continue to be one of the best facilities in the area. 18 well designed holes, a driving range with lights, a three-hole short course, a great restaurant and patio, and a killer logo keep Tierra toward the top of the must-play list again in 2018.
If you've always wanted to play an Arnold Palmer design, then The Golf Club Fossil Creek in Fort Worth is the spot to do so. This course has been consistently good for years, and if you haven't played it, then you need to get to north Fort Worth. Water features and tiny greens are a big player at Fossil, meaning all 18 holes will test your game.
Top Premium Courses
($60-$69)
Indian Creek – Creeks (East)
Tangle Ridge Golf Course (East)
The Trails of Frisco (East)
WestRidge Golf Course (East)
Grapevine Golf Course (West)
Waterchase Golf Club (West)
After returning to this list in 2017, the Creeks Course at Indian Creek It is a fun layout with some beautifully routed holes on the front and a great group of holes on the inward nine. With a location almost smack dab in the middle of DFW, this one is convenient for anyone looking for some great daily fee golf.
Tangle Ridge Golf Course in Grand Prairie is one of the best courses you'll find south of I-20. We say it every year, but the entire staff at Tangle Ridge is the most courteous group of people we've ever met, and they strive to leave a great impression on every player. The course has some fantastic elevation changes and the course architecture is strategically fantastic. Add in a few well-placed water features, and you've got a course that will delight anyone.
The Trails of Frisco is a course that will test your game and not drain your pocket book. It is also one of the least neighborhood-y neighborhood golf courses in DFW, as the designers did a great job concealing the houses as much as possible throughout the course, giving the layout an isolated feel, despite being in the middle of a neighborhood.
The 6-6-6- layout makes WestRidge Golf Course one of the most criminally underrated layouts in DFW. The Jeff Brauer design employs six par 3s, six par 4s and six par 5s, presenting fun challenges on almost every tee box. Plus, with all the par 5s, you're bound to make a birdie or two. This makes WestRidge a great golf course if you're looking to take a sawbuck off one of your buddies.
On the west side, Grapevine Golf Course has long been a secret of daily fee golfers. With 27 holes that are always in great shape, Grapevine could hold its own in any category. But at just a little silver over $60 for a Saturday morning round, this is legitimately one of the best values in golf.
From a pure golf perspective, Waterchase Golf Club is arguably one of the best daily fee courses in the Metroplex. This Ralph Plummer design is bordered on the north by the West Fork of the Trinity and on the east by Village Creek. Plus, the back-nine has three par 5s and three par 3s, so you may write some birdies on the card. The clubhouse is still bare bones, but for golf purists, this one is a no-brainer.
 Top Mid-Priced Courses
($56-$60)
The Course at Watters Creek (East)
Firewheel Golf Park – Bridges Course (East)
Sherrill Park Golf Course – No. 1 (East)
Split Rail Links & Golf Club (West)
Bear Creek Golf Complex (West)
Iron Horse Golf Course (East)
The Courses at Watters Creek is arguably one of the most complete golf facilities in the Metroplex. Not only is this a great layout for a muni, but it has one of the best open-to-the-public practice facilities you'll find, with a driving range, multiple putting and chipping greens, a nine-hole course of par 4s and par 3s, and a separate six-hole short course. If you're a range-rat, but don't have country club money, this is a fantastic spot to refine your game.
In DFW, playing on Bentgrass greens is a rarity, especially at a great price, but you get both on the Bridges Course at Firewheel Golf Park. We truly are amazed each time we step onto the golf course at the condition of the greens, even in the summer, when Bentgrass usually struggles. Add onto that the fact that there are 3 distinct 9s on the property, and you have a facility really offers some country club-type conditions at a great public golf price.
Rounding out the Mid-Priced category on the east side is the classic No. 1 Course at Sherrill Park Golf Course in Richardson. The layout is a timeless, old school assembly, beefed up by a $2-million renovation in early 2016. As the course has grown in to the new digs (reshaped greens, reworked bunkers and 113 additional trees), is has truly rounded into form.
One the west side, the top dog in the Mid-Priced category is Aledo's Split Rail Links & Golf Club. The new clubhouse and giant outdoor covered eating area really add a nice touch to this already-stellar facility, but it is the golf course that is the star. A unique links(ish)-style layout with great use of mounding, bunkering and the surrounding trees, Split Rail is 100 percent worth the drive to Aledo to play, and worth a trip back to play again.
Now multiple years removed from the golf course hell it was in in 2013, Bear Creek Golf World has reestablished itself as a fan favorite and must-place golf course for all central DFW residents. With two 18-hole layouts that do a good job of utilizing the subtle elevation changes, both the East and the West courses are enjoyable to play.
Located along Interstate 820 near Haltom City, Iron Horse Golf Club is one of the shorter courses on this list, but it still provides a fun challenge for any player. The train theme and train cars parked around the course are a nice touch, and the par 5 that runs along the highway may be one of the better holes in the area.
 Top Value Priced Courses
($55 & Under)
Riverside Golf Club (West)
Woodbridge Golf Club (East)
 Riverside Golf Club is a perennial favorite of the AG staff. The course is almost always in great shape, and the meticulous attention to detail shows on each hole. Plus, it's a stern test of your game. For our money, no. 18 is one of the toughest finishing holes around, especially is the wind is blowing from the south. They could use an upgraded clubhouse, but the course is great.
When it comes to pure value, Woodbridge Golf Club might be the best bang for your buck in town. The back nine winds through the trees and provides some quiet relaxation, assuming you're hitting some fairways.
Best Outlying
Pine Dunes Golf Club
The Links at Land's End
Squaw Valley Golf Club
 Pine Dunes Golf Club in Frankston might be the best golf value in the state. This is a gorgeous golf course. It's far enough away to feel like you're out of town, but not far enough to make a day trip out of the question. The sky-high pines don't look like anything in the metroplex, and at less than $90 on the weekend, this course is an absolute must-play.
The Links at Land's End is on a beautiful piece of property out on Lake Fork, and more than 65 percent of the holes play along the lake at one point or another. Scenery plays a huge part of the experience at Land's End, as the views are beautiful, and the visible wildlife is abundant all across the golf course. Another huge plus? Once you are done playing, Lake Fork is one of the best bass fishing lakes in the country, so you can always do a little lip rippin' post-round.
Squaw Valley Golf Club in Glen Rose may be a bit of a hike for many Metroplex residents, but we promise you it is completely worth the trip. The facility has two wonderful golf courses – Apache Links and Comanche Lakes – that are framed by century-old Oak trees and Squaw Creek, which winds its way around the property. A worthwhile trip, especially during the summer months when you can make a day of it and play 36.
Currently Being Renovated
Texas Rangers Golf Club (formerly Chester Ditto Golf Course) has to be the most anticipated opening in metroplex golf in years. The AG office gets calls, emails, and Twitter messages weekly asking if there has been a grand opening date announced. The answer is, not yet. The torrential rains in February, September, and October set the open date back some, so it looks like will be early 2019. However, we can report that the layout and the facilities will be well worth the wait.
Irving Golf Club (formerly Twin Wells) is also looking at a 2019 opening. Again, the recent rains added some time onto the renovation. Another Colligan Golf Design project, we can only hope this one is as fantastic as Rockwood was for the city of Fort Worth.