Scene and Be Seen – Texas LIVE!

Arlington has long been the place for entertainment in the metroplex. From Six Flags, to Hurricane Harbor (which is still Wet N' Wild to me), to the Rangers and the Cowboys. If you want to take in a game, or take a spin on the Judge Roy Scream, then A-town is the place for you. As the area continues to grow and improve, and with the Rangers new ballpark scheduled to open in 2020, it became apparent now was the time to launch a world-class spot to watch games, take in some live music, or just step out for a fun lunch on a casual Friday.
Texas LIVE! is just the place for all of the above. 200,000 square feet of just about everything you could want in a night out. The $250 million project is now open for business, and features some world class food, drink, and music. All told, the venue is projected to pump near $100 million into the Arlington economy annually. And if you've had a chance to check out the state-of-the-art facility, it's easy to see why.
In addition to Texas LIVE!, the Live! by Loews luxury hotel is also being developed right next door. This $150 million project will be the first hotel in the country to carry the Live! by Loews brand and the first luxury resort hotel in Arlington.
One of the first things that strikes you as you enter Texas LIVE! is the massive screen that is usually showing multiple games at once. It is the centerpiece of the whole show, and it is impressive. Whether it's the Rangers, Cowboys, or a premiere NCAA game in town, the venue is hopping with fans who are there to take in the game and soak up the electric atmosphere. And the screen can actually retract, revealing a stage for live shows, which means during the slow sports season, you might be able to catch a good band playing.
I made a visit the evening of the LSU/Miami game (which was being held at AT&T Stadium, and there were hundreds of fans from both schools that were there to take in the game as close to the stadium as possible, without actually having to fork over hundreds of dollars to go to the game. Anytime the Tigers or Hurricanes would put points on the board, fog machines would mist fans and lights would flash throughout the facility. It was a far cry from the sometimes sterile and corporate atmosphere in the high dollar seats at the stadium itself.
Surrounding the LIVE! Arena, which the given name to main congregation area with several stand-alone bars, seating and the aforementioned jumbo-screen, there is a cornucopia of other places to dine, drink, or take in some live music.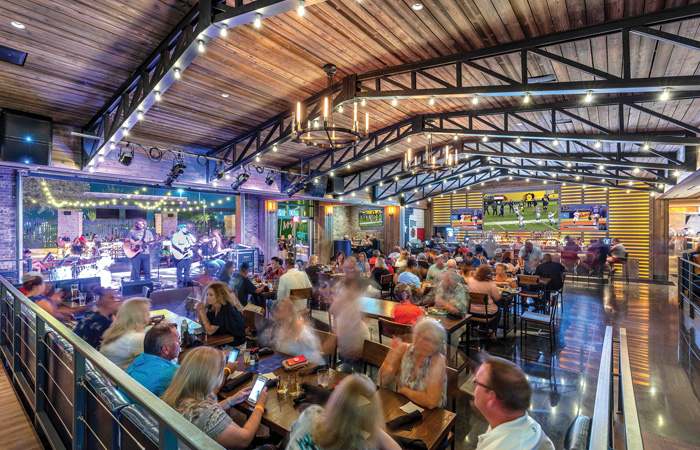 If you want a description of the inside of Texas LIVE!, think of a 90's mall food court pumped full of steroids. There are restaurants and bars in every corner of the complex. It seems as if every time you turn around you see a new place to try.
Miller Tavern & Beer Garden is a tavern concept with a stage specifically engineered for acoustic music. An outdoor beer garden is adjacent and gives patrons a great spot to take in a drink on those spring afternoons. The food at Miller Tavern is described as "gastro-pub fare with a twist". Featured menu items include Cherry Glazed Bourbon Bacon, Pimento Cheese Red Potato Skins and Miller's Fried Chicken with Bacon and Jalapeno Corn Fritters. All of these items can be expertly paired with a beer to complement their flavor profiles.
Looking toward the interior of the facility, is Guy Fieri's Taco Joint. A true Fieri original that features a variety of scratch made tacos and has a full bar and a bevy of unique house made margaritas, including Guys Caliente 24 oz Frozen Margarita which is prepared with jalapeno elixir, el Jimador tequila, Grand Marnier, fresh lime juice and sweet and sour.
If you're a Texas barbecue connoisseur, then the name Lockhart immediately sounds the alarms for your salivary glands. Even in Texas LIVE!, where there are multiple aromas all slugging it out for the attention of your olfactory senses, there is still one that reigns supreme. Lockhart's Smokehouse. You can small the barbecue from just about anywhere on the property, and it is like a Sirens call for the carnivore. They have all the usual suspects: brisket, sausage, turkey, chicken, pork, ribs. And they're all fantastic, but for me, the one thing that separates the pack when it comes to barbecue are the sides, and at Lockhart's, they are a cut above. The blue cheese slaw and the mac n' cheese are both next level, but if you really want to kick it up a notch, add a couple of the brisket deviled eggs, because they aren't like anything you've ever had.
The PBR Country Bar is one of the more interesting concepts at Texas LIVE!. This 1,500-person capacity mega-pub is named for the Professional Bull Rider's Association, and also has a 7,000 square foot upstairs outdoor patio that overlooks the Arlington Backyard performance stage (more on that in a minute). This is the 10th PBR bar in the United States, with other locations in spots like Vegas, Philly, and Atlanta. Of course, when you think of the PBR, naturally you think of bulls. Well at PBR bar, you can attempt your 8 seconds of glory on their very own mechanical bull. Top that off with a female service staff wearing crop tops and chaps, and you have one hell of a venue for you and the crew to have some cold drinks before a live show below or a game across the street.
If a sports bar is more your speed, then Texas LIVE! has you covered there as well. Sports & Social Arlington is a massive 30,000 square foot homage to the Rangers and sports in general. This is a must try if you're taking a group of kiddos to the game for a birthday party, or if you and your friends want some upscale bar food and several cold drinks as you watch your favorite team on TV.
Food-units include quesadillas, wings, loaded country fries, tacos, dogs, sandwiches, burgers, pizzas and flatbreads. All of which are not your standard bar food. In addition, Sports & Social has plenty of entertainment besides what's on the tube. Skeeball, table tennis, shuffle puck, air hockey and virtual golf simulators make this an ideal place for a private party or fantasy draft.
The final two restaurant stops on the tour of Texas LIVE! are concepts which bear the names of two local sports legends. Upstairs in the venue is Pudge's Pizza, of course, named for former Rangers catcher a Major League Baseball Hall of Fame class of 2017 inductee. Pudge's is a fantastic concept for a quick bite before the game, or late night if you need a slice to soak up some of the evening's libations. At Pudge's, you can get pizza by the slice (pepperoni or cheese), or if you sit down and share a whole pie with a group, they have some more gourmet options to choose from.
The Texas Slinger is one of the most popular choices and features ancho-spiced chicken, spicy refried beans, red onion, jalapenos, red chili tomato sauce, chipotle honey glaze and a combination of mozzarella, cheddar and jack cheeses. It's got just the right amount of heat from the chilis, and the combination of cheeses are rib-sticking, and perfect for those late nights. If you are one of those people who can never decide between pizza and wings, give the 20-20 pie a day in court. This specialty pizza has buffalo chicken, grilled red onion, bacon, mozzarella, blue cheese crumbles and a buffalo sauce drizzle. It's like wings and pizza in one convenient package.
No doubt one of my favorite spots in Texas LIVE! has to be Troy's. I probably shouldn't have to tell you who it's named after, but just in case you've been in a coma since the early 90's, I guess I should. This concept was developed by none other than three-time Super Bowl Champion and former Dallas Cowboys quarterback Troy Aikman. Troy's has a bright look that is described as "refined rustic" and features large roll-up doors that open to reveal a gorgeous patio centered around a beautiful Live Oak tree. When the doors are open, a small stage can cater to both indoor and outdoor guests, so the performer can face outward or inward. Lounge seating and another outdoor bar make this a premier spot for those 75-degree spring or fall afternoons.
The food at Troy's is an upscale burger concept, but there are plenty of options for those who may want to be a bit more health conscious. The Tuna Poke Nachos are a fantastic selection for those who want bright flavors, while still watching their waistline. The nachos use sushi-grade tuna and then top it with chili garlic sauce, grilled scallion aioli, wonton crisps, avocado and sesame seeds. If you're a wing person, they have those on the app menu as well. You can select Bee Sting, Korean Barbecue, or classic Buffalo style, and of course they're served with ranch or blue cheese. However, if you're looking for a mind blower, try the Cauliflower Wings. Yes, that's right. Wings made Cauliflower. Now, clearly nobody has ever seen a Cauliflower with wings, but this app is for those who want to enjoy the spoils of traditional buffalo wings without the guilt. This vegetarian friendly version is spicy-battered, flash-fried cauliflower florets that come with your choice of spicy garlic sauce or classic Buffalo sauce. And, I can report, they are delicious. Not all that dissimilar from real boneless wings.
My personal favorite burger at Troy's has to be the Frito Pie Burger. Topped with spicy Texas chili, onions, jalapenos, sharp cheddar cheese, Fritos and a sour cream drizzle. Not necessarily health conscious, but it's an explosion of flavor. As you might imagine, Troy's also has your standard burgers as well, or if you want a turkey or veggie burger, they have those too.
And don't be shocked to see the Hall of Famer walking around glad handing with some of the guests. Since it's opened, I have heard from multiple people that Troy hangs around quite a bit when he's not on the road broadcasting. So, there's always a chance to get that selfie with a Dallas Cowboys football legend.
As you've likely noticed the LIVE! in Texas LIVE! isn't just a clever marketing ploy. In addition to a focus on live sports and getting people in the mood to attend nearby events, this venue also has a tremendous focus on live, local music. At just about every turn there is a stage that can host a show. Which means you never have to look far for some great homegrown music. Whether it's Petty Theft, Bobby Duncan, or Texas Flood (a Steve Ray Vaughan tribute), there is always someone solid on one of the many stages scattered around the property.
With all that's going on at Texas LIVE!, the main attraction has to be the Arlington Backyard concert venue. Arlington Backyard will host over 250 annual events including cultural activities, art shows, regional and national concerts, charitable functions and community events and is the beating heart of this magnificent complex. The Toadies opened the venue in early August and brought the house down. The Backyard has a capacity of 5,000, and has already hosted The Toadies, Jason Boland and the Stragglers, Kip Moore, Better Than Ezra, and Pat Green. It's big enough where there is electricity in the crowd, but intimate enough to enjoy just about any band and not feel like you're a country mile away. It's truly a spectacular place to see a show.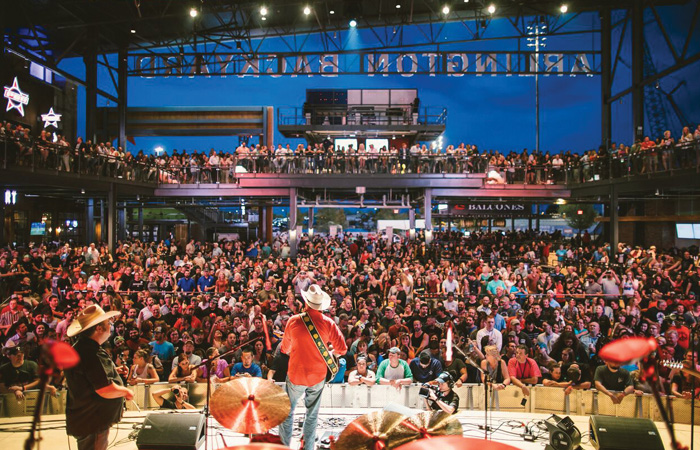 Texas LIVE! is a tremendous spot for not only the sports fan, but the everyday lunch crowd and the family outing. Even if you're not going to a Rangers or Cowboys game, it's a fantastic place to take the kids, take a date, or take the crew to some great food, drink, and enjoy some music. Once the hotel opens, and Globe Life Field becomes the new home of the Rangers, this venue will become the epicenter of DFW entertainment. Hold on, Arlington. It's going to be a great ride!