Cover Story – Guitars and Two-Putt Pars

By Art Stricklin and Eli Jordan
Country music has long been a staple of southern living. From Luckenbach to San Antonio, from Cheatham Street and Gruene Hall to Billy Bob's, Waylon, Willie and the boys were the beginning of a music revolution. Country music was eventually thrust into the mainstream with the emergence of mega-stars like George Strait and Garth Brooks, who have combined for a staggering 80 number one songs. Other superstars have emerged over the subsequent years, including Jason Aldean, Luke Bryan and others, but their songwriting and music has a different feel. Molded from pop and top-40 genres, often times their music becomes muddled and generic. Not that these newer stars aren't talented, but their music often doesn't resonate as much with the older generation of country fans. They are a far cry from the Highwaymen, Merle Haggard or Ray Price's that older generations grew up listening to.
However, there are still those who like to follow the path paved by the greats of southern music. The outlaws, the musicians that play dusty honky-tonks across the country and march to the beat of a different drum, all the while treating fans to one-of-a-kind sounds and spectacular songwriting. Men who draw inspiration from multiple genres and then use that knowledge to craft songs that really speak to listeners.
In this issue of AVIDGOLFER, we feature several artists who have bucked the trend of mainstream country and have seen an abundance of success both on stage, as well as on the golf course.
Charlie Daniels, Pat Green, Mike Ryan, Steve Helms and Bobby Duncan have all seen their share of the bright lights. And over the years, these talented musicians have given thousands of people a reason to cherish their country roots and keep grinding away on the driving range.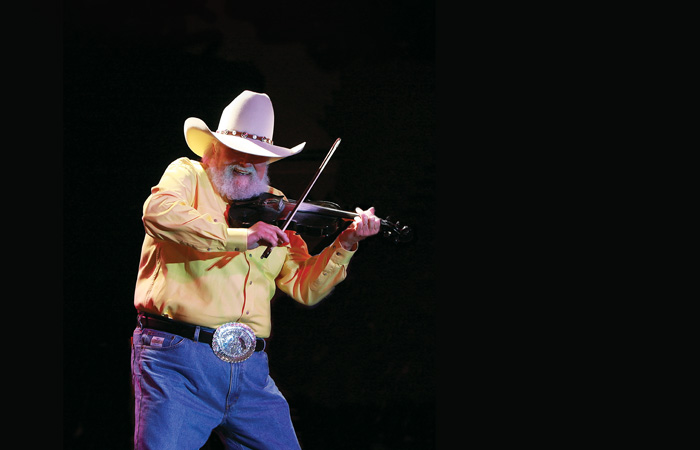 Charlie Daniels
Age: 81 • Albums: 30 • Handicap N/A
As he nears his 82nd birthday, Charlie Daniels is showing no signs of slowing down. The North Carolina native has been putting rosin on the bow for 60 years in the music industry. Charlie began his career playing bluegrass music with the Misty Mountain Boys. After moving to Nashville in 1967, he began making a name for himself as a songwriter, session musician and producer.  Elvis Presley recorded a tune Charlie co-wrote titled "It Hurts Me," which was released on the flip side of "Kissin' Cousins."  He played on such landmark albums as Bob Dylan's Nashville Skyline and tried his hand at producing on the Youngbloods' Elephant Mountain and Ride the Wind.
Charlie himself emerged as a solo artist in 1970 with a self-titled solo album. Two years later he formed the Charlie Daniels Band and the group scored its first hit with the top ten "Uneasy Rider."  Since then the CDB has populated radio with such memorable hits as "Long Haired Country Boy," "The South's Gonna Do It Again," "In America," "The Legend of Wooley Swamp" and of course, his signature song, "The Devil Went Down to Georgia," which won a Grammy for Best Country Vocal Performance by a Duo or Group in 1979 as well as single of the year at the Country Music Association Awards.
Over his 60-year career, Daniels has released 30 studio albums, including his latest: Memories, Memoirs and Miles – Songs of a Lifetime, which came out in 2017.
AVIDGOLFER: How did you get started playing golf?
Charlie Daniels: One of the guys in my band played and would occasionally play a round on the road. I went along a couple of times and found that I enjoyed it immensely, bought a set of clubs and started playing.
AG: What do you like about golf which so different from your career in music?
CD: Golf is the ultimate self-challenge, it's the desire to improve and work at doing so can take your mind off a plethora of concerns and the effort to become a better golfer can also apply to other parts of your life.
AG: Best places you've played.
CD: Augusta National, Congressional, Shadow Creek, Torrey Pines, Old White at Greenbrier, Pinon Hills in Farmington, NM, Legends in Nashville, Spyglass Hill.
AG: Where are some Places you like to play?
CD:  I enjoy playing in the small towns, there are some really nice courses, public and private around the country that are really well maintained and little known. It's cool to find hidden gems.
AG: What about your involvement in golf with courses and charity events
CD:  I did charity tournaments in Wichita Kansas for around 17 years and one in Tampa Florida for 27 years.  Currently involved with Phillip Fulmer in the annual Jason Foundation event in Nashville and played a few times in President Ford's charity pro-am in Vail, Colorado.
AG: What are some of your Dream Locations for a round of golf?
CD:  Lake Tahoe, Pumpkin Ridge, played there once but got rained out after a few holes. PGA West, Pinehurst No. 4 and Seaside St Simons. I'd like just one more round at Augusta National.
Pat Green
Age: 46 • Albums: 7 • Handicap 6.3
A San Antonio native, Pat Green became the poster boy for the college dancehall Texas Country scene. Green played the college circuits, mainly in Lubbock, Texas before he drew the attention of the one and only Willie Nelson. After playing at Willie's 4th of July Picnic, Green began a meteoric rise on the Texas music scene. His early releases: Dancehall Dreamer, George's Bar, and Carry On are still revered as some of the most influential Texas Country albums and inspiration for the next generation of artists. Green soon earned himself major-label support in Nashville and became the poster child of Texas music for a whole generation of fans.
His next three releases: Three Days, Wave on Wave and Lucky Ones were all smashing successes, including hits like "Take Me Out to a Dancehall", "Southbound 35", "Texas On My Mind", "Guy Like Me", "Baby Doll", and "My Little Heaven", as well as the title tracks from all three releases.
On Green's 46th birthday in April of this year, "Dancehall Dreamin': A Tribute to Pat Green" was released. The album features covers of ten Pat Green hits, performed by various peers, along with commentary about each song.
His list of achievements includes over 2 million albums sold, three Grammy nominations and once selling out the world-famous Houston Astrodome.
AG: What do you like about golf which so different from your other career?
Pat Green: I love golf and love the history and the tradition of the game. A couple of years ago both my mother and my sister purchased a book for me on the history of golf in Texas, "Links, Lore and Legends, The Story of Golf in Texas," because they thought I would want to read more about golf in our great State of Texas.
AG: Best places you've played.
PG: I'm a total golf freak. At one time, I keep a list of every golf course I ever played, several hundred of them. Pine Valley stands out. Pebble Beach stands out. Augusta National stands out way, way, way above the rest of the world. St. Andrews [in Scotland] was a great day on the golf course.
AG: Where are some Places you like to play?
PG: I've lived all over Texas, but now live in Fort Worth which is fantastic, I was out at Colonial for a while and now I'm a member of Shady Oaks in Fort Worth, Ben Hogan's old course, which I really enjoy.
AG: What about your involvement in golf with courses and charity events
PG: The Pat Green Foundation puts on the Texas National Golf Tournament which we hold at Pebble Beach, California. This year's tournament was held in August, a fantastic time to be at Pebble Beach, which raises money for many worthwhile charities including the Gladney Home in Fort Worth and the Ben Hogan Foundation which also helps out the First Tee plus others. I'm passionate about giving back and helping others.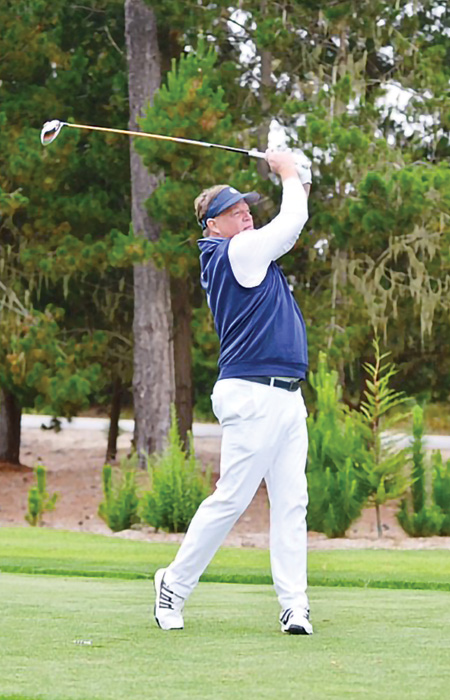 AG: What are some of your Dream Locations or Foursome for a round of golf?
PG: Well Troy Aikman is a buddy and I know he loves to play golf. I'm a Dallas Cowboys fan and I have been all my life. I've been able to play with a bunch of PGA Tour players and it's always a great experience. The one course that stands out worldwide, I would say, is St. Andrews, Scotland, The Home of Golf where I played and was very nervous. You're very fortunate to be able to play at great places and with great people.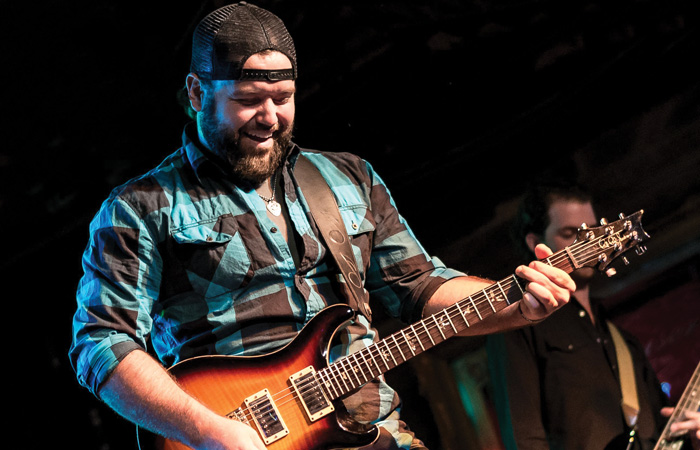 Mike Ryan
Age: 32 • Albums: 4 • Handicap: N/A
A San Antonio native, Ryan grew up playing sports. From football to track, Ryan was always into athletics. To help fill the void left by high school football, Ryan took up the guitar and spent countless hours teaching himself to play. His initial 2010 release "The First One" featured just 6 tracks, but two were covers of well-known hits. "Slow Hand", a Conway Twitty 1982 classic, and Steve Wariner's 1985 hit "Some Fools Never Learn". Ryan knocked both songs out of the park with his mellow voice and unique twang. His second release: "Night Comes Falling" dropped in 2012. "The Cold One", and the title track "Night Comes Falling" showcased Ryan's raw talent and emotion.
Ryan's third album sent this San Antonio phenom on the rise toward superstardom. 2014's "Bad Reputation" not only solidified Ryan as a musician, but as a songwriter as well. Three songs from "Bad Reputation" reached no. 1 on the Texas Country Charts. The title track, "Dancing All Around It", and "Wasting No More Whiskey", the latter of which saw heavy rotation on mainstream country stations around the country.
AG:  How did you get started playing golf?
Mike Ryan: Well, I originally took a player's improvement series of lessons at Iron Horse. I liked it a lot, and now that I'm at DeCordova Bend, I am getting to play a lot more. Plus, my newborn son loves being in the golf cart. Sometimes, it's the only way to get him to go to sleep. I'll just put him in the seat next to me and drive around a bit.
AG: Best places you've played?
MR: I played in Ireland several years back, and I can't remember the name of the place. My dad was with me and he was super pumped to play. We had been out late the night before, so I don't think I got much, if any sleep. But once we got there, the course was amazing. Right on the ocean. My dad loved it. There's something very special about being able to play at a place like that with your dad.
AG: What are some places you like to play music?
MR: Well Billy Bob's is still the gold standard for me. It's such a historic place, and there's always so much energy there. It's not like anything else we play. Gruene Hall is cool too, but there's no air conditioning, so you don't want to play it between April and October. At the end of the day, for me, it's about the size of the room and attention you're getting.
AG: How long have you been playing and what are some of your musical influences?
MR: It's been 13 years since I started playing guitar, and probably 11 since I actually started playing in front of people. As far as influence, I would have to say The Eagles. I love The Eagles. And my grandfather was a big influence as well. He directed the Texas National Guard Band for like 30 years.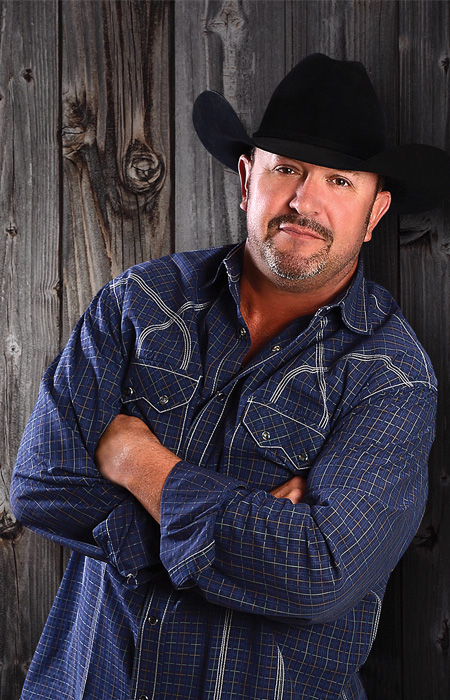 Steve Helms
Age 52 • Albums 3 • Handicap: 12
Steve Helms is a Cleburne born signer songwriter who has been playing music for 35 years.
If you've ever been to a Texas Rangers or Texas Longhorns game, then you've likely heard Steve Helms. His 2008 single "Nowhere But Texas" has become an almost de facto state anthem, highlighting all the great things that make the Lone Star State unique, with mentions of The Alamo, Gruene Hall, Billy Bob's, Willie Nelson, and Austin's 6th Street.
Earlier this year, for the tenth anniversary of its release, Helms unveiled a brand-new video featuring some Texas heavy hitters, including Troy Aikman, Bobby Duncan, Austin Allsup, Deryl Dodd, Bri Bagwell, Casey Donahew, Chad Prather, The Ticket's own George Dunham, and others.
The next time the sun is bright, fire up this tune and listen to it on a patio with a cold beer and enjoy this toe-tapper that really helps you appreciate the great state of Texas. It's truly an anthem for those proud to be from the Lone Star State. Helms' "Nowhere But Texas" chorus says:
"Nowhere but Texas, that's where I'll be. It holds the answers to all my dreams. I know one thing, when God calls me, nowhere but Texas, is where I'll be."
You said it, Steve.
AG: Best places you've played:
Steve Helms: St. Andrews by far. My wife got me a ticket to Scotland for my 50th birthday. We tried like hell to find some connections over there to get me on, but we couldn't figure out a way to get a tee time. So, we just figured we'd go over there and cross our fingers. We went over to the course first thing in the morning and added my name to the walk-on list. I told the kid in there that I was a singer from Texas and came all the way over to play. He said he would do his best to get me on. We left the course and walked around town a little bit, and a couple hours later I got a call. "I have some good news" he said, "You're the last time before twilight". So, we scrambled back to the course and I teed off. It was amazing. I ended up giving the kid in the pro shop a Dallas Cowboys and Texas Rangers ball mark. He loved them. If you've ever played at St. Andrews, I think it immediately has to become the best course you've ever played.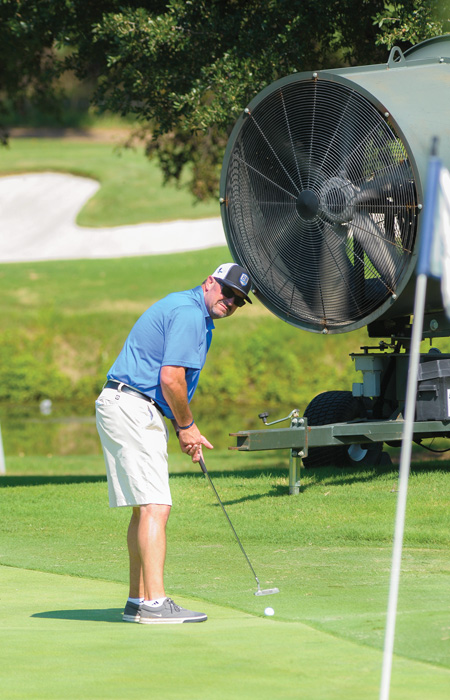 AG: How long have you been playing and what are some of your musical influences?
SH: 35 years. I got a guitar when I was 13 and started playing VFW's with old dudes. The Eagles are the reason I started playing music. We got a few guys together down in Cleburne and got instruments and started playing Eagles tunes.
AG: What are some places you like to play music:
SH: Man, I've been doing this a long time. The cool one for me was always the Wildhorse in Nashville. It's an amazing venue and they treat you like royalty. They have an amazing green room. When you get up on stage, the microphones smell like Listerine, because someone took the time to clean them. I also got to play the Grand Ole Opry, and that was really cool. And just a fun fact about me, I've gotten really good at being able to read lips while I'm playing. More often than not, I can tell what the people in the first few rows are talking about.
AG: What would be your dream foursome?
SH: My dad and any other two players. He's been gone 20 years now.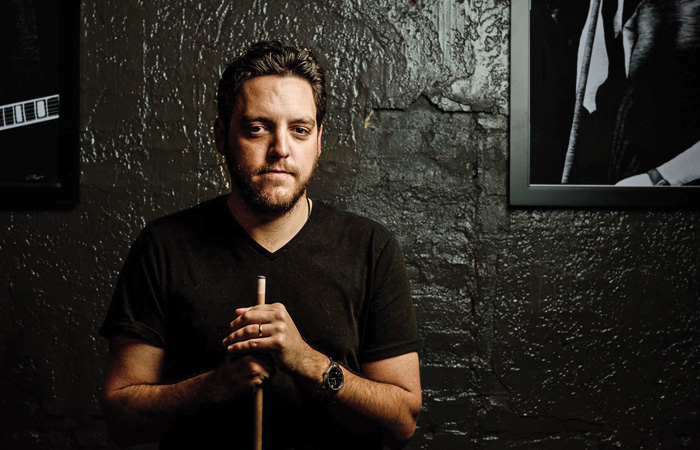 Bobby Duncan
Age: 32 • Albums: 3 • Handicap: N/A
A product of Arlington's Lamar High School, Bobby Duncan saw success at an early age in the industry. Duncan began performing at open mic nights around the metroplex in 2005 just after graduating high school. Duncan refined his style and used these three-song weeknight sets to get more comfortable performing. Shortly thereafter, Duncan was introduced to veteran singer/songwriter Walt Wilkins.  After a meeting at Wilkins' home near Austin, Wilkins and fellow producer Tim Lorsch agreed to produce Duncan's first full-length album.
Though Duncan may not have the chops that some of the other artists have, he has every bit as much talent. With three albums to his credit, Duncan is becoming more known every day. "Lonesome Town", his 2006 release, was an early indication of just how powerful and meaningful Duncan's voice and songwriting were. His 2009 release "Faith, Hope & Everything Else", and his 2012 album "Forever From Here" reinforced the notion that Duncan will be a force in the industry for years to come. If you like mellow, folksy songwriting delivered by an easy to listen to set of pipes, then Duncan is a must listen.
AG: Best places you've played:
Bobby Duncan: I love Colonial. It's got so much history, and it's a great course. I really like getting to play there.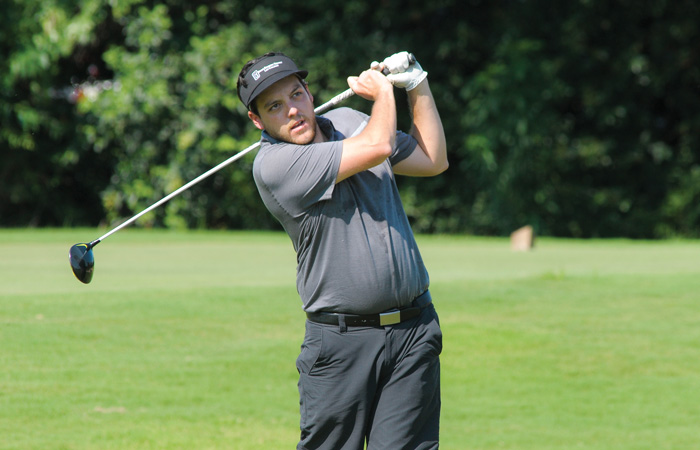 AG: How long have you been playing music and what are some of your influences?
BD: 13 years. I got a guitar when I was a kid because I loved Garth Brooks, but some of my other influences are The Eagles, Bruce Springsteen, and Jackson Browne. I named my kid Jackson after Jackson Browne. To me he's the greatest songwriter ever. I also love Springsteen. I've probably seen Springsteen three or fours times in the last several years. Saw him on Broadway. That was insane. Spent a fortune, but it was worth it.
AG: What are some places you like to play music:
BD: I grew up in Arlington, so getting to play Billy Bob's was really cool. I really like the Granada in Dallas too. It's a great venue.
AG: What would be your dream foursome?
BD: Good question. I have a few, but I think I would go with Tiger Woods, Bob Stoops, and George W. Bush. Although I would give honorable mention to Barack Obama, I picked W over Obama because he seems like a bit more fun. And I'd love to play with Bruce Springsteen, but I don't believe he's a golfer.
Other Country Artists Who Tee it Up:
Willie Nelson
Age: 85 • Handicap: 16
Although Nelson's health has began to struggle over the last several years, he still loves to tee it up on his own personal course. Nelson owns the Pedernales Golf Club in Spicewood, Texas. This nine-hole course is open to the public, and there aren't many rules. Want to play in flip-flops? No problem. Want to bring your dog along? Sure thing. Want to play with nine people in a group? Go for it. This is a one-of-a-kind course owned by a one-of-a-kind guy.
Darius Rucker
Age: 52 • Handicap: 7
Rucker first made a name for himself in the mid-90's as the front man for Hootie and the Blowfish. He has since reinvented himself as a country artist and won his third Grammy in 2014 for his rendition of Old Crow Medicine Show's "Wagon Wheel". In a 2016 Billboard interview, Rucker said Augusta National is his favorite course.
Vince Gill
Age: 61 • Handicap: Scratch
Gill is known as one of the most well-respected men in Nashville, and he has the game to go with it. A scratch golfer, Gill has even tinkered with the idea of trying to qualify of a Senior US Open, though the 61-year-old doesn't really have the time these days, as he's been touring with The Eagles since Glen Frey's death in 2017.
Kip Moore
Age: 38 • Handicap: 3
Moore grew up with sports lineage. His grandfather was a baseball player in the Cardinals minor league system, and his father was a golf pro. Moore played basketball and golf in college before pursuing a career in music.
Jake Owen
Age: 37 • Handicap: 3
Owen received a sponsor's exemption to the Web.com Nashville Golf Open earlier this year. It just goes to show how good even the Web.com guys are, as Owen shot 86-86 and finished 17 shots behind the nearest competitor. Give him some credit for trying though.
Clay Walker
Age: 49 • Handicap: 7
Golf has played a major role in the life of Walker. When he felt pain during a swing in 1996, he went to the doctor, only to be diagnosed with MS. Walker now uses golf as a tool to help raise money for a cause that touches him personally. Walker still plays once or twice a week to this day.
Joe Don Rooney
Age: 43 • Handicap: 6
As a 6 handicap, the guitarist for Rascal Flatts is a pretty solid stick. And of course, And needless to say he has plenty of cash to settle up those greenies and sandies at the end of a round. Rascal Flatts has sold 23-million records worldwide.
John Daly
Age: 52 • Resume: 2-Time Major Champion
Okay, okay, we know. This one isn't fair, but technically Daly does have a band, and they do cover and play some country songs. If you haven't heard JD, give it a listen. It's not too bad.