Drive Time – 2019 BMW X7 xDrive40i

One wonders how a car manufacturer can hold off building a model to fill every conceivable niche for the ultra-popular SUV/Crossover category. And, even though it took a while, don't mistake BMW's last-in entry as the least attractive option. In fact, this beauty might already have leapt to the front of the class. 
Take a good gander at the new 2019 BMW X7 xDrive40i SAV (Sports Activity Vehicle – in BMW speak). This true three-row barge rightfully satisfies those needing to schlepp upwards of seven passengers. And because it's a Bimmer, you can expect world-class driving feedback, luxury appointments and cool tech-toys. 
The X7 is a bold cargo-carrier with the most formidable front grille in BMW history. It's almost 10 inches longer than the X5 with good legroom even in the distant third row. Yet it fits easily in my garage. In summation, it satisfies our checklist for the ultimate driving experience while housing kids and cargo on the countless errands in your busy schedule.
SKIN
The X7 is downright handsome possessing a strong stance with appealing sightlines. It borrows a bit from the new X5 (which I also find very attractive) save for that grille. The grille's teeth is a monstrous design of metal, but it works, looking bad-ass to these eyes – like it could swallow you whole. In contrast, the LED headlights are slimmed down giving a slightly sinister expression. Meaning, it thankfully looks nothing like your benign family tugboat. 
The tester's beautiful Carbon Black metallic painted silhouette is upright with windows galore for excellent visibility. Cool puddle lights illuminate the ground with flowing lines. I would lower the roof rails to mesh more seamlessly with the roof 'cause no one straps mattresses, trees or luggage atop an $80,000 luxury ride these days. The taillights are also slimmed down giving the rear a simpler contrast to the robust front. Dual exhausts and optional gorgeous 22" rims finish out the virile exterior. Consider me a big fan. 
PERFORMANCE
Of course, the X7 xDrive40i offers a plethora of superb driving dynamics – even for a three-rower. At 5,400 lbs. it's no lightweight but still offers nimbleness. The excellent 3.0-litre single twin-scroll turbocharged inline-6 brings 335hp while xDrive50i with a 4.4-liter twin-turbo V-8 brings 462 hp. Both are mated to a seamless 8-speed tranny shifter. 0-60 in 5.8 seconds is admirable for the six and 5.2 for the V8. 
Buttons on the center console allow you to choose ECO-Pro, Comfort, Sport and Sport + modes to deliver noticeable changes in steering feel and throttle response (Comfort and Sport modes were my go-to choices). Opt for the excellent M Sport Adaptable Suspension's Dynamic Dampers to keep the X7 comfy or sporty depending on your mood or road conditions. Very little sway in the curves too. This is a ride you could drive for miles of smiles.  
The xDrive is all-wheel drive and performed admirably inclement weather. I felt supremely confident with its capabilities leaving my only concern with the other drivers slip sliding into me. 
Fuel efficiency is good for this large people mover at 20/25. I squeezed 22 mpg overall and 26 mpg on the highway. Those are fuel efficient numbers for a non-diesel engine. In fact, the engine will coast at speeds of 9 to 99 mph in Comfort or Eco-Pro mode.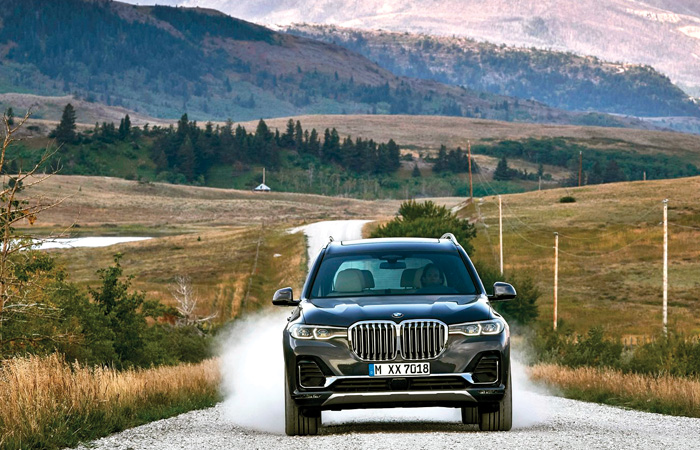 CABIN
Driving dynamics are wonderful, but in this category, luxury appointments are a must (crystal gear shift … why yes please). The X7's interior is gorgeous, airy and the passengers gushed at all the cool features to investigate (Ooh, what does this do?). The elegant cabin feels wider with the sight lines driver oriented. Three subtle ambient light color choices are available during nighttime driving to fit your every mood. The upgraded quilted Ivory Merino leather feels buttery smooth and all materials are top-notch with excellent fit and finish. Double stitching is a nice touch as is the leather steering wheel (The thick M-Sport wheel feels perfect). 
The X7 seats either six or seven (depending if you opt for bench seats or two captain's chairs in the 2nd row). The heated and cooled seats (and heated armrests) are excellent and it doesn't take much to find your sweet spot with the 16-way power settings. A three-panel panoramic roof brightens the interior (3rd rowers have control of their own shade cover) and 5-Zone climate control keeps everyone comfortable. There are heated and cooled cupholders (of course!). One can opt for the Executive package including LEDs imbedded in the panoramic roof to mimic a starry sky. Soft-close doors are a nice option, but you still have to remind the kiddies not to slam 'em.  
Interior controls borrow heavily from the updated X5. Dual 12.3" screens are exceptionally clear and easy on the eyes and the fully digital gauge cluster is programmable. BMW removed a few of the infotainment buttons for a cleaner look. The ever-improving iDrive control now has a scratch pad to "write" commands when searching phone numbers or NAV settings. The RearView camera is HD quality and the Head-Up display shows speed, speed limits, radio stations and NAV direction through the windshield. Every car should offer them. 
Sight lines are abundant with nary a blind spot. Combining lane departure, blind spot warnings and collision preventing brakes gives you ample support for safe driving. Cargo room is good as well with 48.6 cubic feet with the 2nd row up and 90.4 cubes folded down. You can adjust the split-open power lift gate height via the iDrive controller and designated buttons allow you to effortlessly raise or lower the 2nd and 3rd rows.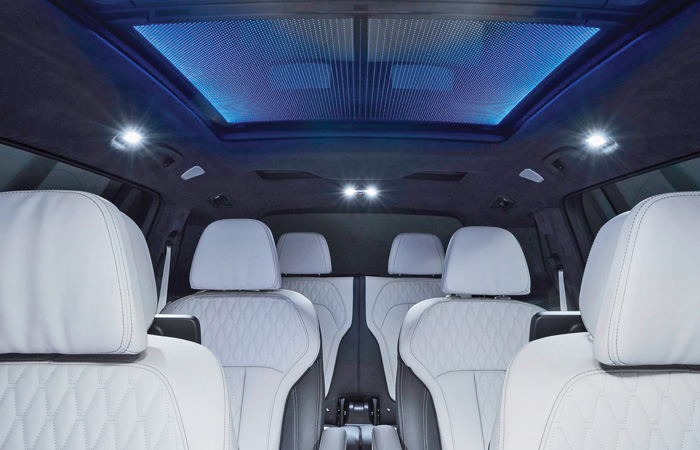 TECH TOYS
The X7 offers just about anything your techie heart desires. A standard Harmon Kardon 10-speaker, 205-watt surround sound system is exceptional (or pony up for the Bowers & Wilkins 20-speaker, 1,500-watt blowtorch) and its Bluetooth is the best in the biz. You can use adaptive cruise control and lane-keeping assist to drive handsfree up to 37 mph and a combination optical-infrared camera will monitor the driver's eyes and nose to make sure they're monitoring the road ahead or it will disengage. BMW Remote Services allows you to tap apps like Find My Car, Google search and Remote Locking via your smartphone. Wireless phone charging is a nice touch. 
The 2019 X7 xDrive40i is a wonderous package for anyone wanting the exquisite BMW driving experience, luxury interior appointments, high safety scores and 3-row cargo capability. Add in BMW's zero maintenance costs for oil, air filters, spark plugs and brake fluid to make it a must drive when contemplating your next extra-long SUV – oops SAV.
 Test-drive the 2019 BMW X7 xDrive40i at Classic BMW in Plano.