In Memoriam – Dan Jenkins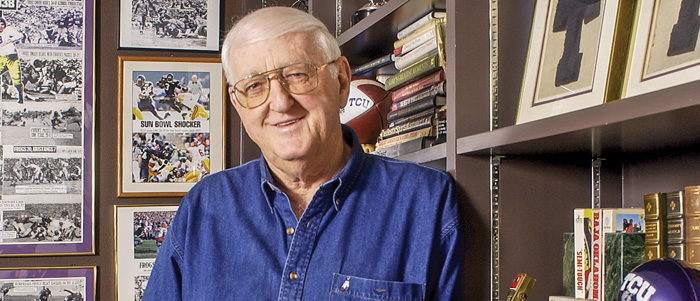 Knock on Dan Jenkins' front door and you're unexpectedly greeted by a kind, charming gentleman who belies the irascible, PC-bashing writer alter ego – an alter ego whose journalism has skewered the bland, clueless, dumb and under-performing sports figures for more than 50 years. In that span, the athletic climate has turned from blissfully innocent and genuine to increasingly cynical and jaded, giving Jenkins ample opportunity to expose the culprits.
At the risk of blowing his cover, Jenkins is everyone's favorite Grandpa.
Yet, give him a keyboard and the words spew in blunt, honest rants pecking at all things sacrosanct in the sports landscape.
Raised in Fort Worth, Jenkins is a true media legend. He's penned over 500 magazine articles for Sports Illustrated, Playboy and Golf Digest, and written 17 novels including "Semi-Tough," "Dead Solid Perfect," and the just-released "Slim and None." His original writing style has inspired many current columnists and authors, and entertained fans for generations. Jenkins' peers validated his breadth of work by voting him in the World and National Sportswriters Hall of Fame.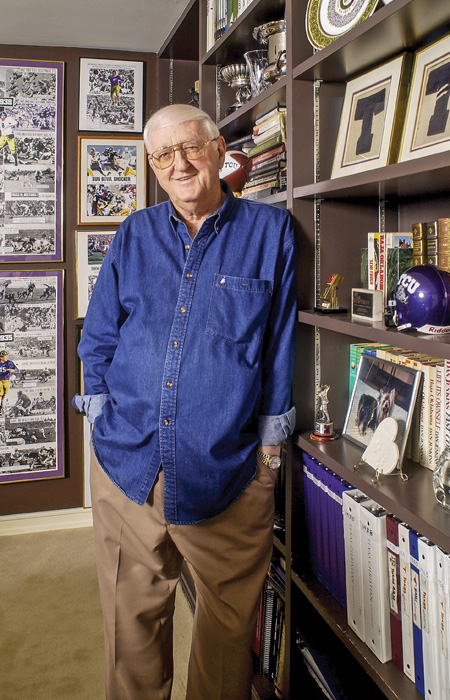 His home office (just a solid 3-wood from Colonial Country Club) is flooded with golf memorabilia spanning a half-century of travel and deadlines. You'll find meticulously placed media credentials from every major championship, Ryder Cup and President's Cup. Pictures with golf legends and Presidents hang proudly on the wall. The affection for his beloved Texas Christian University is apparent as well. He considers himself the luckiest man around, and after perusing his historical collection, it's hard to disagree.
Jenkins has seen a lot during his writing career. Imagine watching Snead, Nelson, Hogan, Palmer and Player in their primes. Sprinkle in Super Bowls, college football championships and over five decades of majors, and you'll quickly develop an appreciation for his rich life.
He was gracious enough to offer his opinions on a multitude of subjects and as usual, swung with full uppercuts.
I don't have a secret to writing novels. It's hard work, but very satisfying. I know how a novel will start and how it will end before the writing begins. I usually have a title in mind, but I like to surprise myself in the middle. New characters always creep in. I never outline. If I did, it would just be carpentry. I do follow the advice of Elmore Leonard, and I think I always have without realizing it. He once said, "If it sounds like writing, I re-write it."
"Semi-Tough" is my favorite sports novel because it made the most money and achieved the most acclaim. But I like "Slim and None" a lot. I think it's well organized and cuts to the bone of the sport [golf].
My lady characters always intrigue me. I love smart, funny, gorgeous women because they're rare – and I'm married to one.
I am now, and have always been, an avowed enemy of political correctness. It's the worst thing academic nitwits ever foisted on America, and it's a tragic thing that so many newspaper editors have fallen for it. I stomp on it every chance I get, both in print and conversation.
I've never had the luxury of writer's block. I put three kids through private schools in Manhattan and then through college at Stanford, Arizona and TCU. Like the old saying, "The two greatest motivations for a writer are poverty and deadlines."
Everybody is not a writer. If you are, you will write, and nothing will stop you. You can't teach anyone to write. You can only show them some of the rules of the craft.
It was pure fun, and profitable, to have three of my novels hit the movie screen. Others have been sold, but haven't been made. It's not art, it's money. That's the only good thing about Hollywood … the money.
Back in the day, I smoked, drank and hung out … a lot. But I never drank while writing and I never drank at home. Home was for root beer floats.
Blackie Sherrod hired me out of Paschal High School at the old Fort Worth Press, and hired me again at the Dallas Times Herald 12 years later. I've only had four jobs, and Blackie hired me for the first two. We e-mail and get together when we can (he's in Dallas). Bud Shrake and I go back to junior high. We've worked on papers and magazines together. We e-mail constantly and see each other as often as possible since he lives in Austin.
If my life depended on a par on a hole, Ben Hogan would play it for me.
My all-time Top 5 players in order are: Ben Hogan, Jack Nicklaus, Bobby Jones, Byron Nelson and Sam Snead.
A piece of advice for Tiger Woods: He should someday learn that the print press is not the enemy. In fact, he should learn that we will be around long after he's gone. But he's probably too rich to ever care about this, so piss on him.
Golf's greatest advancement is also the worst: technology.
The LPGA Tour could attract more attention by wearing shorter shorts and barring the South Koreans.
I much prefer the LPGA today over the Champions Tour, and at times I prefer it over the regular tour. There are some great young chicks coming along, cute as well as talented – Paula Creamer, Michelle Wie, Morgan Pressel and Brittany Lang. I discovered most of them a few years ago, I'm proud to say, at the Kathy Whitworth Cup at Mira Vista in Fort Worth. It's a great annual event for teen babes. There will be others.  
Michelle Wie should accept whatever sponsor exemptions she can get.
Appoint me PGA Tour commissioner for a day and I'd do away with 175 exemptions. Go back to 60. Put fear back in the game. Thin the herd. 
My foolproof idea for a winning U.S. Ryder Cup strategy is to tell the players that for every point they lose, they're barred from the tour for a year.
Today's course length is absurd. Length is not the answer. Shorter, tighter and hidden pins are the answer. Bring people back to reality, preserve the great old courses, and make guys create golf shots again.
The U.S. Open is still my favorite major because it's played on the great old layouts. It has this incredible history of Jones, Hogan and Nicklaus, and it usually makes players hit golf shots. I love the Open, even though an idiot will win it every now and then.
It's very different to cover golf today. You can't get to the players and they don't hang out with you. There's this big sea of agents, gurus, accountants and sports psychologists. Plus, the players themselves are dumber. They haven't had to think about anything except hitting it long, making a putt, and getting rich for not winning.
I don't listen to the radio, and I despise sports talk on television. Everybody hollering about whatever – like it's important.
I've been lucky. I've loved every job I have ever had. I'd like to do it all over again, each and every day, each and every deadline.
From the age of 9 or 10, I wanted to be a writer, a journalist and a novelist. Golf was just a game to play and gamble at.
The greatest myth of today's Tour players is that they're intelligent.
I played with Hogan 30 or 40 times all through the 1950s at Colonial, and then a few times in the 1960s at Shady Oaks. It was a wonderful privilege, and believe me, I appreciated the access I had to him, being a writer from his hometown. He gave me lots of tips, mostly through humor, like, "You can probably swing faster if you really try," "You always overclub downwind," and, "There's no secret other than hard work – just get comfortable and hit it."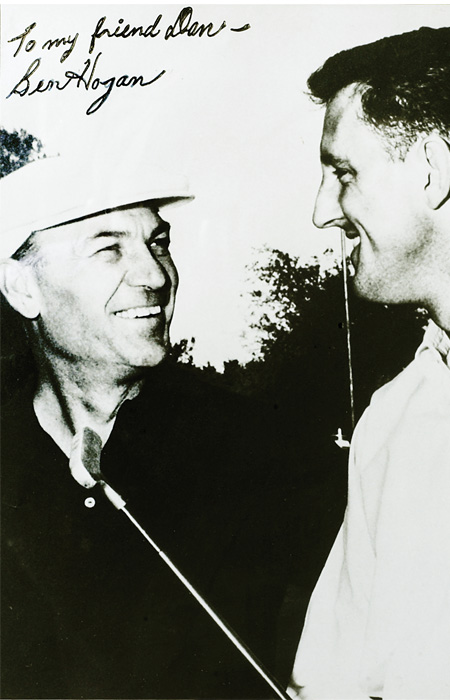 My dream foursome, let's see … Sharon Stone … Nicole Kidman …
No newspaper guy has ever felt like a genius. I think I will always be a deadline guy at heart. Like the old editors used to say, "The first obligation of a daily paper is to come out every day."
Yes, I have embraced technology. I love my Dell and I'm all over the Internet. E-mail is the only way I choose to communicate today. I was slow getting there, however.
The biggest thing kids miss out on today is making their own fun.
I wasn't serious when I once said Tiger Woods would win 24 majors. I think he's just about to hit the wall on making putts after nine years. He'll win some more, two or three perhaps. But he'll never be what he was in 2000. God won't allow it.
I once shot a 65 at Worth Hills and also at Meadowbrook. I shot a 68 at Memorial Park in Houston in a college match against Rice. I shot 70 at Colonial two or three times. I was a scratch golfer in the  1950s, but I pretty much gave it up seriously when I moved to New York in 1962. I've always been around the game, covering it, listening to it.
Frankly, I don't watch golf much. But I do like Johnny Miller. I loved Dave Marr, who was one of my closest friends. I like Lanny Wadkins. Jim Nantz is an excellent "traffic director."
The best advice to give a young journalist is if you don't love it, find something else.
There's nothing wrong with the Tour that a good depression couldn't cure. There's too much money out there for not achieving anything.
I'm not sure I would have survived writing without cigarettes. Winstons were the best friends I ever had. Whiskey I could always take or leave. I drank to put up with bores.
My top 5 courses in order are: Pine Valley, Merion, Cypress Point, Black Diamond Ranch and Pebble Beach.
My greatest achievement, besides my family, is being able to make a living at what I love to do.
There's no secret formula for a long, successful marriage. But it helps to be in love.
My favorite sporting events to cover are college football and the four majors. It's a dead heat.
If I had to whittle down my favorite events, the Texas-Arkansas football game in 1969 was huge, and so was the Oklahoma-Nebraska game of 1971. Poll Bowls – still vivid. As for golf, the 1960 U. S. Open – Arnold,  Hogan, Nicklaus, past, present and future, all colliding at the finish. 
Everything was better in the old days. Except air-conditioning.
I'm befuddled when asked if we should pay college athletes. They are paid, aren't they?
Forget playoffs in college football. Like the old days, let the polls settle it. You have nothing to lose but more bumper stickers.
One goal I'd like to scratch off the life checklist is to see TCU go to another bowl game.
Given enough notice, my last meal would be cheese enchiladas, Railhead ribs, chicken and dumplings, a cold meatloaf sandwich, and a plate of chili and rice  for dessert. 
If I had Bill Gates' money, the first thing I'd buy is a new heart.