Drive Time – 2019 Jaguar F-Type P340

Given the lack of new car inventory and pre-owned models are still in major play, we decided to check out a blast from the recent past; a 2019 Jaguar F-TYPE P340 with only 14,000 miles. It's one of my favorite rides.
Occasionally, a blissful aligning of planets occurs in the car industry. This exquisite model grants nearly every gearhead's wish when rubbing the genie's lamp. 
Such a ride is the stupendous 2019 Jaguar F-TYPE P340 coupe. You want drop-dead gorgeous looks? Check. Luxury appointments? Check. How about a euphoric combo of incredible power, performance and an exquisite throaty sound to make you swoon? Triple check. All at a value that will blow you away in the lofty class of pinch-me sports cars. 
In fact, I contemplated running off with the tester in hopes of entering the witness protection program or leading a police chase until the tank went dry. And the seductive form is so sinful, so sexy, that while giving it a wash, I felt like I was having an affair. This Leaping Cat is that bloody hot. 
The Jaguar F-TYPE coupe is the unofficial tribute to the iconic E-Type—one true classic from the '60s-'70s. Even Enzo Ferrari claimed it was "The most beautiful car ever made." The F-TYPE lures in anyone with a pulse. People plead for a ride. This is the car James Bond should've driven and is one cat even dog owners will love. 
This model is the P340 edition and maybe the sweet spot in the six trim lines. 
SKIN
As stated, the F-Type silhouette is a vision of ridiculous beauty and class. The tester is adorned with Corris Grey paint that appears wet, shimmering delightfully under the sun. Crafted from aluminum, it's stunning from any angle, with curvy, aerodynamic flowing lines, a longish hood, aggressive nose and an exquisite rear (always worthy whether on four wheels or two legs). There are four rakish air intakes underneath the spectacular LED running headlamps. The taillight design borrows a little from the E-Type and adds quad exhausts. 
I love the contrasting chrome sideview mirrors. The door handles remain flush, but pop open at 45 degrees when unlocked. Bright red brake calipers add just enough extra eye candy, and meaty staggered rubber surround beautiful six-spoke silver alloy 20" rims.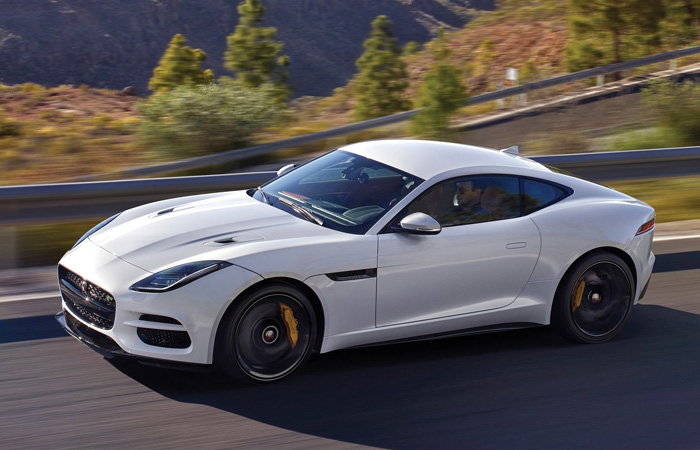 PERFORMANCE
Thank goodness the F-TYPE's performance mirrors its intoxicating exterior. The robust 3.0-liter V6 delivers 340hp and 332/lb of torque, sending you from 0-60 in 5.1 seconds, but feels much quicker. Rear-wheel drive feels confident and secure, as the transmission sends power independently for sharp handling (the coupe-only option is also 80% more rigid). It's also an entirely civil ride when you choose to cruise and, thankfully, feels fast even at pedestrian speed limits, so you don't feel cheated crawling with the common folk. 
But when you bury the pedal, the engine snarls with a roar of stupendous combustible cacophony, as its Active Exhaust adjusts a sweet purr into a raucous growl that's pitch perfect. Its crackling thunder draws eye-popping looks from everyone, leaving them smiling with a hint of drool. The sound is so good, you'll leave the radio off as no mere song can compete. It was my favorite pet trick revving the engine when onlookers surrounded the car. 
Steering provides responsive feedback. Adaptive dampers respond to varying road conditions every ½ second. The performance brakes are powerful and sure. Dynamic mode tightens up the suspension, throttle points and steering as the instrumentation glows racing red. 
That agile suspension and near 50/50 weight ratio enables you to pounce into the curves. Paddle shifting through the gears in Dynamic mode is instantaneous and athletic. It requires premium petrol and gets 20/28. I squeezed 21 overall—not too shabby for an adrenaline rush. 
Finally, the normally flush rear spoiler rises when hitting 70mph, reducing drag by 246lbs. Witnessing it lift is very cool. It completes a sporty ensemble any car enthusiast will love.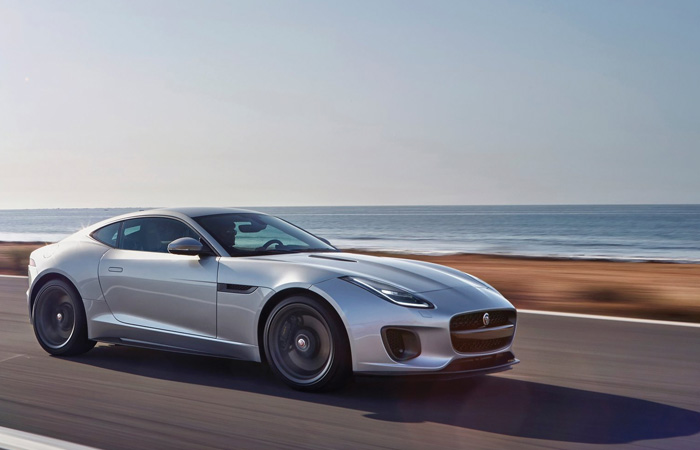 CABIN
There's no mistaking this missile for anything but a sports car. Racy stitching, carbon fiber trim and excellent 14-way power sport racing seats delight the senses. Two air vents coolly rise from the middle dash. The racing steering wheel perfectly fits in your mitts. A gold textured rubber ignition button glows red with anticipation. The panoramic fixed roof is a welcome option. 
Comfortable, supportive leather front seats smell great (no one does leather like the Brits) heat quickly and fit like a warm hug with adjustable side bolstering. There are dual climate zones, ambient lighting and a grab bar for passengers to hold on tight. The F-TYPE is so streamlined; you hardly feel the wind flying down the road with the windows down. 
The handy hatch trunk allows for easy access. Jaguar says you can fit two golf bags in the trunk. I beg to differ as even one was an issue without the driver. The bag works better in the passenger seat. 
All mega sports cars have their eccentric quirks. The F-TYPE offers absolutely the smallest sun visors ever. I suggest offering a hidden tinted extension inside the visor to pull down when needed. My lady said the miniscule vanity mirror required her to apply her makeup in quadrants. Did I care? I was frankly having too much fun driving to notice.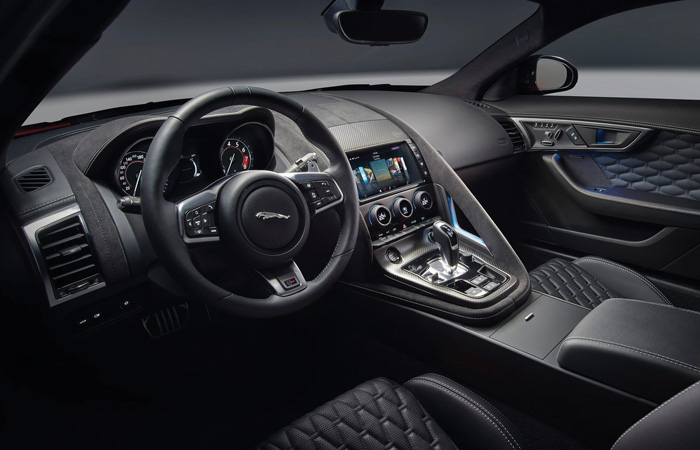 TECH CHECK
Jaguar offers an abundance of high-tech goodies. The new high-def screen is bright even in broad daylight. Blind-side assistance works well, as does Navigation and RearView camera. Bluetooth flawlessly streams calls and mp3 files. The 770W Meridian audio system is studio quality. 
Thus, the 2019 Jaguar F-TYPE P340 is the Holy Trifecta of sports rides: looks, performance and sound for any true sports car aficionado. It's stunningly gorgeous, drives like a fantasy and draws appreciative looks like no other, while barely dipping into the $60,000 price range (yes, it's a value). Meaning it's the perfect feline combo of fangs, claws and stupendous snarl. 
SCORECARD
Golf Bags: One as a front passenger
Curbside Appeal: I want one. NOW!
0-60: 5.1 seconds. 
Gas Mileage: 20/28 Observed 21 overall
Must Haves: Getting to the dealership immediately
Warranty: CPO six years from date first use, unlimited miles, no deductible
Price New: $85,886
Price as Tested: Low $58,591
Test-drive the pre-owned Jaguar F-Type at Park Place Jaguar Land Rover in Grapevine.