Drive Time – 2019 Mercedes-AMG S 63 Sedan

Unicorn. Most know one as a fairytale horse with a large single spiraling horn affixed to its forehead. Others use the term when frustratingly searching for a near-mythical item. Like when hunting for a ride that provides near-perfect experiences in utter opulence, high-tech toys, runway gorgeous looks and thrilling performance. 
The 2019 Mercedes-AMG S 63 Sedan proves a Unicorn can emerge in real-life form. Meaning, you can chill in its exquisite lavishness, while satisfying your devilish frisky spontaneity with bat-out-of-hell exhilaration. Even the $149,000 base price will seem reasonable for the well-heeled buyer who wants it all.
SKIN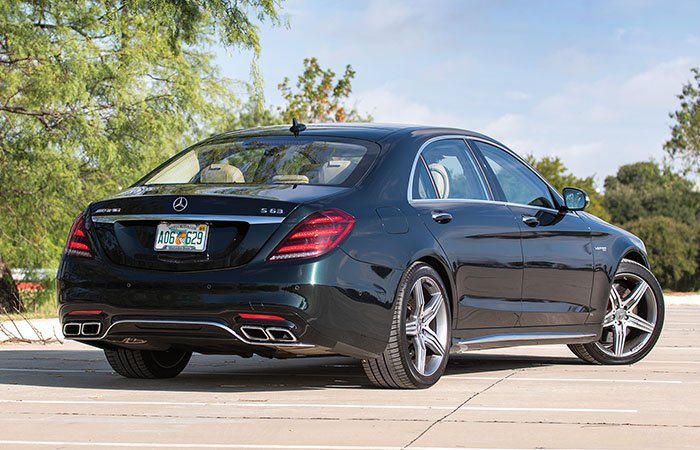 The exterior is simply a drop-dead stunning work of art. Our tester's unique emerald green metallic paint appears black in low light, but shimmers and delights when properly illuminated, providing some of the best eye-candy I've witnessed. The front-end leans toward menacing with large air ducts underneath jeweled LED headlights. The silhouette is sleek from stem to stern ending with quad chrome exhausts. Twenty-inch five-spoke AMG rims, wide summer rubber and bright red brake calipers are the impeccable accessories for this chariot. 
The auto high beam feature adds the treat of appearing like curtains opening when engaged. It is one of several WOW moments I heard from passengers. In fact, I can't think of one exterior change to make – which is the highest compliment I can offer. Unicorn.
PERFORMANCE
The AMG S 63 is offered in one delicious flavor; an adrenalin-injected 4.0-liter V-8 BiTurbo engine possessing 603 hp and 664 lb-ft. of thrust. The combo with standard all-wheel drive (4MATIC) sprints 0-60 in 3.4 seconds with a top speed of 186 mph – which was near supercar status just a few years ago. No small feat when the S 63 weighs in at 4,500 lbs. Your endorphins will love it. 
Each AMG engine is lovingly handcrafted by a single engineer. The nine-speed transmission is smooth when cruising and deliver knockout punches in Sport+ mode. It's the perfect split personality. Paddle shifters change gears without a hitch. Large brakes effectively stop the heavy missile without struggle. 
The suspension is adjustable to soak up the bumps or handle cornering with nary a lean – no matter the speed. In fact, I found myself in Sport+ with Comfort suspension settings as the Goldilocks choice on our pothole-inflicted asphalt. When in Sport+, the exhaust notes will raise your testosterone with a low rumble morphing into a barking, rowdy delicious weapon of seduction for any gearhead. 
The 4MATIC all-wheel drive performed superbly in recent Dallas storms. Gas mileage is a decent 17/26 for such a rocket. I observed a good 18 mpg overall in very spirited driving. 
CABIN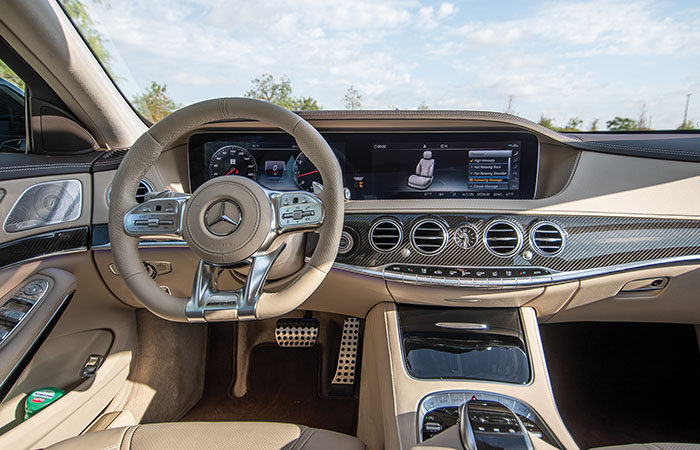 Oh my, the interior is to die for. It's just as impressive as the S 63's high bar of looks and driving chops. For it's the sumptuous cocoon in silk beige/espresso brown Nappa leather that'll make you and the passengers swoon. There's so much luxury, safety and whiz-bang goodies to enjoy. High-end materials, fit and finish are abundant throughout the expansive layout. Air Balance purifies the cabin air and subtle fragrances enhances your driving pleasure.
A cool party trick are the dynamic seats, which inflate side bolsters to provide a supportive hug when turning ("that's so cool!"). The 16-way power active multi-contour heated and ventilated massaging front seats (seven settings!) will morph your stressed-out mind and body and into utter bliss – perfect after a long day of golf.  Even the center console and door armrests are heated (via the optional Warmth and Comfort package)! 
I'm a big fan of the gearshift on the right steering wheel stalk that frees up valuable room on the console – although the console's storage is surprisingly shallow. The thick sport steering wheel (squared off at the bottom) has excellent tactile feel. Lighted kick plates and 64 ambient lighting choices are a welcome touch. Motorized sun screens on the back seat and rear windows are convenient as is a separate sunroof for rear seat passengers. 
That back seat is truly limo-length in leg space including a separate wireless charger and sunroof. The optional soft-close doors are a personal favorite. Multi-view cameras and a 360-degree surround view help safely maneuver the wide S 63 into tight confines. 
Cargo room is not bad at 14.1 cu.ft. but you'll probably need to take out the drivers when putting more than one bag in the trunk (one perfectly fits horizontally with the driver). A cool, thoughtful benefit is a sliding cargo shelf in the trunk with adjustable depth to nearly three feet deep. Again, what's not to like?
TECH TOYS
The stellar dash combines two beautiful 12.3-inch screens for digital instrument cluster and touchscreen multimedia displays. It's absolutely huge, clear, programmable and gorgeous. 
Drivers use a track pad or COMAND wheel on the console to maneuver through the extensive menus. Some selections will require a quick learning curve, but you'll adapt quickly. Those massage settings can combine with ambient lighting to provide an extravagant relaxing experience. 
Apple's CarPlay and Android Auto are standard. Bluetooth transmission is impeccable for phone or music. The standard 540-watt/13-speaker Burmester Surround Sound System is concert hall clear or you can spring for the high-end 3D Surround System 1,190-watt/26 speaker ($6,400) to satisfy any audiophile. 
Of course, the AMG S 63 delivers the latest reassuring safety features. It will gently remind you to stay in your lane, constantly scans at an early stage sensing traffic patterns to help prevent front collisions or brace you for a rear-ender, and PRE-SAFE brake with Pedestrian Recognition. The radar-enabled Active Distance Assist keeps you safely behind cars ahead at a pre-selected distance and Evasive Steering Assist provides additional safety to avoid an obstacle at speed by tightening up the steering response. 
Meaning, you really have to be an obliviot to suffer a collision. 
The 2019 Mercedes-AMG S 63 Sedan is an intoxicating balance of dashing looks, driving chops, incomparable luxury and incredible technology. Even at the tested price of $167,045, the package feels like a reasonable bargain. For those with the means, it's a must-drive when searching for presence, performance and creature comforts to satisfy any whim. This is the real Unicorn that'll look splendid in your driveway. 
Test-drive the 2019 Mercedes-AMG S 63 Sedan at Mercedes-Benz of Plano, Mercedes-Benz of McKinney and Park Place Motorcars in Dallas, Grapevine, Fort Worth, and Arlington.