After the Round – Jack and Grill

One of the Metroplex's most rapidly developing areas is Roanoke, and at the heart of the entertainment district of the now-bustling suburb lies historic Oak Street. 
From mom-and-pop shops to antique stores, this thoroughfare offers an array of unique shopping options, but it's food that is the main draw.
And while numerous new ventures seem to be popping up left and right, through it all has been Jack and Grill — where you can find your standard bar food done up the right way. 
Owner Jack Layman opened the Grill some seven years ago and locals have been flocking with regularity for his pub fare and selection of more than 50 beers on tap.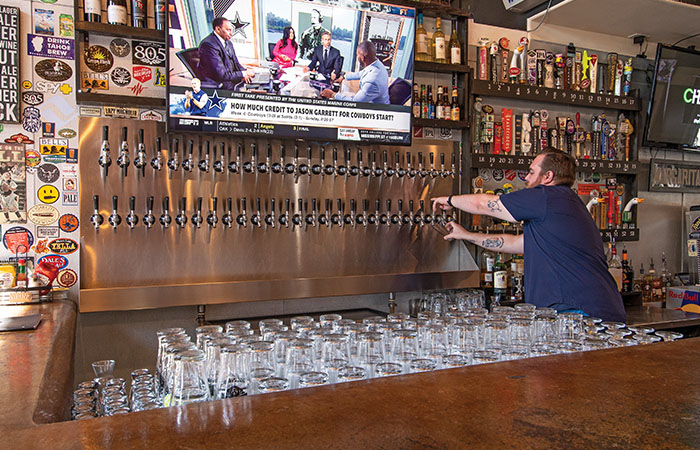 As noted, a perusal of the menu at Jack and Grill won't reveal anything groundbreaking, but the way the Grill serves up your traditional bar food will have you quickly forgetting the standard chains you have become accustomed to frequenting. 
Take Jack's Famous Wings. 
Available in 10 different flavors ranging from mild to hot, tangy sesame to spicy cajun (my personal favorite), and with bone-in or boneless options, Jack has your wing cravings taken care of. But it's Jack's signature technique of smoking, flash-frying and then grilling that has earned the Grill "Best in D/FW" acclaim. 
The sauces and flavors will have you reaching for more, and the chicken on these drums and wings virtually falls off the bone. 
Not a wing guy? No need to worry. 
The vast amount of appetizer and starter options available at the Grill truly makes for tough decisions, especially for a starter-lover like myself.
Pulled pork nachos are stacked so high on a tray it's a challenge for one individual to polish off themselves. But the seasoned pork, house BBQ sauce and to-die-for white queso will certainly have you trying. 
Sticking with the fryer, tots (house made jalapeno and cheddar cheese tots lightly breaded and fried and then drizzled with the aforementioned white queso and topped with bacon and green onions) or loaded fries (seasoned waffle fries topped with cheese, bacon, chives sour cream and jalapenos) are another great way to wet your appetite while sipping a craft beer and watching a game.  
And you of course can't go wrong with Mozzarella Sticks, Panko Crusted Fried Pickle Chips or Southwestern Egg Rolls. 
The Grill also has you covered in the pizza department, including pepperoni, Italian sausage, BBQ chicken or carnivore flatbreads, but it's the Honey Bee (spicy red sauce, soppressa, mozzarella, fresh basil and Texas honey) that is the perfect way for your group to get their pie fix before diving into entrées. Or heck, just get one for yourself and return at a later date to sample an entrée. Trust me, you won't be disappointed.
If you're looking to stay away from bread or the fryer, Ahi Tuna Nachos are a great choice for a little healthier option, while the Grill also offers a Butcher Block complete with an array of sausages and cheeses. 
Numerous salads are also on the menu, including the Blackened Salmon Cobb or Ahi Tuna (pictured) Salad, while Chili and Chicken Enchilada Soup are offered daily.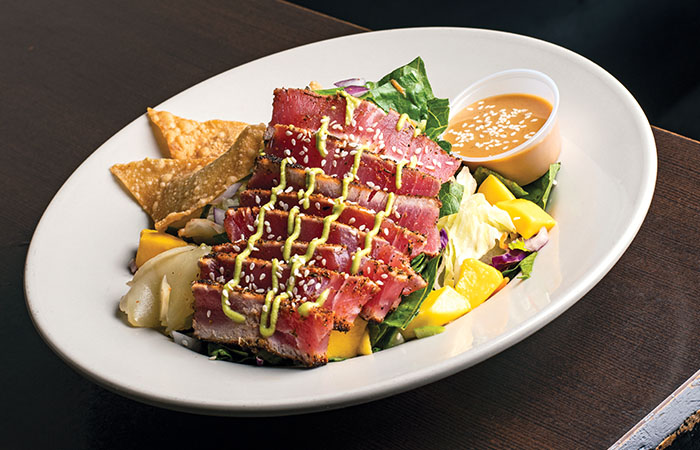 But don't think Jack and Grill is just a one-stop shop for any appetizer you can imagine. 
Flip the menu and be floored by the array of sandwiches and burgers available. 
Jack's take on the Jucy Lucy Burger, made famous in Minnesota, features a burger stuffed with cheddar jack cheese, grilled and served with ketchup, mustard, onion and pickle. I also suggest substituting for the sourdough jalapeno cheddar bun.  
The Sliced Sirloin Sandwich and Classis Reuben are also favorited by regulars, but for me, the Pulled Pork Sliders are the way to go. 
If you really want to chow down, Jack and Grill also offers numerous entrees, highlighted by the Jalapeno Marinated Pork Chop, Asian Glazed Salmon or Chicken Fried Steak or Chicken. Fajitas (chicken or beef) and Pulled Pork or Salmon Tacos (pictured) also find their way on the menu, as does the Chicken Parmesan Pasta.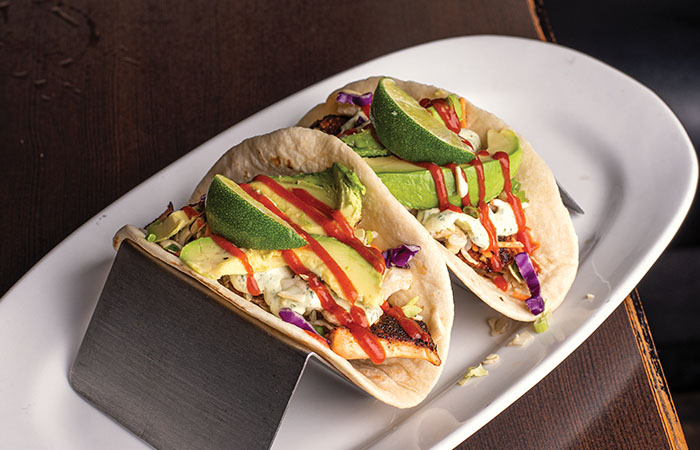 For dessert, the Grill offers a Chocolate Brownie A La Mode, a Root Beer Float and Grandma's Buttermilk Pie. 
With so many tasty options on the menu, it truly is a challenge narrowing down to just one choice. 
My suggestion is to honker down with one of the 50 beers on tap and take in a game until you really start craving something. 
Or just come with a large group and try everything!
By the way, Jack and Grill is just one of multiple restaurants owner and operated by Layman on Oak Street. 
Layman's original endeavor in Roanoke, Bayou Jack's Cajun Grill, brings flavors of New Orleans to the Metroplex. 
For appetizers, oysters on the half shell or alligator nuggets are available at market price daily, while dirty balls, cajun shrimp and crawfish ceviche and crab bombs all hit the mark. 
In addition to steamers (shrimp, crab and crawfish), traditional creole favorites such as po-boys, etouffee, jambalaya and gumbo are hearty and flavorful. 
Layman's latest venture, meanwhile, is Los Compadres – due to open soon on Oak Street – and will feature takes on Tex-Mex from scratch.