Drive Time – 2020 BMW M850i Gran Coupe

The introduction of a new flagship model is significant for car manufacturers. These are the eye-popping, money-no-object "halo" rides that lure the curious into the showroom—even if they don't plan on actually buying one—but hopefully stick around to select another model in their budgets.
The 2020 BMW M850i Gran Coupe is the brand's latest Ultimate Driving Machine. It checks nearly all the boxes for exclusivity, a gorgeous body, exhilarating performance, luxury appointments aplenty and yes, practicality.
The first 8-series lasted a decade in the '90's before morphing into the 6-series. The latest 8 incarnation comes full circle replacing the 6. It's bigger, roomier, faster and more luxurious. What's not to love?
The Gran Coupe is one of three choices in the 8 family along with the two-door coupe and convertible. Personally, I believe the GC is the most well-rounded and attractive option for carrying four passengers comfortably with a decent trunk to haul cargo. It's also the least expensive of the three models in the M850 xDrive category ($108,000 vs $111,000 for the 2-door coupe, $121,000 for the convertible).
With the 2020 BMW M850 xDrive Gran Coupe, I've rarely experienced so much pleasure driving a car that's both a confident and supple daily driver anddelivering me euphoric chills rocketing down the road. It drives smaller than it looks, crackles and pops in Sport Mode downshifts, handles ramps with zero lean and has more than enough tech toys to keep you impressed. I shed a tear upon returning it—the ultimate compliment.
Skin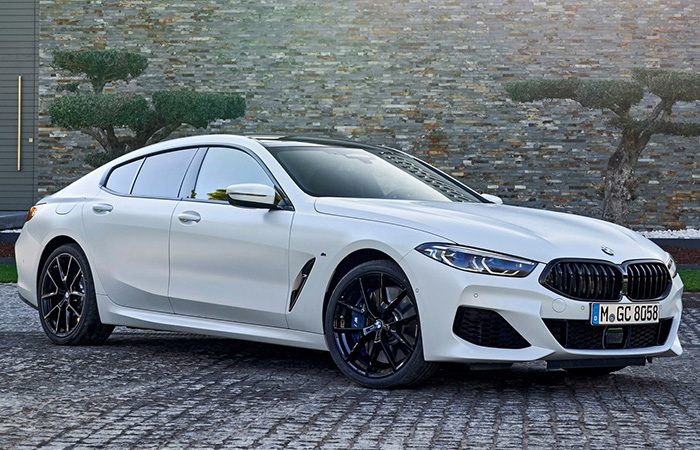 The M850i Gran Coupe exterior is downright stunning. Several times folks took pictures at stoplights. It's adorned with an aggressive front and new grille that houses the now familiar rotating ventilated air slats to cool the growling engine and decrease wind resistance. The pronounced sports fascia includes larger air foils and wicked-cool laser headlights. Let's just say the front looks deliciously menacing without going full monster.
The tester's Mineral White Metallic paint and perfectly placed black trim were a big hit in the office parking lot. The rear is adorned with a beautiful yet subtle spoiler and quad exhausts housed inside twin chrome housing (I'd love to see all four exhausts sticking out of the rear bumper). Attractive 20" 5-spoke rims with staggered performance run flats and blue M Sport brake calipers complete the elegant yet athletic appearance.
Performance
Sure, the car is gorgeous, but the Ultimate Driving Machine better be more than merely a hot body. Thankfully, this car gave me miles of smiles. The M850i M Performance's TwinPower turbo 4.4-liter 523-horsepower/553 lb-ft torque eats up 0-60 in 3.3 seconds—amazing acceleration given its 4,400 lb. curb weight. It's 8-speed transmission auto gearbox shifts seamlessly in Comfort or ECO PRO mode. However, switching to Sport Plus transforms the daily driver into a barking, popping bad boy of hedonistic fun.
You can opt for the familiar rear-wheel drive in the six-cylinder 840 or xDrive all-wheel format in either model that still delivers a rear-wheel bias unless all four wheels are required (which comes in handy when mashing the gas pedal in the 850). Handling is near perfect with BMW's legendary 50/50 balanced chassis. The Adaptive M Suspension Pro adjusts constantly (but imperceptibly) over various road conditions including the horrendous pot holed asphalt in Las Colinas—thereby neutralizing the low-profile tires. Braking with the larger M-Sport blue calipers is capable and smooth.
Thankfully, the engineers listened to customers and dealers demanding more responsive steering feel and handling. Paddle shifting is immediate. I kept it in Sport Plus most of the time (why wouldn't I?) and it delivered with that exquisite warbling exhaust note barking on downshifts, notable thrust and tight handling. Again, you'll enjoy the cruise when chilling, but it's always nice to know you have options when your alt racing jones kicks in. And don't forget about the standard Integral Active Steering (IAS) which turns the rear tires slightly opposite the front tire direction for tighter turns and easier parking.
Gas mileage is a quoted 17/25 and I squeezed 27mpg cruising down the highway and about 18 when pushing it hard with premium fuel.
Cabin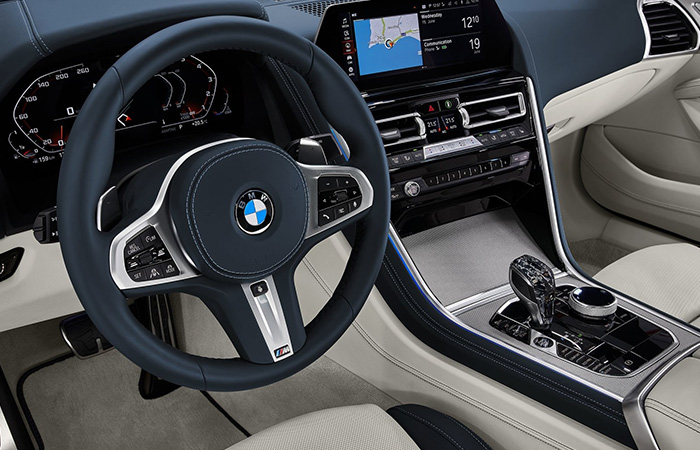 The inviting cabin layout is clean, roomy, easy to navigate and library quiet in Comfort mode. The 16-way power Night Blue/Black Merino leather front seats are comfortable, supportive, heated and ventilated. They provide excellent lumbar, thigh and side bolstering, feeling like a warm hug. In addition, the center and door armrests heat when the seats are activated. Sweet!
The heated leather M Sport steering wheel is thick and sublime, complete with function buttons at your fingertips. All controls are driver-bias and easy to access via the iDrive 7 control knob with its lovely tactile feedback. The new digital instrumentation is clear, as is the helpful Heads Up display.
The gearshift feels perfect in your palm. The wide console doesn't crimp front passenger leg room and possesses a clean, well-laid-out button arrangement along with the latest impeccable iDrive control software married to a large and crystal clear 12.3" infotainment touchscreen display.
I'm a big sunroof fan. This one houses a large double panoramic window that rear passengers can open or close. Or, opt for an optional carbon fiber roof to lessen weight.
Backseat legroom is seven inches longer in the Gran Coupe over the 2-door versions.  There's a generous 15.5-cu.ft. of cargo space for your clubs (the 40/20/40 split folding rear seats are an added bonus). However, for the next update I'd suggest a hatch trunk (as in the 4-series GC) for easier access.
Tech Toys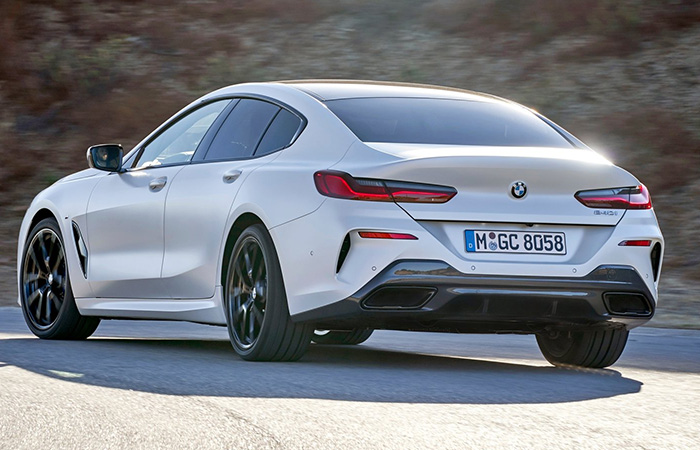 BMW's infotainment displays are some of the best in the biz. The fonts are perfect and easy to read even with aging peepers. It's pleasing to the eye and simple to navigate through various radio formats and audio inputs.
Audio systems include the very capable 464-watt Harman/Kardon Surround Sound or audiophiles can opt for a 1,400-watt Bowers & Wilkins blowtorch complete with lighted speakers and six different sound venue settings for a $3,400 upcharge. Stream mp3 files and utilize various apps like Spotify and Apple CarPlay are worthy additions (Android Auto is currently unavailable) along with weather reports plus wireless phone charging.
As a flagship, the M850i houses some of the best safety features in the industry. So much that you'd have to be a near obliviot to wreck it.
Yes, the 2020 BMW M850i Gran Coupe should be a fan fav for BMW aficionados and those looking for a good reason to leap from other manufacturers. It possesses an intoxicating recipe of brawny looks, giddy performance, lavish appointments, excellent tech and practicality. More importantly, it symbolizes the epitome of Ultimate Driving Machine DNA. Put this on your must-drive list when contemplating the next exhilarating sports sedan purchase. You'll thank me later.
Scorecard
Golf bags: At least two with rear seats folded down
Curb appeal: Lovely mix of brawn, performance and luxury
0-60: 3.3!
Mileage: 17/25. Observed 20 overall
Must-haves: Everything
Warranty and Maintenance: 4yr/50K mile warranty & 3/36K scheduled maintenance
Base price: 840: $84,000, M850i: $108,000
Price as tested: M850i: $116,945
Who buys it? Those wanting to cruise or race in a true four-door sports sedan
Finish line: Another near-perfect winner from BMW
Test-drive the 2020 BMW M850i xDrive Gran Coupe at Classic BMW in Plano.