Drive Time – 2020 Cadillac XT6 Premium Luxury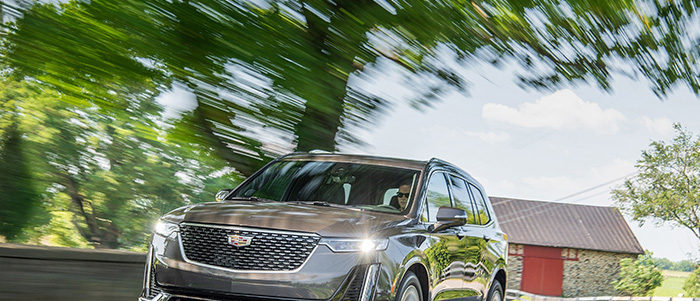 The Cadillac Escalade was once the only choice in the brand's lineup for those desiring luxury and three-row passenger space in a bonafide SUV. While still popular, it has a higher price to match. Thus, Cadillac smartly decided to add another niche product to fill a possible hole between the XT5 and Escalade in size and price—the 2020 XT6 Crossover.
The XT6 possesses nearly the same passenger capacity with a smaller footprint (garage compatible) and more economical six-cylinder engine that still scoots plenty. Fortunately, it doesn't slack in the luxury appointments—highly important when surveying the highly competitive category's upscale amenities breakdown.
 Skin
The 2020 XT6 Premium Luxury (also available in Sport) is handsome enough to satisfy nearly anyone searching the Crossover/SUV market. Yes, its boxy but somehow looks smaller than the vast interior room would allow. Plus, it possesses enough eye candy to prevent boredom burnout. The Caddy's new headlight and running lights look cool (nearly sinister) at night and there's enough brightwork on the flanks and rear to break up the sparkling stellar black metallic paint.
The Luxury grille has a polished diamond motif while the Sport gets a blacked-out nose.
Dual chrome exhausts, 20-inch polished split spoke rims and low-profile roof rails complete a pleasing exterior motif.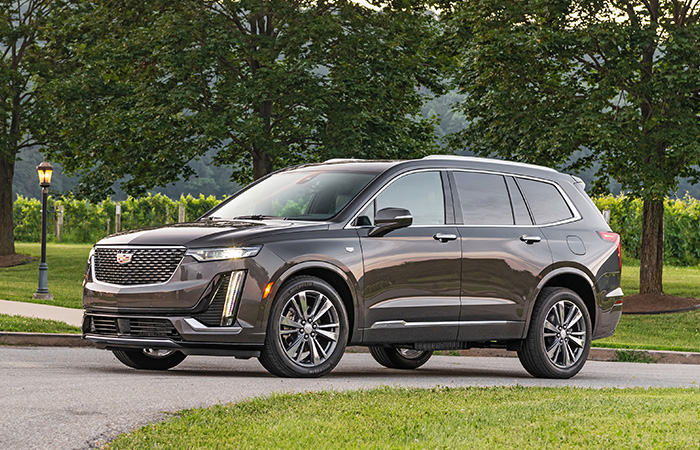 Performance
Cadillac engineers decided on a capable 3.6-liter V6 engine with 310 hp and 271 lb.ft. torque. The "400" badge on the rear refers to the metric equivalent "neutron-meter" vs. torque measurements that actually rounds up high (should be 367). Confusing? Yes. Why needed? Good question.
The Luxury utilizes a front-wheel drive while the Sport receives all-wheel-traction. It's peppy enough in FWD for most customers looking for luxury over performance. The nine-speed transmission shifts flawlessly. Handling is comfortable enough in this category with little sway while soaking up the bumps. Braking is excellent and the turning radius is pleasingly tight. Sitting on a car chassis (Escalade's is a truck and the gear shift in the console rather than the steering column) gives the XT6 a commendable car-like ride.
Maybe the largest tradeoff between the XT6 and Escalade is towing power (4,000 versus 8,100 lbs.). That is balanced by the Active Fuel Management Tech economical bonus when the XT6 drops from six to four cylinders when cruising. Thus, the XT6 gets 18/25 miles per gallon compared to the thirstier Escalade's V8 14/23. The Cadillac will take regular or premium fuel and doesn't have a gas cap to fiddle with (great idea).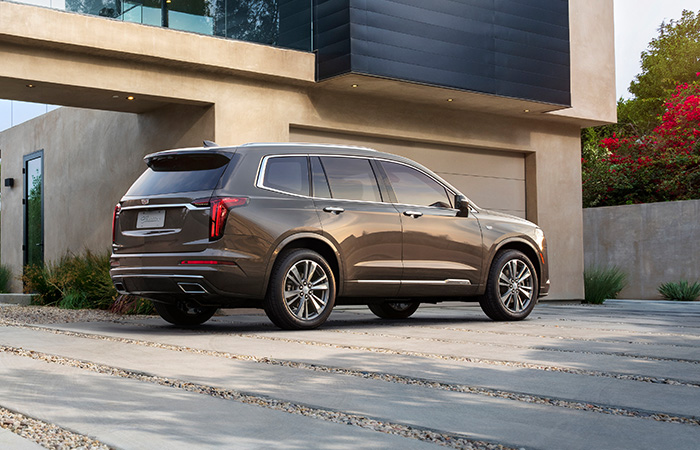 Cabin
The exceptional cirrus with dark titanium accents and contrasting stitched leather gives the interior an upscale motif. Fit and finish are outstanding. The stunning LCD dash instrumentation is bright and programmable. Leg and headroom are more generous now. The premium eight-way power-adjusted heated/cooled seats in front are supportive and comfy. You can opt for second-row bucket ($800) or bench seats. Even the important third row has capable legroom for 6-foot adults.
There's plenty of knickknack storage with a plethora of USB ports. A handy wireless charger slot in front of the console lid is very handy (think toaster).
The center console infotainment stack houses the easy-to-follow Cadillac User Experience (CUE) in a pleasing angular layout. The tester included backup camera, keyless remote start, bi-climate control, and adaptive LED headlights. A comprehensive list of safety measures included ample blind spot warnings and vibrating seat (driver only) alert you from harm's way.
One controversial addition is the rearview mirror where you can either look at the normal view through the rear window or utilize the camera mounted on the rear power lid thus expanding the viewing area without seats or passengers blocking your vision. I found it somewhat disorienting due to the change in lighting and distance, but you have a choice, so no harm inflicted.
I'm addicted to the adjustable and dimmable head up display showing speed, traffic warnings and direction, and RPMs keep your eyes on the road and should be standard in all vehicles. Terrific 360-degree cameras help safely moor your ride into tight spaces (all part of the worthy $2,300 Enhanced Visibility and Technology package).
The seats are easily folded by toggle switches in the rear. You can fit a full golf bag including driver even with the third row up. Cargo capacity is 78.7 cu.ft. with both rows folded (compared to the Escalade's 94.2 cu.ft.). With that smaller footprint comes a typical garage-friendly size.
Tech
Like its other Cadillac siblings, there's no shortage of stupendous technology. The improved 8" CUE touch screen is deep blue hued display, more responsive and easier to work. It comes to life when detecting your hand temperature, mimicking hand motions like an iPad as you move icons, shrink or enlarge the data and display up to 60 preset radio/XM satellite stations and phone numbers. Feedback is provided via a slight haptic vibration. It includes 3-D Navigation maps, Doppler radar and natural voice activated prompts work instantaneously to any voice. The CUE will even read aloud your text messages. Yeah, this is hardly your Daddy's Caddy.
There are fewer buttons under the updated CUE screen and touch-activated sensors but a handy volume knob is happily included. You can Bluetooth up to 10 devices. Apple CarPlay and Android Auto works seamlessly with your phone.
The eight-speaker Bose Centerpoint Surround System is impeccably crystal clear and near perfect in audio acoustics with four distinct cabin sound settings.
In addition, safety ratings are excellent and there are enough nanny features to keep you out of harms way.
The 2020 XT6 Premium Luxury is a terrific choice when balancing size, cargo capability and gas mileage against the popular Escalade. The luxury appointments will satisfy many in this competitive category. My SUV-loving bride gave it two thumbs up. That's all the feedback I need to know this is a great pick to click.
 Scorecard
Golf bags: 4
Curb appeal: Love those head/running lights!
0-60: 6.8 seconds
Gas mileage: 18/25. Observed 21mpg overall
Must-haves: Enhanced Visibility and Technology pkg
Warranty and Free Maintenance: 48 months/50,000 miles. Premium Care Maint. 3/36.
Base price: $53,960
Price as tested: $59,375
Who buys it? Luxury SUV owners desiring luxurious 3-row that fits in garage
Finish line: Another great option in the Cadillac XT lineup 
 Test-drive the 2020 Cadillac Luxury Premium at Crest Cadillac in Frisco.