Drive Time – 2022 Cadillac CT4-V Blackwing

Some auto manufacturers are streamlining their product lines – mainly sedans. Sure, SUVs and Crossovers are still in high demand, but sexy sporty sedans continue to turn heads. The demand for those sleek rides is significant enough for companies to find ways to aptly fill their product lines. 
Cadillac is a good case study. Their SUV/Crossovers sell well. The new 2022 CT4-V Blackwing greatly enhances the CT4 V for car enthusiasts desiring more horsepower, delicious exhaust notes and countless customizable driving tweaks.  It's a lovely option that includes a very limited number of true manual clutch shifting transmissions that fires against stout import bows.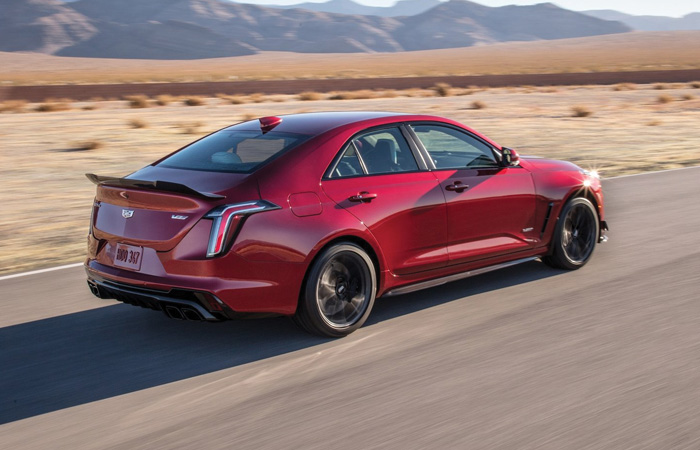 The CT4-V Blackwing has the looks and luxury appointments to draw interest into the showroom. It looks cool in the driveway and the neighbors will beg to play with the delicious gadgets. Keep in mind it's not the V that delivers a V-8 and gobs of horsepower in the upcoming CT5-V Blackwing later this year. Still, it's another signal Cadillac is firmly targeting a spirited consumer without scaring away the AARP buyers. Bravo!
Sadly, Cadillac announced these will be the last of the gas-powered engines as it moves quickly to all-electric rides. So, grab one quick if you're an old-school aficionado like me as it will no doubt increase in value on the collector's market. 
Skin 
The CT4-V Blackwing looks great, but not in a "hey look at me!" Crisp lines and a streamlined silhouette give it a beautifully balanced sporty stance. Goodbye land yacht snickers. The tester's attractive yet understated gorgeous Satin Steel Metallic paint combines with contrasting 18" (to save weight) aluminum alloy rims. Add some flash with either painted blue, bronze or red painted brake calipers (my new fav accessory). The front includes Cadillac's signature bold vertical bladed LED headlights. It exhibits a bold attitude with black mesh grilles mated with a glossy black diffuser. A substantial but tidy rear includes quad exhausts, attractive Carbon Fiber spoiler and holds a decent trunk to fit a full set of clubs horizontally. Chrome accents are tastefully limited with most trim blacked out. Illuminated door handles and kickplates adds to the appeal. It draws admiring smiles from any angle. And yes, the kids think it's pretty darn cool.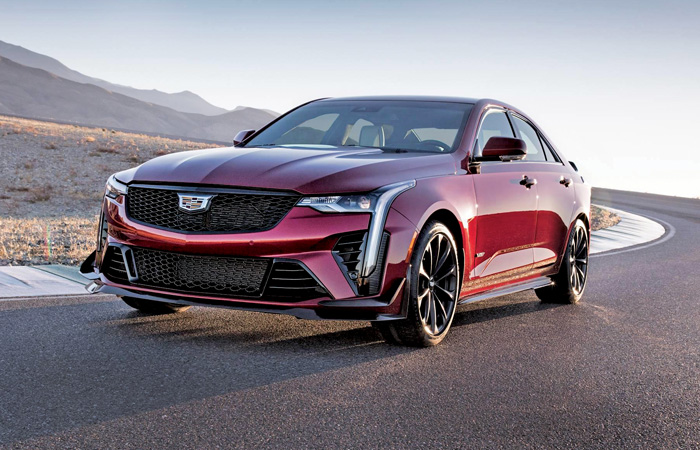 Performance
The Blackwing version includes a rip-roaring twin turbocharged 3.6-liter engine with 472hp and a robust 455lb-ft. torque (0-60 in a quick 3.9 seconds). As former GM exec Bob Lutz said, "Americans buy horsepower, but drive torque." It's thoroughly enjoyable in Sport Mode with enhanced steering, suspension and higher-rev shifts (you also can select Tour, Sport, Track and Snow/Ice modes). The 10-speed transmission shifts effortlessly, and the usually annoying Auto Stop feature thankfully can be turned off. Rear-wheel drive delivers grippy handling with Michelin Pilot Sport 4S. Excellent braking with robust high-performance Brembro brakes and Collision Warning are reassuring. 
The handy V button on the steering wheel drops the gearing a notch, increases the exhaust note and tightens the steering and suspension. You can mix and match these via individual settings for your desired tastes. I enjoyed tweaking the settings. 
In addition, there are two Track modes and Performance Track Management to eliminate all safety nannies should you choose to test the car and your limits. And don't forget the handy Performance Data recorder to record audio/video for everyday driving and GPS-based track laps. So cool!
The impeccable Magnetic Ride suspension soaks up most asphalt irregularities. It's a wonderful addition so you can cruise in luxury or drive flat-out when desired. The thick leather-wrapped (and heated) steering wheel feels just right, and the paddle shifters are quite responsive. Gas mileage is decent for this category at 16/24. But, spirited consumers aren't buying this for gas economy. You'll appreciate the gas plunger design requiring no gas cap too.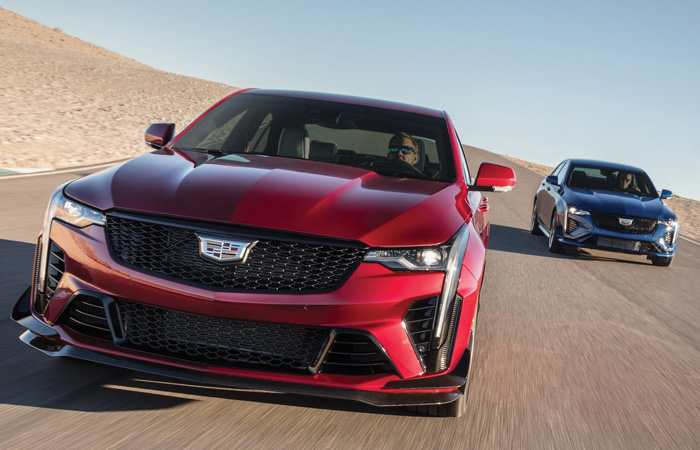 Cabin
The eye-catching Sky Cool Gray with Jet Black seats along with the interior contrast stitching is a crowd-pleaser. Materials and contrasting stitching interior are sumptuous, surrounding you in tasteful contrasting hand-stitched leather and lovely Carbon Fiber trim. Fit and finish are outstanding. The dash instrumentation panel is pleasantly laid out and bright. Seating is heated/cooled an optional massaging leather 18-way power Sport seats are comfortable, supportive and for long hauls double-panoramic Ultra-View roof gives the cabin a beautiful airy feel. 
I'd recommend the Carbon Fiber, Tech, Climate and Driver Assist packages Plus (includes Head Up Display) and Premium Packages for all the available goodies. 
The center console houses an improved and simpler infotainment cluster. The tester included Backup and Surround Camera, dual-zone climate control, Remote Start and adaptive high-intensity LED headlights. Safety measures include Ample Blind Spot warnings, multiple camera views and handy full-color Head-Up display complete with speed limit signs, tachometer and navigation turn-by-turn directions in the windshield. It's a welcome addictive option to keep your eyes on the road. Interior storage is generous decent. 
Visibility is good as well for a low-slung sedan. Back seat room isn't horrible, and a thoughtful roof cutout allows for extra headroom. Trunk space is an okay 10.7 cu.ft. but the rear seats do fold down for additional storage. A full golf bag with driver fits horizontally. There's also a secret storage area underneath the trunk floor.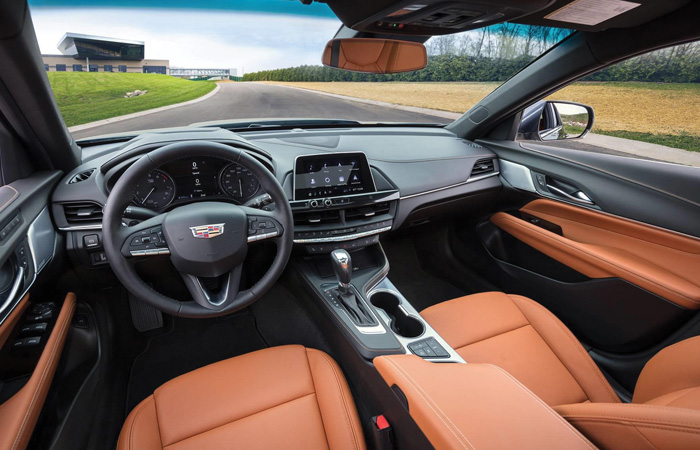 Tech check
There's no shortage of stupendous technology. The updated 8" diagonal infotainment touch screen is clear, easy to read and manage. It mimics hand motions like an iPad as you can move icons, shrink or enlarge the data and display bunch of preset radio/XM satellite stations and phone numbers. It includes 3-D Navigation maps, Doppler radar and Natural Voice Activated prompts work instantaneously to any voice. You'll appreciate the terrific Apple CarPlay/Android Auto synching up your smart phone to display your home screen apps. There's a handy slot wirelessly charge your phone. Even the vent power noise is lowered when receiving a call. 
Thankfully, positioned under the info screen are the most used climate control buttons. I appreciated the radio channel dial in the console to swiftly change stations without continually hitting the screen. Redundancy is abundant with no less than three volume controls 
The optional 14-speaker AKG Sounds system is outstanding with four programmable distinct cabin sound settings. It's crystal clear and delivers near perfect audio acoustics. 
The 2022 Cadillac CT4-V Blackwing is a desirable package of eye-candy, comfort and abundant technology (including Cadillac's Premium Care Maintenance 3 years/36,000 miles). The base model at $58,995 is a steal in this performance category and rises to $78,505 with the spirited Carbon Fiber and tech packages. Bottom line is the CT4-V Blackwing is worthy of your time when contemplating a superb sports sedan to cruise or eat up asphalt. I'd recommend trying (and buying one) as it will undoubtedly be a worthy collector's vehicle once the electric age supplants all the gas-powered rides. Yes, it has serial-numbered plaques on the steering wheel to confirm the build list.
SCORECARD
Golf Bags: Two 
Curb Appeal: Attractive upscale sports sedan belies attractive starting price
0-60: 3.9 seconds
Gas Mileage: 16/24. Observed 18 overall. 
Must-haves: Everything!
Warranty & Free Maintenance: 
48 mo/50,000 miles warranty; 3/36K maintenance.
Base Price: $58,995
Price as Tested: $78,505
Who Buys It? Those looking for a price- competitive exhilarating sports sedan
Finish Line: Patriotic package of style, performance, and luxury 
Test-drive the 2022 Cadillac CT4-V Blackwing at Crest Cars in Frisco.