After the Round – Hamm's Meat + Market

Downtown McKinney is a quiet little spot where time seems to have stood still. You would never think that in an area bustling with exponential development and growth you can find a local meat market that is brimming with nostalgia and hometown hospitality. 
Hamm's Meat + Market is exactly that. A business that has been ingrained in the local community since 1956, and current owners Tony and Sarah Smith have helped keep this local institution relevant and successful. Hamm's specializes in custom cuts of prime, choice and Wagyu beef, as well as briskets, pork products, store prepared sausages and honey glazed ham. 
If you have heard the name Tony Smith before, it is likely for his fine work as the former Vice President of the 33 Restaurant Group, which gave the Metroplex Cadillac Pizza Pub, Taverna Rosa, Heritage Pizza and Union Bear Brewing Co., to name a few.  
Hamm's original location was just off Highway 5 as you enter McKinney off 75. This served as a slaughterhouse and processing plant for Collin County. They relocated to their current spot in the '80s and continued to evolve as the city developed around it. 
If you need a specialty cut, head butcher Jose has been processing and breaking down meats since 1981, and he can get you exactly what you need. If, for some reason, you need an exotic cut and they don't have it in store, Tony can pick it up from one of his many suppliers like Cornerstone Farms in McKinney, Stuart Ranch in Saltillo. Or, if you are looking for the Wagyu (more on that in a minute), Rosewood Ranch, which has multiple locations in Ennis, Seven Point and Combine.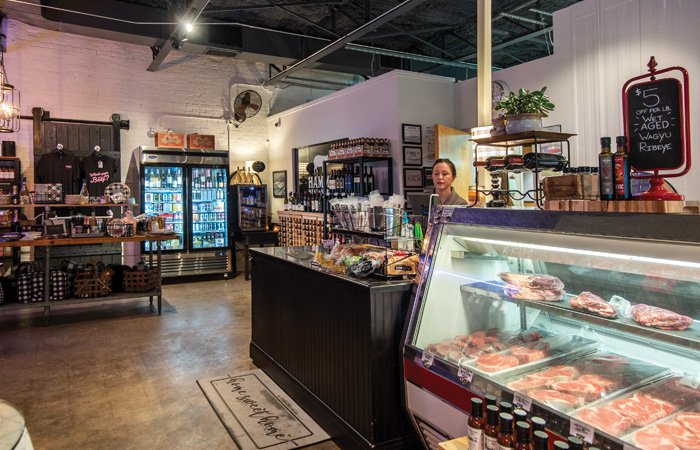 One of the truly special things about Hamm's is its commitment to carrying locally sourced products and artisan-prepared accoutrement. Speaking with Sarah on our visit, it was apparent how passionate both she and Tony are about providing locally produced products and supporting local businesses rather than making it all about their own bottom line. It's refreshing to see in a day where big box stores and online retailers are hell bent on bullying the little guy out of business. 
In addition to their spectacular cuts of meat, you can also find a boutique selection of wines and beers without the tremendous markup you might see elsewhere. The selection is nice, and the prices are competitive.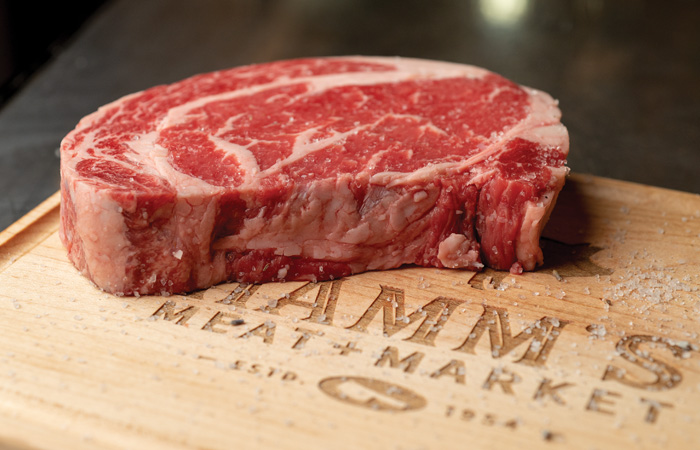 If you are a fan of different seasonings and rubs, then Hamm's has you covered. Hamm's has its own blend, which is a secret, but I can tell you is very pepper forward. There's also a multitude of other local rubs, including Chef Milton's and 2 Gringo's Chupacabra, as well as a whole laundry list of sauces, including many from Fredericksburg Farms. One of my personal favorites from Fredericksburg is the Orange Chipotle grilling glaze, which is killer on wings or pork. You won't find anything like it at your local grocery store. 
If you are a pickle fan, then I suggest you pick up some Hunn's Pickles while you're there. These artisan pickles are made right in Garland and are the choice of several restaurants in the area, including Twisted Root Burgers. 
One of the most flavorful things you can take home from Hamm's is the sausage. They are house-made and come in a variety of flavors. There is a bratwurst, an Italian, a spicy Italian, a Chipotle, and my personal favorite, the jalapeño cheddar bratwurst. I took some of the jalapeño cheddars home and threw them on my Blackstone to heat them through and crisp up the casing. These are some of the most flavorful sausages I have ever tasted. The cheese partially melts and helps relieve some of the sting of the jalapeño spice. Of course, you can put these on a split top roll or traditional bun, but I chose to slice and dip in a little bit of the Fredericksburg Farms Hot Bavarian Mustard. That is a combo you won't soon forget. These brats would be a huge hit at your next barbecue or football-watching party.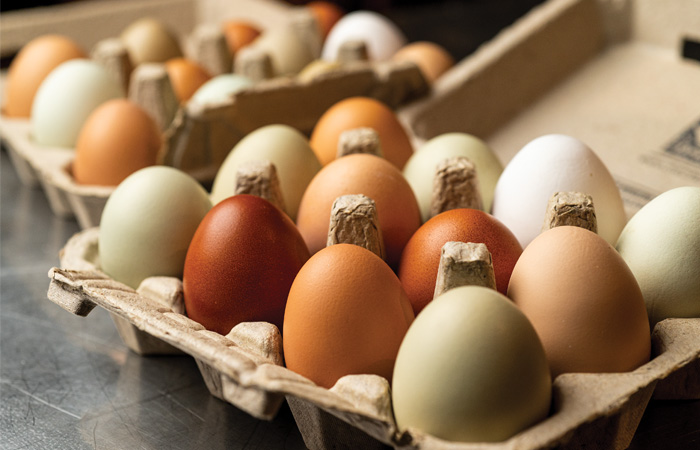 If you need some breakfast sausage or chorizo, Hamm's has those, too. I recommend the chorizo in a flour tortilla with some scrambled eggs and cheese for one of the most outrageous breakfast tacos you will ever taste. 
Speaking of eggs, if you want some that are super fresh, pick up some of the 840 Farms eggs Hamm's carries and be amazed at how great fresh eggs can be. They are a game-changer for your breakfast and will make your baked goods rich and delicious. 
When you walk into a meat market in McKinney, one of the last things you would expect to find would be tamales. But Hamm's has partnered with The Tamale Company in Dallas to carry its delicious handmade treats. I sampled the beef tenderloin version, and they were outstanding. The one concern with tamales is that they can dry out, but these are moist and delicious with a great textural delight with the tenderloin. Knock a few of these back the next time you are craving Mexican. I promise you won't be disappointed. The Tamale Company also has a chicken tomatillo, a cheese and jalapeño, an ancho chile pork and a black bean and corn tamale, as well, and Hamm's carries them all.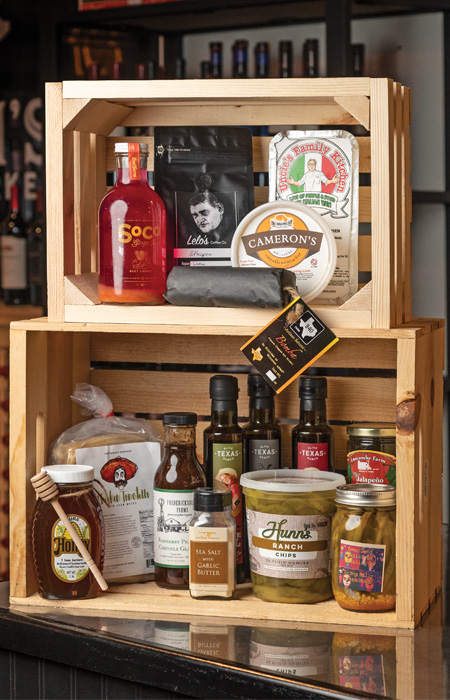 Of course, Hamm's is proud to carry locally sourced delicacies made here in the Metroplex and in the great state of Texas. But for most, when they walk through the doors of this meat-filled market, they are looking for one thing … beef. If you are wanting top quality, then this is the place to go. From New York strip and ribeye to tri-tip and filets, you won't find better quality. I took home a ribeye, which I vacuum-sealed with some salt, pepper and garlic, then placed in a sous vide bath for about two hours until the buttery marbling had rendered out a bit and the internal temperature had been a steady 125 for a while. I then seared it off on a Weber kettle over charcoal to finish the cooking process and add some nice grill marks. I added a disc of cowboy butter on top, and let me tell you, there simply isn't a better way to prepare a steak. 
The one other item I took away from my visit to Hamm's was a whopping Wagyu brisket. As Tony and I took a look around the store, I mentioned to him that the one cut that I felt I have yet to master is the always temperamental brisket. You must be proficient in trimming, seasoning, wrapping and making sure you get a great bark, all without drying out the meat. It's a complicated process, and one that requires patience, as some briskets can take 16 to 18 hours. I chose to cook this brisket for Thanksgiving, starting it out about 5 p.m. the night before and let it roll all night on my Traeger (yes, I know this is cheating). I wrapped it when the internal temperature reached about 170 degrees and let it go until it was probe tender. The whole process took almost 18 hours, but the finished product was simply stunning. The additional marbling of the Wagyu made this cut extra tender and juicy. It was worth the time investment and extra money to go for the Wagyu, and my Thanksgiving guests absolutely tore it apart. Go pick one up for your Super Bowl watch party in February.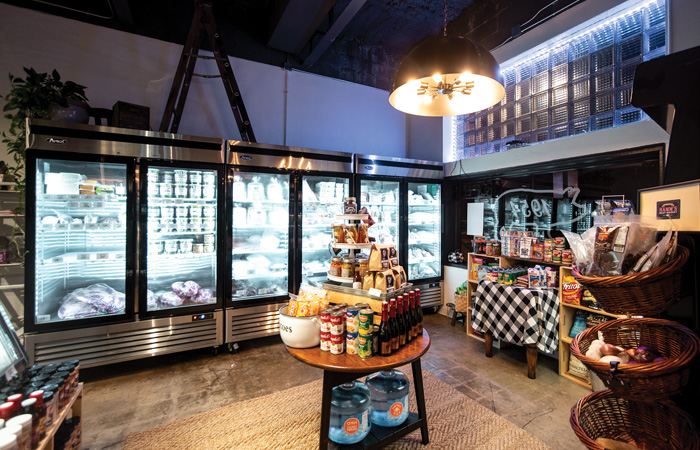 If you are willing to make a bit of a drive north to Pottsboro, you can sample some of Tony's brisket, as he and Sarah also own Hamm's 54 Burgers and BBQ. At this location, you can taste their barbecue, which is smoked using local hickory and mesquite. You can try their Signature Smokin' Plate, which has all the hits. It comes with sliced and chopped brisket, jalapeño cheddar sausage, pulled pork, chicken thighs, sliced turkey and a choice of sausage or glazed pork belly. It also comes with two sides and bread. It's everything a growing carnivore needs. 
The burgers at Hamm's 54 are also killer, as they are prepared with an 80/20 grind and then grilled and topped with American cheese, lettuce, pickles and secret sauce. 
Tony and Sarah Smith are dedicated to serving their community with great, locally sourced products. The passion is written on their faces as you hear them speak of what it means to support their local artisans, farmers and ranchers. In a day where so many are self-serving, there is a great need for a sense of community, and that's exactly what you will find when you visit Hamm's Meat + Market or Hamm's 54. Stop in, and I know you will experience exactly what I am talking about.
Hamm's Meat + Market
307 West Louisiana Street
McKinney TX, 75069
972-562-7511
www.hammsmeatmarket.com
Hamm's 54 Burgers + BBQ
306 FM 120
Pottsboro, TX 75076
903-650-8599
www.hamms54.com