Drive Time – 2023 Lexus LC 500 Convertible

I've long admired the Lexus brand. The name immediately conjures thoughts of refinement, luxury, comfort, reliability and exquisitely smooth rides. The company is also unveiling sportier, sexier models to spice up its public persona. Aggressive grilles, rakish silhouettes and incredible tech are now luring buyers of all ages.  
Like other premium lines, Lexus is aiming to break some molds to attract the up-and-coming young consumer. So, I was excited when offered the opportunity to put the sexy sleek 2023 LC 500 Convertible through the paces. In quick summary, this lovely ride brings style, comfort and exclusivity. Be still my enthusiastic driving heart. 
The LC 500 convertible is a sublime driving experience for those desiring the Lexus brand with some grin-inducing fun when the mood strikes. It strikes the perfect balance of sumptuous luxury with sparkling performance, including worthy acceleration, steering, handling and cool technology. The two-seater is the perfect complement to an SUV or truck when you desire pure driving pleasure not requiring much cargo. Think utterly quick cruising comfort over spinetingling performance. I know the hard-to-impress valet attendants were smitten. 
SKIN 
The latest LC 500 ragtop is a true head-turner. Its long sexy, swoopy line silhouette delivers love at first sight. Few do colors as well as Lexus, and the lovely shimmering Infared paint immediately grabs your attention. It means serious business with a long rakish hood, bolder front, eye-catching Spindle Grille (fits this car perfectly), unique bumper and generous air scoops underneath. Triple projector Ultra compact LED headlamps generously illuminate the road, as does the auto high beams. The rear large trapezoidal dual chrome exhausts and unique 3D LED taillights motivated many positive discussions from the neighbors. 
It looks positively luscious when going topless, yet still commands attention with the roof up. The canvas top completely lowers in 15 and raises in 16 seconds up to 31mph. 
Low-profile run-flat rubber and 21" polished Vapor Chrome wheels are the perfect accessories to the robust appearance, while delivering a surprisingly smooth non-rattling ride. I found myself glancing back several times when walking away from the vehicle. 
PERFORMANCE
Thankfully, the LC 500 delivers more than just an alluring figure. A roaring 5.0-liter V8 naturally aspirated powerplant possesses 471hp and 398lb-ft torque to scoot you from 0-60 in 4.6 seconds. The Active Sport Exhaust is euphoric with a perfect rumble. I found myself opting for the exquisite exhaust as my driving soundtrack. 
A capable 10-speed transmission shifts effortlessly in Comfort or two with Sport modes (S and Sport S+). Yet, manual paddle shifters satisfy your engine-revving mood when desired. Of course, I quickly dialed in the Sport choices that tighten up the steering feel, suspension tautness and rev points to handle any winding road with aplomb. Hit those off-ramps with glee. Yet, it didn't kick up the RPM needlessly when cruising. 
The LC 500 tours wonderfully, barely breathing at 80mph. The rear-wheel drive feels very planted, confident and secure, even in high winds. Even with the low-profile rubber, the LS 500 soaks up the numerous North Texas road imperfections with aplomb. This is a smooth ride where you could cut a diamond without any mistakes.  
Large 15.7" front and 14.7" rear brakes stop you in quick fashion without a struggle. Which is nice, since it's over 4,600 lbs. and hits 0-60 in 4.6 seconds. Mileage is quoted at 15/25. I observed around 17 scooting around enthusiastically with premium petrol.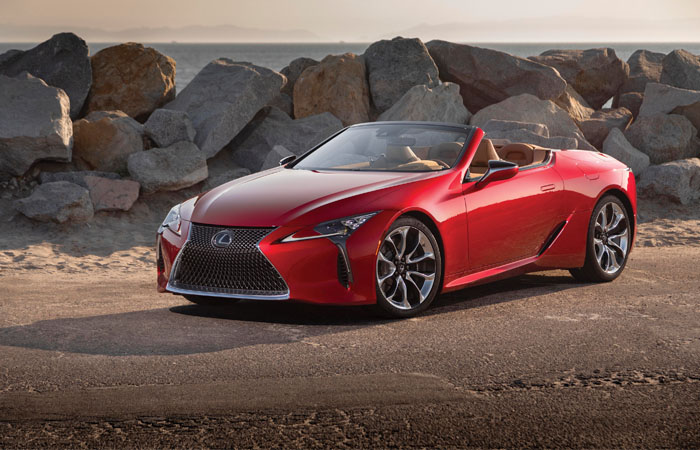 CABIN 
The interior is Lexus sublime. Top-notch materials everywhere, abundant contrast stitching, supple and gorgeous Quilted-Stitch Semi-Aniline and unique wood trim surround you in utter magnificence. The sport leather-wrapped and heated steering wheel is terrific. Thoughtful touches include windshield wiper wash fluid emitted directly from the blades instead of sprayed on the windshield to prevent messy overspray. 
The cabin's design includes lovely swoops, curves and unique fabrics and wood. Optional Carbon-fiber door scuff plates are a terrific touch. 
Fabulously comfortable perfect driving position zero-gravity 10-way power driver's seat with two lumbar settings cuddle you in supportive comfort, with two lumbar support settings. They automatically quickly heat (your neck, as well) and cool, based on your desired cabin temperature. I desperately want one for my office desk. 
Cabin room is very roadster-like with generous space in the front and not much in the rear. A handy windscreen diffuser buffers the breeze so you can easily carry on a conversation while barreling down the road. Sightline visibility is excellent with the top down. Storage is okay for knickknacks. However, the total cargo room is a mere 5.4 cu.ft., so your golf bag will require front seat placement. 
For those who click all the boxes, the Touring Package includes Semi-aniline leather-trimmed front seats, Mark Levinson® 13-speaker, 915-watt Reference Surround Sound Audio System, Climate Concierge with terrific Upper Body Heating and Embossed headrests. The All-Weather option brings a heated steering wheel and windshield wiper de-icer.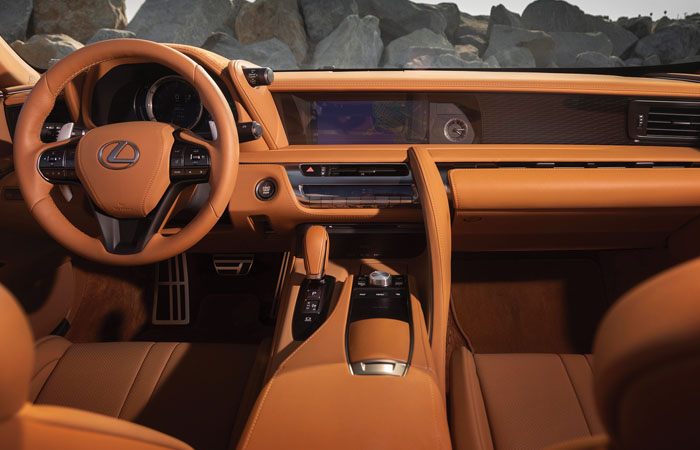 TECH CHECK
The updated technology is truly impressive, but requires a little learning curve due to accessing the vast array of infotainment selections via trackpad on the center console. Once familiar, you'll enjoy a plethora of choices literally at your fingertips. The 10.3" high-res split infotainment screen displays radio, climate controls, seating climate/massaging levels and 360-degree camera.  
An optional Head-Up Display is crystal clear; displaying speed limits, traffic signs/alerts and help warn the driver when a pedestrian or vehicle is on a track to collide with the vehicle. Ironically, the LC 500 still offers an in-cabin CD player (who knew?). 
The tester's optional sublime Mark Levinson® 13-speaker, 915-watt Surround Sound Audio System delivers excellent acoustics. It really is something to behold. Wired Apple Car Play, Android Auto and Amazon Alexa is standard. The Lexus App allows you to remotely start the car, lock/unlock your doors and locate the vehicle of its last parked location. Curiously, there is no wireless charging feature for phones. 
Robust safety features include standard forward-collision warning, automated emergency braking, standard adaptive cruise control and blind-spot monitoring.
The 2023 LC 500 Convertible continues to raise the formidable Lexus bar in the premium luxury roadster market. One passenger noted it's a "world class cruiser brimming with charisma and character." Excellent reliability and top safety ratings round out an exemplary package for those desiring worthy performance, nimble handling, sexy lines and technology. I strongly suggest you give it a go and soak up the intoxicating engine rumble with the top down.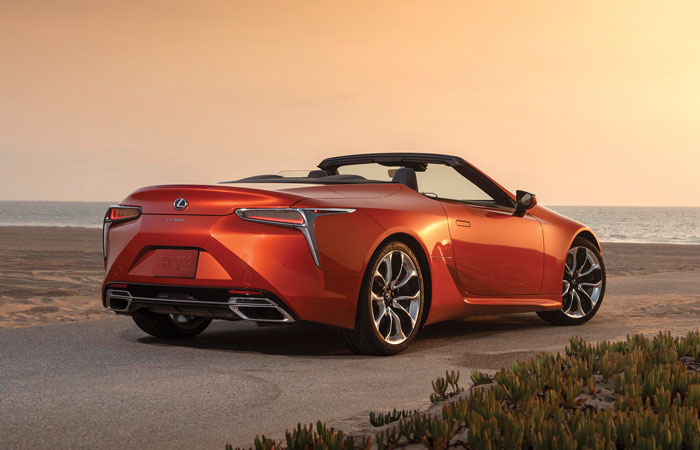 SCORECARD
Golf Bags: One as a front seat passenger
Curbside appeal: Gorgeous, stately statement   
0-60: 4.6 seconds
MPG: 15/25/18
Must Haves: Luxury package. 
Warranty: 4-yrs/50,000 miles basic 
& 6 yrs/70,000 powertrain
Base Price: $101,500
Price as Tested: $112,875
Who Buys It? Those desiring a gorgeous roadster to cruise or attack the roads 
Finish Line: Decidedly upscale package of performance, luxury and flair 
Test-drive the 2023 LC 500 Convertible at Park Place Lexus Grapevine and Park Place Lexus Plano.