After the Round – Constellation Club

Invited Clubs is known for their world-class golf and country clubs across the country. Based right here in Dallas, Invited has multiple clubs in the Metroplex, from family friendly affordable properties like Walnut Creek and Brookhaven, to more exclusive clubs like Gleneagles Country Club and the home of the AT&T Byron Nelson, TPC Craig Ranch. Their over 200 clubs include multiple sports, business, social and alumni clubs worldwide. A couple of those clubs sit right here in the area, with not only the Tower Club in Dallas, but the newly renovated Constellation Club in Las Colinas. 
Constellation Club was once La Cima club, until the decision was made to renovate, rebrand and relaunch with new fresh decor. Now, after a near $4 million facelift, it is back up and running full speed, and this Invited property is on the cutting edge of not only hospitality, but culinary programs, technology and member amenities.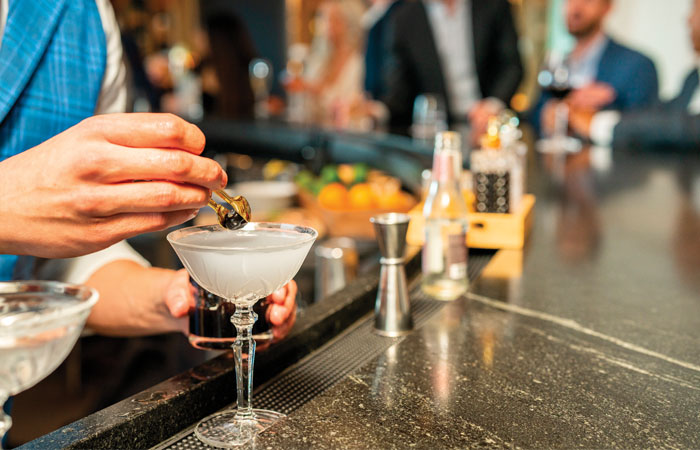 If you are curious where the Constellation branding came from, it is not what you may think. This has nothing to do with celestial bodies and everything to do with the golden age of aviation. The club is named for the Constellation airplane, which was commissioned in 1939 by Trans World Airlines mogul Howard Hughes. At the time, the Constellation was state of the art, with the speed to travel from coast to coast and every comfortable amenity available at the time. This new club subscribes to the same set of values and chose Constellation as the name as homage to the one-time aviation marvel. 
A pair of dining experiences are available at Constellation. There is a more casual option with their Revel Room, which has a beautiful crescent moon-shaped bar with a massive custom chandelier which illuminates the room and provides a gorgeous backdrop for that power lunch or business meeting. Of course, there are several signature cocktails, if you want something to wet your whistle while you discuss business or relax in this lavish setting. The Paper Plane is a great option, made with Buffalo Trace Bourbon, amaro Montenegro, aperol and lemon juice. The amaro adds citrus and vanilla notes to the bourbon bite to make this a refreshing and delicious option. Every cocktail at Constellation is crafted by one of their experienced bartenders and will dazzle your clients and friends. Constellation also has an extensive wine list, beer options and even some signature "mocktails," if you aren't a big drinker or want to be sure you're locked in for that afternoon meeting.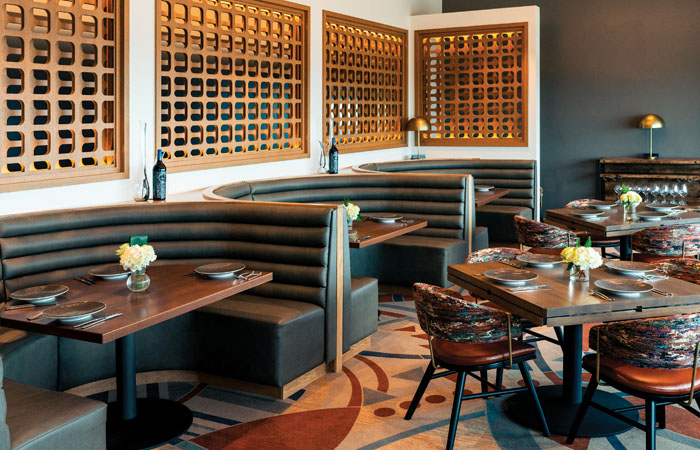 Food units in the Revel are made with simple, yet delicious ingredients. Appetizers are generous portions if you want to make one of those a meal or split several among your group. The crispy peri-peri chicken bites are a home run, with mega-flavor in the sauce coating these bite-size nuggets. If you are a sucker for seafood, then I recommend the Dungeness crab croquettes, which are perfectly fried balls of succulent crab served with a creamy herb remoulade. 
Lighter options include salads, like the Asian chicken or the chicken cobb, or protein load with the hangar steak salad with romaine, roasted veggies and their house vinaigrette. Soups are served by the cup or bowl, with Connie's Daily Soup, which is Constellation's soup of the day option. 
There is also a wok in the kitchen, which executive chef Brandon Galitz utilizes to perfection. There is an earthy mushroom yaki udon, which comes packed with shiitakes, shredded carrots, zucchini, garlic and a sweet and spicy soy sauce. This is a perfect dish for those who are looking to go sans meat. The Mongolian beef is a true work of art, made with prime tenderloin, broccoli, bell peppers, bamboo shoots and jasmine rice. The beef explodes with flavor and the added crunch of the bell peppers make this a must-try.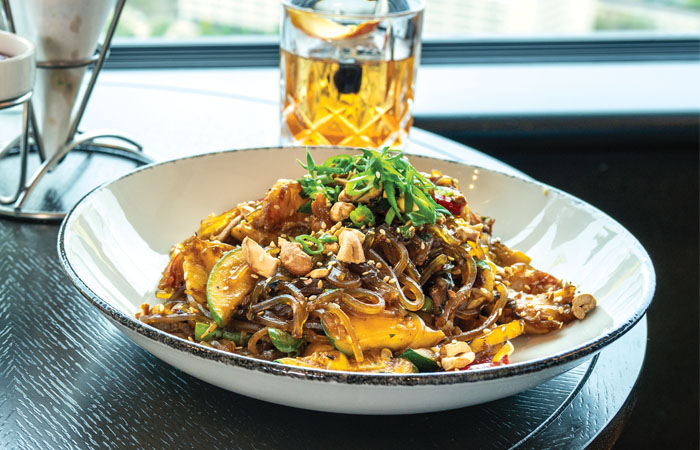 If you are after something more substantial, larger plates include the hangar steak and frites, blackened red snapper, or a rib-sticking chicken parmesan. Any of these entrées will leave you satisfied and anticipating a return trip. 
Revel also serves dinner, and the options are as delicious as their lunch plates. The stars of the show for Revel's dinner menu are their steaks. A New York Strip, Texas Akaushi ribeye and a tender prime filet are all on the menu, and each one is a testament to the quality Constellation believes in. If you are in the mood for something lighter, a grilled miso chicken or center cut salmon steak may be the way to go. Any of these features can be served with one of their flavorful sides, including field mushrooms, onion rings, whipped potatoes or truffle parmesan fries. 
Just off the main bar area and the Revel Room, sits Icon, Constellation's fine-dining experience. Icon represents everything elevated about this upscale club and their attention to detail. Incredible views of the city lights below dazzle the senses and will wow your guests as you settle in for some amazing food. 
The starters include oysters served by the half or full dozen, served with all the accoutrements you need to send these briny, fresh beauties down the hatch. Presentation is second to none, as they come presented on the half shell over a bed of crushed ice. A prime filet carpaccio is also on the menu, which comes to the table with shiitake mushroom, artichoke, shallot, ponzu and some serrano oil for a little spicy bite. 
The entrée menu in the Icon room is well thought out and well prepared. The wok that Chef Galitz uses for those fabulous lunch options in Revel, also comes into play for the dinner menu in Icon. The stir-fried angry lobster is prepared in that very wok, with buttery lobster, stir-fry veggies, egg noodles and a garlic-packed XO sauce. Tender, succulent, mouthwatering. It's a wonderful and unique addition to the Icon menu. As with the dinner menu in Revel, Icon also serves delicious beef. The Akaushi Wagyu filet is an 8 oz. cut served with truffle potatoes, braised Swiss chard and a bordelaise sauce. It is tender and flavorful without being pretentious or overly seasoned. The preparation really allows the flavor of the meat to speak for itself.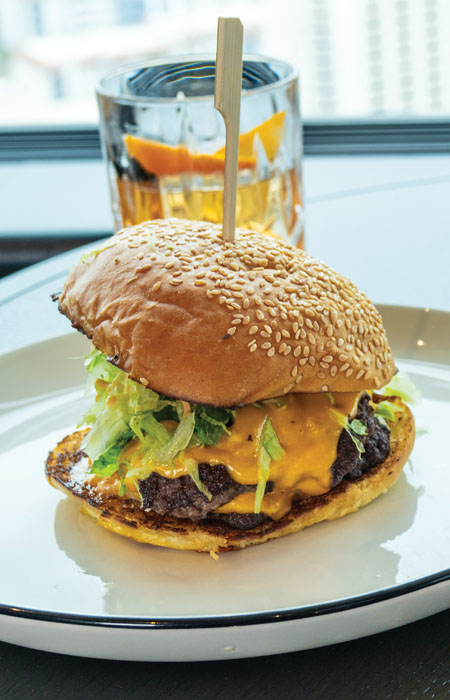 If pork is more your speed, then the Berkshire double-thick pork chop is a great option. This perfectly prepared chop comes with spring pea ragu, celeriac apple and a nashi pear mostarda. For my money, this might be the most underrated menu item at Constellation. It is simply stunning in every way. 
Constellation is not only memorable for their wonderful dining and cocktail programs. At 15,000 square-feet, the club is chock full of amenities for their members and their guests. This is a fully functioning office space for those who like to work remotely or host meetings in a unique setting. They have multiple spaces designed specifically for productivity, including multiple "touchdown" rooms, which offer quiet individual workspaces that come with screens equipped for remote meetings complete with complimentary turbo-speed WiFi. It is a club that adheres to the dedication of making life working outside the office as simple and productive as possible. On our visit to the club, there were several young executives making use of these spaces in complete comfort and functionality. The library lounge is another gorgeous setting to get some work done, with comfy seating in abundance and a more open layout if you don't want to sit in one of the smaller touchdown rooms.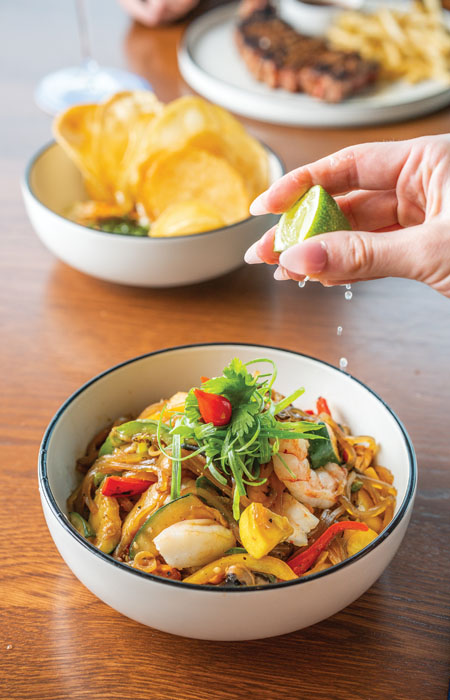 Cutting-edge event spaces are also available to members, including the signature Mustang Room, which has floor-to-ceiling windows that offer spectacular views of the light-filled horizon. There aren't too many places in DFW where one can see multiple skylines, including Fort Worth, Dallas, Frisco and the stadium and entertainment district in Arlington. The Mustang is even home to chandeliers that once belonged to John Carpenter, who had a massive ranch where Las Colinas now sits. From birthday parties to weddings, to anniversaries, this first-class event space is the perfect spot to celebrate with a view. 
Constellation's renovation is really a sight to behold, the spaces are gorgeous, inviting and warm, with the technology to boost your profile among your work peers and offer a great place for meetings, special events, power lunches or elegant dinners. The food is tremendous, as chef Galitz prepares his menu concepts with tremendous attention to detail and top-of-the-food chain ingredients. Whether you are trying to impress clients, get some work done, or headed for a night out on the town, this Invited beacon allows you to do it all, with one heck of a great view.