Drive Time – Land Rover Defender 90

The oft-admired Land Rover brand continues to pump out excellent rides onto its popular roster. Add in the welcome reassurance of its iconic 4-wheel capability overcoming various climatic and terrain challenges makes the brand a superb choice for the sedate urbanite and off-road adventurer.
A terrific new option is the much-anticipated 2021 Land Rover Defender 90 First Edition. The Defender had a great run beginning in 1983 before being suspended in 2016 and resurrected in 2020. 
The Defender 90 First Edition strikes a Goldilocks "just right" footprint melding design notes from the siblings while ramping up the tech with enough room to comfortably schlep families and handling whatever mayhem Mother Nature throws at it. 
The Defender 90 comes in four trims (Base, S, SE and X). The First Edition is a two-door (more on that later) and is sure to be a popular choice in the crowded SUV/Crossover market—especially with the attractive eye-candy, creature comforts and superb whiz-bang technology. 
SKIN 
My ever-curious neighbors immediately noticed the Defender 90 adorned in beautiful Pangea Green paint in the driveway. While there's no mistaking its heritage, the Defender casts a more modern, aerodynamic silhouette with just enough glossy black and silver/grey accents providing the perfect contrast. Exceptionally bright LED headlights (with superlative Auto High Beams) surround the new mesh grille. Land Rover says the light motif is meant to recreate the feel of a compass with breaks in the LED to represent the four main directions. The cool rear lights and conversation-starting puddle lights add to the allure.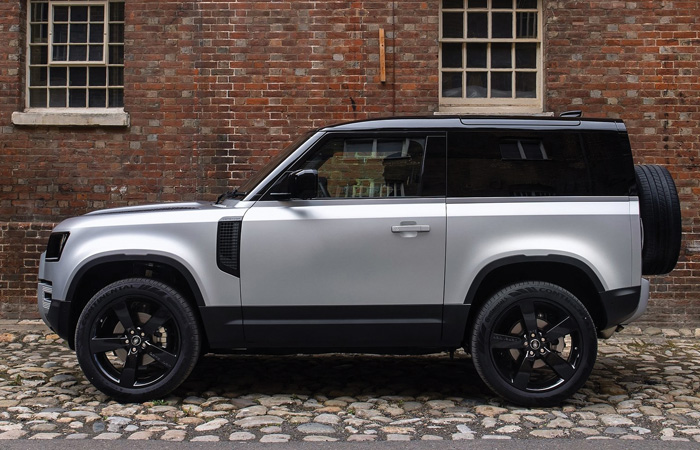 A beautiful gloss white roof black roof contrasts wonderfully against Pangea Green paint. Tasteful rectangular black skylights add to the eye candy It really is an eye-catching vehicle and I found myself admiring it from near and far. Optional 20" Off Road rubber and alloy 5-spoke rims finish the lovely appearance. Rear dual exhausts are integrated into the caboose. Suffice to say it's a crowd pleaser. 
PERFORMANCE
The Defender 90 First Edition is powered by a 3.0-liter twin-charged (turbo+electric supercharger) mild-hybrid inline-six engine delivering ample power at 395hp/406 lb.ft. of torque (the base is a 4-cylinder) and 0-60 in 5.7 seconds Sport mode kicks up the RPMs for more spirited driving but I found the regular drive mode good enough to zoom up on ramps. Gas mileage is a decent 17/22. I squeezed 19 overall – not bad for an off-road warrior. It will also tow up to 7,716 lbs. 
As with the entire Land Rover four-wheel drive line, this sublime cargo carrier is about confidently navigating to your destination no matter the obstacle. With an abundance of custom terrain settings in the Terrain Response, the Defender puts any nervous driver at ease by automatically adjusting to on or off-road conditions. In fact, the Air Suspension/Adaptive Dynamics raises the ride from 8.5 to 11.5 inches of clearance and will navigate through a water height of nearly three feet! That is some serious water wings. It's a worthy pet trick at your next soccer game.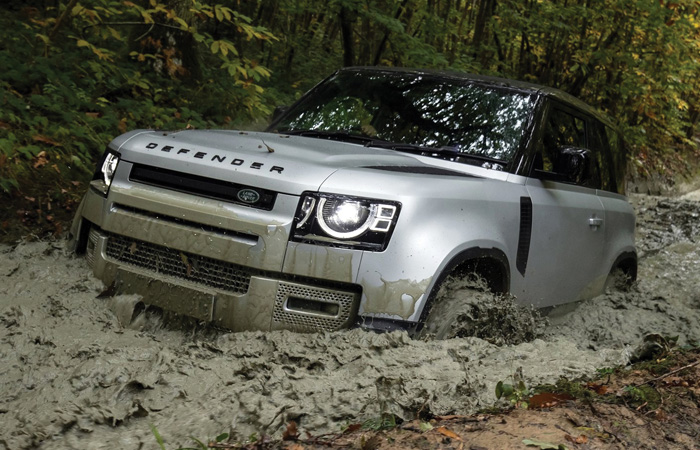 The Defender offers ABS brakes, Hill Descent Control (HDC), Roll Stability Control (RSC), Electronic Brakeforce Distribution (EBD), Emergency Brake Assist (EBA), Trailer Stability Assist (TSA), Hill Start Assist (HSA) and All-Terrain Dynamic Stability Control (DSC) when facing grass/gravel/snow, mud/ruts and sand. That's a slew of acronyms but suffice to say all are worthy when called upon.
Yet, for such an off-road beast, it's surprisingly calm on asphalt, cruising extremely well. There's Normal, Sport and Manual shift modes upon request. The able suspension allows you to carve the turns, feeling extremely planted. 
CABIN
Even with all those driving attributes, the 2021 Defender 90 amps up the wow in the cocoon. Luxurious appointments abound with impeccable fit, Robustec all-weather seats, grained leather inserts and Torx screws in the doors for a rugged yet comfy cabin. The heated front seats are some of the most comfortable I've experienced. 
The dash is nicely laid out with updated, clearer displays. The 10" infotainment screen is delightfully quicker in response – a great improvement over the previous "laggy" configurations. They are bright and easy to read. Even the gear shift is off the middle console to allow for more storage there if needed.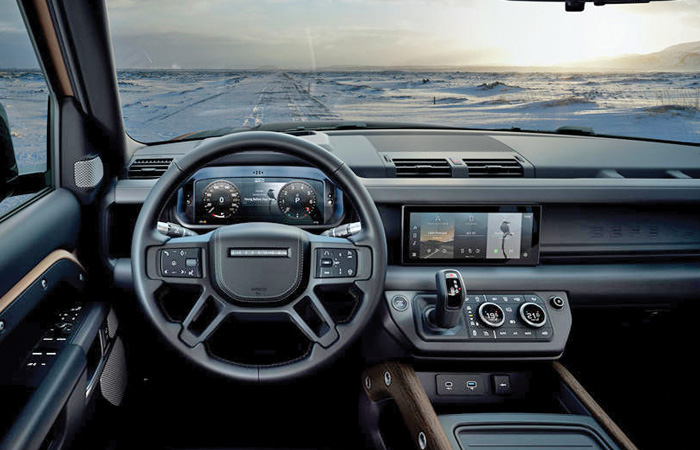 You'll notice tasteful attractive trim throughout. Improved aerodynamics and insulation keep the interior library quiet. This tester had the optional jump seat in front. Folded down its an armrest/cupholder. Fold up and you have a bench seat (for six seats). You'll have to decide on wanted that or opt for the standard console with refrigerated drink compartment (what I would choose to do for everyday use). 
The roofline is tall and the expansive folding cloth moonroof unfolds nearly to the rear giving passengers a generous open-air feeling. Windowsills are blissfully low enough to comfortably rest your elbows. The lower doorsills are watertight, so you won't soil your pant legs when entering. 
Since this is a two-door (The Defender 110 is a four-door option), entering and exiting the back row takes some maneuvering but once in the back, passengers will find ample leg and head room and you sit a bit higher than the front passengers. Cool stuff. 
Head-Up-Display with speed sign recognition is available on the windshield to keep the peepers safely on the road–definitely one of my favorite safety features. A great feature is the full camera in the rear-view mirror. With the high rear seats and spare tire on the rear, visibility is a bit compromised, but the crystal-clear camera view is completely unobstructed (going three lanes across). Genius. 
Cargo room is decent for the compact exterior. Cubby holes galore in the dash hold all kinds of road trip knickknacks and multiple cup holders with storage bins for every seating position. The split rear seats fold but not flat (unless you remove the seat cushions). A full golf bag fits horizontally behind the rear seats, but you'll need to remove the driver. A cool rear trunk hatch opens sideways.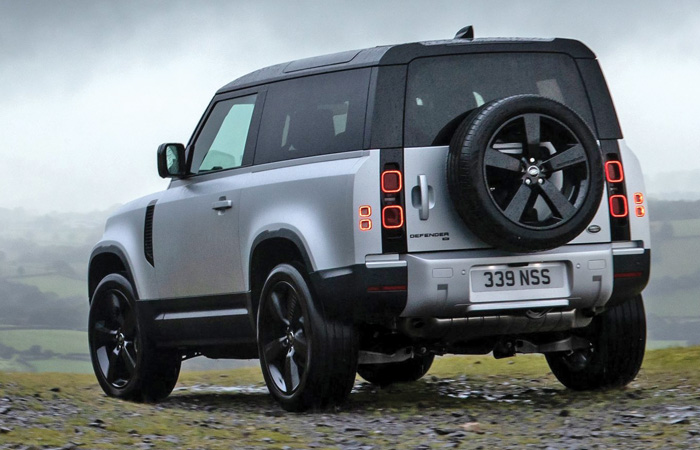 TECH TOYS
The Pivi Pro Infotainment system includes NAV, Rear-View and Surround cameras, satellite radio, Bluetooth phone and mp3 music files and Voice Activation. 
The responsive infotainment is now. A faster processor delivers near immediate response and the displays are ultra clear. 
The tester housed the impeccable Meridian 10-speaker audio system that you can upgrade to 14 speakers. Combined with the improved cabin acoustics, the sound is superb, and you can preset stations across all formats. Bluetooth transmission is clear. 
The 2021 Land Rover Defender 90 First Edition is so good that you'll blink twice when noticing the Defender 90 trim base price. The tester's starting price for the lowest trim level available with the six-cylinder is $57,800 and is my recommended sweet spot. Yes, the options can quickly raise the sticker cost, but Land Rover's target audience tends to value extravagance, technology and secure 4-wheel drive. Thus, the Defender is certain to be another home run for manufacturer Jaguar Land Rover. You'd be wise to try one on for yourself. 
SCORECARD
Golf Bags: At least two
Curbside Appeal: Gorgeous mix of off-road warrior and urbanite pizazz 
0-60: 5.7 seconds
Gas Mileage: 17/22. Observed 10 in spirited driving
Must-Haves: Head-Up display
Warranty: 4-year/50,000 miles
Base Price: $46,100
Price as Tested: $66,475
Who Buys It? Families desiring upscale refinement, modern tech and performance
Finish Line: Another winning model for the Land Rover line
Test-drive the 2021 Land Rover Defender 90 First Edition at Park Place Jaguar Land Rover DFW in Grapevine.