After the Round – Puttery

When you were a kid, how many rounds of miniature golf did you play? If you're like me, it was hundreds. Hundreds of times rolling those multi-colored balls on that outdoor green carpet as a gigantic plaster hippo looked on while you ricocheted putt after putt off of those bright orange obstacles. Those were the good ol' days, indeed. 
As an adult, if you get a hankering to roll a few, you will likely draw some confused stares if you head down to the local outdoor mini golf course. It's always been considered a game more geared toward kids. That is until just recently. 
Puttery at Grandscape in The Colony is an adults only, upscale mini golf experience that helps those of us who grew up with mini golf relive some of their childhood while in a mature, fun atmosphere. To begin with, you must be 21 or older to book a reservation at Puttery. Groups make an online reservation for a certain time window and then after check-in, they are sent to one the four courses and begin every five minutes. The pace of play for each course depends on the number of people booked, but it can take anywhere from a few minutes when not crowded, to 45 minutes per course during peak times.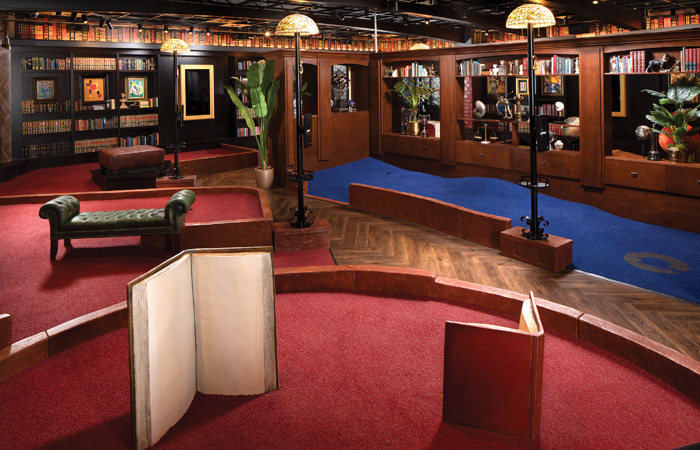 The technology isn't what we grew up with either. Gone are the rubber bullseye style putters and colored balls. Puttery has nice blade style putters that look like something you would see in any seasoned player's bag. The balls are the standard white and they roll like ones you would tee up in an actual round. Scoring is a breeze. You no longer need to hunch awkwardly over to scribble your score on that metal stand with a crummy pencil that needs sharpening on a paper scorecard. Each course has its own concierge that assigns you a ball with a number along with your name. Each hole has a touchscreen, and when you complete the hole, you enter your score, and the system automatically keeps it for you. And if you want to see how you stacked up against others for that nine, the cumulative best scores and number of aces are logged for the whole day so you can see if you held your own against others who played earlier.
Servers walk through every few minutes as you play to load you up on whatever beverages you may want. I was told the Irish Coffee was a huge hit, but it being a little warm that day, I chose the signature Margarita Standoff, which is Patron Silver tequila, Patron Citronge, Ancho chili, pineapple, and lime juice. This cocktail packed a nice kick with the two types of tequila. If you want something a little lower octane, then the Shand by Me is a good option. This one is a refreshing combo of shandy beer, Irish whiskey, mango, and lemon.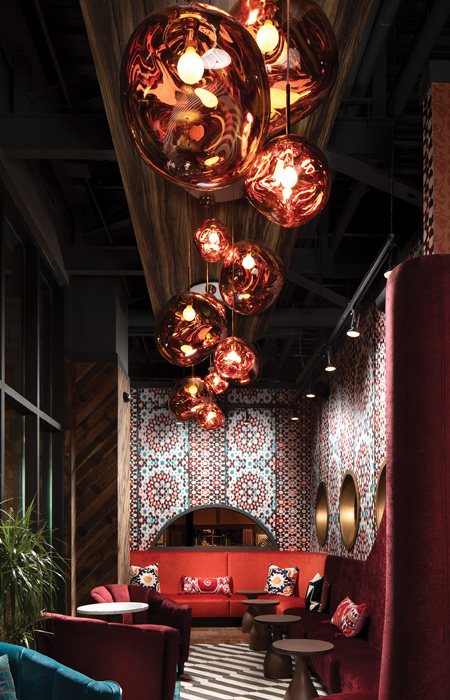 Puttery features four nine-hole courses, each of which is more unique than the last. The Lodge Course is one of the three courses on the second floor of the venue. The Lodge isn't just a clever name, as the nine holes have a ski lodge motif, including fake fireplaces, a giant polar bear and holes that require putts that wind through fun skiing themed obstacles like slalom gates. The whole course really does remind you of being in an actual ski lodge.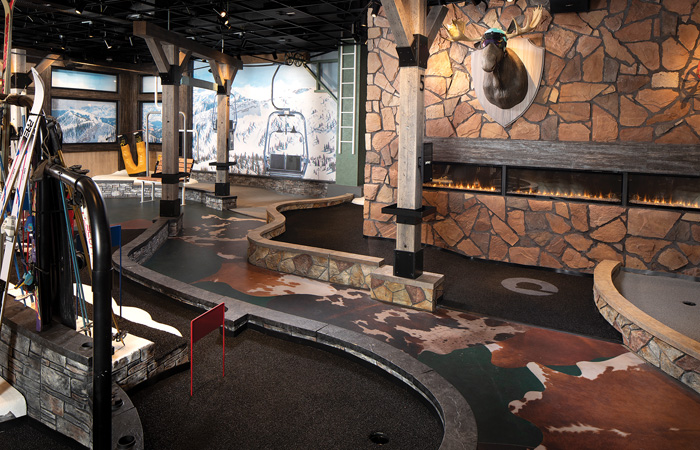 The second course you can choose, is the Illusion course, and it lives up to its name. This one is a sensory overload to your rods and cones as you work your way room to room. Each room has murals on the walls that makes you feel like you are putting a golf ball inside an Escher painting. There is also a hole that looks to be in a forest, which looks almost too real to describe. The final hole of the Illusion nine is a room with black and white stripes wrapping different directions on the walls and a giant striped ball right in the middle of the room that serves as one of the obstacles for the hole.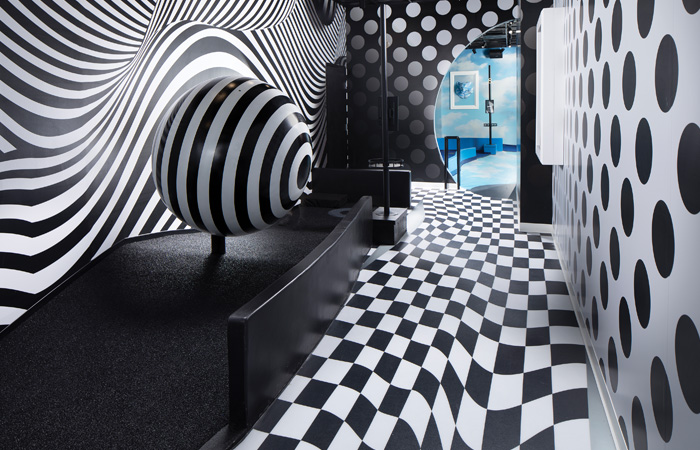 In the adjacent room to the Illusion course is the Library Course. Admittedly, I think this was my favorite course of my visit. It's a mini golf course that is really in a library. The books on the shelves are real, and the furniture is too. Paintings line the walls everywhere. In fact, it's more like a library/museum mishmash. The final few holes of the Library Course are really cool. No. 7 features an interactive look at the solar system with several large mock planets you wander through, No. 8 is the dinosaur skeleton hole, complete with lighted flaming meteor overhead, and the final hole is a look at the galaxy, with a huge telescope and constellations on the black backdrop. It's really a sight to see.
The final course, which is the only course on the ground level at Puttery is the Rooftop Course. This one gets its name because it gives players the feeling that they are playing on the roof of a building in a major metropolitan area. This course is considered to be the most challenging of the four, but it's also super fun and unique. There is also a bar in the middle of this loop, so you can stock up while you wait to finish your nine. The final hole on the Rooftop is a real hoot, with a putt that winds up a hill, then spirals around into a tube that spits it down toward the hole. 
The food at Puttery is upscale and delicious. There are plenty of apps to nosh or great entrees if you want something that is a little more filling. I sampled the sous vide pork belly as a starter, and it was amazing. The pork was perfectly cooked, and topped with some sweet hoisin glaze, pickled radish, and jalapeño. It is a perfect combination of savory, spicy and sweet. Other apps include a charcuterie board, tuna tostadas, oven roasted meatballs and even beef or lamb sliders. So, as you can see, this is a far cry from stale popcorn and ballpark cheese nachos you might see at those other mini golf courses.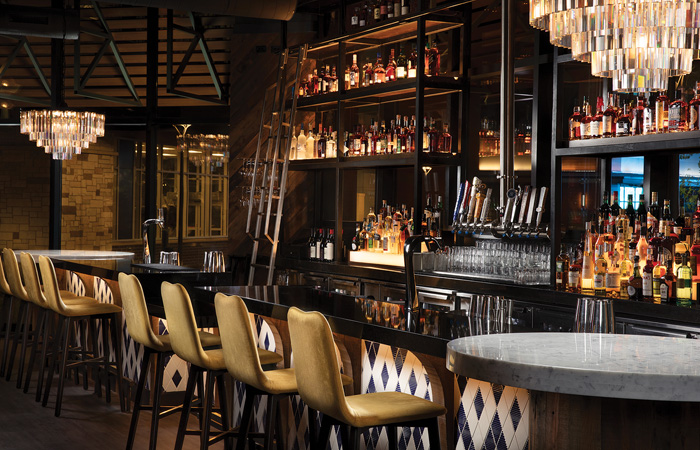 Puttery also has a selection of salads, but I wasn't about to head home without sampling at least one of their pizzas. A meatball, classic margherita, a spicy Hawaiian are all available, but the sausage and hot honey pie was the one that caught my attention. This combo of ricotta mozzarella, spicy soppressata, sausage, and pecorino cheese is baked to perfection and then drizzled with some spicy honey. The spice from the soppressata and the creamy ricotta are a combination that lights up your palate. And the spicy honey drizzle adds a touch of sweet with a little touch of heat in the back of your throat. And if you want a pro tip, ask for a little side of the hot honey to dip your pizza crust in… you'll thank me later.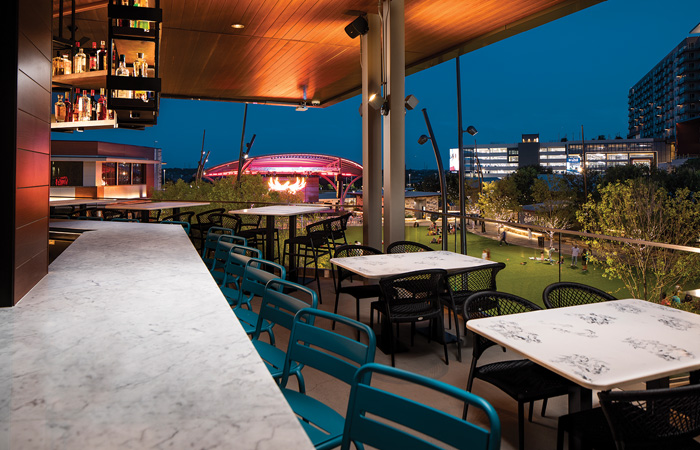 Puttery is a one-of-a-kind concept… so much so that there is only one location nationwide, and it is here in The Colony. However, the idea does have at least one "major" investor, and that is international golf sensation Rory McIlroy. McIlroy was so interested in the concept, he ponied up some of his own cash to help finance its launch. Although the location here in DFW is the only one operational for now, other locations are planned for Houston, Charlotte, Washington D.C., and Miami. Those locations should open in the coming months. 
Puttery is unlike anything you will find when it comes to unique entertainment. They have a fun concept that should really attract gen X, Y, and Z aged folks to want to check it out, since those were the primary generations that grew up with those rubber ended putters and bright green and blue golf balls in hand. I know I enjoyed it, and with the new adult spin and 21+ concept, I think you will too.