Drive Time – The 2018 Lexus LS 500

I've long admired the Lexus brand. The name immediately conjures thoughts of refinement, luxury, comfort, reliability and exquisitely smooth rides. The company is also unveiling sportier, sexier models to change its public persona. Aggressive grilles, rakish silhouettes and incredible tech are now luring buyers of all ages.
Like other premium lines, Lexus is aiming to break some molds to attract the up and coming young consumer. So, when I was offered the opportunity to put their new flagship LS 500 through the paces, I was intrigued after drooling over the astute product-placement rides in Black Panther. Meaning, if its good enough for a super hero, who am I to argue?
The LS 500 is a sublime driving experience for those desiring both creature comforts and some grin-inducing fun when the mood strikes. It strikes the perfect balance of sumptuous luxury with sparkling performance including worthy acceleration, steering, handling and enough cool technology to wow any gadget geek. It's now every bit as capable as the premium German counterparts—no small task. Not only will the kids be impressed, they'll want to buy one. I know the valet attendants were smitten.
SKIN
The latest LS 500 is a true head-turner. Its long sexy, swoopy lines appear aerodynamically perfect. The lovely Caviar black metallic tester screams serious business with a bolder front, eye-catching Spindle Grille (fits this car perfectly), unique bumper and generous air scoops underneath. Triple projector Ultra compact LED headlamps generously illuminate the road as does the auto high beams. The rear large trapezoidal dual chrome exhausts and unique 3D LED taillights motivated many positive discussions from the neighbors. Low-profile run-flat rubber and 20" polished Vapor Chrome wheels are the perfect accessories to the robust appearance. I found myself glancing back several times when walking away from the vehicle.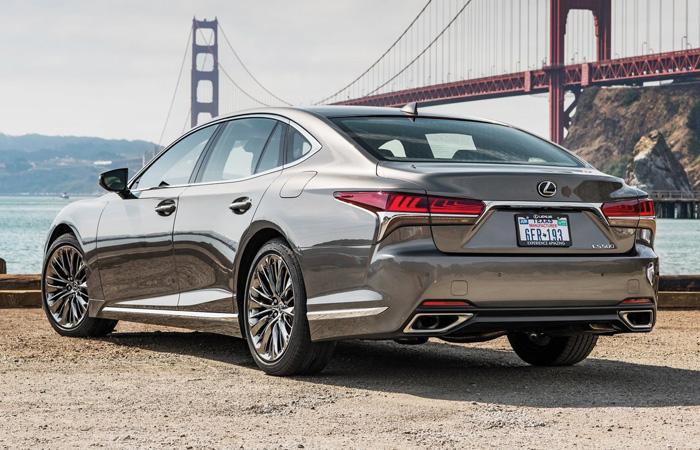 PERFORMANCE
Thankfully, the LS 500 delivers more than just an alluring figure. A new twin-turbo 3.5-litre V6 delivers 416 horses and 442 lb-ft torque and is even faster than the model's previous V8! A new 10-speed transmission shifts effortlessly in four driving modes (ECO, Normal, Sport S and Sport S+). I quickly dialed in the Sport choices and fell completely in love. The modes alter the steering feel, suspension tautness and rev points to handle any winding road with aplomb. Yet, it didn't kick up the RPM needlessly when cruising. The LS 500 tours wonderfully, barely breathing at 80mph. It feels very planted, confident and secure even in high winds. Even with the low profile rubber, the LS 500 soaks up the numerous North Texas road imperfections. This is a ride that brings the grins. Large 14" brakes stop you in quick fashion without a struggle. Which is nice, since its over 4,600 lbs. and hits 0-60 in 5.3 seconds—again quicker than the outgoing V8. Mileage is quoted at 19/29. I observed 20/31 in fairly spirited driving with premium petrol. Pinch me. Lexus engineers opted to dial in a sport exhaust note thru the cabin speakers (when in Sport +) that does sound a bit artificial, but I'm guessing most customers will enjoy the normally library-quiet cabin anyway.
CABIN
The interior is absolutely sublime. Top-notch materials everywhere, abundant contrast stitching, supple Cabernet leather and unique wood surround you in utter magnificence. The sport leather-wrapped and heated steering wheel is terrific along with the dual panoramic roof. Thoughtful touches include windshield wiper wash fluid emitted directly from the blades instead of sprayed on the windshield to prevent messy overspray. The cabin's design includes lovely swoops, curves and unique fabrics and wood. One interesting note is actual artwork on the passenger side dash. I'm not sure its necessary, but you quickly become accustomed to its presence. The standard 28-way power driver seat cuddles you in supportive comfort with lumbar support, power side bolsters, massaging both front seats (some of the best ever) and an extendable lower cushion. They automatically heat and cool based on your desired cabin temperature. I desperately want one for my office desk. Cabin room is very generous and full-sized adults fit nicely in the rear seats. Power sunshades are available all around. Sightline visibility is excellent. Storage is ample for knickknacks. The large, wide trunk (16.9 cubic feet) will easily fit two large golf bags sideways but the rear seats don't fold down—however they do recline and you can adjust everything including the 18-way power rear seats, music and climate from a rear center console. It's an instant conversation starter.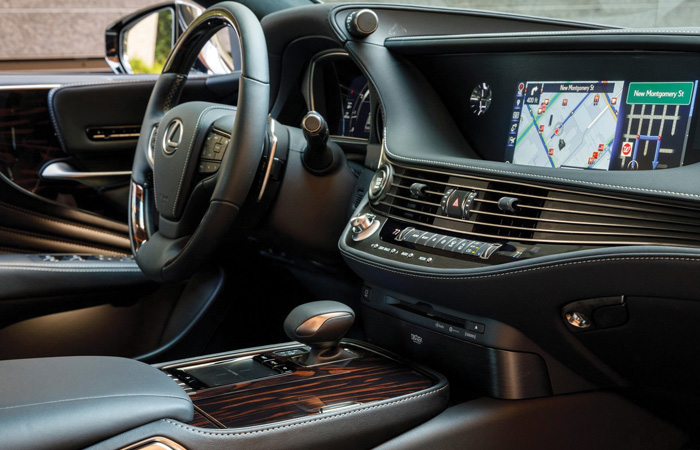 TECH CHECK
The updated technology is truly impressive but requires a little learning curve due to the vast array of selections. Once comfortable, you'll enjoy a plethora of choices literally at your fingertips via the Lexus Remote Touch mouse-like control on the console. A huge 12.3" high-res infotainment screen displays radio, climate controls, seating climate/massaging levels and 360-degree camera in English, French or Spanish. And, there's an old school tuning dial around a volume knob to quickly select stations and loudness. Its simply genius in its simplicity and other car companies should borrow the idea immediately. Plus, the key fob actually fits comfortably in your pocket rather than feeling like an oversized anchor. Perfect. A huge optional 24" Head Up Display is crystal clear; displaying speed limits, traffic signs/alerts and help warn the driver when a pedestrian or vehicle is on a track to collide with the vehicle. The automatic Parking Assist pops up to expertly navigate tight spaces. Being a flagship, the LS 500 possesses all the latest safety features one expects.
The tester included the optional sublime Mark Levinson 23-speakers; 2,400-Watt Quantum Logic Immersion Preference Surround Sound system (whoa, that's a long title!) delivers euphoric acoustics. It really is something to behold. Lexus Enform software utilizes apps Apple Car Play's "Siri Eyes Free" allowing you to voice respond to texts displayed on the screen, play from iTunes playlists and initiate turn-by-turn navigation. The Lexus App allows you to remotely start the car, lock your doors and adjust the interior temp.
The LS 500 continues the raise the formidable Lexus bar in the premium luxury sedan market. Excellent reliability and top safety ratings round out an exemplary package of worthy performance, looks, opulence and technology to lure buyers of all ages. I strongly suggest you give it a go to morph into your superhero self.
SCORECARD
Golf bags: 2
Curbside appeal: Gorgeous statement
0-60: 5.3 seconds
MPG: 19/30. Observed 19/29
Must haves: Luxury package
Warranty: 4-yrs/50,000 miles basic & 6 yrs/70,000 powertrain
Base price: $75,000
Price as tested: $100,978
Who buys it? Those desiring an ultra-premium cruiser with some serious driving fun
Finish line: Decidedly upscale package of performance, luxury and flair
Test-drive the 2018 LS 500 at Park Place Lexus Grapevine and Park Place Lexus Plano.