Ridgeview Ranch Golf Club – A Fun, Birdie Friendly Layout in Plano

When it comes to daily fee municipal golf, you're never quite sure what you're going to get. Courses can be good one season and average the next. Weather, city budget, and changes in staff often mean the conditions fluctuate from year to year to year. Thus, it can be an adventure as you navigate around your local track.
If you live in the Plano area, you have several options for local courses. Pecan Hollow and Watters Creek are a couple that immediately come to mind as solid options. However, there is another municipal course in the area that needs to be recognized as one of the go-to destinations for John Everyman.
Ridgeview Ranch opened in 1996, and since then has been known for its fun layout and consistently above average conditions. AG visited Ridgeview recently and what we got what exactly that. Ridgeview is fun golf at a rate that is comfortable for just about anyone.
For starters, Ridgeview has a nice wide driving range to hit a few nuggets before your round (although the mats could use an upgrade), but one of the things I noticed as we approached the first tee was the small chipping "course" that was adjacent to the starters shack. Several flags and small greens surround the area and makes for a great little place to practice or get a few more chips in as you're waiting for the group in front of you to clear the opening box. I don't know if I've ever seen that before, and it's a nice touch.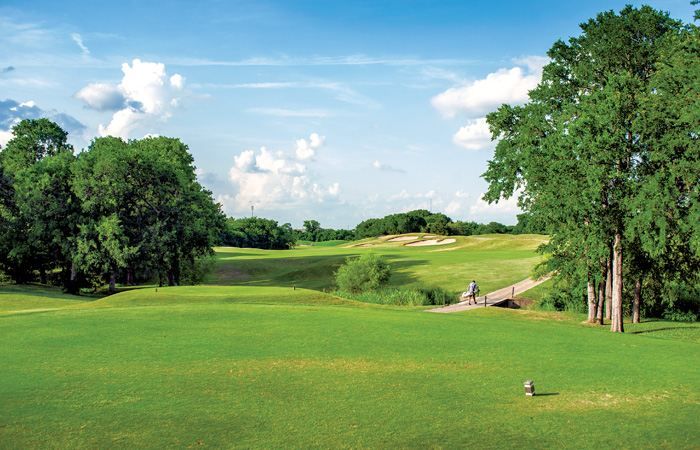 The opening hole at Ridgeview is straightforward. Shorter hitters can hit a driver or three-metal to bypass the fairway bunkers on the right, but the longer hitters may want to lie back a bit with a long iron or hybrid, because you run out of fairway and down a hill, which would leave an awkward uphill shot from a thick native area for the approach. After the 558-yard par 5 2nd, a long par 4 that plays as the no. 1 handicap awaits. Although relatively wide open, you need to really step on a driver to give yourself much of an opportunity at a par. The second shot plays back uphill a bit, and the prevailing winds can make it seem longer than the par 5 you just played. One more interesting feature of no. 3 is the historic cemetery just on the other side of the fence to the left of the green. The Young Cemetery was established in 1847 and is the final resting place of members of at least 11 pioneer families, and veterans of both the War of 1812 and the Civil War. It's certainly something you don't see much of as you're playing golf.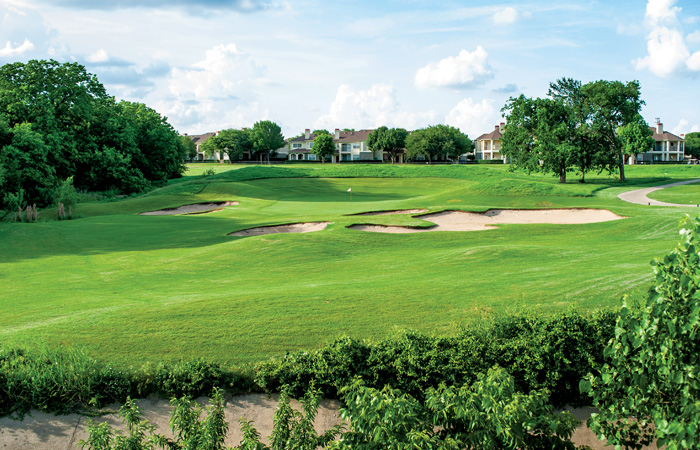 No. 6 is the second par 5 on the front, and this one is a serious opportunity at a tweeter. A good tee shot will roll out on the slightly downhill fairway and leave the longer hitters nothing more than a 7-iron into the green. The real long-knockers can hit as little as a wedge into this par 5. As you head for the turn, the par 4 ninth plays back toward the clubhouse. A little bit uphill, this one runs adjacent to the driving range, so you certainly don't want to miss left. If you leak your approach too far right, you can run down a steep embankment and have a wicked up-and-down attempt.
The par 5 tenth is one of the few holes at Ridgeview that has a significant dogleg. Longer players can take an aggressive line over the left trees and cut the corner. If successful, a downhill approach makes it reachable in two. If you do want to lay up, the green slopes from back to front, so avoid too much spin on a wedge and having it backup off the front of the green.
A birdie at the tenth hole will give players some breathing room as they march to what might be the most difficult hole on the property. Although it reads on the scorecard as the no. 2 handicap, this 482-yard par 4 is a behemoth. The tee shot plays a bit downhill, which helps, but the prevailing wind decreases distance and leads to a long approach. As in, possible three metal/hybrid long. The second plays back uphill, which adds some distance and means it's tough to get there in a pair. For most amateurs, this hole plays more like a par 5. A four is a great score, and anything less that and you're probably the sandbagger that consistently takes money off your playing partners.
For my money, no. 13 might be the most fun design on this course. A short par 4 measuring only 332 and playing a little downhill. Players that can hit it 300 plus can try to reach the green by taking the higher half of the fairway and drawing a ball down the slope to the surface, however, beware, if you pull your drive and carry it too far, there is significant mounding short of the green that can be downright nasty to navigate. A smart play would be a long iron that leaves you nothing more than a wedge. It's a simple hole in theory, but if you get greedy it can really pack a punch.
No. 14 is another par 4 that is gettable. A good drive will leave players a short iron. Be aware of the OB left and the trees right though. Either one could cost you a shot. The 15th hole at Ridgeview has an almost claustrophobic feel to it. It's about as tight a hole as I've ever played. Trees all down both sides, and they've grown in toward the center of the fairway, so they almost form a natural tunnel. It's an awkward feeling standing on the tee. Your first inclination would be to try to thread the needle with something a little more controllable, say, a long iron or hybrid, but once you see the hole plays almost 440 yards, you really feel like you must hit a driver. Miss just a bit either way, and you're stymied. No. 15 is only the 10th hardest hole on the course, but I argue whoever ranked the holes was a much straighter driver of the golf ball than most amateurs.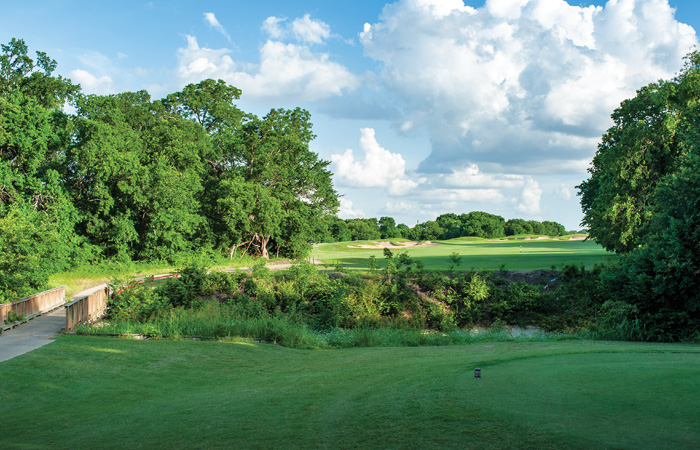 No. 16 is another par 5 that can yield a birdie before the tough finish. Wide open off the tee. It's a true "grip it and rip it" special. Hole no. 17 is a downhill par 3 that reads 193 on the card but doesn't play the number because it's a club or two downhill. We happened to get it was downwind as well, so the 190 played more like 150. About two clubs for elevation and another two clubs for wind.
The 18th can be a closing hole on my course any day. There are only really a pair of significant doglegs at Ridgeview, the 18th being one of them. A draw off the tee will set players up in prime position for an elevated approach shot to a well-guarded green. Too much draw off the tee, and your ball will likely find a small tributary that snakes along the left side, miss right and you can be punished with a longer, side-hill lie shot. It's a great and challenging way to finish.
The clubhouse at Ridgeview is just what you would expect from a muni. Nothing special. A check in counter with some gear in case you need to load up on ammo or forgot your cap at the house. The small restaurant bar area is perfect for a pre or post round snack or beverage. Overall, it serves its purpose. One thing that might need an upgrade would be the golf carts. The gas-powered carts can be a bit noisy and even when you have your foot on the floor they don't have a tremendous amount of pickup. Nobody goes to play somewhere based on the carts though.
Overall, Ridgeview Ranch is a solid, fun course with exactly what you want from your daily fee outing. The layout isn't overly complicated, there are plenty of chances to make birdie, and some holes that really make you think about what you're doing.
Plano certainly has options when it comes to golf, but I put Ridgeview Ranch up there with all of them. It's a perfect place for your post-work nine, or the weekend foursome with friends.