Drive Time – The 2018 Mercedes AMG GLS 63

With the unmistakable popularity of the SUV/Crossover segments, you knew taking the option volume opportunity "to 11" would surely follow. Yes, many long luxury three-row rides will haul folks and cargo in opulence but there's always someone willing to build and pay six figures for that extra vroom.
Mercedes-Benz' AMG performance division devised the superlative GLS63 that'll take you from 0-60 in an eye blink. That is some heady capability for a near three-ton beast. For those with the desire and means to plunk down a price with two commas, the AMG GLS63 has to be on your short list of a fast, nimble and extravagant large SUV.
The 2018 version is virtually the same as the 2017 model. Thus, there's still time to investigate the wow factors of this superb beast injecting some good 'ol fashioned adrenaline to your daily schedules. And with only a few additional options, the already loaded GLS63 is ready to delight the senses.
SKIN
The exterior is a big and beefy yet elegant in design. The designo Cardinal Red is eye-catching but I'd opt for white with the terrific contrasting trim. It delivers evident hints of the fire-breathing presence lurking under the hood with larger air intakes, an aggressive grille and sports fascia compared to the milder GLS450/550. Cool puddle lights display the high-def AMG emblem light from the side view mirrors. Twin arched brow running lights adorn the bright Adaptive High beam Assist headlights and LED taillights look magnificent at night. Permanent attractive running boards with traction disks help enter and leaving the elevated stance. I recommend the striking 22" AMG Multi-Spoke Black wheels ($1,750) and no-cost option red brake calipers to complete the beautiful appearance. The only recommendation would be removing the prominent roof racks as it diminishes the sporty enhancements.
PERFORMANCE
The AMG version of their tamer siblings brings ample oomph to the party. Of course, the star is that raucous hand-built 5.5-Litre 577-hp/561 lb.ft. torque, Bi-Turbo V-8 rocket launcher bringing a smile to any driving enthusiast. It's intercooled via air and water. The warbling exhaust through quad exhausts is music to your ears as you punch the petal. It's lightning quick for such a brute too, sending you 0-60 in 4.5 seconds. That's some heady sports car numbers for a large people mover.
Handling is superb with the optional AMG Air Sport Suspension ACTIVE CURVE SYSTEM to both cruise comfortably and let 'er rip in turns with zero sway. The standard permanent 4MATIC AWD navigates through Mother Nature's worst as I faced some literal gully washers in North Texas. It also can tow up to 7,500 lbs. – not class leading but plenty strong for most loads.
A superb 7-speed transmission shifts flawlessly and in Sport and Sport + modes downshifts with perfectly malicious exhaust thunder—a lovely soundtrack that motivated me to keep the radio off.
You can individually select adjustments for the air suspension, steering, powertrain and throttle response via the five driving modes (Individual, Comfort, Curve, Sport and Sport +). Cruise in luxury or unleash the fun utilizing the sport paddles in full manual shift mode. Of course, I opted to remain in Sport for the custom settings, exhaust notes and excellent handling.
AMG High Performance Braking superbly stops the 5,754 lbs. in short order. Gas mileage isn't much at 13/18 mpg, but the buying demographic probably doesn't mind the trade-off for intoxicating power and thrust.
CABIN
A six-figure cocoon should surround the passengers in sumptuous grandeur and the AMG GLS63 delivers splendidly. There's so much luxury, so many whiz-bang goodies to enjoy. High-end materials including are abundant throughout the superb layout.
The heated and cooled contrast-stitched seats are to die for. Side bolsters help lateral support when you hit a tight curve. Oh, and drive in euphoric splendor by utilizing four massage settings to reward you after a long day at the office desk or on the golf course. I regularly dialed it up.
I'm a big fan of the gearshift on the right steering wheel stalk that frees up valuable room on the console. How about heated and cooled (they work great!) cup holders? Paddle shifters change gears without a hitch. The thick sport steering wheel with the squared bottom is perfect with microfiber suede at the 9 and 3 positions for extra grip and comfort. Lighted kick plates and several ambient lighting choices are a welcome touch.
Eight available cup holders are handy yet ironically only two USB ports are available. The power folding 2nd and 3rd row seats are a great touch and provide good legroom too. Cargo room starts at 16 cu. ft. with all seats up (you can still stack two golf bags) but up to a spacious 94 cu. ft. with the middle and last row folded down.
Soft-close doors are a personal favorite. 360-degree Surround View cameras help maneuver the AMG GLS63 into tight confines. A double-pane panoramic roof illuminates the interior. Optional AMG Carbon Fiber/Black Lacquer Trim adds to the sporty elegance.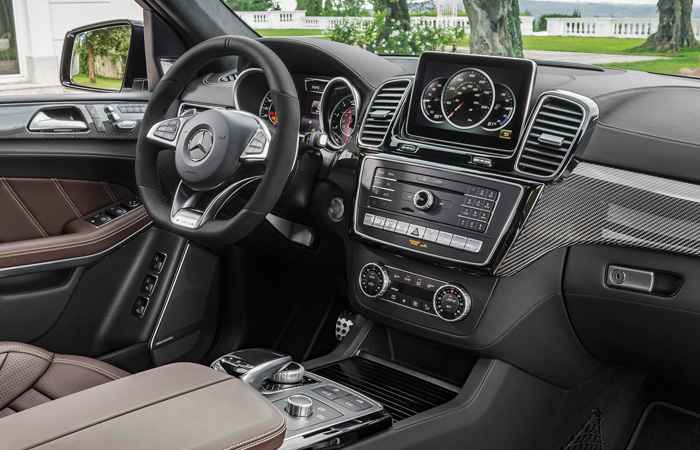 TECH TOYS
The large infotainment screen is clear and legible. Drivers have the choice of a track pad sitting above the COMAND knob on the console. I'm not sure why you're offered both as either one is fine (I lean towards the knob for ease of use while driving). Two cool lighted speakers on the dash corners are part of the optional crisp and clear blowtorch Bang & Olufsen Beosound AMG High-End Surround Sound System with 14 speakers and 1,200 watts (a 5,400 option for audiophiles).
Of course, mind-boggling technology is at your disposal. Bluetooth voice transmission is impressive as well. Apple Car Play and Android Auto are included.
This brawny beast also delivers the latest reassuring safety features. It will gently remind you to stay in your lane, constantly scans traffic up 1,600 feet sensing traffic patterns to help prevent front collisions (Collision Prevention Assist), brace you for a rear-ender, and PRE-SAFE brake with Pedestrian Recognition. The radar-enabled Distronic Plus adaptive cruise keeps you safely behind cars ahead.
The 2018 AMG GLS63 is a superb blend of outrageous performance, sumptuous luxury, and modern technology. At a base price of $126,250 this powerful people mover will deliver its inhabitants in creature comforts while effortlessly barreling down the road whenever the mood strikes.
SCORECARD
Golf bag storage: A bunch—depending on how many seats are folded down
Curbside appeal: That sure doesn't sound like a SUV
0-60: 4.5 sec.
MPG: 13/18 Observed 14.3 & 19
Must-haves: 22" AMG Multi-spoke black wheels
Warranty: 4 years/50,000 miles
Base Price: $126,295
Price as tested: $137,960
Who buys it: Those desiring near unlimited horsepower and luxury appointments
Finish line: Quite possibly the king of its class
Test-drive the 2018 AMG GLS63 at Mercedes-Benz of Plano Park Place Motorcars in Dallas, Grapevine, Fort Worth, and Arlington and Mercedes-Benz of McKinney.
Follow Rick Arnett on Twitter @ArnettRick for more!