Drive Time – The 2019 McLaren 570S Spider

This Drive Time marks the 9th anniversary of showcasing great vehicles. Starting in March 2010, our maiden article highlighted a convertible. Nine years and 120 rides later, we do it again. But this isn't just any 'ol rag top. Allow me to gush over the exhilarating 2019 McLaren 570S Spider.
This is a Supercar in every sense. It's drop-dead gorgeous with a euphoric combo of incredible power, performance and exquisite throaty exhaust to make you swoon. You'll recollect what your younger self always dreamt when making vroom sounds with model cars and what you fantasied owning —if you had the means to do so. Men really are just young lads with more expensive toys.
McLaren firmly adheres to sport car driving as no SUVs, Crossovers or sedans dilute their proud lineup. They produce only mouthwatering street-legal track cars. And the British company does it well. Very well.
In fact, I contemplated running off with the tester in hopes of entering the witness protection program or leading a police chase until the tank went dry. And the seductive form is so sinful, so sexy, that while giving it a wash, I felt like I was having an affair.
The 570S is the "entry" version of the McLaren line (base only $188,000) but hardly a striped-down vanilla ride.
You want to feel like a celebrity? Drive a McLaren, gun the exhaust and raise the stunning dihedral doors to complete the Supercar persona. Trust me, allow for extra time when running errands.
SKIN
As stated, the 570S Spider is a vision of sexy swoops and curves. The tester is adorned with a gorgeous cast of "Standard" blue paint that's anything but basic as the reflections glimmer and shimmer depending on the light. In fact, there are 33 remarkable colors to choose. The aluminum silhouette is stunning from any angle with aerodynamic scoops and vents that actually work to move air in beneficial patterns rather than merely pretend.
The Spider version adds a superb hardtop convertible delivering the very best of coupe or going topless. I'd say it's one of the few cars in the world that's somehow equally stunning with the top up or down—no easy feat. The top can open or close in 18-seconds while moving up to 20mph. I went sans roof mostly because, why not?! It's the perfect way to start or wind down the day.
The true stars though are the dramatic dihedral (best you look up the definition) doors that when raised, snap heads to stare, admire and scream OMG! The engineering feat allows you to open them without requiring much space. It does require a learning curve maneuvering to enter and leave the low-slung vehicle, but worth the trouble to look cool doing so.
The headlights and taillights artfully mimic the McLaren swoosh logo. An optional kit raising the chassis 1.6 inches at low speeds is so worth it to help prevent needless speed bump bruises to the front end.
Meaty staggered Pirelli P ZERO CORSA racing rubber 225/35R19 (front) and 285/35R20 (rear) encircle Diamond Cut 10-Spoke lightweight rims. They're the perfect matching ensemble to the exterior. I and many others were quickly smitten with the sinful lines.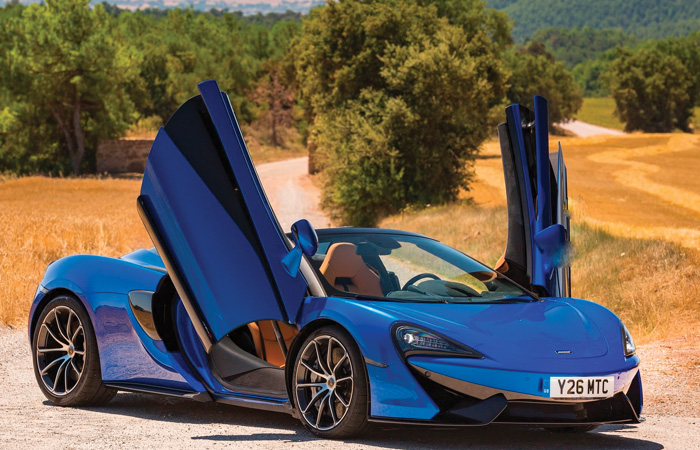 PERFORMANCE
 Yes, the exterior is spectacular, but McLaren is all about driving and handling. Quickly. A fire-breathing twin turbo 3.8 liter V-8 pumps out 562 horsepower whooshing you from 0-60 in 3.1 heart stopping seconds. The MonoCell II carbon-fiber chassis lends to an overall feather-light weight of only 3,300 lbs while still providing excellent frame rigidity.
The acceleration is like a sledgehammer but not in neck-snapping fashion. You do have to pay attention as the top speed can tick past 200mph and the rear-wheel drive handling takes a deft touch—especially in Track Mode. There is a noticeable turbo lag when gunning it from low-revs but the boost is instantaneous at higher RPMs.
Normal mode is still taut (it is a track car first folks—you'll feel every road contour and imperfection) and the Sport Mode's perfectly synchronized rev matching is pure aural sex when downshifting. Standard carbon-ceramic brakes ably stop the rocket in proper fashion.
The Active Dynamics panel allows you to adjust drive modes thereby change the adaptive dampers, throttle and steering settings from normal to ultra-sensitive Track mode. Again, Track Mode is fun but best left to perfectly smooth roads or a speedway as the 570S power is sudden and shockingly impressive.
Of course, there's that delicious exhaust note—a sound so intoxicating you'll choose it as your personal driving soundtrack rather than settle for mere music. It's an exquisite roar that appeals to all senses. A manly thunder so grin-inducing, it should be the standard audio for any high-performance ride.
Surprisingly, gas mileage is very good at 23mph on the highway. Not that your normal McLaren owner cares as they typically only add 5,000 miles a year. This isn't your cross-country cruiser but a projectile to be appreciated in short euphoric springs.
Bottom line is the 570S is primarily a true race car that can be driven on the streets—but with its near limitless eager capabilities, it feels at times like you're unfairly hitching Secretariat to a buggy during daily commutes.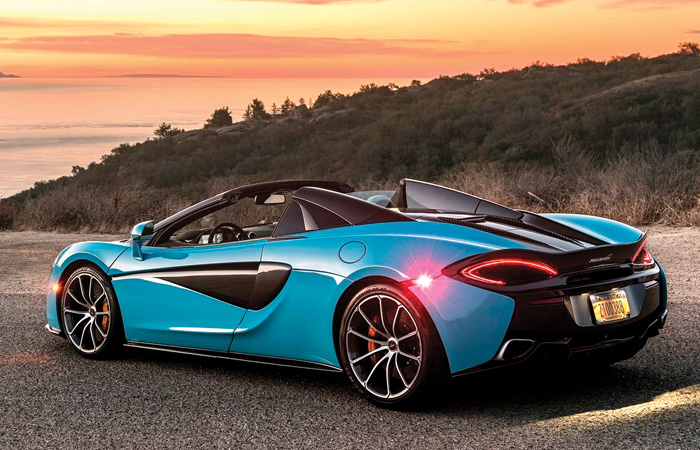 CABIN
There's no mistaking this rocket for anything but a sports car. No one does leather like the Brits and you can choose from an additional 13 exclusively tailored motifs via the McLaren Special Operations (MSO) to near endless variations.
Carbon-fiber and satin chrome trims are a great touch. Supportive power and heated sport racing seats delight the senses—although the adjustment buttons are hidden by the console—making it an Easter Egg hunt locating the desired controls. You know it's primarily a race car as zero control buttons adorn the perfectly shaped steering wheel. No volume, cruise control or voice activation folks. Just two paddle shifters. Leg room length is ample but the left foot is hindered a bit by a bulge in the footwell. However, you don't notice it after a while.
The 570S does have some decent storage for a racer. The console now "floats" freeing up storage underneath including cup holders (but no Big Gulps). The attractive TFT instrument cluster is clear, beautiful and programmable. A seven-inch infotainment screen is fairly intuitive and the climate controls are effective. The optional Bowers & Wilkins 1,280W audio system is capable of clear sound even with the top down and the exhaust at full roar.
Like most mid-engine rockets, trunk storage is in the front—and its fairly deep to house a couple of overnight bags. However, a golf bag will require front seat passenger status.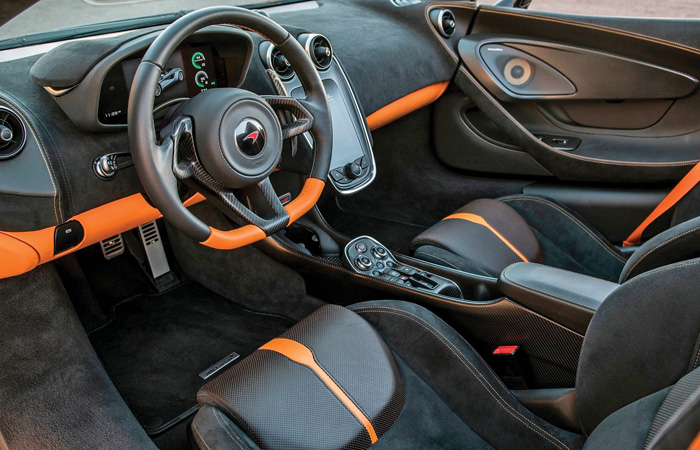 TECH CHECK
Most of the high-end tech is in the driving capabilities. There is a Back Up camera in the instrumentation panel that can get covered up when turning the steering wheel. It also includes a parking sensor that is very sensitive (as it should when parking a $200,000 ride). There is a three-year, unlimited mileage warranty that'll rarely require over the aforementioned 5,000 annual miles as McLaren owners save them to track on dry sunny days.
The 2019 McLaren 570S Spider is the epitome of Supercar status. It's downright gorgeous, ridiculously quick, handles like a slot car with a sound that quickens your pulse like few in its price range can. Meaning, the 570S Spider is a must-drive for any true sports car aficionado.
SCORECARD
Golf bags: 1 as a front passenger
Curbside appeal: Valets will fight over the gorgeous exterior and exhaust note
0-60: 3.1 seconds!
MPG: 15/23 Observed 19mpg overall in spirited driving
Must haves: Sports Exhaust. Luxury Pack
Warranty: 3 years/unlimited miles
Base price: $208,800
Price as tested: $236,450
Who buys it? Those with the means who love driving with a grin
Finish line: A superb Supercar that checks all the boxes
Gleefully test-drive the 2019 McLaren 570S Spider at McLaren Dallas.