Cover Story – Best of Private Clubs 2019

Ladies and gentlemen, it's time to see which golf clubs passed the test in 2019. As we do every March, AVIDGOLFER ranks and rates every private club in the Metroplex. Over the last several years, renovation has been the name of the game when it comes to some of the heavy hitters in DFW. Courses are constantly evolving in an arms race to stay at the top of the mountain and continue to attract new membership. Many properties have stayed the course, but many others have undergone extensive facelifts in an effort to maintain the standards their members have become so accustomed to.
Northwood Club and River Crest are two courses that weren't in our rankings last year due to renovations but will be mainstays in our rankings for years to come. Of course, the usual suspects will make return appearances on our lists Dallas National, Shady Oaks, Brook Hollow, Trinity Forest, Preston Trail, Vaquero, Maridoe all come to mind when you break down the heavyweights in each category.
The evolution of private clubs isn't an exact science, but any changes are almost always welcomed by members as clubs continue to stay on the cutting edge when it comes to layout, routing, technology, instruction, amenities and food and beverage. Clubs take these aspects very seriously, as do we when we break down and rank each one of these spectacular experiences. We use the word "experiences" because when you belong to a truly elite club, that's why you're there… for the total experience. Whether it be just as a golfer, taking the wife and children to the club for dinner and some time at the pool, or sitting in the card-room post round with friends with some smooth cocktails at the ready.
The club experience is unlike anything else, and depending on where you may belong, or are considering joining, there is a place for every budget, every style and every taste. Take a look and enjoy our 2019 Best of Private Club Rankings.
Best Overall Country Club
The Vaquero Club
 If you had all an entire day to dream up the perfect, lavish country club, chances are your wildest imagination would still fall short of what the stunning Vaquero Club has to offer. All its exquisite amenities and superb Tom Fazio-designed course are why, once again, The Vaquero Club earns the nod as Best Overall Country Club.
Vaquero's 15+-year reign at the top of this category starts with the world-class par-71 golf course. Zoysia fairways and Bentgrass greens and plush and perfect, and the fairways ebbs and flows beautifully through trees and pockets of lush fescue grass. There are some really special holes at Vaquero, especially when you get into the heart of the back 9, and if you play in the afternoon while the sun is going down, the course is downright beautiful.
Vaquero has all that you could ask for, even if you aren't a golfer. There's the championship-level tennis courts, and stately (yet comfortable) clubhouse with some of the nice locker rooms we've ever seen. And the food and service is out of this world, which is what you would expect from a place like Vaquero.
The Vaquero Club is so outstanding, that even it's six-figure initiation fee is almost a bargain. The club continues to improve every year, and we are blown away every time we visit.
Best Overall Golf Club
Dallas National Golf Club
Let's cut right to the chase here – Dallas National is the best golf course in DFW (in our opinion), and there is really no comparison. The club may not have a pool or spa or tennis courts, but it doesn't need those things, because it has 18 of the best holes we've ever seen. For that reason, Dallas National Golf Club is once again the Best Overall Golf Club in North Texas.
Another world-class Tom Fazio design, Dallas National gives you rolling elevation changes and stunning views that you won't find anywhere else in DFW, and very few other places in the entire state. Case in point, the beautiful par-5 10th hole, a 550+ yard par 5 that features a tee box set up at least 50 feet above a sprawling fairway, treating you to not only a picturesque hole, but views for miles of the surrounding terrain.
The practice area is as good any you'd find on the PGA TOUR, and the 20,000-square-foot clubhouse welcomes you after your round with sumptuous creature comforts and delicious food (and fresh cookies!). The club also has two, two-story cottages located just off the 18th fairway that are fully furnished and can be used for group or couple stays.
As the gold standard and industry leader among local golf courses, it is easy to see why Dallas National has earned the title of Best Overall Golf Club.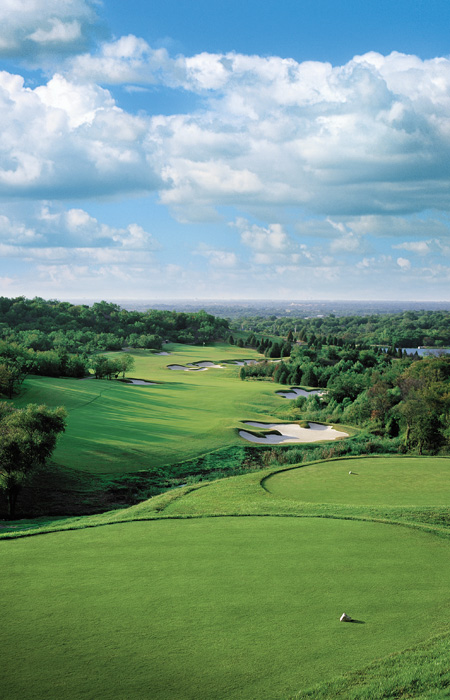 Best Country Club
Elite Category ($60,000 and up)
Northwood Club
Brook Hollow Country Club
Shady Oaks Country Club
Lakewood Country Club
Royal Oaks Country Club
These clubs are elite in every sense of the word. From their high-profile members, to their out-of-this-word amenities, our top five are the absolute best when it comes to private clubs in DFW.
This year, the top-dog in this category goes to a club that underwent an extensive renovation project. Northwood Club in Dallas was redesigned by Tripp Davis and the results are astounding. A short course, new water features and arguably the best tee shot in the Metroplex (the par-5 14th) make this one of the truly best golf experiences in the area. Combine that with a magnificent clubhouse and the prestige of being the host site of the 1952 United States Open and you truly have something special. In a day where old school courses can often be swept under the rug for modern design strategies, Davis kept the course mostly intact while using subtlety to update the layout. It's just fantastic.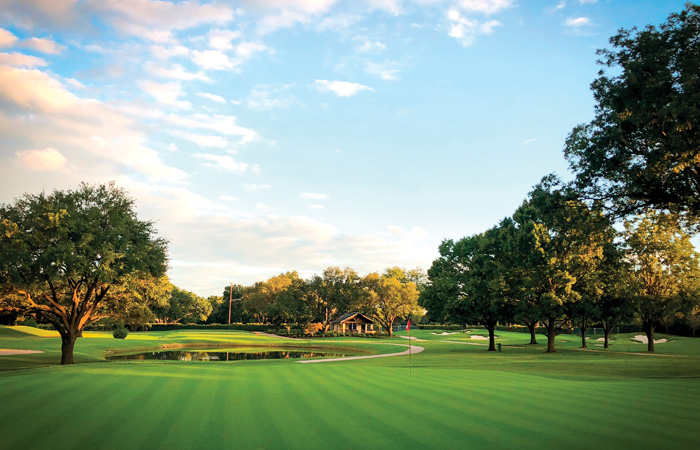 Brook Hollow Golf Club in the heart of Dallas has been a mainstay in the Elite Category ever since AVIDGOLFER began ranking the best private clubs. Brook Hollow boasts some of the most elite members in Dallas, and for those interested in membership, the wait can be more than a decade. A classic A.W. Tillinghast design that still maintains many of the original features and design elements from when it opened in 1920. The staff at Brook Hollow is extremely dedicated to their members and are constantly evolving to remain one of the top country club experiences in the area.
Fort Worth's best country club in the Elite Category is Shady Oaks Country Club. Palpable prestige is noticeable as soon as you step foot on the property. A wonderful golf course is the cornerstone of the club, but the addition of the "Little 9" par-three course is one of the best additions to any local club in the last decade. When you play the par-three course, you are literally only bound by your imagination. The spectacular dining facilities and locker rooms only add to the experience. If you're on the Tarrant County side, there's simply not a better property.
Lakewood Country Club also makes our list of best clubs in the Elite Category. Another classic course that has plans for some future renovations, Lakewood has spectacular Bent Grass greens, a great fitness facility, and one of the only parking garages in the Country Club game. One of the best features at Lakewood is the patio area that overlooks the 18th green. It's arguably the best place in Big D to have a cocktail, enjoy the weather and watch groups come in as the day fades.
Another Dallas titan in this category is Royal Oaks Country Club. Royal Oaks is an old-school design that has withstood the test of time. Tree-lined fairways frame the course with authority and keeps players on their toes with every pass at the ball. A gorgeous, stately clubhouse features on of the finest dining areas around, and if you're hungry on-course, the halfway house is at the top of the food chain.
Best Country Club
First Class Category ($25,001-$59,999)
The Four Seasons Golf & Sports Club
Stonebriar Country Club
Gleneagles Country Club
The Lakes at Castle Hills
Bent Tree Country Club
The First Class category is undoubtedly the most competitive category year in and year out. These clubs are constantly improving and evolving to satisfy current members and attract new ones.
The name may be new, but The Four Seasons Golf and Sports Club isn't new to being at the top of the First Class Category. After completing the $9 million renovation in 2017, the club was rebranded to the Four Seasons name, further promoting the elite level of excellence at the club (and all Four Seasons properties across the globe). They maintain a level of excellence that keeps people coming back time and time again. Two courses give members the option of a challenge (TPC) or a leisurely fun round (Cottonwood).
Stonebriar Country Club in Frisco takes the number two spot in this category for the third straight year, but ClubCorp's best facility isn't taking their success lying down. Another club with two courses, Stonebriar accommodates all skill levels, and at a downright bargain. Membership is almost full, so if you want to join Frisco's best, you best not dawdle.
Just about 15 minutes south of Stonebriar is ClubCorp's other gem, Gleneagles Country Club. One of the most time-honored and historic clubs in this category, Gleneagles features two outstanding courses on property, and a slew of amenities that other clubs strive to match. The clubhouse recently added a 160-inch HD screen that is the envy of other properties across the area.
When The Lakes at Castle Hills turned private a few years ago, the club committed to adding the necessary amenities to really compete with the best clubs in the area. Now, four years later, construction on the clubhouse, pool and fitness center is fully finished, and the facilities look shiny and new. The service here is second to none for a club at this price-point. If you want to be treated like royalty, Castle Hills definitely fits the bill.
Bent Tree Country Club has a quiet, peaceful feel about it, despite its proximity to the busy Preston Road and Dallas North Tollway. The outdoor seating area features some of the most comfortable rocking chairs around, and a giant fireplace, and we love the fact that the putting green and practice range is just outside the proshop doors.
Best Country Club
Mid-Priced Category ($10,001-$25,000)
Dallas Athletic Club
Ridglea Country Club
Las Colinas Country Club
Denton Country Club
Dallas Athletic Club celebrates its 100th anniversary in 2019. A pair of fun, playable courses with Bent Grass greens, DAC is a great property for those who love leisurely golf. A top-notch short game area will improve your game in a hurry. Tennis courts, a 4000 square foot fitness facility and a pool make this a great place for families.
Ridglea Country Club strongly holds its own in an area that features a pair of heavy hitters in Colonial and Shady Oaks. Ridglea is the only private club in Fort Worth that features two courses – one of which is a men-only facility – and it offers those excellent amenities at a fraction of the price of its nearby competition. A recent renovation of the men's locker room and upstairs bar area makes this facility even better.
Las Colinas Country Club is another fantastic ClubCorp facility located in the heart of Las Colinas. LCCC has some of the best views of downtown Dallas from the back patio and a Sunday brunch that we are obsessed with. The course has subtle elevation changes and its convenient location makes it accessible from anywhere in DFW.
With a multitude of improvements and upgrades completed, Denton Country Club has worked its way into our Mid-Priced Category for 2019. Established in 1922, DCC has the pedigree and the reputation as a great club with all the amenities one might want when they dip a toe into the country club waters.
Best Country Club
Value-Priced Category (Under $10,000)
Stonebridge Ranch (both courses)
The Clubs of Prestonwood
Hackberry Creek Country Club
Brookhaven Country Club
Trophy Club Country Club
The Value-Priced Category is consistently dominated by ClubCorp facilities, and that is because bringing great value to members and affordable prices is what the private club giant does best. This year is no different.
Stonebridge Ranch Country Club in McKinney is all about options. Members can choose to join either the Dye Course or the Hills Course, or both, we consider Stonebridge Ranch one of the best values in DFW as well as one of the best clubs. Exercise facilities, swimming and tennis complete the total country club experience at this ClubCorp gem.
It is truly amazing how far The Clubs of Prestonwood has come in the few years since ClubCorp took over the Creek Course and combined it with the Hills Course to form the club. After receiving a complete overhaul, this is a great membership for young executives who want two courses, convenient locations, and all the amenities of a larger club.
Hackberry Creek Country Club in Las Colinas. Wedged tightly into the neighborhoods near the intersection of the George Bush Turnpike and State Highway 114, Hackberry is a great affordable option for residents of central DFW. Hackberry has a fun layout, and it's location makes it easily accessible from anywhere.
At times it feels like we underrate Brookhaven Country Club, because at the end of the day, there might not be another club that better personifies the essence of what a county club should be. The new Drive Zone is an incredible addition to the club and keeps Brookhaven on the forefront of family friendly clubs.
Rounding out the Value-Priced Category is Trophy Club, one of the best pure country clubs in this list. It is the ultimate players paradise, with 36 holes, a gigantic driving range and short game area. The outdoor dining area rivals any in the area and their dedication to junior golf is second to none. If you have children that are looking to pick up the game, then Trophy Club is a great choice.
Best Value
Best Value
Stonebriar Country Club
Stonebridge Ranch Country Club
Lantana Golf Club
The Retreat Golf Club
Shady Valley Country Club
With so many exceptional country clubs and golf clubs in town at great prices, it's very difficult to narrow down the top five in the Best Value category.
When we say, "Best Value", that doesn't necessarily mean "cheap" and Stonebriar Country Club is a fantastic example of that. A $35,000 price to join may not sound like a "value" on the surface but with 36-holes on property and amenities that rival those of much pricier clubs, we penciled it in as a great value for your buck.
Two facilities, two very different courses, two great experiences all wrapped up in an affordable bow – that is Stonebridge Ranch Country Club. The Dye and Hills courses may be two of the best pure golf courses on our list, and the fact that you can get access to them both for about $11,000 initiation makes us feel like we should be wearing a ski-mask as we join. A great property and an even better value.
The warm, friendly confines of Lantana Golf Club in Argyle take second place in the First Class category. The club recently finished a sizeable renovation to the practice area, improving on what was already a great place to work on your game. The rustic clubhouse has a friendly, cozy charm about it, and the golf course is always fun to play.
The Retreat Golf Club in Cleburne once again comes in with the least expensive dues on our list, and the fact that those dues get you unlimited golf each month puts them over the top as one of the best values in North Texas. If you play a lot of golf and don't mind a bit of a drive, this is a no-brainer.
If you're looking to join a club for the first time and see what country club life is all about, then Shady Valley Country Club could be the place for you. It's affordable, and the golf course has a no-nonsense, walker friendly layout with a couple fun risk vs. reward holes. A nice bar area in the clubhouse makes for a nice social scene as well.
Best Golf Club
Elite Class Category (Over $90,000)
Preston Trail Golf Club
Trinity Forest Golf Club
Maridoe Golf Club
Leading the way in the Elite Class Golf Club category for the fourth year in a row is Preston Trail Golf Club. This year, Preston Trail remains the gold standard for elite status clubs in Dallas. A star-studded membership that truly caters to the upper-crust. PT is and will very likely continue to be the golf club that others yearn to become.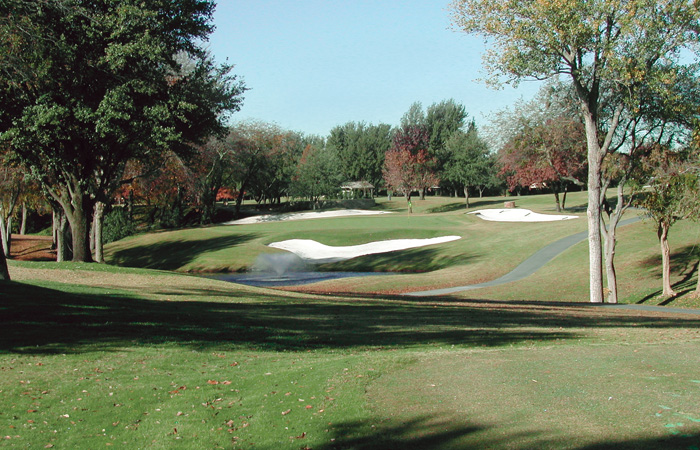 Trinity Forest Golf Club, the current home of the AT&T Byron Nelson, is one of (if not the most) unique courses you'll ever see. This Coore/Crenshaw design is links style with a touch of American flair. Creativity is a necessity to play well at Trinity, but the course is fun and unlike any course in the area. The clubhouse is also world class.
Maridoe Golf Club is one of the most mysterious clubs in the area. Nestled in Carrollton, this behemoth will test every shot and every club in your bag. It's truly a one-of-a-kind design. The locker room and clubhouse are understatedly nice, and the practice area is solid. This property is purely about golf. If you're looking for the most challenging layout in town, look no further.
Best Golf Club
First Class Category ($35,000 and Under)
TPC Craig Ranch
Timarron Country Club
Lantana Golf Club
Gentle Creek Golf Club
McKinney's TPC Craig Ranch, the former host of Stage 2 of PGA Tour Qualifying School, and the two-time location of the Web.com's Tour Championship. Craig Ranch was recently sold to ClubCorp, and we look for them to make this one of the crown jewels of their DFW clubs.
ClubCorp's Timarron Country Club in Southlake is as solid as it gets from year to year. Of course, the club is still as golf-focused as it has always been and is perfect for the golf nut who cares little for any other club activities.
Lantana Golf Club in Argyle is warm and inviting. The rustic clubhouse has a friendly, cozy charm about it, and the golf course is always fun to play.
For the North Dallas crowd looking for a great place to join and play golf, Gentle Creek Golf Club in Prosper is an underrated property that deserves attention. Their 360 Restaurant and gorgeous patio area make this a wonderful place to take in some food and drink after a round on their player friendly track.
The Outlier
The main outlying country club in our area is the Jack Nicklaus-designed Rock Creek Resort, located on the banks of the Red River, east of Interstate 35. About 90 miles north of DFW International Airport, Rock Creek is like an oasis of thick, lush forest with a golf course that winds its way rather carefully through the trees. Rock Creek itself comes into play on multiple holes, and the Bentgrass greens are second to none. Members also have access to Lake Texoma via the Lake Texoma Texas Marina for boat rentals, and avid outdoorsmen can spend time in the nearby Hagerman National Wildlife Refuge.