Elements of Style – Skin Care Decoded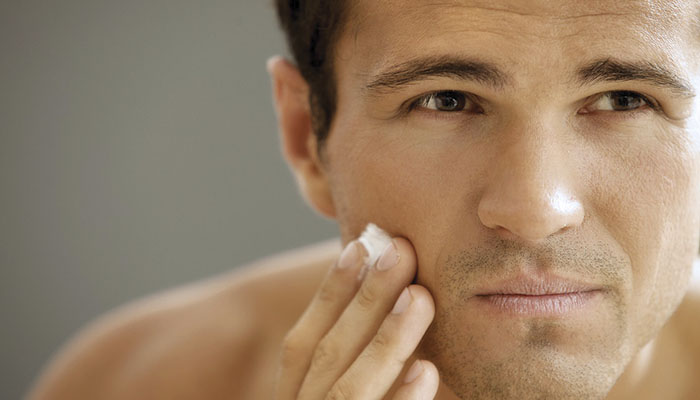 Taking care of your face, on a daily basis, is a reality for anyone who does not want to look years older than his or her true age. Skin care is not a "women's-only" club with secret rituals to which men are not admitted. Men also need to maintain and protect their face in order to improve our feeling of wellness, our perception in the workplace and the social scene and to minimize the likelihood of skin cancer and other unwelcome side effects.
Boardroom Salon for Men recommends a simple routine tailored to your age that you can follow in five minutes twice per day and without sacrificing your masculinity.
If you're in your 20s:
Problems/Concerns: Look for acne and oil/shine on the skin.
Your Ideal Routine:
Daily Cleanser • Wash your face each morning and night with a quality cleanser, not a bar of soap. Avoid washing with cold or hot water, as both can cause broken capillaries.
Daily Sunscreen • Apply a dime size amount of SPF directly to face (SPF 15 or 20 works great). Skip a step with a moisturizer that includes SPF.
Daily Moisturizer • After washing, apply a thin layer of quality moisturizer. The moisturizer will soften and hydrate your skin, and help maintain its elasticity while minimizing dryness, blotchiness and wrinkles.
Lotion is only half of the hydration equation. Skin needs moisture from the inside out. Drink water! Also watch your caffeine and alcohol intake, as both dehydrate your skin.
If you're in your 30s:
Problems/Concerns: This is when the first signs of aging appear, along with dull skin and fine lines under the eyes.
Your Ideal Routine:
Cleanser • Apply a nickel-size amount to wet hands, work into a lather and apply to face with fingertips using a circular motion. Use in the morning before shaving, and at night to cleanse skin.
Quality Shaving Products • Ward off ingrown hairs, razor burn, and nicks and cuts, while leaving behind a soft and smooth face. Start with pre-shave oil, then apply shaving cream with a shave brush. Finish with after-shave balm.
Moisturizer with SPF • Apply a nickel-size amount of moisturizer on clean face and neck. Use daily; in the morning, after shaving, for daily protection from sun; in the evening, to hydrate and moisturize dry skin.
Eye cream • A little goes a long way. Morning and night, use the tip of your ring finger to apply a pea-sized amount below and around the eye area and on the upper cheek bone.
If you're in your 40s:
Problems/Concerns: The skin cells become less firm and retain less moisture, causing wrinkles. Also, be aware of sun spots and discoloration.
Your Ideal Routine:
Cleanser • Morning and night, apply a nickel-size amount to wet hands, work into a creamy lather and apply to slightly damp face using a circular motion. Immediately rinse.
Moisturizer with Antioxidants • Apply a nickel-size amount of moisturizer on face and neck.
Moisturizing Oil • Apply a thin layer over face and neck on slightly moist skin following bath or shower. Also perfect for rough patches on feet, elbows and cuticles.
At least twice a week, exfoliate. Before shaving, apply a dime size amount of scrub onto a wet face, rubbing gently in circles. The power of the scrub is built-in, so you don't have to rub hard. Rinse with warm water.
If you're in your 50s and beyond:
Problems/Concerns: Your skin becomes very dry, and the amount of wrinkles increase.
Your Ideal Routine:
Start with a gentle cleanser to wash the day away. Clean your face each morning and night with a quality liquid cleanser with lukewarm water.
Moisturizer with SPF • Sun block should be applied every morning regardless of whether it is sunny or cloudy. Look for a moisturizer with UV protection of at least 15 to apply as your morning moisturizer.
Skin Serum • A skin-saving solution. Apply one pump to entire face, apply a second pump for neck area. Use it alone or blend with your moisturizer and apply all over face. Avoid eye area.
Eye Cream • Use twice a day, morning and night, but don't overdo it. Apply a small amount to clean skin, directly under eyes focusing on the corners. Avoid eyelids.
Since 2004, Boardroom has been the place where men get ready. Boardroom delivers the ultimate relaxed grooming experience for men by providing exceptional haircuts, shaves, and spa services in an elegant, country club environment. Boardroom has 27 locations throughout Texas, Tennessee, Oklahoma and Georgia. For more information, visit boardroomsalon.com or facebook.com/theboardroomsalon.