Pinehurst resort is on every golfer's bucket list. For those that have been there, they will never play a round with a stranger and not brag about the time they went to North Carolina. For those that haven't been, they can only dream about trying to replicate the putt Payne Stewart made to win the 1999 United States Open and throw the signature Payne fist pump as they watch it roll in center-cut. In October, I made my way to North Carolina for the second time, and even during a pandemic I couldn't deter the excitement building as I was preparing to go on the golf adventure of a lifetime. 
After flying into Charlotte, I made the two-hour jaunt that featured a random 30-minute standstill delay about 45 minutes from the resort. I arrived only about 20 minutes before my scheduled tee time and was amazed at how quickly the staff was able to get my bags and get me checked in, so I was able to make it to the first tee shot of many. A short 90 second drive from the Carolina hotel to the main golf hub had me at the first tee of The Cradle about three minutes before 2:00. 
The Cradle is one of the newest additions to the resort property. Opened in 2017, this Gil Hanse nine-hole short course is as much fun as any golf experience you will have. The longest hole plays at just 127 yards, meaning most players need no more than about 5 clubs to complete the loop. I chose my three wedges and a putter, which I slid into one of The Cradle's lightweight Sunday bags with a couple golf balls just before teeing off. 
The entire nine took just about 40 minutes, and that was with a stop for a cold oat soda at the retrofit airstream style camper that sits on a hill on the east side of the 10-acre plot of land. Hanse did an exceptional job utilizing the landscape, with some elevation changes that will require precise wedge play, and greens that are a worthy tip of the cap to Donald Ross' greens on the No. 2 course, which anyone will tell you can be, um, adventurous. 
The Cradle is a fantastic addition to the resort, with a laid-back feel and a party vibe. Speakers across the nine-holes pipe in music, and groups playing are almost always enjoying cocktails knowing it won't be a four-hour grind as it is on a normal course. Want to play The Cradle barefoot? Knock yourself out. Want to make some outlandish bets on who will be closest to the pin? That's welcome too. And if you have kids in tow that aren't quite ready for the challenge of an 18-hole course, take them along and let them make a few swings and roll a few putts while mom and dad enjoy a beverage. The Cradle is absolutely perfect in every way whether it be for the experienced player looking to have some fun, or the family looking to keep children entertained, there is nothing like it.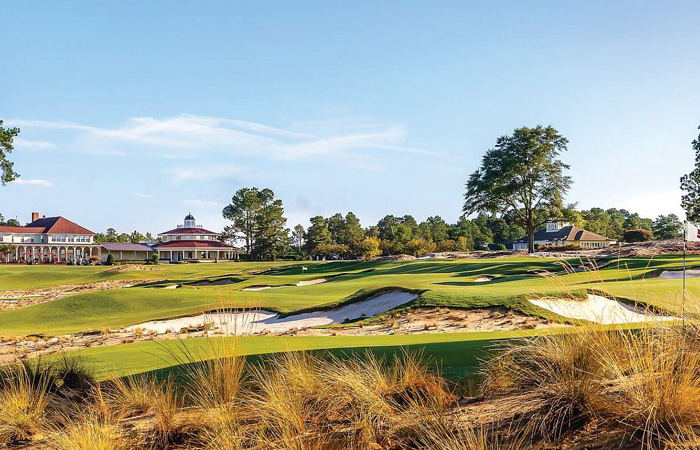 After finishing my time at The Cradle, I still had plenty of daylight left and needed something to kill some time. Right next to the Hanse designed short course lies the Thistle Dhu putting course. This attraction is free to all staying at the resort and is an homage to the legendary Himalayas Course at The Old Course at St. Andrews. The 18-hole putting green will test your flat-stick in ways you never thought possible. Each "tee" has convenient cupholders for your cocktail or beer as you line up your ball and prepare to send it toward the awaiting hole. Believe me when I tell you, this putting track will be as enjoyable as anything you will do while you're on property. 
Through 18 holes, you will be faced with a cornucopia of slick, sliding putts that will have you holding on trying to avoid three-putts or even worse. Although most of the putts you face aren't more than 35 feet, some of the hole locations are downright laughable, as you find yourself giggling as the ball rolls past the cup, and keeps rolling, and rolling, and rolling. There are some that are makeable, and some that are downright comically impossible to hole, leaving you just hoping to three or even four-putt. I can only imagine playing this course with friends and dropping some coin down betting on whether you can get a particular putt down in two as you enjoy beverages. 
You can certainly play fast and get done in about 20 minutes, or if you plan on taking it seriously and want to read and mark every putt, it could potentially take double that amount of time. Either way, it couldn't be more fun for you and your group and is a fantastic way to burn some time as you wait on your upcoming round or dinner plans. 
After a great afternoon of amuse-bouche for my golf taste buds, it was off to a quick dinner and to get rested up for day two at Pinehurst, which would feature one of the most celebrated courses on the face of the Earth. 
My second day was an early riser, as I had a 9:00 tee time at the No. 2 course. Pinehurst No. 2 is world renowned for being the host site for three United States Open championships, the first of which was contested there in 1999 when Payne Stewart holed a dramatic par putt on the 72nd hole to hold off Phil Mickelson by a single shot. The iconic moment is immortalized with a statue of Stewart just a few feet from the 18th green. 
In September, the USGA announced Pinehurst is the first anchor site of the U.S. Open, with the championship returning to Pinehurst in 2024, 2029, 2035, 2041 and 2047. This is the first such commitment by the USGA to award a course with multiple U.S. Open championships in one shot. 
The course, which was originally designed by Donald Ross in 1907 and then restored to capture its roots by Bill Coore and Ben Crenshaw in 2010, has long been known to fans around the world as one of the most majestic and challenging layouts in the game of golf. 
No. 2 is simply stunning in every conceivable way. It is a course that is surprisingly playable off the tee, with only one water feature in play and fairways that are easily hit with solid golf shots. When Coore/Crenshaw came in and returned the course to its early design, they eliminated all of the ways it had been Americanized over the years, removing rough, exposing sand capped waste areas and re-planting native grasses that sent the course back in time to the way Ross had originally conceived it. Should a ball off the tee sail wayward, expect to find it, as there is little out of bounds in play. Now, that's not to say it can't be done, but tee balls need be quite wayward to require a re-load. In fact, my caddy for the day, who was named Donovon, told me on the first tee box: "We're only using one golf ball today". Despite my best efforts on a couple of tee shots, he was proven right, as I kept my Titleist for the entire round.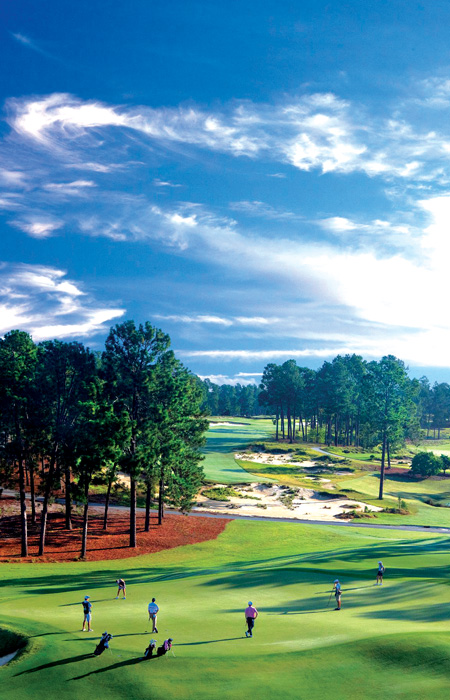 The real challenge at Pinehurst No. 2 will be your second and third shots. The green complexes are unlike anything you will ever see at any other course. Ross' genius is really on display around the putting surfaces, where shots that don't find the proper portion of the green can funnel off into some diabolical spots, making up-and-downs incredibly difficult. If you do find the green on your approach, many of the putts are optical illusions, with subtle undulations that can leave players scratching their heads as they wonder what they just witnessed. Deep greenside bunkers can also swallow balls and present borderline impossible sand saves, but I was lucky enough to find only two during my round.  
No. 2 is a predominantly walking only course (although carts are available, they need to stay on the path), so expect to spend a minimum four hours playing, with some rounds sneaking toward the five-hour mark. The walk is enjoyable, with plenty of shade and manageable elevation changes that won't leave players huffing and puffing.
One of the things early in the round you should take note of as you make the walk is the old Ross residence, just to the left of the No. 3 green. Ask your caddy to point it out on your way by. 
No. 4 on the No. 2 course is the number one handicap, and for good reason. The par-4 plays a muscular 474 yards from the tips (or if you're insane try it from the 529-yard U.S. Open tees). This elevated tee shot requires a slight draw which will leave even longer players a mid or long iron in to a tricky green than slopes hard from right to left. It's a stroke of genius from Ross, who planned for amateurs to predominantly miss right with a long iron, leaving a slick downhill chip that is almost impossible to judge. 
Another great hole on the opening nine on No. 2 is the par-5 8th. Playing as a par-4 for the U.S. Open, this was site to one of the most famous meltdowns in U.S. Open history. In 1999, John Daly famously hit a pair of putts from the extreme slope to the left of this green. On his third attempt, Daly again watched as the ball began rolling back at him, and he took a couple steps and swiped it with his putter as the ball was still moving. Daly incurred a two-shot penalty for the infraction and ended up taking an 11 on the hole. So, if you're headed to Pinehurst, try to be mindful you don't miss left of No. 8, especially if the pin is cut on that side of the green. 
After you finish up your 10th hole at No. 2, don't forget to stop in at "The Nest", the new halfway house that was built in 2019. The design was inspired by the original clubhouse at Pinehurst and provides great views and all the provisions you might want to help get you through the back-nine. I highly recommend their signature cocktail, called the Woodpecker, which is a refreshing combination of Tito's Vodka, Sprite Zero and Grenadine. It's got a little sweet note with a subtle burn of the Tito's. It's just what the doctor ordered to calm the nerves and proceed through the remainder of the course. If beer or another non-alcoholic beverage is your thing, they have plenty of those options, including some great local craft beers. 
The final few holes at Pinehurst are some of the most entertaining you will play anywhere. The par-5 16th features the lone water feature on the course, but it's not necessarily in play if you hit a good tee shot. The second shot is the key here, with a large bunker about 40 yards short and left of the green that is completely blind as you stand over your ball. The entire fairway slopes toward it and finding it can mean a tricky third. This is one particular spot where having a caddy helps, as you would likely never know the trap is there unless told so. 
No. 17 and No. 18 are two great finishing holes. 17 is a par-3 that requires an extra club to avoid a huge coffin bunker and waste area short and right of the green. This should be a middle of the putting surface and get away with a two-putt par type hole, so a three is a great score. No. 18 is the most famous hole at No. 2, likely due to Stewart's aforementioned triumph on the green. A long, slight dogleg right that plays uphill, golfers that can hit a fade have an advantage here. The approach plays uphill a bit as well to a green that has some wild undulations. Try to keep any iron or subsequent chip below the hole to have a chance to sink your putt.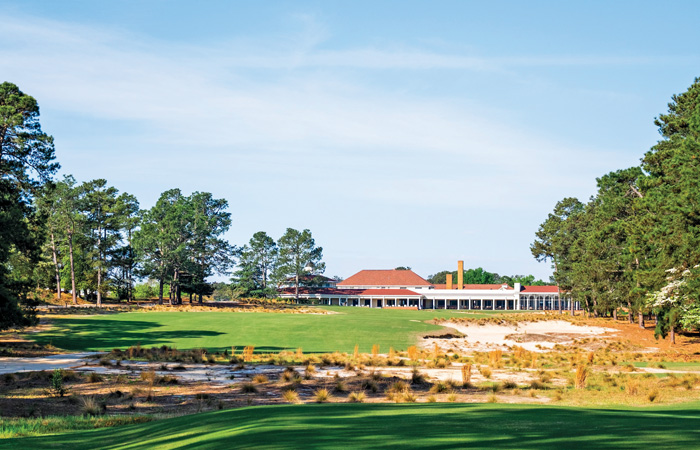 As you walk off the green at No. 18, don't forget to walk over and have your caddy get a photo of you next to the Payne Stewart statue. The memory will last a lifetime and will likely be your social media profile photo for weeks to come. 
Overall, No. 2 is everything as advertised, and you can see why the USGA has crowned it as the go-to course for multiple events for decades to come. 
Once you have completed your loop at No. 2, don't forget to head into the clubhouse and hit The Deuce, which is the resorts 19th hole. A formidable menu and wide variety of cocktails and beers make this a perfect place to re-live your round in full over some beverages. And if you penciled a two anywhere on your scorecard (I made a birdie on the par-3 15th), show it to the bartender and they will give you a custom coin to take home that reads "2 on 2" with "I'll drink to that" just below. It's a really cool memento and something you can use to brag to your friends when you get home. 
After the wonder that fulfills you throughout your loop at the No. 2 course, you would be hard pressed to believe that the other courses at Pinehurst could live up to the experience you had there. However, my trip was just beginning. Day three on property presented another exciting challenge at the Gil Hanse designed No. 4 course. 
A magnificent combination of sand capped dunes that offer stunning elevation changes, this course is every bit as intriguing and majestic as any course they offer. The outgoing nine stretch of 4, 5, and 6 are an absolute work of art by Hanse, with No. 4 being a short par three with dramatic bunkering on the left and a huge sidehill to the right. The par-4 5th hole is the hardest hole on the course with a glorious tee shot that features impressive views of the majestic pines framing the fairway. The final hole of this stretch is another par-3 that plays uphill with a deep valley between tee and green with a massive waste area right that spells doom for those who find it. For my money, there isn't a better three-hole stretch you will see at Pinehurst.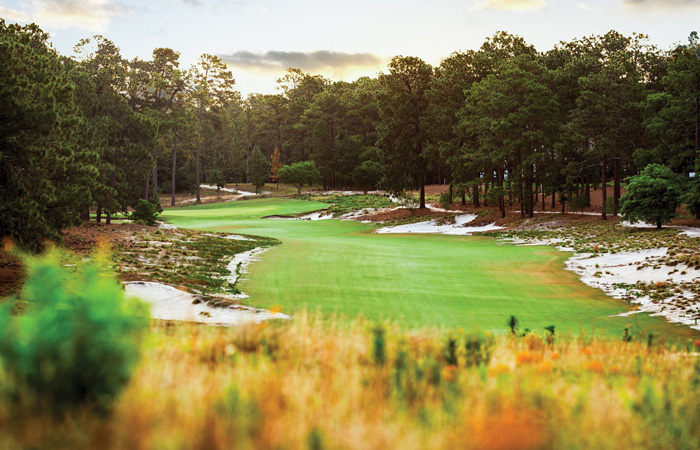 The No. 4 course will test your whole game, and although the greens aren't as tough as the Ross greens on No. 2, the rest of the course can be a bit more challenging from tee to green, so your entire game will need to be on point to score here. The Hanse design is located near No. 2, so you will utilize the same resort clubhouse when you finish your round. One of my favorite things I did after finishing up at No. 2 and No. 4 was to get a drink and sit on the back patio watching groups hit their approach shots to the 18th green at No. 2. You will see some wild finishes and those gathered will even dish out some applause for quality shots into the putting surface. After an hour or so watching groups make their way up 18 at No. 2, I once again looped the Thistle Dhu putting course and then made my way to the Carolina hotel to prepare for dinner. 
Pinehurst offers several options for dining, including The Deuce, and for fine dining, the Carolina Dining room. I chose more casual options when I was there, as the first evening I went to the Pinehurst Brewing Company, which is a short drive from the Carolina. Barbecue is the main fare here, but there are pizzas and other options such as burgers and wings to accompany their in-house brews. Night two I dined at The Tavern, which is at The Holly Inn, just a few minutes of walking from the Carolina. I chose the chicken fried chicken, which was served with collard greens, Yukon gold smashed potatoes and black pepper gravy. Other options include steaks, burgers and even fish and chips. It's a great casual option in an intimate, small setting with top-notch service. My other night on property I headed downstairs at the Carolina to the Ryder Cup Lounge. I chose the fried green tomatoes followed by the Carolina Burger. Both were fantastic, but the real highlight of the meal was the Mile-High Key Lime Pie I indulged on post main course. I fancy myself a key lime pie connoisseur, and this was one of the best I have ever tried. It was served with a raspberry coulis, vanilla chantilly, candied macadamia nuts and some seasonal fruits. If you're curious why it's called the Mile-High Key Lime Pie, you immediately know when it hits the table, as the meringue resembles something that would be attached to an America's Cup yacht. It was an amazing way to end the meal.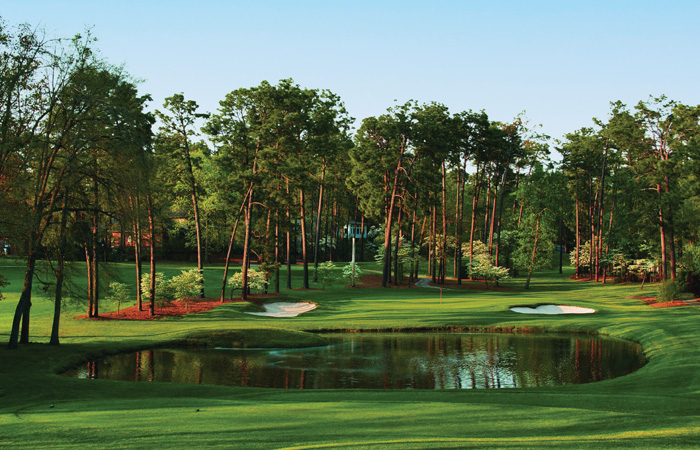 After checking out on my final morning, I made the 10-minute trek across Pinehurst to my final round of the week. The Tom Fazio designed No. 8 course. This 420-acre course opened in 1996 to commemorate the 100th anniversary of the opening of Pinehurst, and truly combines all the elements of the North Carolina golf experience. Before teeing off, one of the employees, who shall remain nameless, asked if I had ever played No. 8 before. I told him I had not to which he remarked: "Around here we say No. 2 brings them in, but No. 8 keeps them coming back." 
And so, it seemed appropriate this would be my final golf adventure of the trip. No. 8 is a beautiful combination of pine framed highlands that give way to deep south reminiscent wetlands to combine for a wonderful afternoon of golf. No. 4 was arguably the most beautiful hole I saw all week, with a huge sand cap lining the left side of this par-4 that can be challenged to take some yardage off the second shot. The par-5 6th hole is a wonderful example of Fazio's whimsical design strategies, with an uphill tee shot that transitions to a slightly downhill approach where longer hitters can flourish with a solid approach. 
The real treat on this Fazio course is the decent from the vistas down to the marshlands that you embark on from holes 13 to 14. The 13th is a beautiful par-3 that has a claustrophobic feel with a sand covered rock formation to the right that narrows the field of vision and adds some intimidation factor. The infinity green looks as if any ball long will fall right off the edge of the Earth. It is one of the most beautiful par-3's at Pinehurst. 
The following hole is also a visual delight. A tee that overlooks a vast marsh gives way to a fairway sprawling out to the right that looks to have virtually no landing zone. The approach will be short, as the hole only plays about 400 from the back tees, but the tee shot will definitely get the heart racing. They are stunning back-to back holes you won't soon forget. 
The clubhouse at No. 8 isn't as expansive as the main hub at the resort, but it has all the comforts you would need, including a nice patio for post round lunch or cocktails and a locker room if, like me, you have already checked out of the hotel and need someplace to freshen up before you get back on the road to the airport. 
If you want to stock up on gear, the main clubhouse has just about everything you could ever want, from polos and caps, to Christmas ornaments and pin flags. If you want something with a Pinehurst logo, they will probably have it. Also, if you're one of those golfers that collect tees or pencils from destinations, Pinehurst has some unique keepsakes that won't cost a dime. Every course has a different tee with the course number on the top and different colored stripes on the side. I grabbed a few of each on the first tee every day just to have or give to buddies. 
There is a reason they call Pinehurst the "Cradle of American Golf". It's simply gorgeous from the time you arrive until you hear your final putt rattle home to finish your experience. Every course stands alone with imaginative design elements and holes that are unforgettable. No. 2 is clearly the winner when it comes to pedigree and prestige, but the other courses will leave you wanting to play them again and again, with tall pines, rolling hills and plenty of opportunities to make some birdies. There is really nothing like an adventure to Pinehurst.