After the Round – Tinie's Mexican Rotisserie

In DFW, we have Tex-Mex joins on almost every corner. We love our sizzling fajitas, crispy tacos and nachos. But in our cheese slathered, served with rice and refried beans fog we have forgotten, or maybe never even experienced what real, authentic Mexican fare is made of. 
In Fort Worth, in a section of town that has seen a recent resurgence, you can see what true, family style Mexican dining is all about. Tinie's sits in South Main Village, which is an area of Fort Worth just south of Downtown that had all but been written off for the better part of six decades. The old industrial district, now seeing renovations and tenants moving in and distancing from the full throttle West 7th area, is chock-full of wonderful, intact old structures just waiting for some TLC. 
Three main contributors are responsible for the new concept, Sarah Castillo, who is also the owner of Taco Heads near the new Dickie's Arena, Glen Keely, who is known for Thompson's Bookstore and Poag Mahone's Irish Pub, and Christian Lehrmann all put their heads together to create an inventive, unique concept Fort Worth desperately needed. 
The building itself was gutted and renovated over the course of 18 months, with much of the old exterior structure left intact. Cozy brick walls and delicate lighting make for a wonderful atmosphere downstairs, and if you look to the ceiling, you can see the original railing that was once used to move heavy equipment around the old warehouse. It's a neat touch to the interior. A beautiful wood bar sits toward the back of the downstairs dining room, where the bartender can be seen shaking, stirring and pouring any number of Tinie's signature cocktails. 
There is also tapas dining upstairs, with a rustic look featuring wood floors and ceiling planks, and a bar basking in the glow of candlelight, which is absolutely perfect for an intimate cocktail with someone special. Just a few steps away is the second-floor patio, which features a gorgeous view of Downtown from the south and couldn't be better for some comfortable spring or fall evenings. Overall, the ambiance is as relaxed and intimate as anywhere you will find in Fort Worth. 
The cocktail program at Tinie's is simple, but unique and innovative. There are six margarita adaptations on the menu, including the Casita, which is a more traditional version, with blanco tequila, house citrus syrup, lime and orange liqueur. There are some more exotic choices as well, including the El Ocho Uno Siete, which has Mezcal Espadin, vanilla, avocado, lime, pineapple and basil. On the recommendation of our server, I chose the Flor Oaxacana, which was a delightful and refreshing combination of Mezcal Espadin, lemon, chamomile and lavender. This cocktail had subtle sweetness with some bite you would expect from the Mezcal. It was delicious and one that I would definitely order again on future visits. We also sampled the Lluvia Morada, which translates to "Purple Rain". Made with Pisco, which is a type of brandy, Poblano, lime, cinnamon, and a house chicha morada, which is a traditional Peruvian juice made from dried corn. The purple color dazzles the eyes as you draw the drink in to taste the delicious nectar inside. A bite from the brandy gives way to a sweet finish from the chicha morada.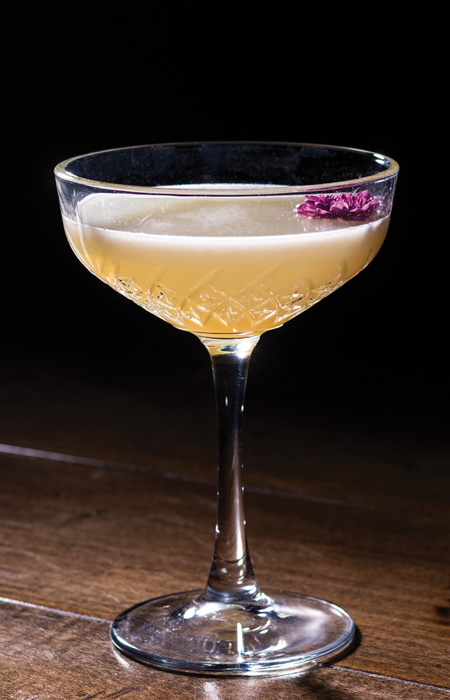 Tinie's also features a fine beer selection, including Modelo, Imperial, and some more exotic choices like Xingu Black from Brazil and even a local Wild Acre brew. 
The menu at Tinie's isn't traditional to the way Americans like to dine. They feature a large portion format that is geared to serve multiple diners. As we spoke with Lehrmann during our visit, he shared their vision for the concept. 
"What we want is for people to come in and get a few appetizers and a couple of main courses and share them among the table. We want to see six or eight people sharing the plates and enjoying themselves." Lehrmann said. 
The appetizer menu isn't expansive, but for authentic Mexican, it checks all the boxes. We went with the Trio de Guacamole, which is a sampler of three different versions of the popular dip. The first is their traditional take, which gets some spice from serrano chiles and is topped with cotija cheese and cilantro. It is fresh, vibrant and has just enough kick from the peppers to flush your cheeks a bit, although that could also be a product of the margaritas. 
The second guac is topped with shrimp and pickled red onion. The shrimp were diced small enough to spread throughout the dip and added a briny freshness to the dish. The pickled red onions provided a little crunch, some acidity and a touch of sweetness.
The final version in the trio is topped with a chipotle bacon jam and let me tell you, welcome to your new addiction. I would return to Tinie's just for this appetizer. It was beyond guacamole, with the sweet and salty combination of the jam and is a perfect accompaniment to the smooth, cool avocado. It's perfect in every way and a must have if you make it to Tinie's.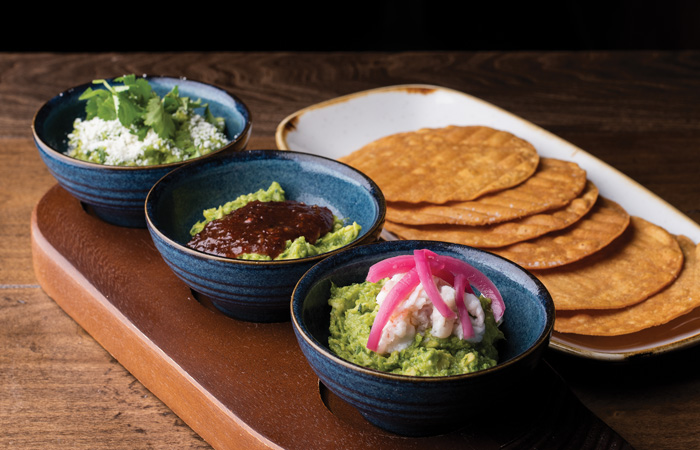 Queso is a pre-meal staple for just about everyone in Texas when they head to a Tex-Mex restaurant, and although this is traditional Mexican cuisine, Tinie's does have a queso dip as well. Their version comes served with charred poblano peppers for some texture and a chorizo verde to add body. Combine the queso and the bacon jam guacamole, and you may not have much room left for main courses. 
Also featured on the appetizer menu are tamales, which rotate daily, braised goat tacos, seasonal ceviche, and hand-made empanadas. The empanadas also rotate daily, and we were able to sample the chicken version. They were served with a green salsa and I spooned a little queso over mine to moisten up the flaky casing. They are also a great starter to your meal.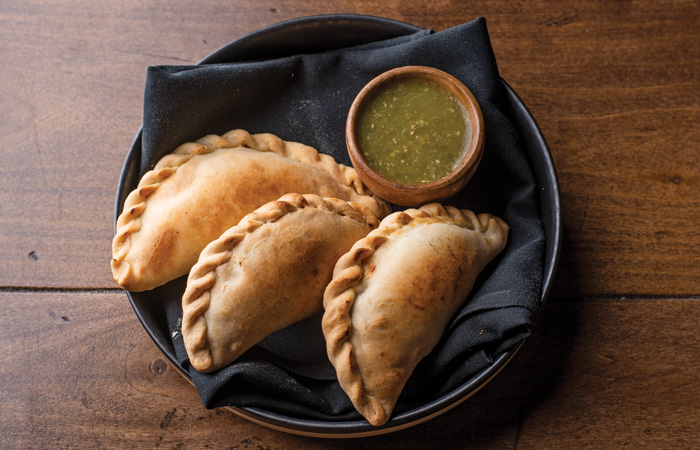 As mentioned before, the large portion main courses at Tinie's are made to share amongst several people. Each selection comes served with tortillas, picante beans, pickled veggies and both red and green house salsa. 
The original concept conceived by Castillo and company was the result of a brainstorming session where Castillo thought about sharing Mexican rotisserie chicken among family. She felt it could be a hit for those groups that want to split larger portions and share them among friends or family. 
With that in mind, the entrée we selected is the Mexican Rotisserie Chicken. The whole bird comes quartered and served with green cabbage, radishes and roasted jalapeño. The bird was juicy and flavorful with just enough crisp on the skin to add some texture. I ate some of the chicken by itself, and then added some to one of the housemade tortillas with some of the red salsa and some of the picante beans to make my own taco. Both ways were sublime, with a flavor profile unlike any of your normal gut-bomb Tex-Mex. If there is one item to choose, I would go with the house specialty chicken. You won't be disappointed.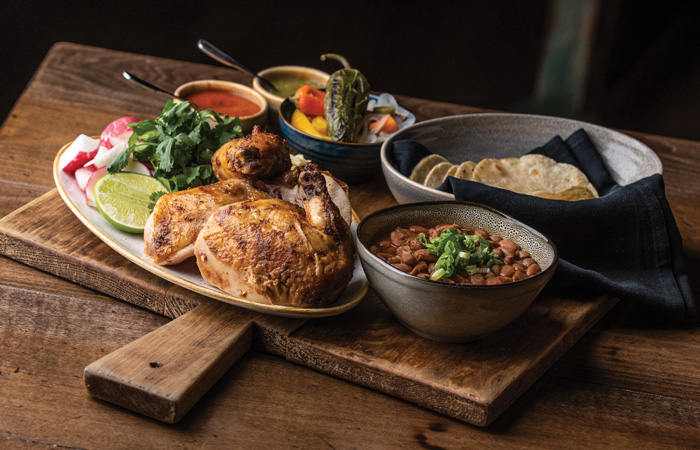 In addition to the chicken, Tinie's also serves an Achiote Roasted Pork paired with a mole verde and served with pickled cabbage and pepitas, which are roasted pumpkin seeds. A vegetarian version is also available, which comes with chayote, nopales, Fresno pepper and sesame poblano butter. 
I had a tough time not pulling the trigger on the final entrée item, which is a bone-in aged strip steak. I am a beef guy, but I wanted to experience the dish that hatched the concept, so I decided on the chicken for this visit, but I will definitely be back at Tinie's soon to try the steak, which is served with a chimichurri, charred green onion and a roasted pepper puree. 
Although you probably won't need many sides after the fantastic appetizers and the large portion main event, Tinie's does have a few additions you can use to supplement dinner. These include a salad with little gem lettuce, basil, cilantro, grilled corn and a chili lime vinaigrette. They also have roasted carrots with a garlic crèma and chimichurri as well as Hongos, which are mushrooms served with a chipotle aioli.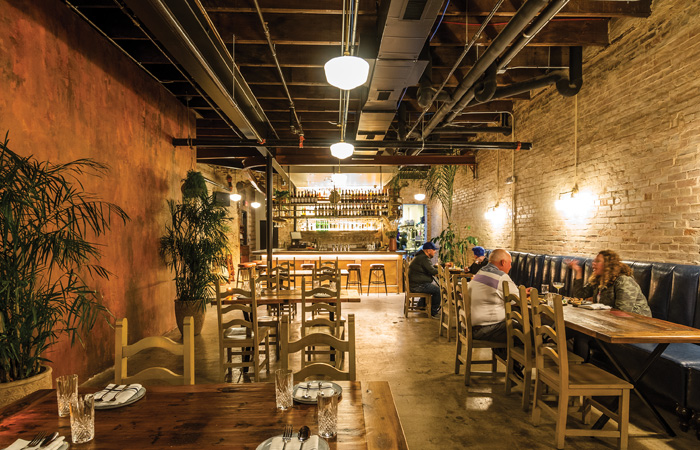 Once you have polished off your entrée, if you have room, there are a few dessert options to further indulge. I chose the churro donuts with chocolate sauce. They were just as described, donut shaped churros with the cinnamon sugar coating the crunchy on the outside but soft and buttery on the inside donuts. Add a drizzle of the sauce and feel the sugar rush bring you back from the near food coma you have charged toward during the course of the meal. They are fabulous and one heck of a way to finish your stay at Tinie's.
Tinie's also does brunch, which can be a great way to dine away poor choices from the night before. Try one of their Bloody Mary's, where you can literally pick your poison between a vodka, tequila or mezcal base. They also feature their version of a mimosa, called a Me-Mosa, where the guest can choose orange juice, papaya or mango to cut the champagne. 
Brunch menu items include Migas Verde with corn tortilla, chorizo verde, a spicy crema and egg. You can also try the Tostada de Aguacate, which is a fancy version of avocado toast. Either one will help fight off the hangover. 
It's very rare I am floored by a new restaurant. Admittedly I didn't know what to expect at Tinie's as I rarely eat authentic Mexican fare, but I was as shocked by my experience there as any restaurant I have ever been to. The food is exceptional, the service was on par with restaurants that are three times as pricey, and the ambiance is perfect no matter what kind of evening you are looking for. But the thing than struck me more than anything else was the originality of it all. It's outside the box thinking, followed by attention to detail and execution that make a restaurant a success, and Tinie's has that rare combination. It will most certainly find its way into my regular restaurant rotation, even if it's just to stop in for some of that bacon jam guacamole and a couple margaritas. Tinie's is as unique as its concept, and you need to get to Fort Worth to give it a try.  
Tinie's Mexican Rotisserie
113 S Main St. 
Fort Worth, TX 76104
682-255-5425
www.tiniesfw.com