Feature – Colt Knost: Unplugged
In 34 years of golf and life, North Texas native Colt Knost has packed in plenty of both in a remarkable three-plus decade span which is still going strong now in its next chapter as a new media member. 
After a stellar high school career in Pilot Point, he arrived to play college golf at SMU and became one of the most decorated golfers in the Mustang's long and glorious history.
In one incredible 2007 summer, he earned college all conference honors and won the U.S. Amateur and Amateur Public Links title, one of the few in golf history to achieve the double win in one year.
That earned Knost an invite to the 2008 Masters Tournament, with the 2007 U.S. Amateur, adding U.S. Open and British Open invitations, and he capped his amateur career by leading the U.S. to a Walker Cup victory.
The three United States Golf Association titles (APL, Amateur, Walker Cup) in one summer was a golfing trifecta achieved previously by only golf legend Bob Jones and amateur Jay Siegel.
 Knost made history of another kind when he became the first golfer in more than 50 years to turn down a Masters invitation to turn professional, never accepting an amateur invitation to play at Augusta National Golf Club at golf's most prestigious event.
He instead joined the professional golf tour to showcase his considerable skills, help his mother and join the next in a long line of great Lone Star professional golfers.
Initially, Knost's idea to stay amateur and skip the Masters seemed like a winning one as he finished fourth in his first Nationwide Tour stop as a pro in 2008 and won his sixth appearance, at the Fort Smith (Arkansas) Classic. Two months later he guaranteed his 2009 PGA Tour destination by winning the Price Cutter Charity Championship in Branson, Missouri.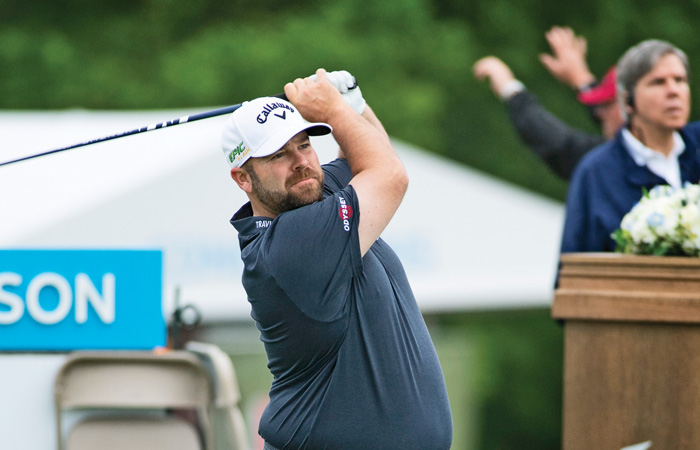 Going to the last month of the Nationwide Tour season, Knost had earned $329,000 through his on-course play and, when combined with his endorsements for turning pro, made his first year a financial success.
But he never won a PGA Tour title, or another Nationwide Tour title. He enjoyed some highs, including tying the course record at the Players Championship with a Saturday 63 and a third place finish in 2016. But injuries slowed his career and ultimately ended it in January 2020 in the Waste Management Open in Phoenix, his new adopted hometown.
He finished his pro career with nine top 10 PGA Tour finishes, four in the top three, and 92 made cuts with $4.3 million dollars in prize money won.
But Knost, who always had a large, friendly, outgoing personality, has quickly moved on into his new career, as a radio podcast host with highly popular shows on Sirius XM titled Gravy and Sleaze (Knost is Gravy) and Golf.com with the Sub-par podcast.
Shortly after his final PGA Tour appearance in Phoenix, Knost was happy to talk with longtime Texas golf journalist and AVIDGOLFER Senior Contributor Art Stricklin about his careers, old and new, his greatest day as a Dallas golfer, his passing on a free Masters amateur appearance and advice he would have given himself 12 years ago when his pro career started.
AVIDGOLFER: How is your new podcast going? 
COLT KNOST: We're having a great time. We have awesome guests and we have guys who are having a lot of fun. It allows guys to express their personality which I believe golf really needs. I'm very lucky with what I do. I got to play golf for a living and now interview guys and have fun on podcast and radio.
AG: How did it get started?
CK: I started doing the Sirus XM radio in April 2019 and then I meet some guys last fall at Whisper Rock (in Scottsdale, Arizona) and we started talking about a doing a podcast and that was something we wanted to do and they wanted and we just started in the winter of 2020, doing 5 shows.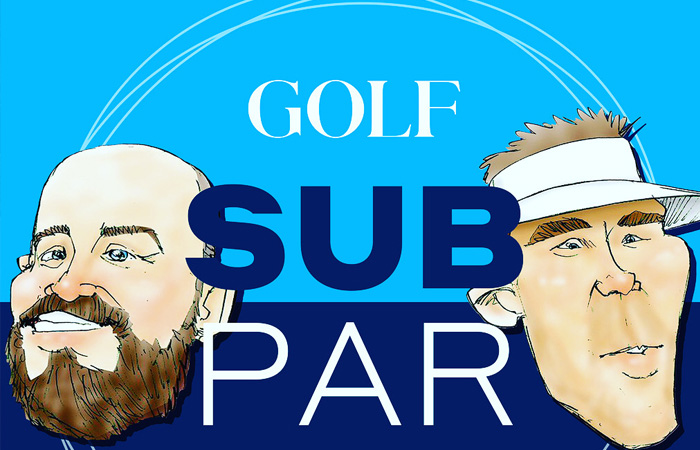 AG: Anybody who knew you in North Texas would think this would be a great fit for you, right?
CK: Ever since then, we've had great guests who love talking about golf and love having a good time and that's what we want to do. We're an entertainment show and I think golf needs more entertainment.
AG: How tough was it leaving pro golf due to injuries this year?
CK: Oh man, 100%, it was tough to give up. I've played golf since I was a young kid, but I was always hurt and couldn't practice the way I wanted to. I didn't want to go the Korn Ferry route and didn't know if I would ever get back to where I needed to be.
AG: With your Texas upbringing, what really made the difference in your game and career development?
CK: I give all the credit in the world to Randy Smith and the work he did with me at Royal Oaks CC in Dallas. He introduced me to Justin Leonard and Harrison Frazar and Ryan Palmer. He let me follow those guys around and learn from them and that was really helpful to me early in my career. I still see those guys when I go out to tournaments to do media things and still keep in contact.
AG: I'm sure most people ask about your historic amateur year 2007, accomplishing what only two other golfers in golf history did. What was that like?
CK:  It was really a dream year for me. It was a great feeling to go to the tee box every time knowing I would play well. My confidence was at an all-time high, it would have been nice if that had carried over to my pro career.
AG: Why do you think it never carried over?
CK: I think an older Colt Knost would have given a young Colt Knost some good advice on patience and confidence.
AG: I guess the second question you're asked is what was it like to become the first golfer in 50 years to never play in the Masters, as an amateur, in order to turn pro. Would you like a mulligan on missing the Masters? 
CK: I don't know about a mulligan, it's frustrating the fact I never got there (Masters), but at the time I felt it was the right decision, 100%, and I still do. I wanted to turn pro and be able to take care of myself and help my mom because she had taken care of me for so long.
AG: Without pro golf what's your sked like these day? 
CK: Well, I tape golf videos on Monday, do the podcast on Tuesday, Wednesday and play golf Thursday-Friday-Sat.  I played a lot of Whisper Rock and also have a membership at Silver Rock, that's where I play most of my golf these days
AG: I'm guessing there is some on-course action these days?
CK: All I do now is gamble on golf. I don't really care what I shoot now, just that I come out ahead on my bets.
AG: How is it going? 
CK: So far, so good.
AG: While growing up and living in North Texas most of your life, you moved to Scottsdale, Arizona four years ago. Why Scottsdale?
CK: I rented a house here in 2015. The weather was so good and I felt I could practice and get ready and I felt I was really fresh when I went to the West Coast swing to start the year. In Dallas, the weather can be really strange during the winter, so I loved it out here and decided to stay and hope to retire out here one day.
AG: You've heard the saying you can take the player out of Texas, but you can't take Texas out of the player. I guess you'll always have Texas roots?
CK: I will always consider Royal Oaks CC in Dallas my home course. The way the members, the players and teachers took me in and considered me one of them. I will always appreciate that. I still enjoy going there and seeing everybody.
AG: What was your North Texas Golf Playing Highlight? 
CK: I remember playing in the Byron Nelson tournament on a sponsor's exemption in my senior year at SMU in 2007, as an amateur. I shot a 64 on Friday to make the cut. With my friends and all the fans there that was really something and I also remember we had quite a party. It was the start of a great year for me in 2007
AG: What about on the PGA Tour?
CK: Well, tying the course record at TPC-Sawgrass with a 63 at the Players Championship in 2016 was pretty nice, even with a three-putt bogey on the last hole.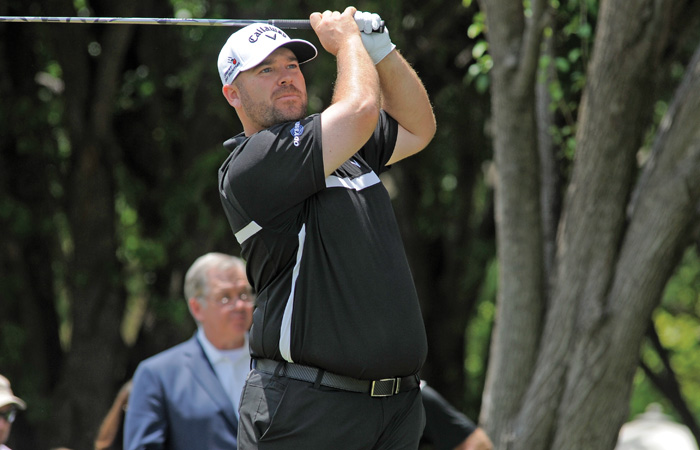 AG: Talk about some of the lowlights with injuries?
CK: I had surgery on my left wrist in 2016 and then I had two surgeries on my left thumb in 2018. That was really the end for me.
AG: How did that force you away from the only thing you had known as a kid?
CK: Some guys are really talented and don't need to practice much and some guys are really grinders and practice all the time. I feel I was like in the middle. I liked to practice and work on my game and when that was taken away from me it was really tough to take.
AG: In your pro golf career you saw both Tour success and failure. What did you learn?
CK:  You've got to have confidence on the course and you've got to believe in yourself. You can't be scared out there. When it comes right down to it, that's the difference between the top 20 players in the world and the rest of the players out there. There are a lot of guys who have a lot of talent, but what separates them? On my best day, I was never as confident as Jordan Spieth was in 2015 when he was winning all those majors.
AG: In your brief media career what are some of your favorite interviews?
CK: Gary Woodland (U.S. Open Champion) is one of my best friends in the world and so he was great when he came in for an interview. Another really good one, who I didn't really know, was Kiradech Aphibarnrat (Thailand) he was great on the podcasts and now I'm a fan for life.
AG: How is preparation for your media work different than preparation for golf?
CK: I prepare every night for the interviews. I don't like to just show up and wing it; it's hard work because I want to be ready every day.
AG: Thanks for the time and your interesting stories.
CK: You're welcome.