Texas Longhorn senior golfer Cole Hammer, the latest in the seemingly never-ending Lone Star State assembly line of great golfers, is nearing the end of his amateur career after this summer's NCAA Championships and looking forward to his next step.
Hammer, 22, a native of Houston who is known by his friends and fellow competitors on the golf course as "Hammer Time" or maybe "Hammer and Nails," has accomplished just about everything he can in his storied amateur career.
He has been ranked the No. 1 amateur in the U.S., won the Mark McCormick Medal in 2019 as the country's top amateur, played on the U.S. Amateur Walker Cup team, won college tournaments including the 2021 Big 12 Championship, and captured a USGA national title in the first 4-Ball Championship.
Hammer also has played in PGA TOUR events as an amateur, as well as U.S. and British Opens, and has one more college semester to compete with the ultimate goal of helping the Longhorns capture the NCAA title, along with Plano's Pierceson and Parker Coody and their UT teammates. 
As he gets ready to embark on what most think will be a hugely successful career, Hammer was happy to sit down with AVIDGOLFER Senior Writer Art Stricklin to talk about his game, his future, golf's highest and lowest times, his career highlight (thus far) at Augusta National and the one golfing trip he still must make.
Plus, he gives us a look at the new world of NIL endorsements for college athletes. Enjoy the time with Texas' next great golf star.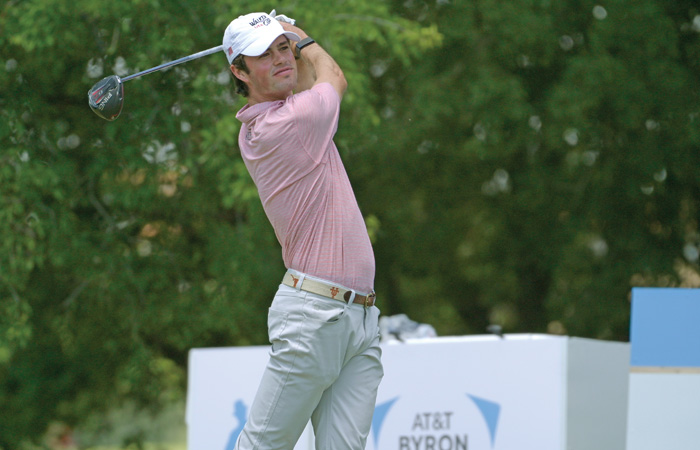 AVIDGOLFER: Cole, you're headed into your last semester of your senior season after a legendary amateur and college career. Does it seem like it's gone by in a hurry?
COLE HAMMER: I guess yes and no. I'm excited about my last semester and getting to play with my teammates one more time, but ready for my next career step, as well. We just got back from our first trip in the spring to Hawaii and have a lot more to go.
AG: A lot of former Texas golfers, including Jordan Spieth, left school before they finished all four years, but you decided to stay. Was that a tough decision?
CH: I was considering a lot of different things and a lot went into this decision. I wanted to get my corporate communications degree from Texas and also, we were so close to winning a national (golf) title when I was a freshman. I wanted to stay around with my teammates and see if we could finally do it as a senior
AG: You've played in some TOUR events and some major championships. What was that like playing with guys who are doing it for a living?
CH: I know I can play with the pros, and I was a little envious watching them having success, while I was still in college. It makes me want to get out there as soon as possible. But at the end of the day, you look at pros Viktor Hovland or Collin Morikawa, it didn't hurt them to go four years in college and I don't think it will hurt me. Now it's possible for me to have success and I'm proud I stuck it out.
AG: One of the changes in the college golf landscape since you came to school has been the embrace of the NIL (Name, Image & Likeness), which you have taken advantage yourself. What has that been like?
CH: That has been crazy to be involved with companies while still in college. I'm proud to associate with a global leader in sports nutrition, Optimum Nutrition, and help launch their new product, AMIN.O. Energy drink, Orange Blast, which is really great stuff and has helped me a lot.
AG: Do you feel like you have a business career along with a college career?
CH: Yes, it's exciting to see how the NIL has paid off for me and my teammates who are doing other products. It's a great experience, feeling like I'm running my own business and getting me ready for what I will be doing full time in the next six months. It's going to be wild for college golfers going forward.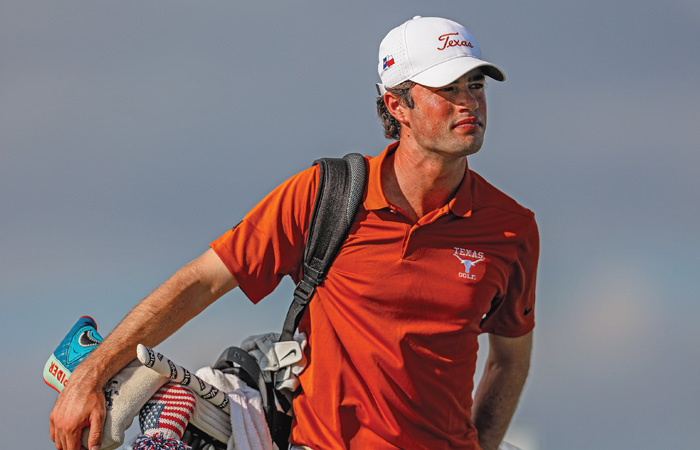 AG: Speaking of turning pro after college, that's changed, as well, where you don't have to automatically go to Qualifying School after college, where your fellow Longhorn, Spieth, famously failed to graduate.
CH: I think that's another good change for golfers, is the new PGA TOUR University Program, where if you stay in the Top 10, you are guaranteed so many spots in the Korn Ferry Tour to earn money and advance to the PGA TOUR. That's another great change and one of the reasons people are staying all four years now.
AG: When they turn pro, players often talk about having their team together. Do you have your team together when you turn pro this summer?
CH: I think I do. I'm going to be working with (golf teacher) Bruce Davidson, who I've been with since I was 13 or 14 years old. He was at River Oaks in Houston, but just moved to the Congaree Club in South Carolina where they have a new PGA TOUR event. I'm signing with an agency which helped me with the NIL deal, and I'll be based out of Houston where I've always lived and has a good airport for wherever I need to travel.
AG: Cole, one thing about golf, at any level, if that you go through good times and bad. Spieth went from No. 1 in the world to a nearly three-year slump before winning at the Texas Open last year. As you get ready to turn pro, how are you preparing yourself to handle that?
CH: That's a good question, but I just think highs and lows are part of the game. Everybody has lulls in their career, I did for a couple years while at Texas, but thankfully not everybody was writing about it like Jordan's lull.
AG: What did you learn about your own lull?
CH: When you come out of it, it makes you appreciate golf more than ever. The bottom line is golf is a game of confidence. When I'm playing my best golf, it feels so easy. But I've also stood on the tee box and had no idea where my tee shot is going. I knew Jordan would come back, but golf will punk you pretty hard. It's all about how you bounce back in your game.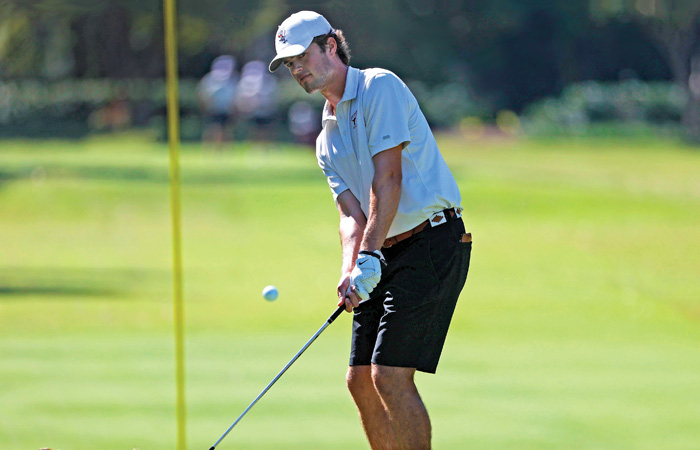 AG: When golfers turn pro, it becomes a full-time job and there is not much time for anything else or non-work golf trips. Do you feel like you've checked off much of your golf bucket list?
CH: I've been really fortunate to check off a lot of great courses while in high school and college. I've played Augusta National four times, thanks to a Texas member who invites the team every year. I've played a lot of great courses in the U.S. I guess the one trip I still want to do is the father-son excursion to Scotland and Ireland to play the Old Course and the many great links layout there.
AG: Any highlights at Augusta?
CH: I holed out for an eagle three on one of the front nine par-5s, but it wasn't one of the real famous holes. It's just so exciting to go there and get to play.
AG: Are you excited to join the long list of great Texas amateurs and soon-to-be professional golfers?
CH: I can't wait. I won't ever leave Texas, it will always be home to me. There is so much history and tradition here, and I'm just glad to be a part of it. There will be many good times ahead.
Photos courtesy of UT Athletics