Drive Time – 2022 Mercedes-Benz EQS 450+ Sedan

The electric vehicle age is nigh upon us, even if you're desperately holding onto the gas combustion engines with a death grip. Government mandates are putting pressure on all manufacturers to get with the "cleaner program" and phase out the petrol engines. 
While many companies are issuing their EV (electric vehicle) versions, the automotive world eagerly anticipates what the hallowed Mercedes-Benz brand would unveil. 
Await no longer, as the 2022 Mercedes-Benz EQS 450+ sedan hits our shores. Happily, the designers paid attention to every desired nuance, including driving range, charging speed, opulent comfort and incredible technology. Yes, it starts at $100,000, but for those with the means it's a must experience when contemplating the upscale EV drive. 
To wit, the EQS headlines an entire fleet of upcoming Mercedes-Benz EV sedans and SUVs. As mentioned, we all better embrace the new electric-powered vehicles and the EQS is the current benchmark. 
SKIN 
The Mercedes-Benz EQS 450+ egg-like exterior is purely built for slippery aerodynamics with the best .20 drag coefficient of any production car. So, while maybe not as stately as its gas-powered S sedan sibling, the rounded low-slung silhouette glides through the wind. Some will call the cabin-forward design polarizing (think back to the '90s) but a policeman gushed, "That is a beautiful car," meaning beauty is truly subjective, and you need to see it in person. 
The structural shell is recycled steel and renewable materials (go green!). The rounded front has no airflow grille but an attractive smooth black sheet adorned with Mercedes stars surrounding a large badge. The cool headlights are thoroughly modern. The front hood (frunk) is sealed so cargo carrying is only available in an ample rear hatch. The rakish roof swoops back toward an attractive and clean caboose with lovely helix-shaped taillights, long horizontal light bar and subtle spoiler lip. Of course, there are no exhaust pipes necessary. 
An available AMG-added sports facia delivers a bolder stance for those desiring beefier presence. Even the 20" Five-Spoke Aero Wheels with black accents were designed to cut down wind resistance and the wide sidewalls provide a buttery ride.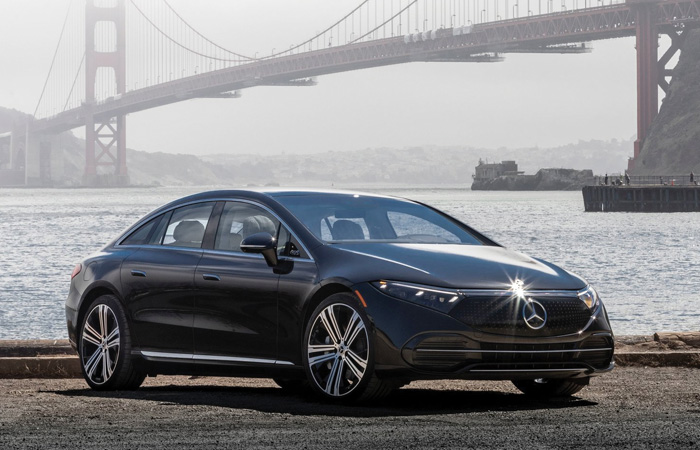 PERFORMANCE
The EQS 450+ DNA is all about sumptuous serenity, comfort and technology over pure speed. That said, its single EV motor brings 329hp and 406 lb/ft of torque. It accelerates well, going 0-60 in roughly 5.9 seconds. The upcoming dual motor EQS580 4MATIC delivers 516/611 and 4.1 0-60.
The new EVA battery-electric platform allows for speedy charging. When the 107.8-kilowatt hour battery pack is hooked up to a DC fast charger, you can replenish from 10% to 80% capacity in a scant 32 minutes. An estimated 400 miles of range is realistic. 
The EQS rides on a long wheelbase, but the standard 10-degree rear-wheel steering allows for satisfying short turns. The adjustable air suspension gently flattens even railroad tracks. ECO, Comfort, Sport and Sport+ modes alter the ride a bit and change the power consumption accordingly.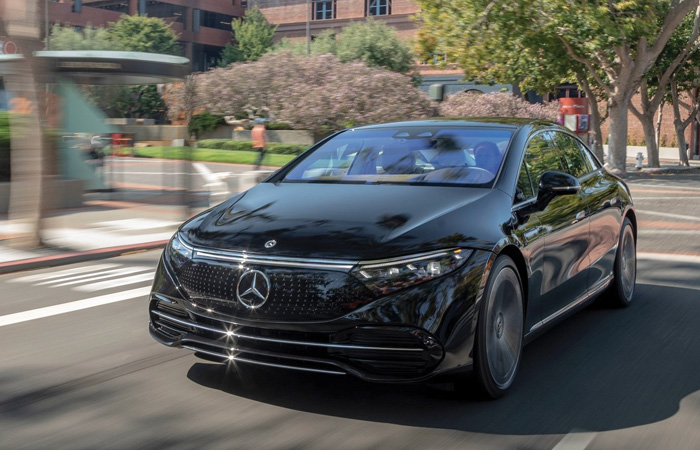 CABIN
The cocoon is where this EV flagship wows. Upon entry, upscale materials and clean layout surround drivers and passengers in opulence. Fit and finish are impeccable with quilted leather, yacht-inspired matte wood and gloss piano black trim. The EQS adjusts the driver settings by analyzing height and weight. A heated steering wheel feels perfect with the usual controls at your fingertips. Double insulated glass isolates you from outdoor decibels.  
Its 10-mode massaging fast-heated seats are a dream, along with the pillowed headrest cover, leading my passengers to coo in response. All controls are haptic (just touch), but I do wish there were some normal knobs for volume controls, etc. Large round turbine vents cool and heat the cabin quickly. A generous double-panoramic roof illuminates the interior. Rear leg room is cavernous (thanks to the cab-forward design), and the rear headroom is decent given the sleek sloping roofline. 
Seat adjustments are conveniently placed in the doors. I'm a big fan of the gearshift on the right steering wheel stalk that frees up valuable room on the console. Lighted kick plates and illuminated extending door handles are a welcome touch. Visibility is decent for such a streamlined exterior.
A nicely camouflaged rear hatch opens wide for expansive cargo (22 cu. ft. with rear seats up; 63 cu. ft. when folded down). Wireless charging is standard. 360-degree Surround View cameras help navigate the EQS into tight spaces and the driver cannot see the front of the sloping hood. It even detects someone hitting your car and takes pictures of the culprit!
190 LED lights allow for a multitude of ambient light settings to satisfy any mood from Miami club to chill (in the seat piping, too). Two soundscapes, Silver Wave and Vivid Flux, envelope inhabitants in soothing background ambiance. Think of it as a serene mobile Feng Shui spa.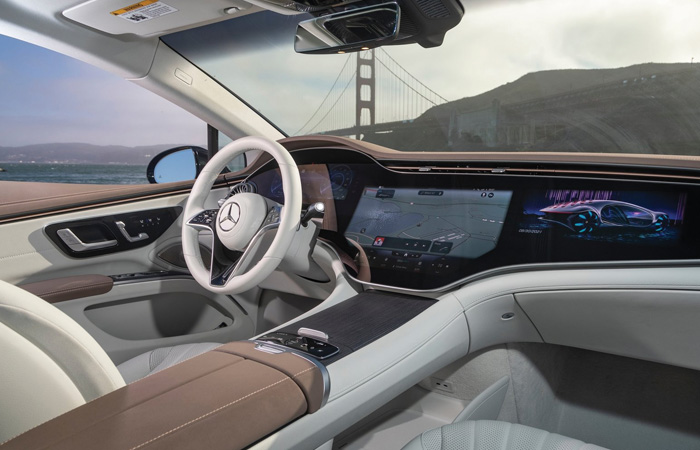 TECH TOYS
Oh my, the tech!! There are so many whizbang futuristic toys for even the most techno-geek to enjoy that it would take too much room to highlight them all. This EQS 450+ had the 12.3 tablet infotainment screen rather than the much-touted 53" continuous glass Hyperscreen. The touchscreen tablet is clear, with Apple CarPlay and Android Auto capabilities. Your personal concierge "Hey Mercedes" will grant your every wish. 
A superb 710watt 15-speaker Burmester Sound System's equalizer can highlight or diminish specific musical instruments. It's truly amazing. 
The EQS also delivers the latest reassuring safety features, including the handy Driver Assistance Plus and Parking Assistant packages. It will also gently remind you to stay in your lane and can detect driver eye movement to optimize safety and access certain functions. 
The 2022 Mercedes-Benz EQS 450+ sets the bar high for aerodynamics, charging speed, sumptuous luxury and futuristic technology. At a base price of $100,000, this impeccable cruiser will deliver its inhabitants in astounding creature comforts while effortlessly gliding over road imperfections. If you want the best upscale EV sedan, give this a long look and test drive.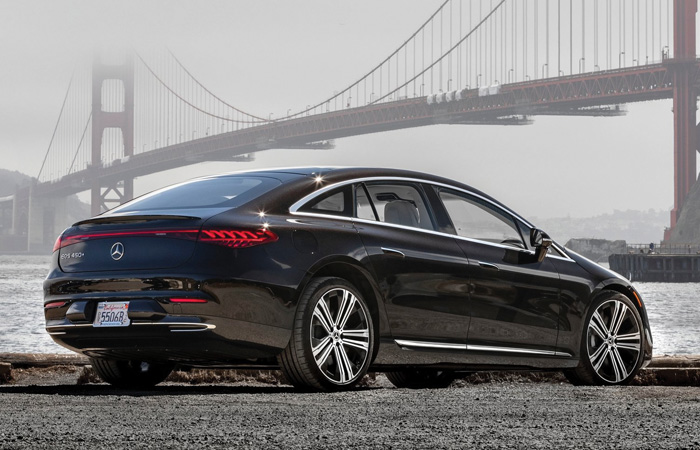 SCORECARD
Golf Bag Storage: A bunch – depending on how many seats are folded down
Curbside Appeal: Understated futuristic class 
0-60: 5.9 sec. 
MPG: 400-mile range
Must-Haves: Everything
Warranty: 4 years/50,000 miles
Base Price: $102,310
Price as Tested: $110,340
Who Buys It: Those desiring the best EV luxury sedan
Finish Line: Well-deserved S Class moniker
Test-drive the 2022 Mercedes-Benz EQS 450+ at Park Place Motorcars in Dallas, Fort Worth, Arlington and Mercedes-Benz of Plano.