There are countless "comeback" stories that hit the airwaves in our pop culture-dominant world.
J.K. Rowling went form single motherhood and government subsidies to authoring "Harry Potter" literary sensations. Robert Downey, Jr. followed major substance abuse and legal troubles with trips to the Academy Awards. And the 1969 New York Mets ascended from projected cellar dwellers to World Series champions.
While their resurgences are indeed epic, there are millions of lower-profile rags-to-riches inspirations.
One of them is on the Metroplex golf scene. Meet Jason Leap.
The Keller, Texas resident, 48, went to hell and back. Now Leap is, gratefully, a security manager at Callaway's massive 830,000 square-foot distribution center, a stone's throw from his home. It wasn't always like that.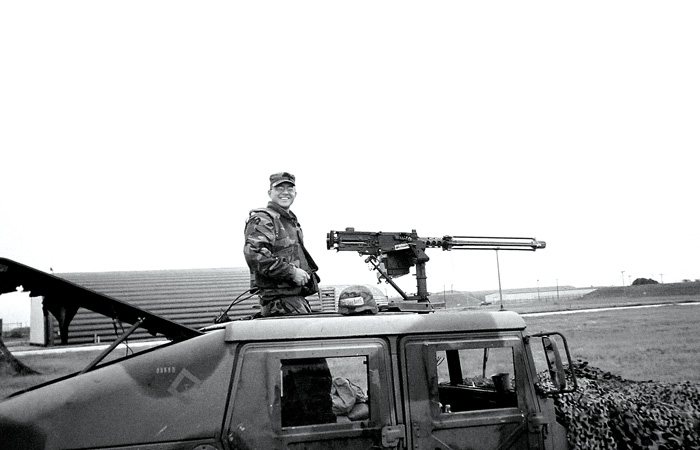 Leap's father – a Navy veteran, FBI agent and avid golfer – introduced him to the game at the age of eight. It was love at first sight and his handicap hit scratch. The family moved around, spending seven years each in New Jersey, New Orleans and Oregon. Leap went on to play on the McNeese State University and Portland State University golf teams.
Following in his dad's footsteps, the military called. From 1995 to 2005, Leap became a U.S. Air Force Security Forces airman and leapt across oceans to four different duty stations across four different commands, with deployments to Saudi Arabia, Kuwait, Turkey, Korea and Uzbekistan. He flew to the world's most dangerous battlefields, like Afghanistan and Pakistan.
Leap focused on planes, ensuring the safety and security of transport supplies, our troops and enemy combatants (dead and alive) were in check. But you don't have to be on the front line, in combat firing massive weaponry, for military activities to take their toll.
Fly Away Security Missions and one emergency landing wreaked havoc on Leap's body. They caused physical pain that led to a neck and spinal fusion in the operating room. But it was the mental assimilation into society that is a story for the ages.
After an honorable discharge in 2005, and unable to deal with the traumatic noise in his head, Leap turned to drugs and alcohol. Add to that his father's and a friend's deaths to cancer. The invisible wounds were too much tumult to process and manage. 
"I could've and should've been dead," he says. "My wife and I lived on the streets for three days and were homeless for a month – all caused by addiction. We lost everything. Our car was taken. We were evicted from our apartment. We even pawned my golf clubs. You name it. I couldn't hold down employment. I didn't enjoy life.
"By the grace of God and with the help of family, friends and supporters who loved on us, my cockiness and arrogance changed through humility, grace and suffering. My wife and I have been sober for 17 years and counting."
Despite the TLC from his fans, it is golf that makes his comeback story all the sweeter.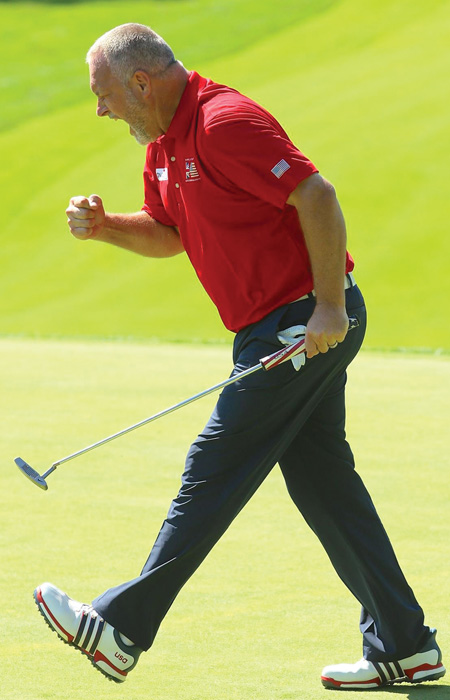 It wasn't until 2010 when Leap picked up a golf club again. The burning passion for the game as a youth was largely gone, but his inner self sensed a potential re-kindling. He was a new man and golf completed his attitude change and added to his zest for an active, productive lifestyle. His turnaround included a desire to help others who went through similar experiences. 
In 2012, Leap volunteered for a local non-profit in the Metroplex that was in the initial phases of becoming the North Texas Warrior Golf Association. Given an 11-year hiatus, his game went to pot, but hitting ball after ball after ball, Leap regained his stroke in a big way.
"In 2013, I received a call that would change my life," he says. "Chris Bowers, a member of On Course Foundation, called to ask if I'd like to participate in the organization's second annual Simpson Cup at Royal Lytham and St. Annes in the U.K. It was a dream of a lifetime, as I always wanted to play in the Ryder Cup, representing the virtues of my country, but as more of an amateur competitive golfer, didn't have the skill to join the likes of Tiger, DJ and Justin."
The Simpson Cup is On Course Foundation's pinnacle event: Ryder Cup-style matches pitting injured vets (many double and triple amputees) from the U.S. and the U.K. Leap played on three Simpson Cup teams.
For those unfamiliar with On Course Foundation, it's time to give a hearty salute while getting your Kleenex handy.
Since 2010, the organization has benefitted wounded veterans who use golf as a vehicle for physical and mental recovery, and harvest newfound confidence into careers in golf. It conducts programs in 15 markets across America which help active and retired, injured Service members develop golf business and playing skills, as well as jobs in the golf industry. Callaway Golf is one of On Course Foundation's job placement partners in the golf industry.
"The camaraderie that On Course Foundation fosters gives people hope through golf," Leap says. "Watching, conversing and learning about others wounded veterans' experiences in and post-military motivated me to pursue an even brighter personal and professional future."
Leap is one of On Course Foundation's thousands of poster children.
Working in security and investigator positions outside golf was fine but didn't mesh with his now-returned passion for the sport he loves. That's when the Callaway opportunity came up.
"On Course Foundation helped me with the career skills to get that position," says Leap. "Its guidance and job placement record in the golf industry for wounded vets is second to none. And emotionally, On Course Foundation inspires you to follow your unique dreams and not always settle for work outside your passion areas."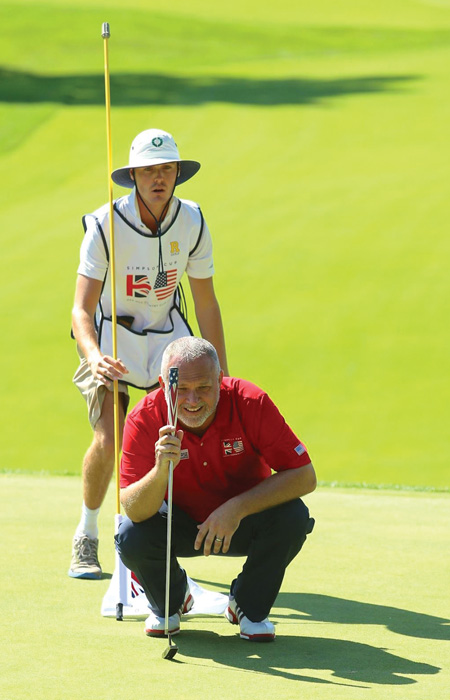 At Callaway for eight months, Leap says he is happier than ever in "my dream job." Akin to his time protecting our nation's freedoms and interests in faraway lands, he's super serious about safeguarding acres and acres of hard goods, soft goods, accessories and other products across Callaway, Odyssey, OGIO, Travis Matthew and Jack Wolfskin brands.
Providing secure environments for people, products and the distribution building itself is Leap's job No. 1. Making employees and guests feel welcome is his innate duty, too.
"Similar to my participation in On Course Foundation, working at Callaway is a dream come true," he says. "Its culture is like the armed forces and the best I've experienced since leaving the military in 2005. Everyone supports one another in good times and bad. 
"I can't thank Callaway and On Course Foundation enough for helping me enjoy life when it was once bleak … very bleak."