Feature – Passion and Perseverance

The famous sports book, "Heaven is a Playground," was a passionate ode to the game of basketball. But for TPC-Craig Ranch Assistant Golf Professional Brian Kleckner, heaven is the first tee on any local golf course, with the chance to grow the game and help others.
Kleckner, who has battled and transcended Cerebral Palsy in his life and golf career, won the most recent Northern Texas Assistant PGA Professional of the Year award, and said he wakes up every morning determined to give back to the game which has given so much to him.
"This game is so special to me," he said of his years as a North Texas golf professional. "It makes me feel normal and feel like one of the guys. When I'm on the golf course, I'm in my world."
The North Texas native, who went to McKinney North High School, is in his second stint at the new home of the AT&T Byron Nelson Championship, having interned there while in college and worked full-time since 2017. His enthiusum and passion for the game, which has aided him in his life and career, are what stood out to the NTPGA awards committee.
"He has the best attitude, no matter if I see him starting golfers on the first tee or helping them on the range," said Northern Texas PGA Executive Director Mark Harrison. "He is passionate and friendly, and shouldn't we all do that? 
"It's inspirational to see you can overcome anything to play a part in golf."
Kleckner, 34, moved to Conroe with his family as a young boy and found his way to a local practice range at age five, following his dad, Barry.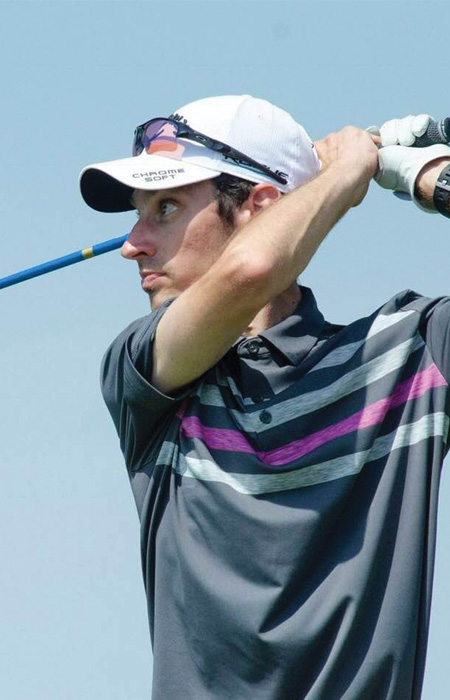 He competed in his first junior golf tournament at age six, finishing in sixth place, and from that moment was officially hooked on the game. Kleckner said his dad, family and friends all encouraged him to not let any so-called handicap hold him back in life and in golf.
"I don't let it affect any part of my life," he said. "I just have to work harder or compensate more, but I'm determined to work to make it happen. I've had doctors who told me as a kid, I can't do this or that, but I proved them wrong."
"My dad always said, being busy is good, and that's what I've tried to do."
After playing golf at McKinney North High School, Kleckner went to school at Sam Houston State in Huntsville, where he tried and failed to make the golf team.
"I always go back to golf," he said. "Maybe because I had a speech impediment and golf was an individual spot and I could stay in my own little world."
But his life and his career path were forever altered when he discovered the Golf Management Program at SHSU and found he could still stay involved in the game he loved.
"I said, 'wait!' I can still be involved in golf my entire life? I can still help people in the game of golf. Well, sign me up for that."
After graduating in the golf management program, he began to work for his PGA Membership, obtaining the top level of PGA Class A Pro nearly a decade ago. He's worked at a succession of TPC (Tournament Players Club) courses, including stops at TPC-San Antonio and TPC-Sawgrass, home of the PGA Tour Player's Championship.
Kleckner said the chance to work near his home and help people enjoy themselves in the game that has meant so much to him was a combination too powerful to resist.
"I just want to be like everybody else and be better than everybody else. I get up every morning to give it 100 percent to help others. Members here come to us for the best experience on the golf course. I love to make a positive impact to everybody I come across."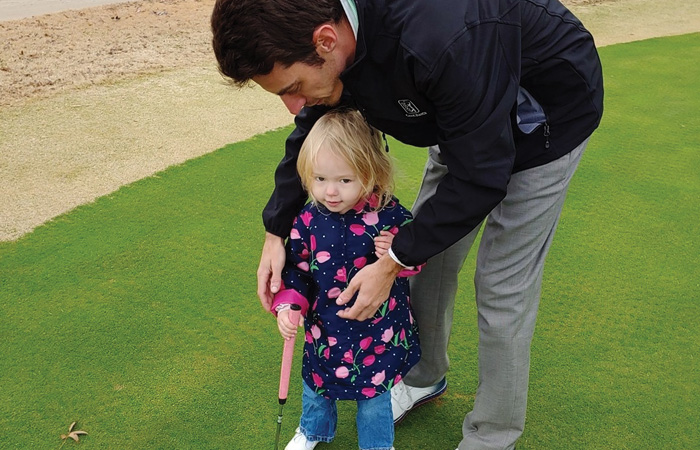 It didn't take long for his attitude and determination to catch the notice of others in the North Texas golf community.
"I certainly give kudos to ClubCorp, for hiring him and supporting him here at Craig Ranch," said Craig Ranch founder and namesake, David Craig. "His hard work and dedication is an inspiration to all of us here at the club. Look what I can do, what I can accomplish. That's a credit to the entire brand and makes us proud."
Kleckner said his work as a golf pro at TPC-Craig Ranch also allows him to a take a solid three-wood whack to the outdated notion that golf is somehow an elitist sport and the sole dominion of upper-income individuals, with little worries or concerns.
"I think golf is very inclusive to all walks of lives," he said. "How can you help people? At a municipal course you will see all kinds of individuals. At a private club it may be an upper-end demographic, but how can you help them?
"I tell other employees here, learn one thing about each player. If it's their favorite sports team, or family or (pro) golfer. How can you help them? How can you grow the game?"
Harrison oversees an organization with hundreds of golf professionals and some of the most famous names in the sport, but said Kleckner's attitude should be captured and taught to everybody in golf.
"That's a great trait to have. You can overcome anything in life to succeed in golf," said Harrison. "He can play; he can flat-out play, but how deserving is he of the (assistant pros) award for his work and overcoming challenges in his life."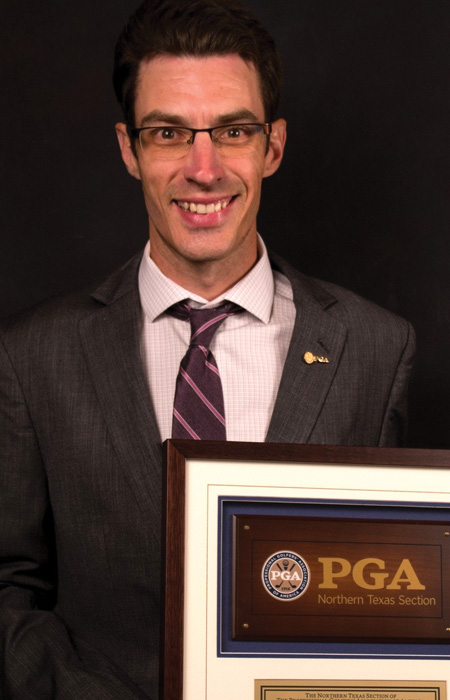 Kleckner said he could name another 10 North Texas assistant pros who would be more worthy of the North Texas PGA honor, but added he is grateful to start a new year of golf serving and helping others enjoy what has meant so much to him.
"At the end of the day, when you get the feeling of helping others and the satisfaction of member service, there is nothing better," he said.
Heaven may indeed by a playground, but Kleckner sees a daily green as his grass kingdom … to showcase the game he loves, the obstacles he's overcome, and how to promote it to others.