By: Art Stricklin
The British Open, known as the Open Championship in most parts of the civilized golfing world, returns to Northern Ireland this month for the first time in 68 years, showcasing the fabulous Royal Portrush championship layout, the spectacular North Sea scenery and the golfing aura which is embedded in every part of this tiny town.
Not since Englishman Max Faulkner lifted the Claret Jug in 1951 after winning the only Open ever held outside of England or Scotland has his seaside town of 7,000 people, slightly smaller than Celina, Texas, slightly larger than Pilot Point, been the center of the professional golf universe, but all of that will change for four glorious days, July 18-21.
Thanks to two new holes, brilliantly designed by English architect Martin Ebert, one of the oldest of Irish links (originally laid by Old Tom Morris and Harry S. Colt), will test golf's greatest professionals with old world charm in the modern arena of championship golf.
"Our goal was to add the two new holes (the par-5 seventh, the par 4 eighth) which fit seamlessly into the course with the golfer noticing the change, and that's what I think we did," said club secretary Wilma Erskine, one of the few female secretaries in Ireland and a driving force to the return of the Open Championship here.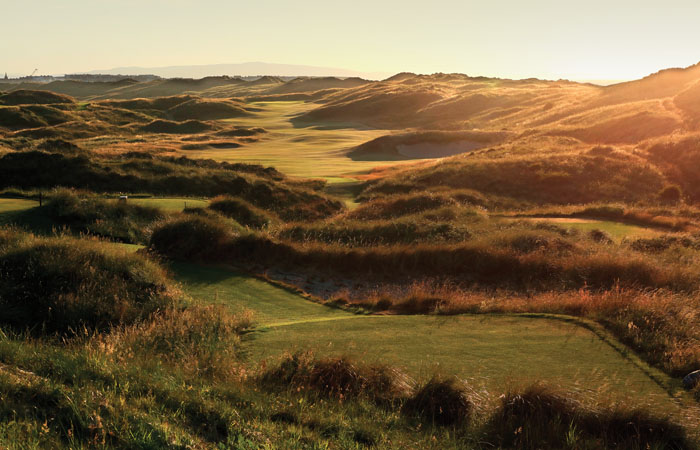 Gone are two non-descript finishing holes on the flat ground close to the club, which will now be used for Open hospitality this year, and in their place a dramatic stretch of holes, including the course's signature layout "Calamity Corner", a long par-3 now the 16th hole, where you have to thread your tee shot over a huge chiasm to a large green with wind almost always a factor.
The finishing holes will present two long par 4 challenges with golfers hitting over gorse off the tee to perilously deep bunkers near the green.
Former Open Champion and Portrush resident Darren Clarke said Ebert's changes make the course 1.5 to two shots harder, and the prevailing winds hard off the Irish Coast make the layout a challenge at any time. The par-72 course, which will likely play from 7,300 yards from the back tees,  will prove a worthy challenge to the golfers along with weather conditions, which are always a key part of any Open Championship.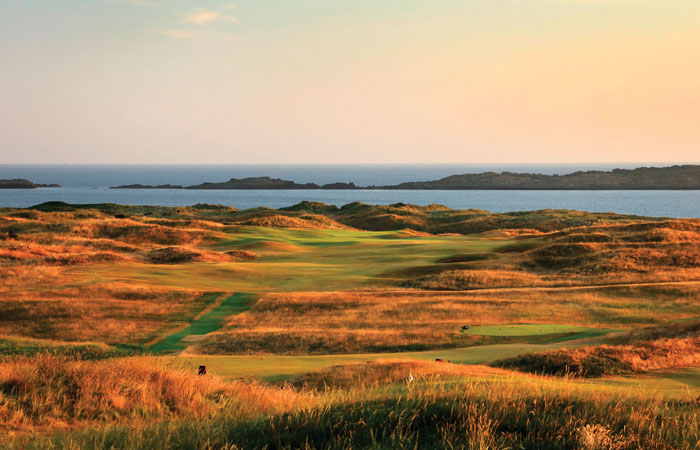 But the fact that major championship golf is set to be played here at all, televised on a worldwide scale, is a bit of an Irish miracle in itself and shows the true democratic nature of golf in this part of the world.
If you had suggested any Open Championship here 20 years ago, you would have been laughed off the tee, if not ducking for cover first, because Portrush sat right in the heart of sectarian religious violence in the region, commonly known as The Troubles, which killed hundreds and scared thousands more, before it officially came to an end in 1998.
Old time caddies at Portrush will point out the IRA safehouses where bombs and guns were stored and if you said you're going to hit a provisional as my dad did innocently enough after once topping his drive in gorse, you could start a fist fight for using the slang for a British solider
While Erskine was steadfast in telling callers that an American had never been killed in The Troubles, Royal Portrush and the many outstanding courses in the area remained dangerous forbidden fruit.
Thankfully all is that is in the past and The Republic of Ireland and Northern Ireland doesn't even have a border crossing on the easy three hour trip from Dublin, where many of the Open visitors are likely to stay, and Portrush, which is accessible only by a narrow, twisting two-lane road.
Today, golf is the common langue spoken here by almost every citizen and visitors and it's not uncommon to see people carrying their golf bags on the road to Portrush or any other course.
The downtown Harbour Bar will be the social center for Open Championship week as it is almost every other week of the year. It's certainly not uncommon, in fact almost expected, that Clarke will be holding court at the bar during Open week as he does whenever he is in town.
Fellow Portrush member and part-time resident Graeme McDowell, a past U.S. Open Champion, is likely to stop by as well, joining the everyday locals and the visiting golf tourists.
Fish and chips (actually French fries) is the chicken fried steak of Northern Ireland and is on the menu at almost any place you stop along with Quick Fried Chicken (just fried chicken here) plus dark, thick Guinness beer, and almost never clear, yellow Murphy's.
Of course, to top it off, it's always ice cream. For a country that doesn't often see 70 degree temperatures, almost never 80, and very rarely 90, they likely consume more ice cream per capita than almost any other country. No need to ask if the stores have it, you'll see the huge plastic ice cream cone outside almost every place you stop.
For a course and a city finally back on the world golf stage, the Open is still a local affair. Tickets sold out faster to this year's event than any Open outside of St. Andrews, ever. Locals have been planning for years and their reputation as a tidy town, clean and well-swept, is as important as any low score on the links ever was.
That's a big part of the reason Erskine has been at Portrush for 26 years and brought Nicola Neill home after two years in London.
After college, she became a successful business meeting planner in the UK's largest city, but always longed for the simple pleasures of her tiny hometown.
In 2010, she returned home to see if she could use her business skills among the people she grew up with. She lived at home with her parents for a while and discovered that the flat next to her parents house came up for sale.
By putting the two flats together, she came up with the perfect three-story, five bedroom Bed and Breakfast,  which now markets itself the Blackrock House with the catchy Wi-Fi password of Blackrock Rocks!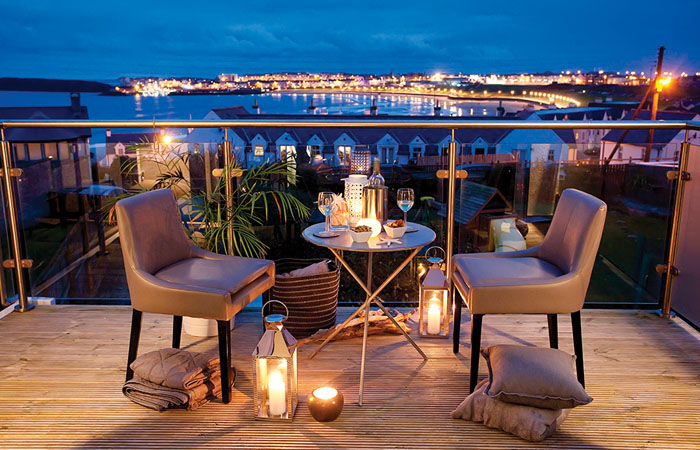 Opened in 2016, it was the Irish B&B of the year in 2017 and will be highly sought after for close in lodging during the Open in July.
"It's good to be home and good to be with family," Neill said. "My dad helped out with the construction and once we got the house it all came together as a business. It took us three years to remodel, but there is nothing like being back in Portrush and seeing the golfing world come to us. We've had countless Americans, golfers from all over the world here who want to see the course and the area.
"I  am thrilled to share our house and hospitality with others and can't wait until all the golfers get here."
 Another Northern Ireland native Rory McIlroy, from the equally small nearby town of Holywood, is likely to be a local favorite and with all Ireland has given to the golf world it would be fitting if a son of the Irish soil triumphed at Royal Portrush. It's where Rory shot a 61 as a junior, but whoever wins will be a unique look at what make golf here so unique and personal.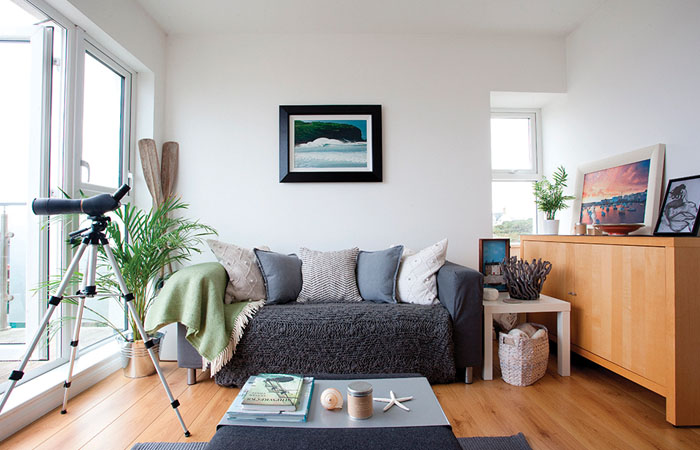 "We want to put on a grand show at the Open, but there is a lot of hard work and dedication which has gotten us this far and a lot more to come to finish it off," Erskine said.
Of course, there will be great golf from the best golfers in the world on one of the world's best courses, improved and renovated, plus plenty of craic, the Irish word for fun and parties.
But it will a personal golf homecoming on a worldwide stage many thought would never happen. Tiny Portrush presented to the entire world. As they say in Ireland, 'You Are Most Welcome.'