Course Review – Heritage Ranch Golf and Country Club

As golfers run through their hierarchy of great local golf courses, most of the ones that come to mind are all in DFW proper. Cowboys, The Tribute, Old American, Southern Oaks all usually come up at some point. But if you head northeast, there is a course that should definitely be in that conversation. Heritage Ranch Golf and Country Club in Fairview is a superior layout matched only by its superior service and attention to detail. 
Now, don't let the "Country Club" moniker sway you from taking in this magnificent experience. While they do offer memberships to the club, the golf course is still open to the public and it's well worth the $80 price tag. After playing there in June, I can honestly say it is toward the top of the food chain when it comes to great value for what you're getting and if you're in the northeast part of the Metroplex, then it's an absolute no-brainer.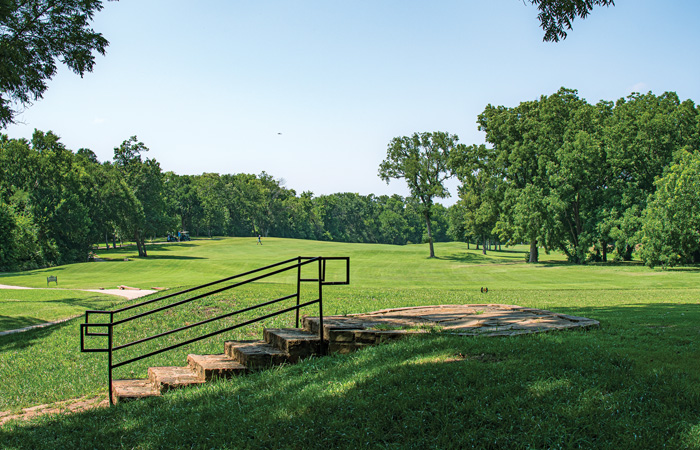 The course is chock-full of personality with fantastic routing, elevation changes and strategically placed water features that will challenge every aspect of your game. A par-72 that plays 6,998 yards from the tips, the course has some teeth, but won't leave you considering selling your clubs in the parking lot when you finish your round. 
The opening hole at Heritage is a dogleg left par-4 with an approach shot that plays downhill. Longer hitters can smooth an iron off the tee and only be a short iron in. If driver is your play, there is a narrow neck short of the putting surface, so if you try to be a hero, be aware that your tee shot will need to be pinpoint. However, if you execute, there is a reasonable chance of chasing something up on the green and be looking at a tidy two-putt birdie to kick off your round. 
The second hole at Heritage was one of my favorite holes on the entire course. A gorgeous downhill tee shot with a large water feature at the end of the fairway. Longer hitters can definitely bring the water into play but favoring that line will allow for the best angle of approach.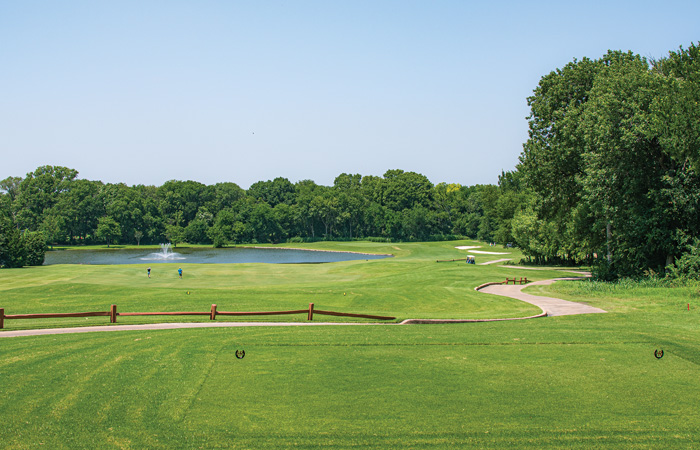 No. 7 at Heritage plays as the No. 3 handicap on the course, and although it doesn't look all that intimidating from the tee, players can find themselves in the hurt locker quickly with a stray tee shot. A hard dogleg left; this one requires a right to left ball flight. If you don't get to the corner, you will have to sling a hook around the corner to an elevated green across a creek. Hit it too far off the tee, and you'll likely be stymied among the trees and be forced to chip back into the fairway. 
The front nine wraps up with a par-4 that plays slightly uphill off the tee. Hit a good one and you will likely only have a short iron remaining and a reasonable chance at a three. 
The back nine opens with a downhill par-4 that plays significantly shorter than it reads on the card. A solid tee shot will leave a scoring club in your hands and a chance to get the back nine started with a birdie. 
In my opinion, the best holes on the back nine at Heritage Ranch have to be the par-3's. The first arrives at the 12th and plays about 185 from the back tees. This is without a doubt the prettiest hole on the property. A small pot bunker short and left of the green can gobble up any tee shots that fall short and leave players with the dicey 25-yard bunker shot. The dual fountains in the water down the right side are visually stunning and a large single tree short of the green adds intimidation factor.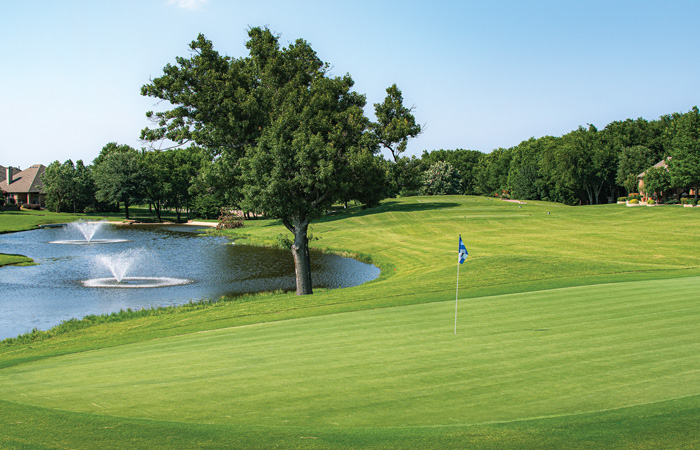 The second par-3 on the back comes at No. 16 and will give players all they can handle playing at nearly 210 yards from the blue tees. Although it's straight away, anything short right will collect in a bunker and leave an awkward up-and-down attempt. 
The ultimate hole on the course is a lengthy par-4. Playing at 433-yards, this slight dogleg left has a pair of bunkers that narrow the landing area about 280 yards off the tee. If you can thread the needle, the approach shot is manageable. If you choose a three-metal to stay short of the traps, then the approach will be somewhere in the 170 range. 
Heritage Ranch also has perks for their members, with a swimming pool, tennis and pickle ball courts. It's a great club for those looking to dip their toes in the membership waters without signing away their first born. A fantastic 24,000 sq. ft. clubhouse has plenty of space with a large banquet room which is perfect for parties or wedding receptions and the club even features a billiards room and fitness center. The Corral Grill meets every golfer's needs with a dynamic menu that is anchored by their Prime Rib special on Sunday. If it's a nice sandwich or salad you're in the mood for, they have you covered there as well.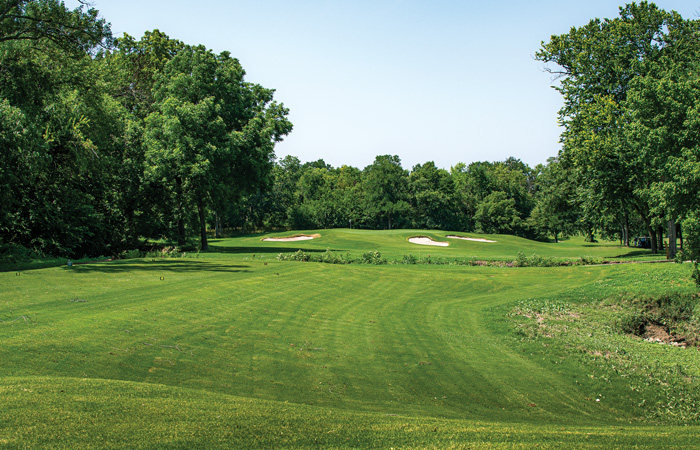 Heritage Ranch is also a course that's as junior friendly as any in the area, as children ages 7-17 play free after 2 p.m. or for just $1 per year of age before 2. Meaning a 10-year-old would pay a $10 green fee. Of course, these rates are predicated on the junior being accompanied by a paying adult, but it's a great way to grow the game and not brow beat the parents out of their hard-earned cash as they teach juniors the game. 
Overall, Heritage Ranch is an interesting hybrid of country club lifestyle, amenities and service with a daily fee charm and playability. If you have the chance, it's a must play. From the clubhouse to the fairways, greens and water features, it's as good a value as there is. 
Address: 465 Scenic Ranch Circle, McKinney, TX 75069
Phone: 972.886.4700
Website: www.heritageranchgolf.com
Designers: Arthur Hills (2001)
Par/Yardage: 72/6,988 (blue tees), 6,472 (white tees), 6,051 (bronze tees), 5,686 (gold tees), 4,946 (red tees), 4,000 (green tees)
Greens: Bermudagrass
General Manager: Tony Trevino

Head Golf Professional: Charlie Mabie
Rates: Weekday $59.00 Friday/Saturday/Sunday $80 (children ages 7-17 play free after 2 p.m. or for just $1 per year of age before 2 p.m.)
Toughest Hole
No. 3, 524-yard par-5
Ranked as the hardest hole on the course for good reason. This long dogleg right features a pair of fairway bunkers that can swallow any tee shots that aren't pinpoint. If you find yourself in one, it's difficult to advance the ball very far and can leave a lengthy third shot to a slightly elevated green that isn't very deep front to back.  
Favorite Hole
No. 12, 182-yard par-3
This hole has everything a great par-3 should. It can play long depending on conditions, it has a large tree for added visual intimidation and the fountains in the water feature to the right make it a gorgeous hole. Hit the green and it can be a simple par but spray your iron shot and you can end up in some big trouble in a hurry. 
Most Intriguing Hole
No. 1 388-yard par-4
I would guess most wouldn't label this hole as the most intriguing on the property, but there is something about giving a player options on the first tee that interests me. I chose to hit an iron and left myself about 145 in for my approach. And I felt it was the smarter play. However, if you elect to bang a driver, there is a chance you can chase something down the hill and set yourself up for a ho-hum birdie to jumpstart your round. Decisions, decisions.