Feature Story – Beaver State Anniversary

To build a new resort, where one doesn't exist for hundreds of miles and most don't think ever will, as Mike Keiser found out, first you have to be called crazy, delusional and a soon-to-be epic golf failure.
And that's just for starters.
But thankful for golfers worldwide, Keiser and then-unknown Scottish golf architect David McLay Kidd persisted, and the result is the Bandon Dunes Golf Resort. It's celebrating its 20thanniversary this year near the tiny town of the same name on the Southern Oregon coast.
In two decades, it's become most important and influential golf resort anywhere in American.
That's because Keiser — a Chicago businessman who sold Recycled Paper Greeting corporation and was looking for another adventure — and Kidd proved that authentic links golf could exist and thrive in America. That golfers would travel any distance and overcome any lack of non-golf amenity to play the golf courses Keiser had fallen in love with in Scotland and Ireland.
"I had played wonderful courses that were naturally beautiful in Scotland and knew they were good for all levels of golf," Keiser said in celebration of the 20thanniversary. "My favorite was Royal Dornoch and that was my model here. Americans troop to Royal Dornoch to play a simple and not brutally difficult course, so I was trying to do that here and I think people like it."
The first course, Bandon Dunes (designed by Kidd), opened in the summer of 1999 and quickly shot up Golf Magazine's list of the top courses in the country. The resort grew quickly and successfully, and Bandon was soon followed by Pacific Dunes, a Tom Doak design, opening in 2001, Bandon Trails by Bill Coore and Ben Crenshaw in 2005, Old MacDonald by Doak and Jim Urbina in 2010 and the picturesque par-3 Bandon Preserve by Coore-Crenshaw in 2012. The wild curving punchbowl putting green also entered the picture several years ago.
Bandon and Pacific Dunes are annually ranked in the top-20 courses in America, ahead of many that have been around for decades and don't require an all-day travel adventure from most parts of the U.S.to get there.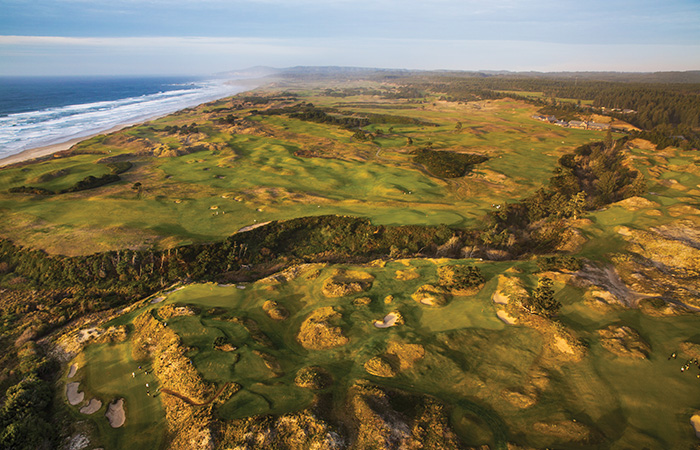 Next year, Bandon Dunes will host the U.S. Amateur Championship — America's oldest golf tournament run by the United States Golf Association — and the most prestigious amateur event will further brighten its great public golf spotlight.
But to celebrate its 20thanniversary, the understated Keiser — who carried on with his American links golf dreams when many thought he was crazy — is giving golfers another gift.
He is opening the new Sheep Ranch Golf Course, a Coore and Crenshaw design with nine holes overlooking the Pacific Ocean. It will open in early 2020 with the naturalistic Coore-Crenshaw layout open to the golf elements with few, if any bunkers, but instead fescue, wind and awesome scenery standing as the main defenses of the new course.
There will be Scottish dunes and fescue and more authentic golf features to continue to draw golfers here from all over the world for the ultimate golf buddy's destination.
The Sheep Ranch layout has existed in some form since 2001 when it was just untouched raw land where you played from open spot to open spot and made up the holes and score as you went along. To gain any limited access you literally had to call the nearby Bandon Inn, usually ask for Al, tell him you knew a guy, and hope they would let you come and play a few holes.
But the new designed public course will only add to the legacy of the golf visionary, who has now overseen public courses in Michigan (Dunes Club), Wisconsin (Sand Valley) and Nova Scotia (Cabot Trails), with others in the works.
But few considered Keiser, then in his early 50s, a visionary when he searched nationwide for some coastal links land in the mid-1990s. He looked first on the East Coast before a friend directed to Oregon's Southern coast — hardly a golf hotbed.
Keiser found 1,300 acres with plenty of ocean access, but totally covered in thick fescue grass and gorse. Then he called upon little know Scottish architect Kidd, who had never done a course in America, but had expertise in the type architecture and course feel he was looking for.
But why would anyone actually want to play a course where the nearest major city, Portland, was four hours. Or with major west coast cities San Francisco and Los Angles sitting eight and 13 hours south, respectively? Not to mention the limited air service and small (while scenic) roads hardly resembling anything like a superhighway.
As Keiser recounts in his excellent book on the founding of Bandon Dunes,                                                                                                                                                                                                                                                           "Dream Golf," he was nearly moved to tears when a full tee sheet of 200-plus golfers showed up on the first day to play his new course in the summer of 1999. While he had projected 12,000 rounds that first year starting at $35, they accounted for 35,000 instead and golfers haven't stopped coming since.
One of the hidden factors of Keiser's success at Bandon Dunes is another secret he learned from true Scottish links courses he visited and loved. You don't have to make it too nice.
Golfers ultimately come for the golf. Everything else is nice, but not seminal, and just adds to the total price.
He backs up that claim, which many once considered golf heresy, with the pure nature of golf concentration and challenge.
Looking for lavishly five-star appointed rooms? None at Bandon Dunes.
Fully complimented spa? Nope
The finest dining experience with expertly trained chefs? No sir.
Shops for the wife or significant other while you golf? Not here.
Lively nightlife with shows and sights to explore? Uh, no.
Green fees of $550 a person (the current rate at Pebble)? Nope, Bandon is almost half of that.
Bandon is decidedly heavy on golf and scenery, but low on the non-golf frills.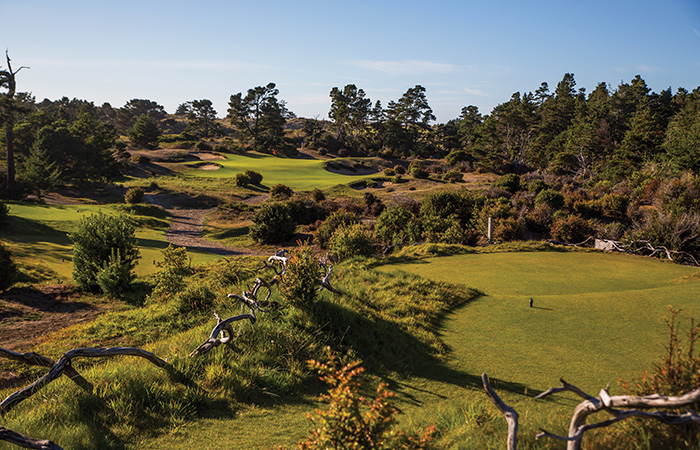 Additionally, there is a massive practice center and one-acre putting green where you can access as many balls as you want to hit with just your room key. There are charming golf pubs and 19thholes on-site where you relive the glories and horrors of each days rounds (a second 18 holes is heavily discounted, the third in a day is free), a hardy dining restaurants for a good meal at night, and a card or conversation table in each room to tell golf war stories until your tired enough to sleep. Then simply repeat the same glorious cycle all over again the next day.
The entire golf oasis is the brainchild of Keiser, who loved the classic courses of Scotland and Ireland and refused to believe American golfers wouldn't trek to an exacting copy in the states.
Each course is walking only, except for the severe medical cases, with a large corps of trained, helpful caddies to assist you around the golfing challenge. You can keep the same caddy for every round. Another great golfing example Keiser has brought from his international golfing treks is pace of play. Trained caddies will help you enjoy your round and finish it, "while we're young," as the USGA marketing slogan says.
Find yourself slowing down entire groups and you'll find your tee time bumped back behind the faster players.
Bandon is an incredible golfing experience, but centuries of Scots and now Keiser have found you don't have the right to slow down any entire day's worth of golf for everyone else. In an era where the average time for 18 holes at the Old Course in Scotland is 3:45 vs. 5:35 at Pebble Beach, it's an example worth remembering and emulating.
Each course at Bandon is special and unique, which only adds to its attraction.
Bandon Dunes has some of the best land nearest the two-story clubhouse with the closing stretch on the cliffs overlooking the Pacific Ocean. Keiser has called the par-4 16thhole its most memorable hole anywhere.
Pacific Dunes is wickedly fun with vast views across a landscape with ocean and wind, creating a constant visual challenge factor. Back-to-back par-3s (No. 10-11) are part of the fun at the middle portion of the course with hugely sloped fairways moving up and down the terrain.
Bandon Trails lacks the ocean scenery but has outstanding wooded views, including the most cussed and discussed par-4 14th hole. It's the soul of links golf where a bounce in the fairway can send the ball and any direction, and many golfers unschooled in the basic elements of traditional links golf distain the hole as being unfair … "Around here, we call fair the F word when it comes to golf," Doak said in the book Dream Golf.
Old MacDonald is a tribute to classic American early 20thcentury architect C.B MacDonald, with a giant lightning-struck Ghost Tree on the third fairway to highlight the stark landscape. The par-3 Bandon Preserve has a view of the Pacific from every hole with great short game challenge areas, while Sheep Ranch is expected to be the best of the bunch with architectural touches from all the courses.
Bandon Dunes is still as remote as ever, but golfers from the U. S and the world have certainly found it and have happily returned over and over.
Indeed. You want easy to get to layouts. You want plush course conditions and fancy accommodations. You want plenty of non-golf activities. There are more than enough resorts you can find them, just thankfully not here.
You want pure golf with your friends, family and business associates, underpriced for the experience and off the charts on the challenge and fun meters, then get to Bandon Dunes in a hurry.
Happy Anniversary, indeed. Let the celebration continue.