Feature – Taking a Look at the Ladies

Texas Golf ends its strangest, most stressful and in some ways most successful participation year ever this month, with two national professional events. The Volunteers of America Classic LPGA Tournament December 3-6 at Old American Golf Course in The Colony and the 75th U.S. Women's Open December 10-13 at Champions Golf Club in Houston.
That's a brilliant way to end a tough golfing year according to LPGA all-time legend Kathy Whitworth who lives in Trophy Club, and at age 81 remains a keen observer of both women's and men's professional golf.  While the last of her 88 professional victories (the most ever for a male or female golfer) came in 1985, plus an amazing 95 runner-up finishes, she has actively remained a part of the game she loves and will be a presence at the VOA Classic this month.
Since leaving competitive golf, Whitworth has served as the first captain of the women's Solheim Cup team, has hosted her own hugely successful junior tournament, the Kathy Whitworth Invitational at Mira Vista Country Club in Fort Worth along with forging relationships with players, some of them 50 years her junior.
"I don't think any of us had to go through anything as hard as Kathy did when she was on the Tour," said Texas LPGA star Stacy Lewis, one of the favorites to win the U.S. Women's Open title in her hometown of Houston this month.
"With the travel and the courses and all the things she had to deal with, it was just amazing with how many times she won. I know Kathy has come of the Solheim Cup several times and has worked an establishing a relationship with the girls. I think that's something we have all appreciated. I always enjoy being around her."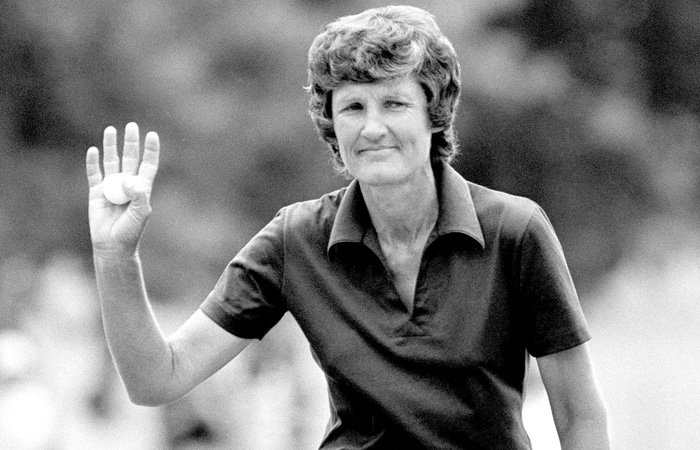 A native a tiny Jal, New Mexico, where her dad had a hardware store, Whitworth moved to West Texas for college and drove hundreds of miles to be taught by legendary Texas golf teacher Harvey Penick in Austin.
Whitworth won the first of her 88 professional titles in 1962 and continued her winning ways for more than two decades. The winner of six major championships, she was named LPGA Player of the Year seven times, the Female Athlete of the Year twice by the Associated Press and Golfer of the Decade for the 1960s and '70s by the World Golf Hall of Fame who inducted her in 1975.
Still healthy and mobile, on the go as much as possible, Whitworth slowed down enough to talk with AVIDGOLFER Senior Writer Art Stricklin about her career, her love for the December two-step in Texas this year, the rise of the Asian contingent on the LPGA and her favorite thing about going to professional events.
AVIDGOLFER: At an age when many golfers are just happy to be retired or playing golf with their friends, you've still very involved in ladies professional and amateur golf, hosting your own amateur event and going to many others. Why is that?
KATHY WHITWORTH:  Are you kidding me? It's my life. That's all I've ever done. I'm never not interested in what the girls are doing. I always like to see what is going on.  
AG: Will you be at the Volunteers of America tournament this month in The Colony?
KW: I'm looking forward to it. I'm glad the Volunteers of America ask me to be involved and I enjoy coming out to see the play and get to know the girls. Although it's harder to do it here than my tournament I host in Fort Worth.
AG: This is the third time the tournament has been held at Old American, what type of player has the advantage there?
KW: Well, the wind can certainly blow from the lake (Lewisville) there so you have to be able to adjust your game for the conditions. It's can totally change if you're going to hit a 5-Iron and whatever club into the green. That's what Cheyenne (Knight, 2019 winner) did really well last year. That's what I felt I could always do well when I was playing. Adjust my game and adjust my swing to the conditions to win that week.
AG: Does anything about today's LPGA seem familiar to when you played your golf on Tour?
KW: It certainly was a lot different than when I was playing. We only had 35 players then, and we never thought about working out or the travel we had to do, we just did it. I not sure we thought it was that tough. The thing I enjoy the most about the Tour today are the great course conditions. We were happy to have any grass at all on the greens. I like to come to the VOA tournament so I can just walk on the greens and think how nice it would be to putt on something like this when I was playing.
AG: Do you know much about Champions Golf Club, the site of the Women's Open this month?
KW: I have been there before, but never played the course. I never had much success in that tournament, I guess I just wanted it too much. It's disappointing.
AG: Do you think the course will be set up tough?
KW: I've never played there, but have been there before and there are a lot of hard, long fairways, and hard greens to read. It will be a tough challenge, but I know the Korean girls are fun to watch. (South Korea's Jeongeun Lee6 is the defending champion)
AG: Why is that?
KW: This is just my opinion, but they are not more talented than our (American), girls but they are better shot makers and better iron players. Their teachers must do a really good job with them and working on their swing. You have to know your game. The Korean girls can manage and adjust their game.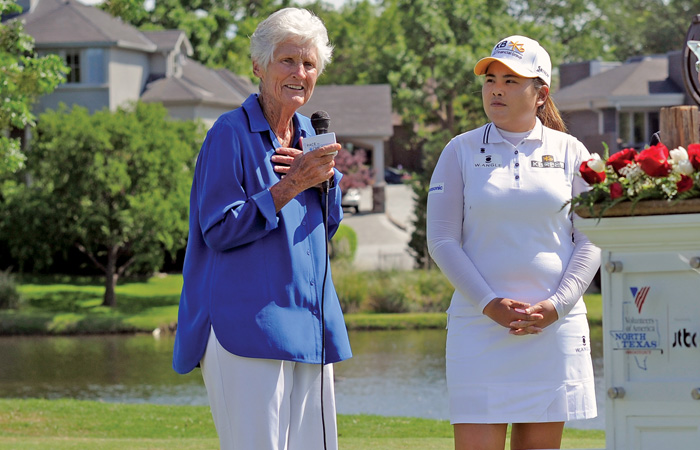 AG: Do you think they are harder workers than the American girls?
KW: No I don't, otherwise they would all be No. 1, but they certainly have been successful. (5 of the 7 winners of the VOA LPGA Classic in North Texas have either been from South Korea or Japan). The Korean who won the year before (2108) knew how to adapt her swing to the conditions 
AG: What are some other changes you see on today's women's professional tours that are different from when you played?
KW: When I played, we had three types of clubs made by Wilson, Spaulding and McGregor and that's what you could choose from. Today, there are so many choices, it can look confusing sometimes.
AG: What about the game itself?
KW: One thing that hasn't changed, it's not how far you hit it, it's what you do with your shot. How can you work it and where can you place it. The Korean girls are very good at managing and adjusting their game that way.
AG: Any other big changes?
KW: I remember Byron Nelson once said the biggest change to golf was the invention of the lawn mower for the golf course. I laughed, but I think that is true. We didn't have any grass on the greens and not much in the fairway. I wish we had the grass to play on. They don't get bad lies now, the greens are pristine.
AG: Texas players like Stacy Lewis, McKinney's Brittany Lang, Fort Worth's Angela Stanford and Dallas' Gerina Piller are getting back-to-back weeks to play in their home state. Did you feel extra pressure playing in Texas?
KW: Not really. I won several times in Texas, in Waco, Amarillo, Dallas and San Antonio. I played in the last Texas U.S. Women's Open at Colonial (1991) Country Club but I was really passed my prime there and played in the Legends of Golf tourney in Austin with men which was really a lot of fun.
AG: You don't seem to be slowing down much at age 81. Are you looking forward to a fun Texas golf December?
KW: Certainly. I'm blessed with good health to travel and don't think I don't know it. Most of the girls out here probably don't know who I am, but I know them, and that's what matters.
AG: Thanks for the time, we'll see you at the golf course this month.
KW: Your welcome, I'm looking forward to it.
The Courses 
Two Texas courses are preparing for back-to-back weeks in the national professional golf spotlight, with Old American Golf Club, part of the Golf Clubs as The Tribute in The Colony, will host the LPGA's Volunteers of America Classic, Dec. 3-6, with the 75th U.S. Women's Open, Dec. 10-13 at Champions Golf Club in Houston.
Both tournaments will be held without fans due to the ongoing COVID-19 Pandemic, but both are hard at work to present their properties in the best possible light.
"We are full speed ahead to make the course the best it's ever been," said Old American/Tribute General Manager Mike McCabe. "We know we will have a stellar field because it's the week before the U.S. Open and four days of national television coverage to showcase the course and community nationwide."
Other than a slight alternation making the former first hole the 18th hole and pushing all the holes up one position at the Tripp Davis/Justin Leonard designed course, McCabe said the biggest change has been the first-ever overseed of the fairways and greens for a brilliant green December color.
"We had never done that before, but it came out fantastic," he said of the new grass on the unique par-72 layout which pays homage to the classic courses of the 1920s and '30s and is annually ranked as AVIDGOLFER's top public course on the east side of DFW.
"It disappointing there is no fans this year, but it's a great spotlight for the new Golf Clubs at The Tribute. All we are waiting on is what we get on the weather from Mother Nature. It's could be really good, so we're hoping for the best," McCabe added.
Aledo's Cheyenne Knight the tournament defending champion said she was excited to be playing near home again where she won last year.
"It's a great chance to play competitively before the Women's Open and always good to play near home where I have such good memories." Knight said.
At Champions Golf Club, hosting major championships is nothing new. Champions is the former site of the Ryder Cup, men's U.S. Open, Tour Championship and U.S. Amateur as well as the Houston Open.
"I'm looking forward to see how the girls do on the course at the Women's Open," said Jack Burke Jr., the 97-year-old founder and owner of Champions Golf Club. 
Champions, who recently completed a renovation by Texas architect Chet Williams, will play at a length of 6,731 yards for the Women's Open at a par 71. It will be the second Women's Open in Texas after the 1991 Women's Open at Colonial in Fort Worth.
"It's quite an honor to have one of your courses host a national championship," Williams said. "Day to day this course plays hard for the members and I can't imagine it would be any easier for the best female players. There is not a lot of letup."
But for Texas professional golf, a rare pre-Christmas spotlight to shine on a national women's golf stage.