Fitness – Fit for the Holidays

Thanksgiving is behind us and with Christmas approaching fast, it's time to assess your exercise and nutrition plan and try to avoid putting on those extra holiday pounds. Studies show that the majority of Americans gain weight during the holiday season, and over the course of 10-20 years, these extra pounds can add up to some serious health concerns.
I understand that the holidays are meant to be enjoyed, and you are going to let loose on occasion, but just like with most things in life, moderation is key. With that in mind, here are five simple tips to help you beat the bulge while enjoying the holiday season. 
1. Plan Ahead: During the holiday season when vacations and family trips are frequent, planning your workout schedule weeks in advance is crucial. Schedule dedicated time to hit the gym rather than leaving your fitness routine up to chance. 
2. Track Results: You should continually evaluate your progress to determine if your program is taking you closer or farther away from your goals. During the holiday season, this is especially crucial. Utilize composition-measuring devices, such as the In-Body, to determine if your goals are being met by your routine. 
3. Set a Challenge: Create your own challenge, whether it involves trying a new exercise class every day, joining a small group fitness class, or experimenting with an unfamiliar cardio routine. TRX Suspension Training (Check out TRX Rip Stick Golf Specific Movements Below) is a great way to safely and effectively use your own body weight as a tool for strength and weight loss goals. 
4. Limit your Alcohol: It is best to regulate drinking the empty calories found in alcohol, especial those mixed with soda, juice or other things high in sugar. If you are going to drink, stick to straight whiskey or vodka with unsweetened soda water.
5. Be Sure to Hydrate: After those nights where you don't do a good job following number four, rehydration is key. Water is great, but your body needs electrolytes to offset the damage done by the alcohol and fully recover. Avoid the sugary sports drinks and stick to nutrient packed foods like avocado, coconut water and broccoli for your electrolytes. 
The holiday season is a challenging time to stay fit, but by planning ahead and setting goals, you can begin the new year in your best shape yet!  
Squat Overhead Press
Begin: Palms down, squat with the bar against chest.
Stand up while simultaneously pivoting on the balls of both feet away from anchor. Press bar overhead.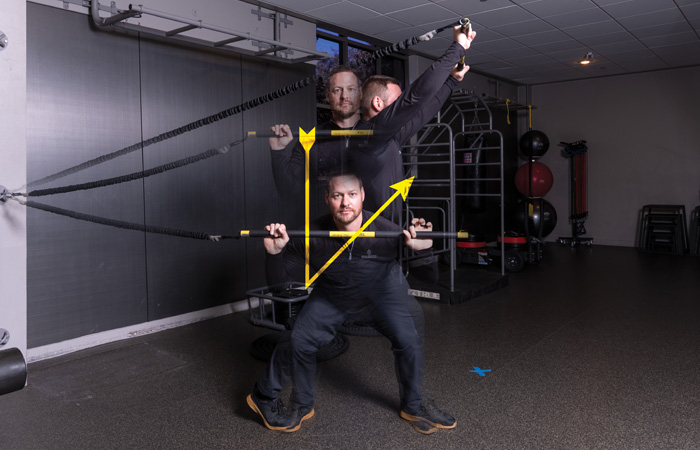 Overhead Axe Chop
Begin: Power-hand palm up and base-hand palm down, vertical bar, foot in offset stance and power-hand resting on shoulder. 
Pull base-hand toward sternum while striking overhead with power-hand.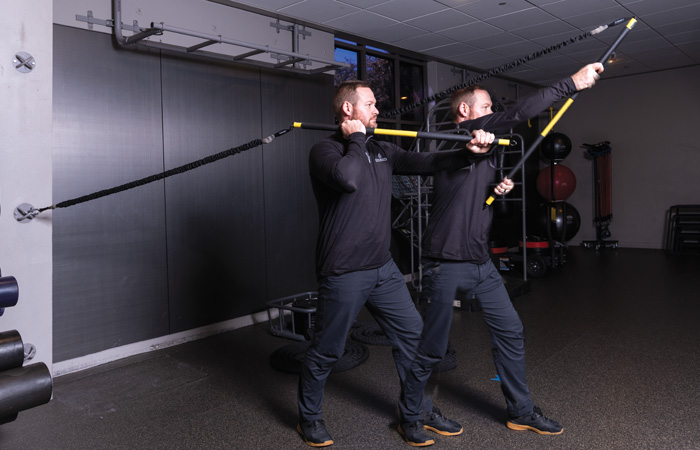 Josh Biard is the Fitness Director at Four Seasons Golf and Sports Club. He oversees the daily operations of the fitness center including personal training, small group training, nutrition, analytics and the fitness desk experience. While at Arizona State University in Tempe, Arizona, Josh became a NASM Certified Personal Trainer, Sports Fitness Specialist and Wellness Coach. You can contact Josh at 972-717-2592, josh.biard@fourseasons.com.