Tom Fazio has been called America's greatest living architect by several publications, and for good reasons when you consider his highly ranked body of work. But looking through a Lone Star lens, he might be Texas' favorite golf visitor. 
This month's soft opening of the first nine holes at Driftwood Golf & Ranch Club just south of Austin will usher in the 10th golf course he has designed in the state.
In fact, no non-Texan architect has done more original Lone Star courses than Fazio, and very few architects have done as many courses in as many different Texas locations.
Fazio has worked from El Paso (Butterfield National) to Dallas (Vaquero, Westin Stonebriar and Dallas National), The Woodlands (Carlton Woods) to San Antonio (Briggs Ranch), and in Horseshoe Bay (Escondido Golf & Lake Club). He also has some Austin staples (Barton Creek Foothills and Canyons) and now Driftwood.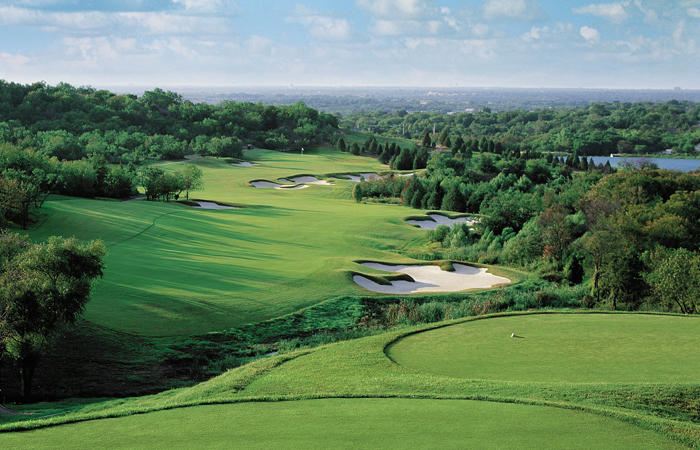 Dallas National Golf Club
That doesn't even count the renovations and recommendations to various Lone Star links land owners.
Although Fazio does not live in Texas (North Carolina in the summer and fall, Florida in the winter and spring), he has been here enough times to design highly rated courses, he could almost be considered an honorary Texan.
Fazio first arrived in Texas in the mid-1980s to build the first Barton Creek Golf Course in West Austin for Texas political legends John Connally and Ben Barnes, which helped jumpstart the still-ongoing Hill Country golf boom.
That's where he first met Brent Buckman – then a recent graduate from the University of Texas, now the Director of Golf at the new Driftwood course – and first became aware of the possibilities of Texas golf.
Fazio, 76, has become so popular that his small office in Hendersonville, NC has an unlisted phone number, no website and he rarely trades e-mail with potential millionaire clients.
But he still keeps coming back to Texas.
During a recent pre-opening visit to Driftwood, Fazio took time to talk with AVIDGOLFER Senior Writer Art Stricklin about his trips to Texas and what makes every region in the state unique for a golf architecture mastermind. 
AvidGolfer: Tom, you've done three very highly ranked courses in the Dallas Area, and Driftwood is now your fourth in the Texas Hill Country. What is so interesting or unique about designing courses in Texas?
Tom Fazio: There are just two things I learned from designing so many Texas courses. One, you're going to hit rock if you go more than two to three feet below the surface. I go to work on a new Texas course and you hit rock and, yep, there it is again. Secondly, you also know the wind is going to blow a good portion of the time, so you always have to take that into account. I always want to take a good piece of land and make it great, but in the Hill Country, it's hard to find a bad piece of land. In Austin, in fact, I don't think you can do it.
AG: When you talk about the rock at many of the Lone Star courses you design, how do you defeat that?
TF: Well, you need a whole lot of dynamite and an unlimited budget, so that usually helps.
AG: Let me ask you about your three courses in Dallas. Three completely different pieces of land, but three really good courses at Dallas National, Vaquero, and Westin Stonebriar. Was that difficult to do three courses on such different land? 
TF: It wasn't just another day at the office. That's what I do as an architect and have done for 50 years: form pieces of land into interesting courses and that's what we did there, working with our outstanding team including my son, Logan, who spent extensive time at Vaquero and also Dallas National.
AG: One thing that is different there is that two are high-end private, Dallas National and Vaquero, and one is resort at Westin Stonebriar. Was that a different process for those?
TF: While certainly it's a different purpose between a resort course and two private courses, the process is the same. It's the same with holes and areas and golf views. I only care about the golf experience. I just want to find quality clients for quality projects.
AG: What's better for a project's success, a great piece of land or a great architect?
TF: A great piece of land is nice – it certainly helps and makes things easier – but it's not automatic that it will work out to a nice course. To me, I like a tough piece of ground. It's harder and more fulfilling as an architect.
AG: You've won a ton of awards and honors in your career, but is there pressure to always try to top yourself with another new course in Texas or elsewhere?
TF: If I stop designing courses today, I could live on my laurels for a while, but I'm always being judged by my newest course and that's the way I like it. At Barton Creek, the Canyons was good and well accepted, but when I did the second one the pressure was on and it had to be good or people would say, "Oh my gosh, he's slipping."
It keeps you working and keeps me out of the bars, because the challenge is, the industry is very competitive. It's like Tiger Woods in his prime. If he missed two cuts one year, did he have a bad year? He won two majors and finished second and fourth in the others. Did he have a bad year with the two missed cuts? You're always judged by your latest efforts. People hire me for quality and because we have a commitment to quality, but the only thing that counts are the end results.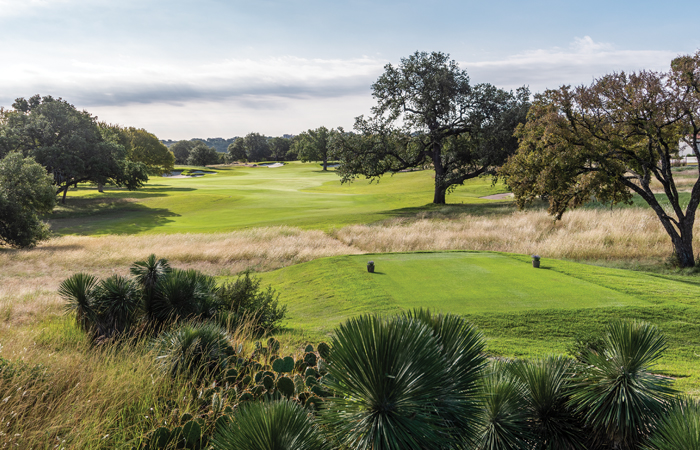 Escondido Golf and Lake Club
AG: With Driftwood your latest golf course to open in Texas, does modern technology make it harder or easier to build golf courses than when you first started with your uncle George?
TF: I think everything is easier now, and anybody who says the good old days were the best doesn't remember it the way it was. We are able to build on more difficult sites now because of the technology and the modern equipment we have now. Look at the  Driftwood course. It will have the best of modern technology and new age grasses – Zeon zoysia grass on the fairways and tees, 007 bentgrass on the greens – it will have sand capping to help drainage from Central Texas rains, and lined manmade lakes to prevent seepage during droughts and downpours.
AG: Talk about the different regions of the state building golf courses. What's unique about Houston golf?
TF: Everybody knows who's been to Houston, there are not many hills there; the Hill Country is the Hill Country, and Houston is known for its dense vegetation and trees. We had a great site with a lot of land. Carlton Woods and The Woodlands Company [were] very committed to quality. They gave us a major piece of land, and very extensive budget which, as the saying goes, we "exceeded," but was OK with them. 
AG: What about your course in El Paso (Butterfield Trail)?
TF: We have a course in El Paso, right up next to the airport. The airport authority has a program to build green grass spaces and we designed a wonderful course right there at the airport, which will be open to all. You are flying along and see all this open space and then just a green oasis sitting next to the airport.
AG: Are you surprised you've done as many courses as you have in Texas, considering you don't live here and you travel all over the country to design courses?
TF: Thirty-five years ago when I first opened Barton Creek, I never knew I would return to Texas so many times to design courses, but I hoped I would.
AG: Why do you think that is?
TF:  Texas is full of "can do" people who want courses done right. John Connally and Ben Barnes (first Barton Creek Course) were "can do" political figures. Jim Bob Moffitt (instrumental in the development of the second Barton Creek course) was "can do," Mike Meldman (developer of Vaquero and Driftwood), and John MacDonald (Dallas National) is another one. That helps when you want to do any great courses. You've got to have a great partner.
AG: The theme before this year's Masters was Bryson DeChambeau supposedly torching the Augusta layout. Now that the Masters is over, what's your take on what happened there this year? Did you feel vindicated by this year's results?
TF: I don't know if vindicated is the word. The holes at the Masters, if you try to cut over them like [Bryson] wants to do, you just go further away from the fairways. It's not a straight shot to carry over the trees. Bryson has played in the Masters I think four times. We haven't had to change anything yet, so we will just wait and see. Working at Augusta National has been a great honor and privilege and a great relationship with those people.
AG: Thanks for another Texas visit and another Lone Star course.
TF: You're welcome. I hope I'm able to come back and do more