Travel – Streamsong Resort

Florida has long been known as one of the premiere destinations for golf in this great country of ours. From Bay Hill to Sawgrass and Doral, the sunshine state is one of the must travel places for great food, an adventure in culture and fantastic golf. Steamsong is another one of Florida's finest golf resorts, and how it came to pass remains a great story to tell. 
The Mosaic Company is the one of the largest private landowners in the state of Florida and owned 16,000 acres in remote Polk County which was used for extensive phosphate and potash mining.  When that came to an end in the early 2000s, company executives were challenged by visionary leader Rich Mack who thought the site would be good and fertile soil for a golf resort.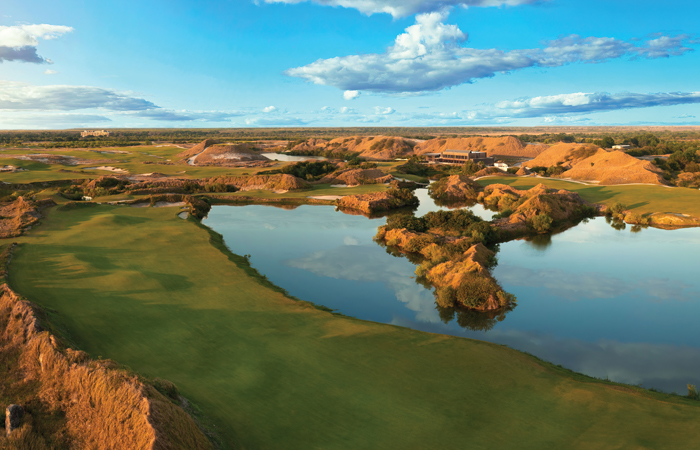 It turns out Mosaic was exactly right to build it, starting with the Red, designed by Ben Crenshaw and Bill Coore and the Blue Course, created by Tom Doak in early 2013, then adding the Black, designed by Gil Hanse in 2017, and the result is east coast links golf perfection.
Located 90 miles southwest of Orlando and 70 miles southeast of Tampa, do not even attempt to make this trip without enough time, gasoline, and a working GPS. Because like many great resorts (Bandon Dunes and Pinehurst come to mind) you're not stumbling on this hidden gem by accident, but those who make the journey will be quite pleased.
The first two excellent links style, walking only layouts here, the Blue designed by Doak and the Red crafted by Crenshaw and Coore, were immediately praised when the course opened and a third, the Black, which opened in September, 2017 and designed by Hanse, who crafted the Olympic Golf Course in South America and is currently finishing the PGA Frisco East Course, was another big hit.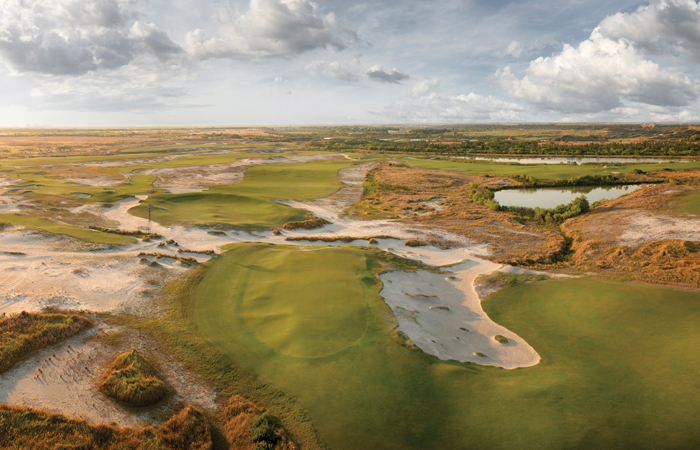 What the architects did to make this place special was take the land they were handed and create a challenging and unique layout.
"This is such a good piece of land for golf,' said Blue course architect Doak. "The variety of contours created by the mining process is unique for a project in Florida or anywhere in the Southeast."
"The landscape is different than anything we have ever worked with," added Red course co-designer Coore. "some of the most usual, interesting and dramatic land forms we have every encountered from towing dunes, sand fields and present lakes."
Because the abandoned mines also created plenty of empty caverns, there is plenty of room for great water features along with well-stocked bass lakes on the courses and elsewhere on the property.
Add a par 3, seven-hole short course dubbed the Roundabout next to the Black course, which has no tee markers, but can be played twice, plus a two-acre putting course adjacent to the modern glass enclosed Black clubhouse, not to mention a 228-room modern multi-story resort and you have the makings of complete golf mecca.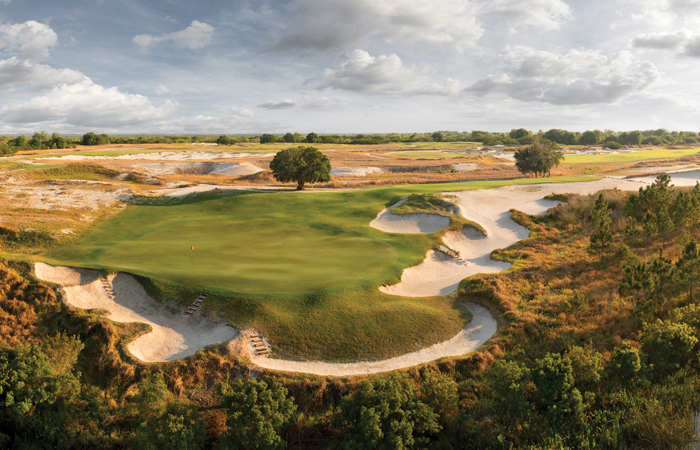 "What we want to continue to do at Steamsong is to expand and improve and modernize," said Craig Falanga, Director of Sales and Marketing. "A lot of people are here for the first time and a lot are coming back because they enjoyed it so much. We are starting to get corporate groups here, but we always want to make sure it's not a closely kept secret."
Each of the first two courses has a wide open feel, but features trouble among the many bunkers, scrub grass, slick greens and occasional water features. The courses are also laid out adjacent to each other, giving you a chance to see their charms and troubles from different fairways, enhancing the visual golf experience.
The Blue Course first hole first, a 338-yard par 4, features a nearly 100 foot drop off from tee to green. The view from the tee box features stunning 360 degree views of the complex and highlights how creative you have to be as an architect to see an abandoned mine and turn it into golfing perfection.
Golf Magazine has already weighed in on the resounding success of the courses which also includes a 200-room modern resort.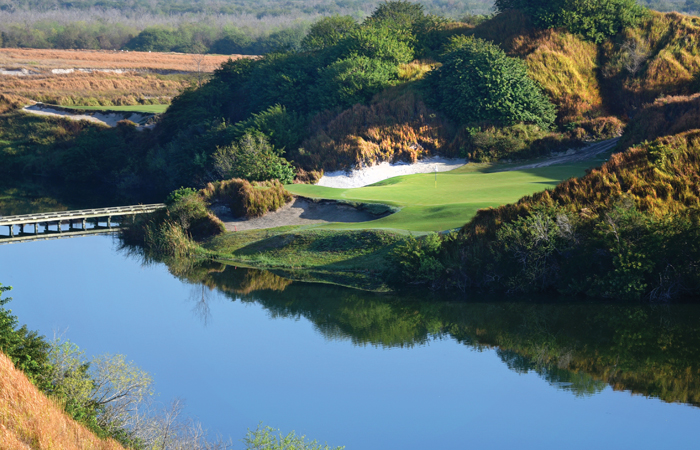 It has the Ben Crenshaw-Bill Coore Red Course, par 72, ranked the 10th best course you can play in the U.S. along with the Tom Doak Blue Course, par 72, No. 14, both top 100 nationwide.
They were named best new public courses in America when they opened, and what many have called the Bandon Dunes of the East Coast (minus the thundering ocean, of course). Of course, the halfway house slow cooked BBQ isn't bad either. Save the ordinary golf course food for another time. Embrace the local BBQ for the Red and Blue.
But most agreed, Streamsong could have saved the best for last, at least for now, with the Black layout which came online in late 2017. The par 73 Black is a scene stealer for sure.
Hanse crafted a thrilling roller coaster golf design on a huge canvas, nearly 400 acres, four times the size of a normal golf course site. Ranked Best New Course in America when it opened by Golf Magazine and 21st in the USA on Best Course You Can Play by Golfweek
The Black is bolder and better if you prefer to have maximum fun on a course trying to figure out different angles and ways to challenge the Hanse design, where you could probably make a three or an eight on almost every hole here, which is the true sign of great golf course design creativity.
At the Black course, Hanse and Jim Wagner and their team crafted a unique layout with five par 5 holes each with their own style and challenge which allows the course to play from 7,333 yards in the back tees to 5,293 on the forward markers.
While other architects try to create golf course drama with contrived settings, Hanse used his huge canvas to showcase the course and the stark landscape with little else needed. In fact, the only dramatic drop in elevation comes on the par 3 17th hole, which along with the par 5 18th, is two of the few holes where water comes into play.
To use the words of one course marshal, "it's 300 bunkers with a golf course in the middle."
While most golf courses starts slowly and blandly then steadily builds to a dramatic peak, Steamsong Black captures your attention right from the beginning. The par 5 first and par 4  second has the metal windmill to the right and behind the large green which features another huge collection of bunkers to the left and right with a narrow strip of grass in-between.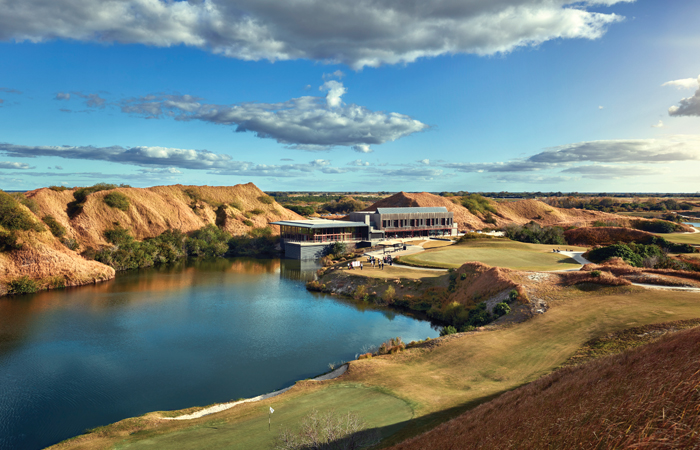 Holes three through six are a collection of interesting and challenging par 4s (two), par 3s (one) and par 5s (one). The sixth hole, a par 4, is the most interesting as Hanse only has the hole play 342 yards from the back tees, 300 or less for most players. With a prevailing wind and few bunkers with no water, he tempts the big hitter to go for the green in one. All seems well except for a small well positioned bunker right in front of the green and a dramatic sloping green which will repel any mis-hit shots.
Of course, when you get to the on-course halfway house, don't forget to stop for the Black Course lobster roll. Hot dog? Ha! Lobster Roll in Central Florida, because why not?
One of the real talents of Hanse at this course is the way he varies the size of the bunkers and where they are placed for various landing zones and attack angles.
In fact, trying to describe the Steamsong Black course without using the words huge, massive or large-scale, would be like asking some professional speakers to give a motivational talk without using their hands. Tough, if not impossible to do.
But like most great courses the Black melds one good hole into another good hole, one arresting view into another outsized layout until you're left with a fantastic and fun 18-hole experience which you're eager to repeat.
By the time you finish the par 5 18th and walk up the small hill, on the walking only course, to the glass encased modern clubhouse, you'll be glad Hanse used a green grass canvas to produce a joy-filled 18 whole journey and didn't turn to painting with smaller areas.
From the huge glass windows of the Black Clubhouse dining area, you can see players starting and finishing on the course then savor or commiserate your fortune for finishing this great golf destination and then head over to the putting course, the Gauntlet, complete with metal cup holders for a chance to get your money or your pride back.
There is more than enough room for another course here (Bandon Dunes just opened their fifth) but with the Red and Blue courses recently reopening with modern bermuda grass Mach 1 greens, and the Black as beautiful as ever, there is no immediate need to rush golf's next must play destination.
For more information on Streamsong, go to www.streamsongresort.com, then charge up your GPS, gas up your car, and get ready to be most pleasantly surprised.