Going Platinum – The 2018 Cadillac Escalade

The Cadillac Escalade has enjoyed ultimate domestic SUV status since first arriving in 1999. Its audience is younger, wealthier and better educated than buyers of any other Cadillac model and the choice for athletes, movie stars and just about everyone else desiring their bling in abundance. It's truly a tough crowd to impress.
The 2018 Escalade Platinum is a check-all-boxes ultimate level of opulence to satisfy those high-toned buyers wanting some good ol' American-made magnificence. In fact, there was only $450 in options on the tester, meaning you'll probably want for nothing additional. So what exactly should the badge-loving buyers anticipate? Smiles. Lots of smiles. The latest three-row edition continues the tradition of tooling around in a gorgeous, powerful, ultra-luxurious and tech-laden land yacht. Even the gas mileage is relatively decent. Caviar for everyone!
SKIN
The 2018 Cadillac Escalade Platinum in flawless Raven Black paint is a beauty to behold. Its striking silhouette with pronounced angles and balanced proportions provide a substantial, bold shape to the eye. Sightlines are attractive from any angle and the front end is a showstopper with remarkable crystalline vertical "light blade" LED running lights. The rear houses two large vertical LED taillights bracketing an LED illuminated badge. It definitely makes a statement. The reward for remotely unlocking it at night is a wondrous light show party flashing from all sides, including the cool door handles. It's an instant "Wow" factor as my passengers asked me to repeat it more than a few times. You could almost charge admission for the display. The 22-inch Ultra-Bright aluminum rims are the perfect accessories. In the Raven Black paint and tinted windows, the Escalade is deliciously mysterious and ominous. Throw on your darkest shades to complete the Secret Service mystique.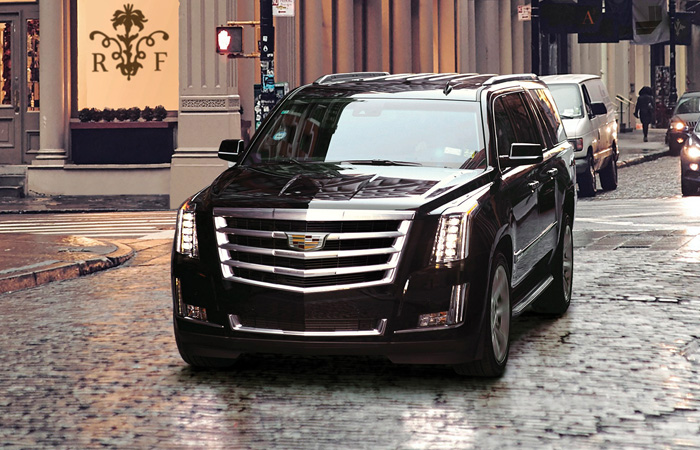 PERFORMANCE
Cadillac engineers placed a robust engine to power the 6,000 lbs. How about a 6.2-liter V8 with 420 horses and 460 lb-ft of torque? It can motor 0-60 in 6.1 seconds and tow up to 8,500 lbs. A new 10-speed tranny shifts effortlessly and includes their peerless and sophisticated Magnetic Ride Control (MRC) to smooth out asphalt imperfections—even with the 22-inch rims. You can select Tour or Sport mode. Handling is excellent for this type ride and the turning radius is pleasingly tight. A four-wheel setup is optional ($3,000) for cruising confidently in rough weather. Engineers say the standard Duralife brake rotors last twice as long compared to previous generation Escalades. The heated steering wheel (awesome in frigid weather) is responsive and light, and the leather wrapping feels just right in your mitts. However, the steering column mounted gearshift feels more truck-like than plush. Gas mileage (14/21) is decent in the humongous class category and the engine can drop to four-cylinders when cruising, lowering the top door seams and shrinking the side mirrors to lessen wind resistance. The Escalade's thirst isn't finicky and drinks premium or regular fuel—hey, even the wealthy like to save dough. And, there's no gas cap to fiddle with.
CABIN
The exceptional Jet Black interior is sublime, surrounding you in tasteful contrast stitched leather, chrome and real wood accents that'll impress anyone. Fit and finish are outstanding. The stunning LCD dash instrumentation is bright and programmable. Leg and headroom is plenty generous. The Platinum 18-way power-adjusted heated/cooled/massaging (!) seats in front are supportive and comfy. It's the ultimate captain's chair. Even the second-row bucket seats are heated. A button on the console adjusts both accelerator and brake pedal heights. Triple-layered windows insulate outdoor noise. There's plenty of knickknack storage and you can keep your drinks cool under the center armrest's refrigerated compartment. A helpful retractable step bar greets you when opening doors. My sainted mom sure appreciated it. I could seriously live in this opulent mobile presidential suite. The center console infotainment stack houses the easy-to-follow Cadillac User Experience (CUE) in a pleasing angular layout. The tester included Backup Camera, keyless remote start, Bi-climate control and adaptive LED headlights. A comprehensive list of safety measures including Ample Blind Spot warnings and the vibrating seat alerts you of harms way. I'm addicted to the adjustable and dimmable Head Up Display showing speed, traffic warnings, direction and even posted speed limits in the windshield. Anything that keeps your eyes on the road is a plus and should be standard in all vehicles. Terrific Surround-View cameras help safely moor your ride into tight spaces. Back seat room is ample and the third-row seats power fold up and down with a flip of a switch. The Platinum edition includes video screens everywhere—although in this age of iPads and smartphones, it's not necessarily essential. I counted five USB ports. The ample cargo area is an enormous 120 or 94.2 cu.ft. with both rows folded (depending if it's two- or three-row seating), but there's decent room even when the third row is up. Plus, waving your foot underneath the bumper opens an adjustable-height power tailgate. Perfect.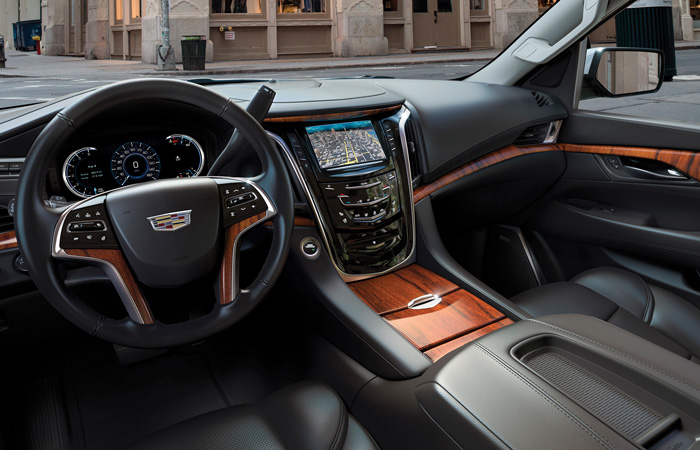 TECH CHECK
Like its other Cadillac siblings, the 2018 Escalade Platinum has no shortage of stupendous technology. The improved 8-inch CUE touch screen is deep blue-hued display and easy to work. It comes to life when detecting your hand temperature, mimicking hand motions like an iPad as you move icons, shrink or enlarge the data and display up to 60 preset radio/XM satellite stations and phone numbers. Feedback is provided via a slight haptic vibration. It includes 3-D Navigation maps, Doppler radar and Natural Voice Activated prompts work instantaneously to any voice. The CUE will even read aloud your text messages. Yeah, this is hardly your Daddy's Caddy. Under the CUE screen are touch-activated sensors you control by gliding a finger across volume (I used the buttons on the steering wheel). It's a cool concept although I miss my station tuning knobs. You can Bluetooth up to 10 devices. And, there's a wireless charging slot imbedded in the center armrest to juice up your phone without having to deal with those nagging charge cords. Apple CarPlay and Android Auto seamlessly mirror your phone. The 16-speaker Bose Centerpoint Surround System is impeccably crystal clear and near-perfect in audio acoustics with four distinct cabin sound settings. In addition, safety ratings are excellent and there are enough nanny features to keep you out of harms way.
The 2018 Escalade Platinum certainly ramps up nearly every aspect its discerning buying audience wants and expects. The quintessential American luxury land yacht sails in some very competitive waters, but much of the competition is now left in its substantial wake. My SUV-loving bride gave it ten thumbs up. Enough said.
SCORECARD
Golf bags: At least four
Curb appeal: I wonder who drove up?
0-60: 6.1 seconds
Gas mileage: 14/21. Observed 18.5 overall
Must-haves: Everything. It's an Escalade
Warranty & Free Maintenance: 48 months/50,000 miles. Premium Care Maint. 3/36.
Base price: $73,995
Price as tested: $100,855
Who buys it? Luxury SUV owners desiring American brawn and luxury
Finish line: Sumptuous blend of high-toned brilliance
Test-drive the 2018 Cadillac Escalade Platinum at Crest Cadillac in Frisco.