Kate Weiser Chocolate — Chocolate-Covered Cheer

Forget visions of sugar plums and gingerbread villages; Kate Weiser Chocolate is whipping up holiday magic in the form of hand-painted bonbons, candy bars and holiday symbols with hidden surprises. This holiday season, I recommend making it a point to stop by one of her locations and step into her chocolate wonderland.
Nary an adult or child step into her store at Trinity Groves or NorthPark Mall without their eyes going as wide as saucers. At the original Trinity Groves location, patrons go slack jawed watching the confectioners tinker away like elves behind the glass partition, creating the beautiful bonbons, bars and baubles that are on display throughout the store. You get to watch the artists at work, admire their craft and then pop it into your mouth to dissolve into a fruity, sugary bliss.
The original sweet treat is the hand-painted bonbon. Like many incredible things, these bonbons take time to create; six days to be exact.
The plastic mold trays are polished before they are hand-painted in splashes of colors that represent the flavors inside. The "pina-chocolada" features a vibrant yellow with swipes of green and orange. The toasted coconut flavor is drenched in the deep blue of a Caribbean sky with flecks of snow white. The strawberry basil bonbon has an outer shell of a deep pink with splatters of forest green. Each treat is uniquely crafted and worth every second – and every penny.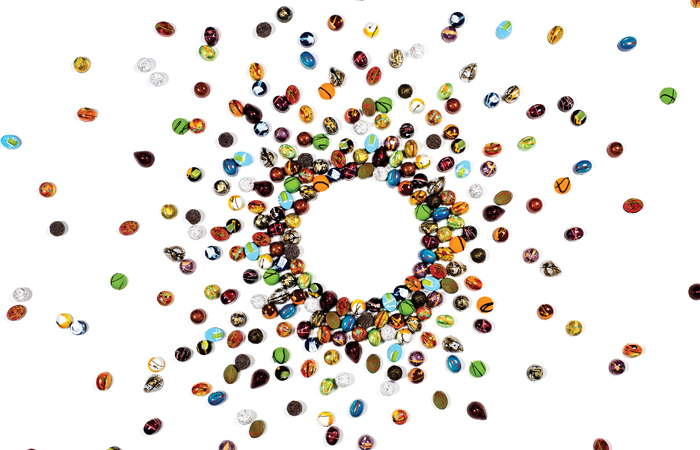 Once the whimsical details are perfected, chocolate is poured in and out to create the bonbon's hard outer shell. With these hand-painted confections, the staff works from the top to the bottom: outside details first and then the shell and filling is added later.
On day four they are filled with their internal flavor. They range from fruity to herbaceous to savory to bitter. Unlike the line from "Forrest Gump," each flavor is painted in a unique color scheme and labeled on a card inside the box, so you will know what you are getting inside the shell.
Finally, they are capped with logoed chocolate, let sit to rest and then tapped out on the sixth day. Good things come to those who wait.
Bonbons are available year-round, but the holiday season between Thanksgiving and Christmas is where Weiser's creativity and imagination shine. Her holiday items are not only beautiful and delicious, but most hide additional holiday treasures inside their cavities.
The festive green Christmas trees splattered with bright colors and adorned with logoed medallions are made of and stuffed with peppermint bark. The dreidels and the Christmas ornaments are entirely made of chocolate but are then filled with a mixture of truffles, chocolate covered nuts and chocolate coins. Kids and adults love breaking their treats open to snack on both the shell and treats found inside.
However, the pièce de résistance from the holiday offerings has to be Carl the Snowman. One of Weiser's regular customers purchased one of the original prototype Carls a few years ago and said she was so sad that she had to "kill him."
Weiser said "lightning struck" and she wanted everyone to have to melt the beloved snowman in order to enjoy him. Thus, the present-day Carl was born.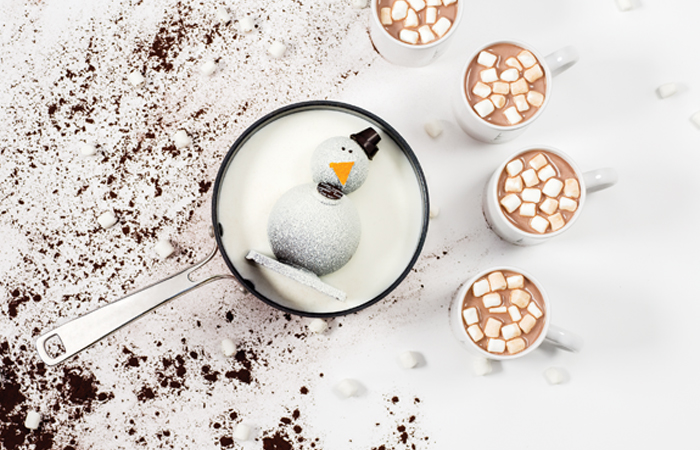 The six-inch tall snowman, sporting his lopsided top hat and quirky, crooked triangular nose, is a hollowed-out figure that contains drinking chocolate in his belly and marshmallows in his head. To enjoy the rich hot chocolate he contains, you have to submerge him in a pot of warmed milk on the stove. Whether you choose to actively watch him melt into oblivion is your call, but one thing is for certain: Carl is pretty tasty. His chocolate shell turns the cocoa flavor up to 11 while the milk and marshmallows create a frothy sea of creamy foam at the top.
To keep up with the demand, Weiser has to begin the entire process in July. After selling out in consecutive years with quantities of 1000 and 3200, she planned to make an army of 5000 Carls available to the public this holiday season. By providing enough cocoa for up to eight people, Carl makes a festive host gift or fun family activity.
The popular bonbons are also updated in classic holiday flavor combos. The 15-piece holiday box features a selection of cranberry orange, peppermint, apple gingerbread, cinnamon whiskey and milk and cookies. The cinnamon whiskey was a big hit as it is slightly reminiscent of a certain popular party liquor. Hurry and pick up your box before Christmas; these flavors are only available once a year.
When it's still 70 and sunny over the holiday season, it can be difficult to get into the holly jolly spirit, but Kate Weiser Chocolate provides an easy way to jumpstart your celebration. While her sweet offerings are available throughout the year, her festive seasonal treats bring bountiful tidings of holiday joy. Whether you are decking the halls or lighting the menorah, make sweet memories with family and friends by inviting a Carl or two to join in the fun.