Golf Science – Changes Make Champions

If you read two lists of names, which one would you believe was merely pulled out of a local telephone directory and which would you know was a list of elite golf professionals: Retief Goosen, Ernie Els, Bernhard Langer, Rocco Mediate, Darren Clarke, Tom Lehman, Jim Furyk, Colin Montgomerie, Vijay Singh, David Duval and Mark Calcavecchia or Lucas Herbert, Thomas Pieters, Davis Thompson, Keith Mitchell, Denny McCarthy, Hayden Buckley, Takumi Kanaya and Adam Svensson? The first list is, of course, a random sampling of golfers who currently play on the PGA TOUR Champions, while the second, believe it or not, comprises those who are actual players on the PGA TOUR.
Thus, it is apparent that when those from the first list are all together at a venue playing golf in the pleasant winter weather of Southern California, the local community is eager to check out the action at an event such as the recently concluded Hoag Classic. Even more so when the event is closely linked to a much-needed, beloved local organization – the Hoag Memorial Hospital Presbyterian. According to the President of the Hoag Hospital Foundation, Dr. Flynn Andrizzi, the hospital has increased its involvement in the event, going from charitable beneficiary to title sponsor.
The partnership has been a win-win for both organizations. Physicians like Dr. Burak Osgur, a neurosurgeon specializing in spine issues, attend the event and help with any medical issues that might arise. In 2022, for the first time, the hospital showcased all its innovative technology in the large Innovation Hall that all attendees went through on their way to the golf course. The hospital boasts cutting-edge technology, including virtual reality-assisted brain and heart surgeries, and attendees at the Hoag Classic were able to experience it for themselves. Some of this is made possible by the generous contributions made to the hospital by the PGA TOUR.
But what of the players themselves? The PGA TOUR Champions is for golf professionals over the age of 50. What has changed for them – besides the winner (Retief Goosen) at the Hoag Classic receiving $300,000 for his efforts, while on the same day, the winner on the PGA TOUR event, The Arnold Palmer Invitational, earned $2,160,000? Here are some responses to the question, "Have you made any changes since turning 50 or since being on the PGA TOUR Champions" from a sampling of players.
Tom Lehman: "I've made some swing changes but not on purpose. They happened." What are they? "I'm losing some flexibility in my right knee … both my knees, actually. Compensations happen naturally without you realizing it. I've been trying to keep on doing what I've always done; it's becoming more difficult to do it. I've always had a real solid base to my swing, my legs have always been the foundation of my swing, and I've always used them very well. Since I've got older, because of a bit of achy-knees and hips and losing some flexibility, my legs have been less able to do what they have done." Does he follow any of the swing trends that the young PGA TOUR guys are using? "I'm old school and that requires a completely different shift from the way I swing the club, so I have not. They are good at what they do – the equipment, the technology, the teaching has led in that direction. Different generation."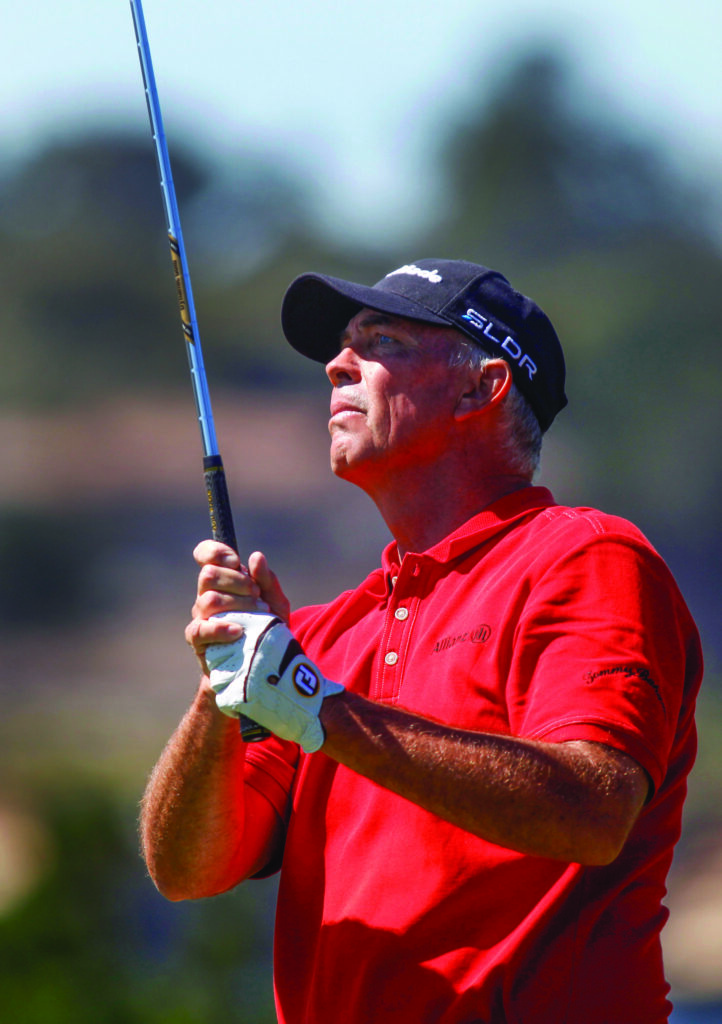 Ken Tanigawa: "I've made a lot of swing changes." Based on what and why? "For me, feels, ball flight, the way I'm trying to work the ball. I don't have a teacher, I never have. Maybe when I was a junior golfer but no one in the last 15 years. Lot of feel changes – they probably feel a lot but aren't huge changes for me. The feels depend on the type of shot shape I'm trying to get. I play with what I have. It's not a structural or a position thing." When asked what the moves he was practicing with his arms and body and no club were, he said, "I'm trying to clear more, I'm trying to post up on the left side and clear because I think as we get older our hips tend to slow down and not want to rotate so much. So, I think if you could just get into certain positions – if my (lead) hip goes back and my (lead) leg posts up – I could create more room there, so I don't lose my tilt, and stay in my spine tilt. Those are the kinds of things that have always been important for me."
Scott McCarron:"I make swing changes every single day. Depending on what hour it is and what feels good. As golfers, we are always making little, minor changes." What does he base his changes on? "Based on what the ball flight is, how you're hitting it, how you're feeling. Every day we wake up and we feel a little different. The changes I make are little, small tweaks, little feels. Not like major changes. Ball position, alignment, how you set up, how you feel with length of backswing because as we get older, we don't turn quite as well as we used to at 25-35. But if you looked at my swing now compared to when I first got on the TOUR in '95, it would look the same. It's all individual; what works for some people does not work for others."
David McKenzie: "Not really, it's just the same progression I've been working on. I work on my pivot, my balance and my plane, which is balance again. Everyone has a pattern of how they balance, different ways, and that's why everyone has their own game. Just as one can recognize individual gait because everyone has a different way of balancing during gait. It's pretty much the same way people swing a golf club. You can change someone's golf swing as much as you want to, but it's always the balance that can be detrimental to hitting a golf ball. And, ultimately, that's the thing you've got to work on." So when does he feel in balance or out of balance? "I put myself off-balance to force my body to balance better. I'll practice on one leg, which forces my body to balance better, and then I'll use that feel to put into my golf swing. I'll challenge my body to balance better, more efficiently. Every day you balance differently." Which leg does he prefer to balance on for that practice? "Previously, I did a lot on my right leg, but now I do a lot on my left leg (he is a right-handed golfer). Hitting into a golf bag instead of a golf ball also gives better balance."
Ken Duke: "No I haven't. As a professional golfer, you just try to be as consistent as possible. You want to keep as healthy and as flexible and strong as possible. I think we've made more changes with exercises and things like that more than swing changes." Does he follow what the younger professionals are doing? "We're getting older and don't have the strength and will to do all that."
Stephen Dodd (UK): "I have, but not deliberately (laughs)." What have the changes been? "I don't know because I've not been playing particularly well. I've not played for the past three or four months."
Scott Dunlap: "No swing changes." Why not? "That's not one of my issues. I can get from A to B alright, it's just when I get to B, just finishing it off. Putting. I've had an injury (forearm, three years ago), so I've reinvented myself a little bit." On his own without instruction? "I've had lessons long ago. I've always felt my issues are grip and set-up, or static not dynamic, so if I can see myself in a mirror…" Does he like any modern swing ideas? "I don't believe in any of the modern swing ideas – too late to make changes. I've seen guys that have gone for the length and got it, but then just don't play very well – everything else has got messed up – timing, short game. All that speed stuff – it's great if you started with it like these young guys did, I think to reinvent yourself late, I don't think that does you any good. I've still got my length, I'm not losing it yet, so then you go lighter shafts. The key is don't get heavy. You keep your speed if you just keep your body (in shape)."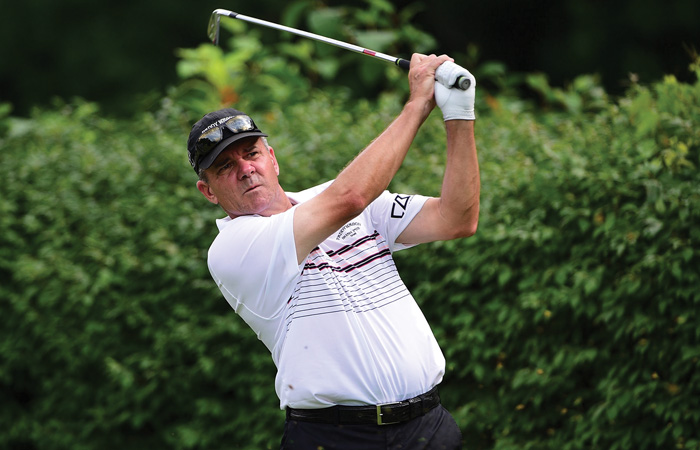 David Branshaw: "Minor, just different feels, nothing drastic, not trying to make a seniors swing, just less speed." Would he make a swing change to get more speed? "No. I think the faster you swing it the more offline it can go. As long as the ball is going far enough, I don't need to hit it further." He does not work with a golf coach.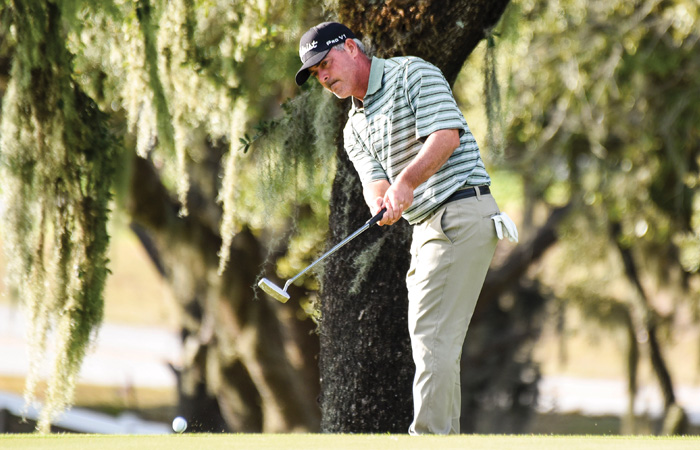 Kevin Baker: "No not really. Too old to learn new things." Does he have the same feels or thoughts as before turning 50? "I think what you find with most pros is that the feelings change, and even when it's a new feeling, it's always to do with the same thing." What, then, does he focus on to help him get the best shots? "Just commit to every shot."
What can one conclude from this random sampling of golfers? They often have a loss of flexibility and distance and must rely on improved golf club technology to retain distance. They also often do not work with a swing coach; they do not know what causes the "minor" changes to their swings over time; they are either wary of, or do not believe in the value of, making swing changes that they perceive to be "big" and, horror of horrors, rely on different "feels" every week. If "feel" was a "thing," someone getting a fracture after falling off a horse or a bike would never ride again! Amazingly, the PGA TOUR players are perhaps being over-coached, while the PGA Champions are being under-coached, and all of them become philosophical about the game and feel that it is par for the course to win one week and miss cut the next!
Dr. Kiran Kanwar, golf science consultant, is the developer of The Minimalist Golf Swing System – 100% scientific, simple, and specific. She has M.S. in sports science and nutrition, a Ph.D. in biomechanics, an anatomy a degree in Kinesiology and is an LPGA Master Professional. Visit her websites www.YourGolfGuru.com and www.mgs.golf .