Travel – Somervell County

If you're looking for a great 36-hole facility that has the away from the big city feel without the long trek through the country, then Squaw Valley in Glen Rose might be the place for you and your group. Just a short 70-minute drive from DFW Airport, this 36-hole layout is not only challenging, but also has that country style relaxing feel and serenity. The Apache Links and Comanche Lakes courses have winding doglegs, subtle elevation changes and, of course, the majesty of Squaw Creek meandering throughout the property. 
The first course, Apache Links, was constructed back in 1992 and features a combination of links-style play on the outward nine, and character-filled holes that weave around Squaw Creek over the final nine. 
Holes 1-5 are a nice way to ease into the round, as they are wide open and fairly straightforward. Holes 6-18 on the Apache side feature tremendous routing and architectural imagination. No. 6 is a short par 3 and the no. 18 handicap hole on the course. It's a short iron for most and a great chance to add a two to the card. For me, the inward nine at Apache Links is an incredible ride, as the 10th features a large pond and a close to 200-yard shot to the middle of a green. It's a very scenic hole that you get a look at as you near the clubhouse. Beware of the southern wind on this hole, as it can play a club or more longer.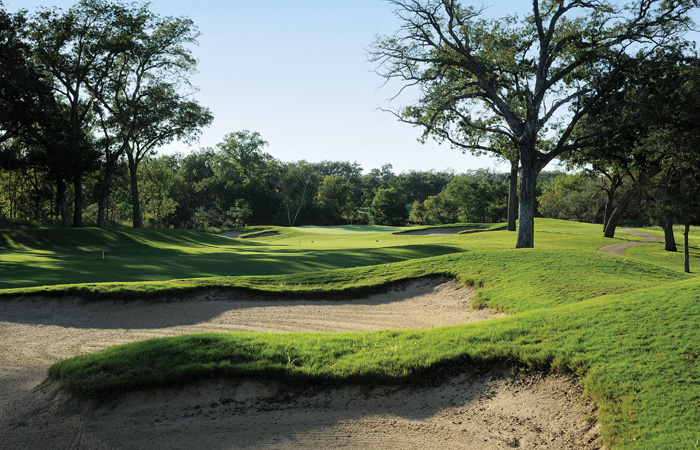 Although, the 11th reads as the No. 5 handicap, if you can control a 3-wood or hybrid off the tee, you can set yourself up for a mid-iron approach and a decent chance at a 3 on a green that slopes hard back to front. 
The long par-4 15th ranks as the hardest hole on the course and requires a threaded needle tee shot around a significant dogleg to the right. If you can get it through the narrow corridor, you'll be in a great position and have a simple approach shot. Avoid the right at all costs, as you may need to re-load if you miss in that direction. 
The 16th hole is another par 4 and, though it only plays 368 from the back tees, has arguably the most intimidating second shot of either course. A long iron off the tee leaves just a short iron or wedge, but it's a carry across Squaw Creek to a narrow green. Anything short is dead, and anything long, you have a downhill third with water behind the flag. It can be a tough customer if you don't execute.  
The finisher at Apache Links is a par 5 with Squaw Creek winding along the dogleg to the right. A good tee shot is key here, as those that find the fairway can leave a legitimate chance at getting home in two and leaving an eagle putt. Beware of the large tree that guards the front right portion of the green, as it can collect and spit balls just about anywhere.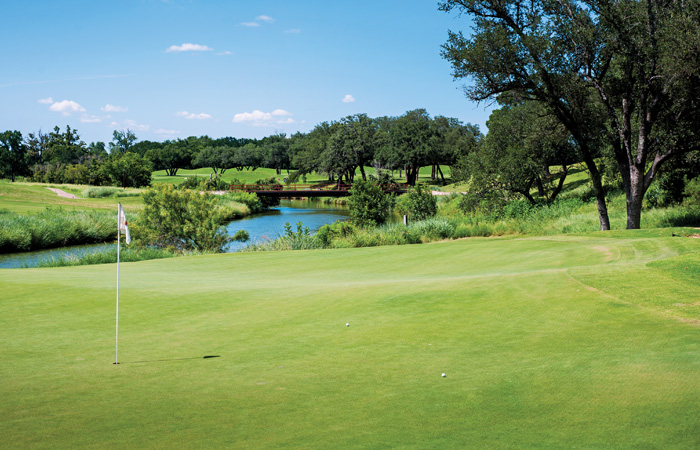 Built in 2001, Comanche Lakes maybe doesn't boast quite as much personality as its Apache sibling, but it's every bit as fun and challenging. Several water features, exceptional bunkering and rolling mounds highlight these 18 holes. 
As with Apache, the fairways and greens are in great shape, and this John Colligan design rewards great shots and helps marginal ones as most fairways are lined with slopes that will send marginal balls back toward the center of the fairway. 
The second hole is a solid test par 5 with water all down the right. An aggressive line will leave you a great chance at getting home in two, but anything too far right is headed for the bottom of the pond. If you take the conservative line, bunkers await any pulled tee ball. It is a fun design but will really get the blood pumping early in the round.  
The second par 4 of the Comanche layout comes at No. 4. This one, playing just 357 from the tips, is drivable for the longer players, as tee shots will enjoy a good bit of extra roll once they find the ground. There is water right, so be careful. If you want to play conservatively, you can hit a long iron or hybrid and still just be a short iron or wedge in.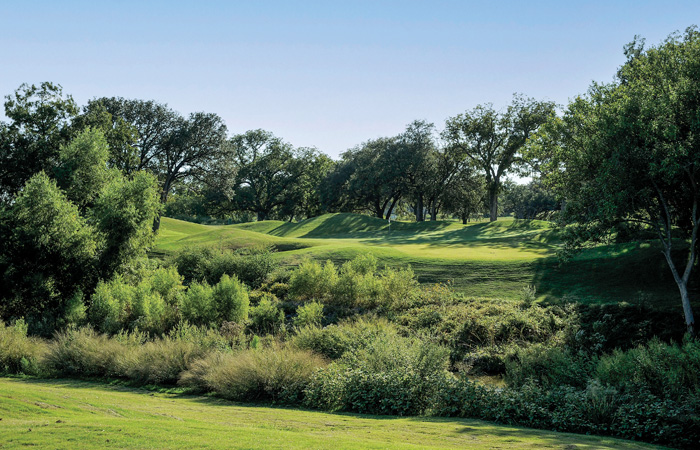 No. 5 is a tough customer for even the best ball-strikers. It features a split fairway with a high and a low side split by what used to be a collection of bunkers, but now has been changed to gnarly, grass-filled chasms. Hit one of these and you can kiss a par goodbye. The green on No. 5 is as challenging as any on the course. If the pin is in the back, be sure you choose enough club or you will have a carnival putt that is next to impossible to get down in two. 
As you prepare to make the turn at Comanche, you face the long par-4 ninth. Playing 461 yards, this is the No. 1 handicap on the course. Not a tremendous amount of trouble, but its length can be a little more than the amateur enjoys. 
The 12th is the No. 2 handicap on the course, and when you arrive you can see why. The split fairway makes the tee shot visually intimidating, and at over 460 yards, it's got some length. 
The finishing hole on Comanche Lakes is a great finishing hole. In fact, this one plays just 509 from the tips, so it's even manageable for those who may not be hitting 300-plus yard bombs. Hit a baby fade and avoid the fairway bunkers on the left. Although it may be tempting to try to get home in two, this is a large green, so a layup and a precise wedge may give you a better chance at birdie than leaving a 60-foot putt that you need to get down in two. 
Squaw Valley also boasts the Rooster Restaurant Bar and Grill. The Rooster is a wonderful addition to the property and features everything you may want as you prepare to hit the course or get finished up with your round. The Reuben is a popular choice and comes with chips or you can make it a combo with fries and a drink. The bar has all the usual suspects, from beers and seltzers to shots of Fireball or mixed cocktails. The Rooster is also a great venue for your private party or family gathering. They also offer catering for your next event.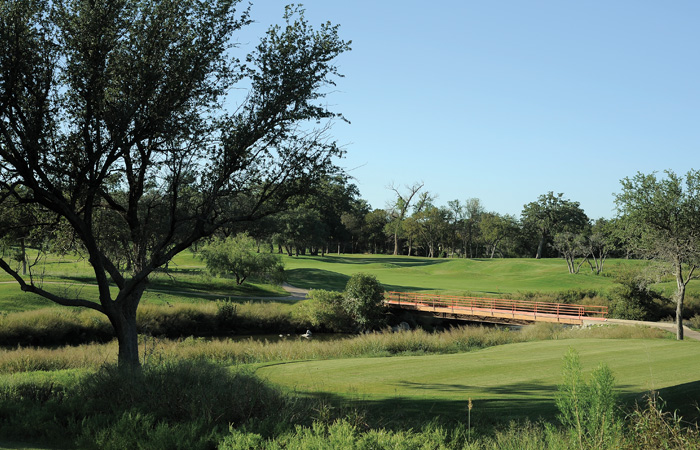 If you are headed to Glen Rose to tee it up, then you may be interested in some of the other activities around Somervell County. Although Squaw Valley doesn't have accommodations on property, they do have partnerships with several local bed and breakfast destinations which includes stay and discounted rounds of golf. 
On the way down to Glen Rose, you can also enjoy some quality baseball, as just about half an hour up Highway 67, you will find the home of the Cleburne Railroaders baseball organization. This Independent League team begins its 2022 season on May 20th against the Fargo-Moorhead Redhawks and runs through September 4th. You can check out the Railroaders website for ticket information. 
In addition to checking out some of America's pastime, you can also visit one of many museums, many of which are dinosaur-related, as Glen Rose is known as the "Dinosaur Capital of Texas". The Creation Evidence Museum is one such property, which includes a replica of  Noah's Arc, a full replica of a Stegosaurus, and in the coming months, they plan to debut their new Dino Discovery Lab, which will give museum- goers they opportunity to see pneumatic fossil prep tools, fossil archive stations and microscopes used in the laboratory. 
Another great museum option is Barnard's Mill & Art Museum. This museum details the history of Glen Rose and provides educational, historical, and cultural activities for all. Barnard's Mill has a wonderful story and this is a great place to learn about its historical significance and check out some beautiful work by significant artists like Amy Miears Jackson and Robert Summers.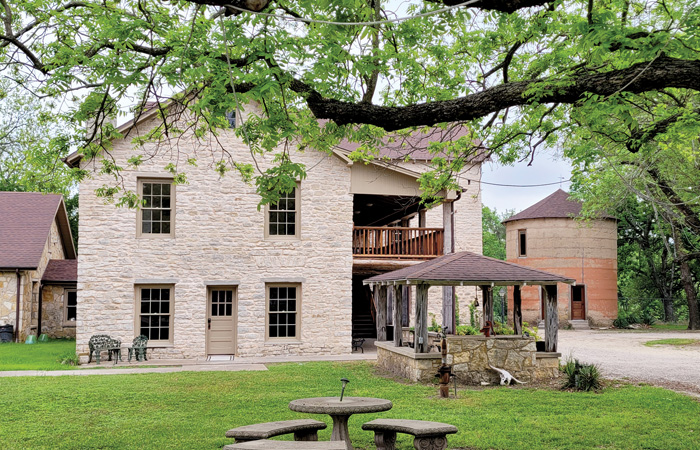 Dinosaur Valley State Park is a popular spot among visitors to the area. Here, you can camp, picnic, hike, mountain bike and even swim in the Paluxy River. The main attraction of Dino Valley State Park is obviously the dinosaur tracks that are abundant along the riverbed. These tracks aren't always visible, but you can check out the Park's social media to see when they can be seen. It's a fun experience and a bucket-list adventure for any Texan. 
If more current wildlife is more your speed, then a trip to Fossil Rim Wildlife Center is a must for any animal lover. At Fossil Rim, you can get up close and personal with Bison, Addax, Wildebeast, Giraffe, Zebra, among other beautiful animals. You may enter the park in your own vehicle, or you can go on one of the guided tours that are open to the public year-round. It's a great opportunity for kids and adults to experience these exotic, wonderful species. Fossil Rim also offers overnight options at their Lodge or Foothills Safari Cabins.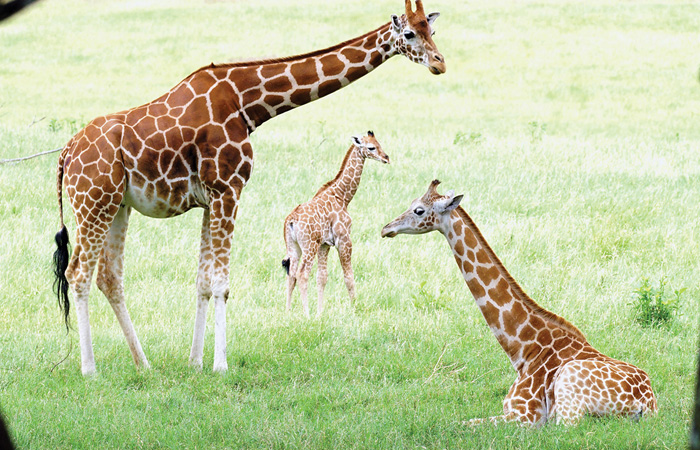 Of course, we already detailed Squaw Valley's two traditional golf courses, but if the frisbee variety is something you're interested in, then Glen Rose has a fabulous disc golf course, as well: Dino Hills Disc Golf Farm. Located just 12 miles from Squaw Valley, this 18-hole disc golf course debuted in 2021 and is open Thursday-Sunday. They also have putt-putt if you want to rest your throwing shoulder. 
Glen Rose is more than just the Dinosaur Capital of Texas. It has a wonderful historical significance to the State of Texas and is a great destination for not only great golf at Squaw Valley, but a bevy of educational and fun museums and parkland that will not only inspire and provoke thought, but educate and wow you and the members of your family.