Most golfers, after a round of erratic play will immediately wonder "what did I do wrong?" and try to figure out whether it was their grip, posture, swing plane, timing, torso rotation or whatever was flawed. They will rarely try to analyze whether it was "thinking their way around the course" that was to blame. The concept of thinking one's way around the golf course, referred to as "course management" is not new – remember when one of the first golf teachers, Tommy Armour, said, "play the shot that makes the next shot easy"? However, one man has fine-tuned course management so that any golfer playing in this modern era can have the best mind-set and planning to make the most of their his or her existing game. 
Scott Fawcett, a Dallas-based golf pro, played elite level golf including in the 1999 U.S. Open and has earned status to the Korn Ferry, Hooters and Asian Tours. In those days he firmly believed that, being a good ball striker, he could attack the course and pull off anything he wanted to, but he never succeeded in actually doing that. Which is why he set up the Decade Course Management System (available as a Decade powered by Birdiefire App) to help all skill levels of golfers work their way around a course better and develop a "golf IQ". Fawcett's use of statistics in his app is quite unique and does not involve the typical strokes gained or putts per greens in regulation concepts. By combining shot distribution patterns with PGA Tour players, scratch golfers and top 100 amateurs scoring statistics, he is able to help golfers optimize their target selection based on their existing skills. For instance, most good golfers might aim for the center of a green if the pin was guarded by a lake, but by how much should they do that? This is one of the many ways in which good course management techniques can help a golfer make better plans, and it is a skill that otherwise might take people years to learn.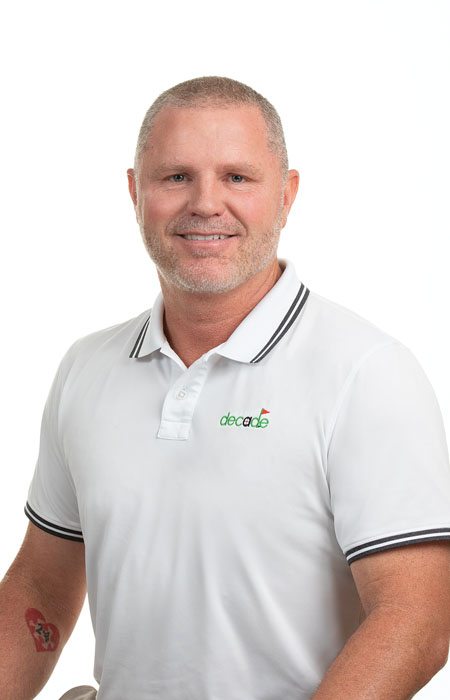 Fawcett believes that a combination of meditation and on-course strategy is ideal for those who really wish to go far with their performance. If someone could only afford one of the two, he'd suggest a meditation tool such as Sam Harris' Waking Up App should be the first priority. Why? Think of Tiger Woods during the 2019 Masters, where Fawcett believes he had to have used some sort of meditation technique that helped him win the event. It was on full display during the phenomenal shot he hit on the 16th – a stoic, "It's not over yet" look of complete control on his face that the whole world witnessed after that shot.
Many good players have told Fawcett that course management is simply common sense, to which he responds that it is not. With the Decade system, the statistics and numbers are put to good use so that a golfer can be trained to know when to get aggressive and when not to. The golfer begins to be patient and disciplined to maximize performance, rather than increase expectations and try to pull off out-of-the-ordinary shots that may not pan out.
Based on his many years of study of all skill levels of golfers, and having caddied for several elite golfers too, here are some really useful tips that he would give to any typical golfer:
Take more club on approach shots. If a solid 8-iron goes 165 yards, you'll never suddenly hit it 171 yards, but you might easily hit to 159 or 160. Take the 80th percentile distance, so, your real 8-iron number would be, on average, 162 yards.  The best players get their approach shots past the hole on regulation. In general, it is more important, with the approach shots, to intentionally try not to lose shots, rather than try to gain shots by forcing something.
Hit your driver more often, because you're not likely to hit the fairway more often by taking a 3 or 5 wood instead, because even the shorter, more lofted club can get you into trouble. Be fairly aggressive off the tee rather than being conservative. So, hit the driver as hard and as often as possible. Mainly, don't compare one outcome with one other outcome, but rather to the entire range of your outcomes.
When practicing putting or warming up before a round, practice putts for speed only, and to be about one or two feet from the hole – in putting, speed is the key.
It is to be hoped that these simple yet extremely useful tips can help this magazine's readership to play their best golf. I know I'm going to hit my driver often and hard, use more than enough club on the approach shots, and practice putting for speed control, the very next time I play a round of golf.