Instruction – Around the World Drill

When it comes to putting we must train both speed and accuracy control. The "Around the World" drill allows us to do that, with some added pressure as well. You can complete this drill by yourself or challenge a friend. Set a timer for 20 minutes and see if you can complete this drill.
Equipment
Two golf balls (minimum)
Ten tees
The Set Up
Start by finding a level or slight uphill putt that is about 25 feet long.
Place tees for the short (accuracy) putts at 3-feet, 4-feet, 4-feet, and 5-feet.
Place tees for the speed putts at 3-yards, 4-yards, 5-yards, 6-yards, and 7-yards.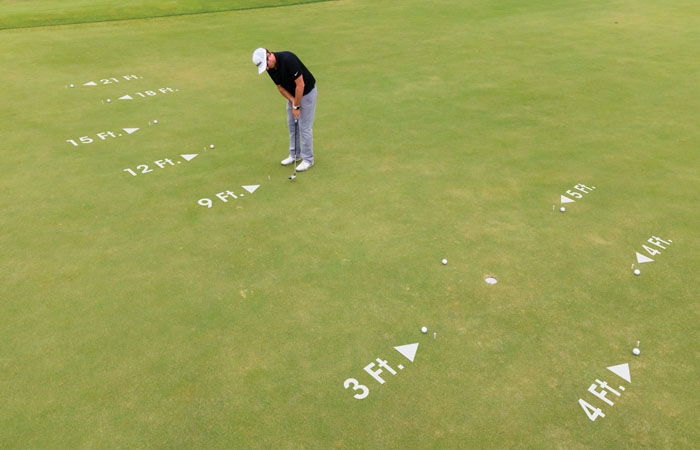 How to Score
Start with the accuracy putts first. You must make one ball from each position. If you miss, you must start again from the 3-foot tee.
After completing all of the short putts in a row, proceed to the speed putts.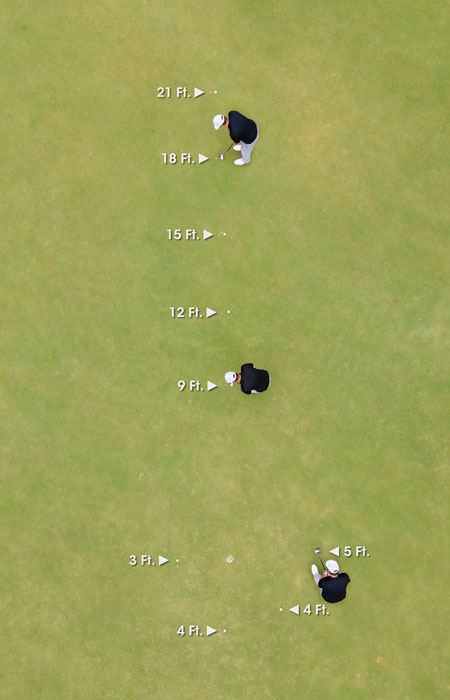 Putt one ball from each location. Your ball must finish past the front edge of the hole but not past the tee that is 4-feet behind the hole. If you miss, restart from the first speed putt (3-yards).
ADVANCED RULE: If you miss and have to restart the speed portion three times in a row you must restart the entire drill over. 
Try out this drill and watch your scores improve as you take strokes off your short game. Putting is critical to lowering scores and this drill is just what you need to help expedite holing more putts.
Mike Bury is the Director of Instruction at Mike Bury Golf and has been named to Golf Digest's "Best Young Teachers in America" list for the last four years. To find out more, log on to www.mikebury.com