Golf Science – Injury and the Champions Tour

Every week on the PGA Tour – or so it seems – one or two golfers withdraw because of injury. Why are these fit young men getting injured? How do they continue on to become seniors playing on the Champions Tour? It was interesting to hear what some seasoned veterans of the Champions Tour had to say at the recently concluded Invesco QQQ Championship in Thousand Oaks, CA.
Bernhard Langer, a two-times Masters winner, has had a phenomenal career on the Champions Tour, just recently taking home his fifth Charles Schwab Cup for maximum earnings in the 2017-18 season. When asked if he has ever had injuries from playing golf he said, "More than one. Of course when you've been playing for more than 50 years…!". Mainly he has had injury to his left thumb and to both sides of the elbows. Not very major, one might imagine. How does he keep supple and fit and avoid more injury given the amount he continues to play and has played for years? "Exercise and stretch."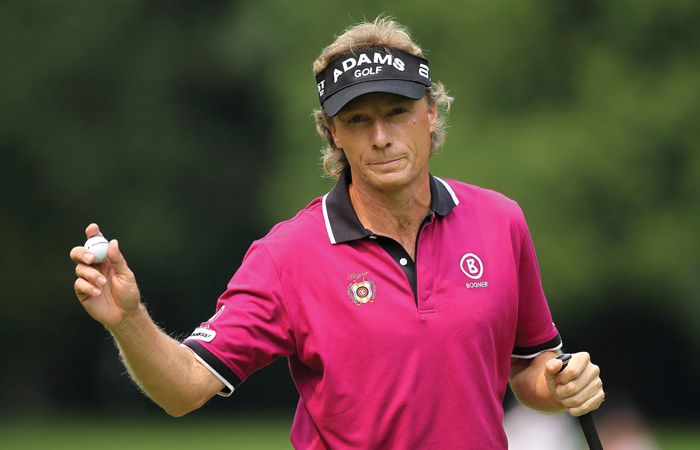 Sweden's Jesper Parnevik, at 53 years is on the opposite end of the age range from Langer's 61 years. He has had a considerable amount of injury, and in his words, "Every body part – both hips have had surgery, there's been a fractured vertebra in the lumbar region, issues in the neck region of the spine and frozen shoulder symptoms in both shoulders." He tries to swing around his injuries and tries to keep his body strong.
Another golfer with shoulder impingement and then golf-related back issues, including some herniated spinal discs, is Jay Haas. His doctor occasionally performs a rhizotomy to sever the nerve roots causing pain. He believes he does not have a violent swing but rather a flowing one, and thus his injuries are not worse than they might otherwise be.
On the other side of the spectrum, a golfer who has never been seriously injured is Jerry Smith. When asked if he has suffered golf related injury he replied, "I have not, fortunately – not from golf." He has had some lower back issues and stiffness, but nothing he could not deal with through massages and stretching and the occasional ibuprofen. Did he have an opinion on why the younger generation are getting injured so frequently? He did! "It's the type of training they are doing. Jumping and exercise that puts stress on the hips and knees and then they hit so many balls at great speed. Our generation never had club-head speed like that."  For the older generation, according to Smith, it was more about controlling ball flight and path and not hitting it too hard. He himself tries to have as few moving parts as possible, and keeps the upper and lower body together, not torquing the torso while keeping the lower body still. Another golfer who has not had serious golf-related injuries is Billy Mayfair. He has lost weight, stays loose especially in muscles such as the hamstrings, gets in the proper nutrition and stretching and also does a lot of cardio in season and weights during the off season.
So, what is the reason some senior golfers are injured while others have had only minor or no injuries despite long golf-playing careers? Although there are many factors related to injury, one biomechanical cause is certainly the force or "violence" of a golfer's swing, combined with how many times the swing is repeated, creating what is termed an overuse injury. What do golfers who are frequently injured because of fast, often-repeated swings do? While they are all careful to do some form of exercise and get massages and other adjustments, most seniors seem to prefer some minor procedures and even full-scale surgery to making a few changes to their swings, which could reduce the loads on the joints they typically injury. Isn't that amazing?