Golf Science – Junior Golf in Cali

The cover story for this month is about LPGA star Danielle Kang. Like many other professional golfers, both male and female, she is the product of the wonderful competitive experience young girls and boys gain as High School golfers in Southern California. From Tiger Woods to the latest LPGA Tour star, many juniors have played golf through the California Interscholastic Federation Southern Section's (CIF SS) program. What is the role high school golf coaches play in the success of their players?
Donn James was Kang's coach while she was at Oak Park High School (OPHS), "I coached Danielle as a freshman and sophomore at OPHS and if I had any contribution to her success, it was only because I encouraged her to not see her opponents as enemy and to focus on playing the course the best she could on any given day and to always be a pleasure with whom to play without regard to how she was playing. She was always driven to succeed even playing against young men from the same tees and was 1st Team All-League on the boys' team as a sophomore. We did not have a girls' team, and in the Fall I would drive her to the freelance events so she could compete as an individual and both years she made it all the way to CIF Finals."
James has coached high school athletes for over 40 years and has been the golf coach at Oak Park High School since the turn of the century. In his words, "I feel my greatest contribution to the winning program we have at Oak Park is achieving wins without focusing on winning. It can be difficult to have golfers see the team aspect in what an individual sport and I is essentially have had some success in that arena."  Having coached both boys and girls' teams, he believes that playing competitive high school golf is critical to students' maturity as people and golfers. It promotes social skills such as etiquette, fairness and consideration. His main motivation is to make students' golf a memorable high school experience. He concludes, "I tell my parents at every pre-season meeting that my real job is to give the parents back better human beings than they gave me."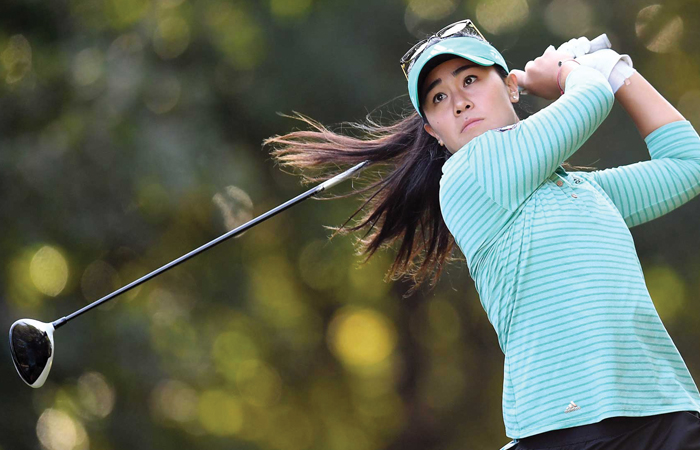 After two years at Oak Park, Kang transferred to Westlake High School. This school has produced many famous golfers, including Charlie Wie, Brandon Hagy, and, most recently, Matthew Wolff. Some of the famous coaches there have included Lorin Maygren, Rick Naranjo and, most recently, Dan Cimino, who has spent many years on the Southern California Golf Association (SCGA) Junior golf board and truly understands junior golf.
Another well-known Westlake alum who was the league champion in 1988 and 1989, is Chris Zambri, who went on to become one of the most well-known college golf coaches in the U.S., as the head men's golf coach of the University of Southern California. So, it was interesting to hear from someone who had been a player in the high school team, what he believed his coach had contributed to his future golf successes. Zambri said his coach Lorin Maygren's team was dominant, and in 70 matches, they had one tie, with all the others being wins. Maygren kept things competitive and worked on course strategy a lot. The thing Zambri loved about his coach was that he was super competitive and wanted to do well. "He conducted himself in a way that we'd feel and understand that it was important to him. The strong message was 'We're here to win'." Which resulted in Zambri experiencing what he terms an "Amazing four years of winning."
Some really wise words about a coach's contributions to a team come from Notre Dame High School's always-winning coach, Ann McClung. "I have been coaching golf for 15 years now.  I wanted to give our girls' team some stability with an on-campus coach.  I had just finished years of coaching volleyball, softball, soccer, swimming and tennis and thought I was done. But I was a junior golfer, and knew the game, so thought, why not, when they needed a coach.
I did not know what I was getting myself into.  It is a lot of work to create a team experience out of an individual sport." McClung was able to use the same philosophy of team sports to make the girls accountable to each other and proud to represent their school. Another winning and important strategy she used was that she made her team members feel important around campus, by putting in announcements, talking them up to their teachers, and, in general making sure everyone knew that ND golf was good.  The girls took pride in that and things just kept growing.  Additionally, she created a "bootcamp" experience where the girls went away for several days in the summer to bond.  They become friends as well as teammates. Lifelong friendships have been developed. They talk at outside tournaments, which helps.
McClung concludes by saying, "High School golf does not help much with their actual skill level, unless they are beginners to begin with. It is crucial that they have outside instruction.  High school competition gives them opportunities to fine tune their skills-especially course management. It helps them develop mental toughness-managing school and golf. And it gives them pride of belonging to something. You need it all to have a top program."
Having been a keen observer of high school golf in Southern California for the past year, it is apparent that what is needed is a nurturing, caring coach with a winning mentality and an insider-position in a high school, to help create a winning team. Those schools who have a constant turn-over of seasonal, walk-on coaches with minimum credentials and no long-term prospects with the school, can never produce the golf stars that appear to be emerging from the great opportunities for competitive high school golf being provided by the CIF SS.
Dr. Kiran Kanwar, golf science consultant, is the developer of The Minimalist Golf Swing System – 100% scientific, simple, and specific. She has M.S. in sports science and nutrition, a Ph.D. in biomechanics, an anatomy a degree in Kinesiology and is an LPGA Master Professional. Visit her websites www.YourGolfGuru.com and www.mgs.golf