Course Review – Sky Creek Ranch

Public golf in the Metroplex has always been great. With so many options to choose from, the daily fee courses in the area provide amateurs plenty of places to tee it up, test their game and enjoy a day on the course. Sky Creek Ranch in Keller, which ranked ninth on our list of west courses in the 2020 best of public issue is a fantastic example of a great track that checks both boxes as far as course conditions and a challenging test, even for the lower handicap player. 
When you arrive at Sky Creek, you are greeted by a stately, large clubhouse that sits atop a hill and overlooks the course below. If you are on the back nine of life and aren't a fan of steps, might I suggest being dropped off atop the hill, as parking in the lot below leaves a bit of a hike up a steep outdoor staircase to check in for your round. The pro shop is clean and nice, with anything you may need to stock up on pre-round, from shirts and caps to balls and tees.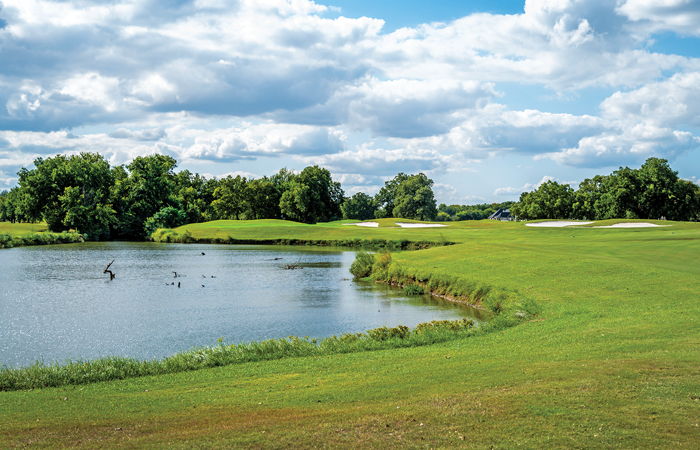 The driving range and practice area are worthy, with plenty of targets down in an open valley and a putting green that will allow you to get a feel for the speedy Bermuda greens before you stick a peg in the ground. 
If you want a quick bite pre-or post-round, then head downstairs to the Sky Creek Grill and fill up on a cocktail or some of their fabulous barbecue. Being a bit of BBQ snob, I can say that you aren't going to find many courses in the area that sling 'cue that is this delectable. The sliced prime brisket is smoked to perfection and moist. You can get it by the pound or as a sandwich and I promise you won't be disappointed either way. The full barbecue menu, which also includes pulled pork and jalapeno sausage is available Wednesday through Sunday. If you are in the mood for a non-barbecue item, they also have some great sandwiches, including a Nashville hot chicken or a Texas style cheesesteak topped with queso. 
If you happen to play on one of those blistering summer days, then I highly recommend sampling one of Sky Creek's ice cream treats. They have artisan ice cream options from around the country, including Lick Honest, based out of Austin and Rococo, which is a selection from Kennebunkport, Maine. You really can't go wrong with any of the flavors offered, but I recommend the Texas Sheet Cake from Lick Honest.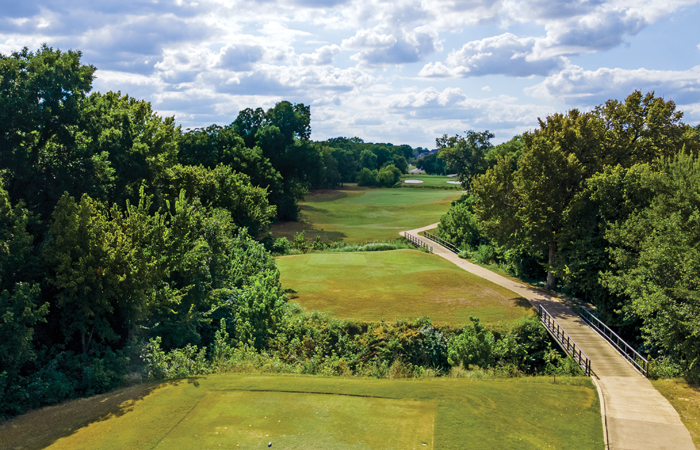 As far as the course goes, Sky Creek is a great test for even the best ball strikers. We at AG have often felt that flipping the nines might be a good idea, as the opening several holes can be tough if you are having trouble getting your round going. This is a course that arriving early is a real benefit, as you don't want to face the opening few holes stepping out of the car cold. Water comes into play on 16 of the 18 holes, so a few extra nuggets in the bag may be a good idea. Sky Creek is also a layout that features five par 3's and five par 5's, so if you lack the ace or albatross on your golf resume, might as well play here and increase your odds. 
No. 1 is a par 4 that plays 413 from the back tees and really gives players a test right from jump. A creek crosses the fairway which comes into play, so it may be a good decision to lay up short of it, rather than take it on and bring a big number into play right off the bat. A right center tee shot leaves a good angle to a green guarded by a bunker short and left. Although it plays as the 11th hardest hole on the course, it certainly doesn't feel that way, especially with the opening tee shot.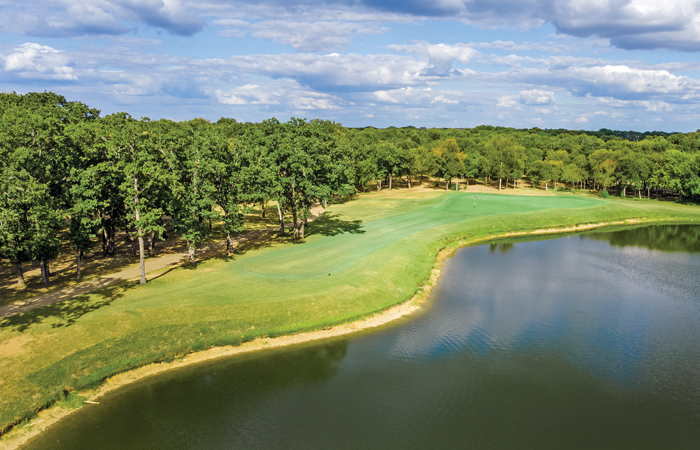 No. 2 is a real bear. It is a 440 yarder with a tight landing area and water that guards the putting surface left. A drive up the right can slide off the fairway and lead to tree trouble, so favor the left or left center of the landing area. Avoid left on your approach at all costs, as water will devour balls that land over on that side. If you must miss, make sure to leave it short and right, although the large green can lead to a tricky up-and-down. 
After navigating the No. 3 handicap hole at the second, Architect Robert Trent Jones Jr. again attacks players with a narrow par 4 that plays as the most difficult hole on this par 72 layout. The fairway here is like trying to hit a golf ball down a hallway, with seemingly no room to miss, even by just a little bit. Finding the right side of the fairway leaves the best angle to this very slight and narrow green. It's as demanding a hole as you will find anywhere in DFW. 
The first par 3 at Sky Creek is the 169-yard fourth. Club selection is paramount here, as it plays slightly uphill to a tabletop green. Short and left is dead, so the best play here is firing one to the middle of the green, then taking your two-putt and heading on to the next one.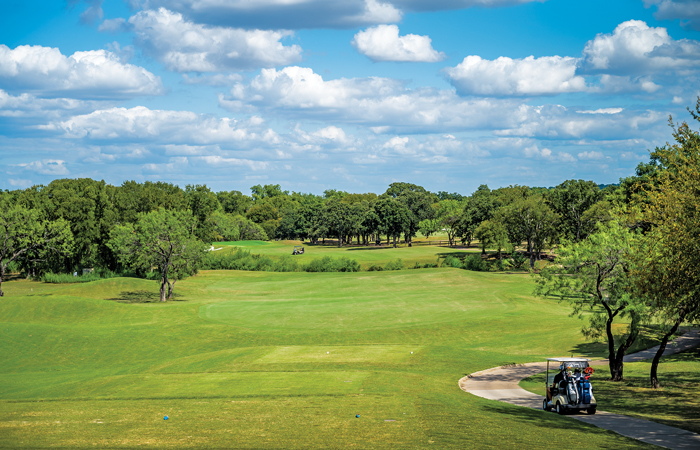 At 534 yards, the par 5 fifth is a great risk vs. reward hole. Again, a narrow, tree framed fairway awaits, so missing left or right will likely mean a layup shot. The real bombers can give this green a go in two but be sure to account for the elevated green. 
After another par 4, the second par 5 of the round comes at the seventh hole. This has to be one of my favorite holes on the course, as it is a true grip it and rip it shot off the tee. Although the tee shot is blind, there is plenty of room for a ball that might stray a bit. Find the fairway and there is a real chance to get to the green and have a putt for an eagle. Yes, there is water that guards the green, but it's possible to get there. If you do lay-up, be aware that this two-tiered green can be tricky, so a dialed in wedge is a must. 
After the par 3 eighth hole, a final par 4 of the outward nine awaits players before the turn. This 424-yard hole features a significant slope from left to right, so target the fairway bunker off the tee and watch the terrain slingshot your ball forward into a green light distance. Avoid missing right as any shots too far that direction will require scuba gear to locate.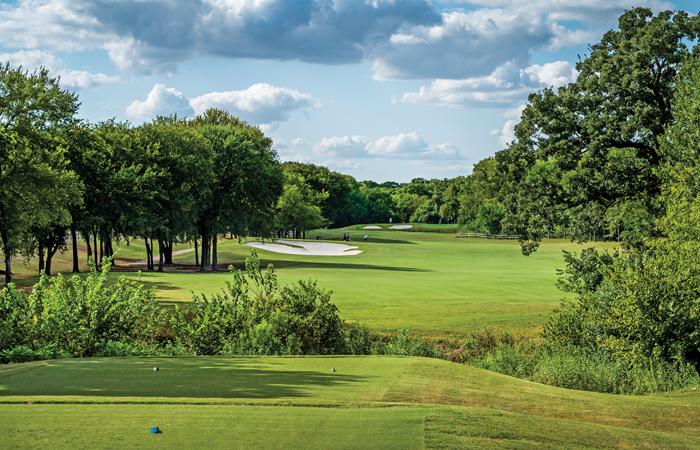 No. 10 has to be one of the more interesting holes at Sky Creek Ranch. There is no need for the big dog here, as this is a hole where placement off the tee is the primary concern. Favor the right side of the fairway to avoid getting behind a group of trees that can block out the green on your approach. Short and right here can find a grass bunker that can lead to a poor lie and a dicey up and down attempt. 
Holes 12, 13 and 14 at Sky Creek might be my favorite stretch on the course. No. 12 is a reachable par 5, but a small green can make it hard to hold longer iron shots. Although a simple up and down can yield a birdie on this one. No. 13 is a sharp dogleg left where players can challenge a fairway bunker and saw off some of the length. It's the No. 2 handicap, but an accurate tee shot can leave you with a manageable approach. Too much cut with the driver can lead to trouble, as the fairway narrows. There is always the option to lay back into the fatter part of the fairway, but what fun is that? The final hole of this fantastic three-hole stretch is a daunting 212-yard par three that features water all down the right that cozies right up to the green. Missing right is no good, so the only reasonable bail out is short and left of the putting surface. It's a hole where being aggressive can lead to a big number, so playing to the middle of the green is your friend.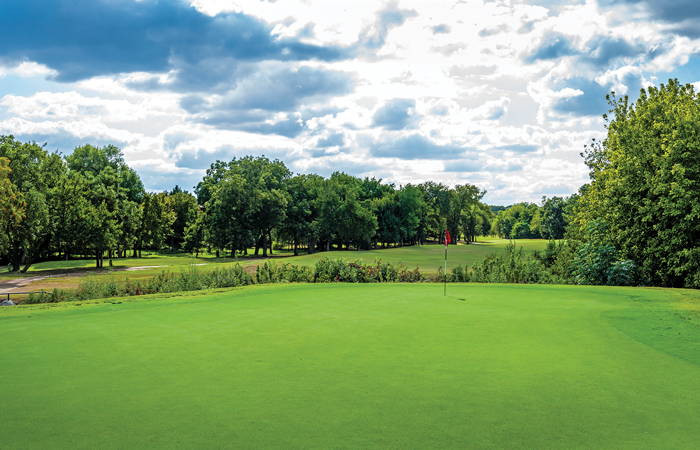 A short par 5 at No. 15 can give players a nice birdie opportunity before a tough finish. Missing a little right is just fine and should leave a reasonable chance to get home in two or at worst leave a short pitch and putt to scribble a four on the card. 
The final three holes at Sky Creek are fun and can expedite the exchange of cash in your group if you are one of those that likes to play for some dough. No. 16 is the sixth most difficult hole on the course, but it doesn't really play like it. Birdies can be had here with a solid tee shot and a good approach. The real danger here is catching a speed slot over the trap on the left that can springboard balls down the fairway and in danger of catching a second bunker in the middle of the short grass. Avoid that bunker and you have a reasonable approach to a receptive green. 
No. 17 is the final of Sky Creek's five par 3's. I remember the first time I played there hitting one from the 228-yard tips just to see if I could get it there. Of course, the answer was no, but I wanted to give it a whirl. This is one of many holes on this layout that make it imperative to select the proper tee box. From the tips to the gold tees is a difference of almost 50 yards, so be sure you are playing tees that are appropriate for your game or you may find yourself smashing a three-metal or driver on this hole. The miss is right, and the bunker isn't a terrible place to end up.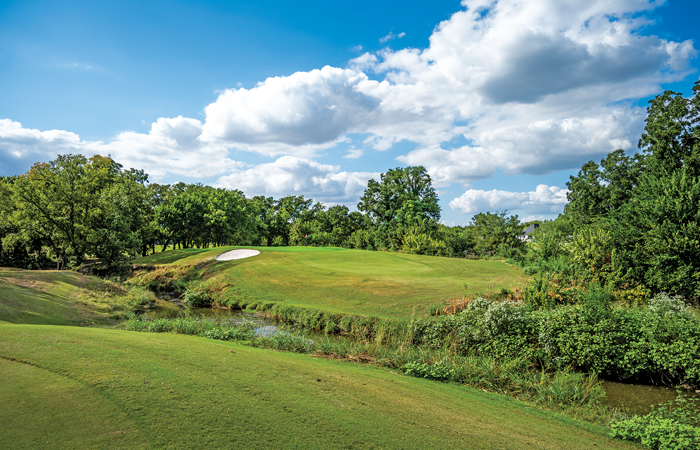 The final hole at Sky Creek is another five par that in my opinion is one of the best finishing holes in the area. A classic risk/reward design, there is water all down the left that also crosses the hole about where the really long hitters would roll out to. It's unlikely to find the water, but it is possible. Hit the fairway here and it is a green light to a green guarded on the right by bunkers. It's one final chance at a birdie for the day and a great way to get back in the car with some confidence in your game. 
Overall, Sky Creek Ranch is a great municipal option. It can be a little pricey, but you get what you pay for. There aren't many public courses that play more like a country club, but Sky Creek is definitely one of them. It is challenging, and the greens are reminiscent of some of the top tier privates in the area. They are firm, fast and in great shape. Sure, it can be a tough nut to crack, but make this a once-a-month course and I promise your handicap will travel. Add in the upscale dining and the nice clubhouse perched atop the highest point in Tarrant County, and you have something special in Sky Creek Ranch.